Life Fitness are known for making commercial gear. You'll see their equipment in hotel gyms, sports clubs, and even some commercial gyms, and while their fitness equipment for home gyms might not be full commercial grade, it's about as close as you're going to find.
Heavy Duty Beast – Weighing Over 300lb.
The Life Fitness Club Series Elliptical is what I'd call a beast. This thing weighs over 300lb. It's one of the heaviest ellipticals I've reviewed; this tells me the Club series is made from high-quality materials, and best of all, that extra weight will keep this machine planted to the floor. If it's quality and a solid build you're after, Life Fitness is the company to go to.
Still, it's not all sunshine and roses with the Life Fitness elliptical; there are a few drawbacks, you dont get an incline, the price tag is twice as high as some of my favorite front drive ellipticals, and they're only offering a three years parts warranty with the club series which is disappointing. So while you may have one of the best-built ellipticals on the market, it is lacking in places.
In today's review, I want to take a look at everything the club series elliptical has to offer, including those drawbacks. I also want to compare it to something much cheaper, a rear drive from NordicTrack called the SE7i.
Product dimensions – 86″x 29″x 64″
Resistance Type – Magnetic
Pre-programmed workouts – 15 + Lifescape™ with interactive global courses
Why Do We Like The Life Fitness Club Series Elliptical?
You're going to buy this elliptical because of the high-quality parts used to build it. There's no other reason why you'd spend nearly $5k on an elliptical. It's better than anything from Sole Fitness, NordicTrack, and Precor.
Life Fitness have always been the guys to go to if you want quality and you dont mind paying a high price tag for the privilege.
Still, the reason why I love this elliptical isn't just the build quality and its silky smooth elliptical motion. It's because it's a rear-drive machine.
There are hardly any high-quality rear drives out there. Precor makes a few, but it's always hit-and-miss with those guys; Life Fitness are the only company you can depend on to make a high-quality rear-drive elliptical that will last years of heavy use.
Naturally Keeps Your Body In a straight Upright Position.
And it's only with rear drive ellipticals that your body naturally stays in a straight upright position, and this is because you are pulling the flywheel to get it spinning rather than pushing it like you would a front drive.
With front drives, you tend to lean forward on the balls of your feet as you have to push the flywheel, which means you have to correct your posture all of the time, putting undue stress on your lower back.
When the flywheel wheel is behind, as with a rear-drive elliptical, you are pulling it, so your feet are flat on the pedals, and your posterior chain muscles are doing most of the work, which keeps the body upright.
Also, you'll burn at least twice as many calories using a rear-drive simply because you are working the large posterior muscles like your glutes and hamstrings; these muscles have a much higher caloric output requirement than the anterior muscles the front-drive ellipticals work.
So yes, a rear drive elliptical puts your body in the best possible position while pedaling, and you work the large posterior muscles for maximum calorie burn. This is why I like rear drives so much.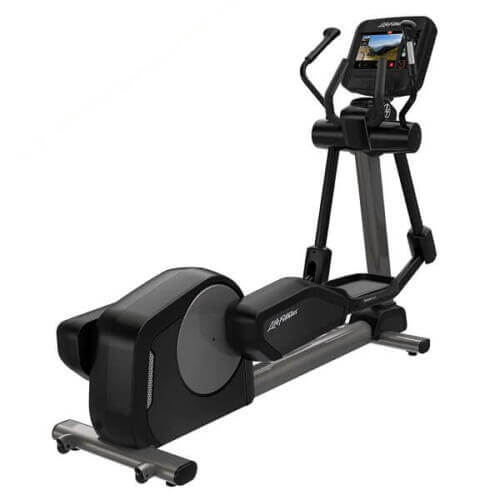 Includes Desirable 20″ Stride Length
The stride length of an elliptical is one of the most important features you should consider when choosing an elliptical, as it will determine who can use the machine and how comfortable they will feel. You dont want to feel restricted when pedaling an elliptical, so it's essential to get this right.
The reason I say 20″ is the desired length is that its a length that suits most people's sizes. A 20″ stride will accommodate users with a height range of 5ft to 6'2″. And this is the reason you'll find a 20″ stride on the majority of commercial machines in your local gym.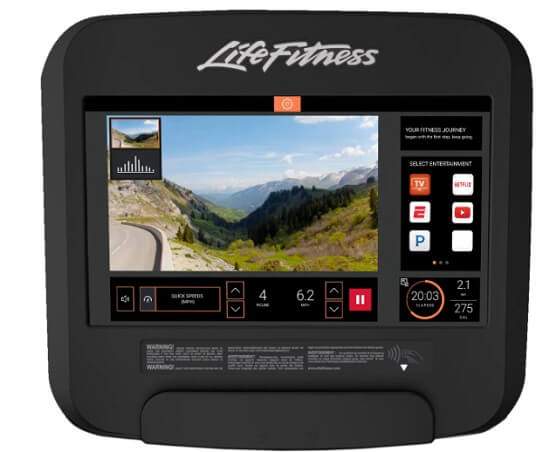 Easy To Use Monitor – Packed With Features
Usually, I'm not a huge fan of Life Fitness monitors, but I have to say, I love the S3 monitor on the Club series elliptical.
It's impressive because it has those quick-touch buttons, so you dont have to scroll through a ton of menus; you can access nearly everything with a single touch of a button.
Also, you get wireless heart rate monitoring, an essential feature for those who love to train in their chosen heart rate zone; its a much more accurate way of monitoring heart rate than handlebar pulse sensors and Life Fitness throw in the HR Polar® strap, which saves you a few bucks.
And the color touchscreen is cool too. You can actually surf the web here. You can't do that on any other high-end monitors I've reviewed.
Normally the high-end monitor are designed around the Fitness apps of the company, like NordicTrack with iFit, and you can't use any other app with them. But, with this monitor, you can do anything you like, watch Youtube, Netflix, or check out some of those global routes from Lifescape.
Other features include BlueTooth, 25 built-in workout programs, speakers, and bottle holder.
Where's The Incline?
A lot of you may be wondering why there isn't an incline. And it's a perfectly reasonable question considering how much this thing costs, but you'll find a lot of rear-drive ellipticals dont include an incline.
And the reason for this is that inclines are mostly found on front-drive ellipticals, as front-drive ellipticals tend to work the quads. So you need an incline to switch the workout's focus from the anterior (quads) to the posterior muscles.
Rear drives already work the posterior muscles like the glutes and hamstrings, so there isn't any real need to add this feature. Plus, it's another feature that can go wrong, so it might seem slightly disappointing, but it's certainly not a deal killer because you're already making the most out of every workout using a rear drive.
22lb Flywheel Delivers a Smooth Motion
The weight of the flywheel is one of the factors that determines how smooth everything feels on an elliptical. I'd expect a flywheel weight of around 20-30lb on a commercial machine, so 22lb isn't too bad. There's enough weight there to keep things smooth.
But other factors come into play here; one of them is the quality of the parts used, cheap ellipticals even with a heavy flywheel, use low-quality parts, and the elliptical motion can feel jerky. Life Fitness always uses high-quality parts, so the elliptical motion is extra smooth when combined with a fairly heavy flywheel.
Quiet and Strong Resistance in The Upper Levels
The Life Fitness Club Series elliptical uses a magnetic resistance system, which is what you want for an elliptical because it's a frictionless resistance system which means it makes no contact with the flywheel, resulting in a smooth, almost silent resistance system.
You also get a belt drive system with this elliptical, much quieter than a chain drive.
When you combine a belt drive with a magnetic resistance system, you have the quietest combination you can find for any cardio machine. Around 20DB is the noise level of this elliptical, quiet enough to watch TV or listen to music without being disturbed by the sound of the machine.
You get 25 levels of resistance with the Club Series elliptical, which is more than enough for most fitness levels.
The upper levels are most important as they will determine how quickly you'll outgrow this machine. Thankfully you have a heavy flywheel, so resistance in the upper levels is strong. You shouldn't outgrow this machine any time soon.
To adjust resistance strength, you can use the one-touch monitor controls or adjust it via the handlebar buttons. Handlebar controls are a handy feature as they save you from reaching forward in the middle of a workout to adjust resistance strength from the monitor.
Moving and Stationary Handlebars
Most ellipticals come with a moving and stationary pair of handlebars. The stationary handlebars are excellent for beginners as you can grab hold of these and get used to the elliptical motion. After you have built your confidence, you can try the moving handlebars for a full-body workout.
Still, even seasoned elliptical users love the stationary handlebars because they allow you to focus fully on your lower body. You can set the resistance strength to a high level and give the legs a really hard workout.
Assembly
This is a large, heavy elliptical, so if you're thinking of assembling it yourself, make sure you have a friend or two to give you a hand to unbox and get the machine in place. Life Fitness does offer a white glove delivery option which might be a good idea for some people considering the size and weight of the machine. Still, that will cost a few hundred bucks.
For maintenance: there isn't much maintenance because you have a magnetic resistance system, so there's very little wear and tear. Just remember to keep things lubricated to prevent any annoying squeaks from developing.
Solid, high quality build can handle 400lb
Rear drive system naturally keeps you straight and upright, and works those large posterior muscles
Impressive monitor with wireless HR monitoring and 16″ touchscreen
22lb flywheel helps keep elliptical motion smooth and resistance strong
Magnetic and belt drive systems help keep noise levels to a minimum
Built-in transport wheels, adjustable levelers, BlueTooth and speakers
Would have liked of seen a five years parts warranty, 3 years is low for a such high price elliptical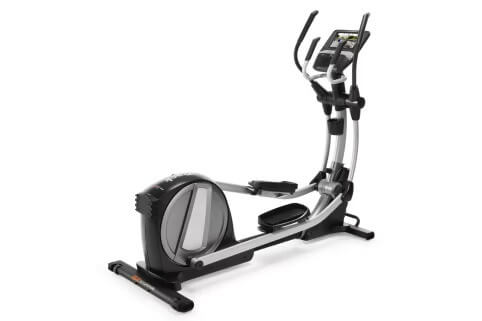 NordicTrack SE7i Rear Drive Elliptical
NordicTrack isn't always praised for its build quality, but sometimes these guys make a product that outshines everything else in its price bracket, and the SE7i is one of those products. It's a diamond in the rough from NordicTrack, and if you dont want to pay the high prices of Life Fitness, the SE7i is an excellent opinion for under $1500.
Okay, you'll never going to get the build quality of a Life Fitness Club Series Elliptical for under $1500, but the SE7i is a surprisingly sturdy machine. It weighs just under 200lb which is impressive for a mid-level elliptical. Many users have praised this elliptical, saying how smooth and good it feels when exercising on it.
The build quality is there with this one and so too are the essentials, as you get a 19″ adjustable stride which is excellent news if you have more than one person using the elliptical at home.
You also have 22 levels of resistance, an 18lb flywheel, and a 10″ HD touchscreen, which is super impressive for the price point, and it's iFit enabled, so you have access o their subscription app.
It's a rear-drive elliptical that's got everything right, okay, not as heavy duty as the Life Fitness machine, but if you are only a beginner or intermediate the SE9i might be the more suitable choice. It's the only mid-level rear drive elliptical out there worth taking seriously, a great alternative for those who might be thinking twice about spending nearly $5k on the Life Fitness club series.
To Sum Up
The Club Series Elliptical from Life Fitness is unbeatable on quality, and so it should be at this price. You get what you pay for, and with Life Fitness, you'll take home one of, if not the best rear drive ellipticals designed for home use.
And I like the monitor. I was surprised to like a Life Fitnes monitor, but this one is great. You can even surf the web, which is cool.
There isn't anything I can really fault about the club series elliptical, it's that good. It's not an elliptical that will leave you wanting. The only drawback is the warranty; 3 years on parts is a little disappointing, at least five years on parts would be more fitting for an elliptical that costs this much.