It's about time somebody manufactured a well-built, reliable, folding elliptical, most folding ellipticals are flimsy and made with light gauged cheap materials. But, finally, we have something decent on the market.
The NordicTrack SE7i Elliptical trainer is a foldable elliptical machine that can actually boast a stable, solid build.
Folds to Half its Original Footprint
The great news about folding ellipticals is they allow people who aren't lucky enough to have a dedicated room house an elliptical, the option to reap the health benefits of a full-size machine in their homes.
Enough about size; we know this machine once folded has one of the smallest footprints on the market, but is this thing any good? We'll find out in a few seconds, first, let's take a quick look at the product specs!
Product dimensions –  80″ L x 32″ W x 67″ H
Resistance Type – Magnetic
Frame – Heavy duty steel tubing
What Do We Like About The NordicTrack SE7i Elliptical?
The best feature about this machine for me is not just that it folds for storage, but that it is a rear-drive elliptical, most people don't buy rear-drive ellipticals because they take up a ton of room, however, because this one folds you get the best of both worlds!
There are many benefits of rear-drive machines such as a smoother, quieter elliptical motion, a more realistic feel as you are standing in the center, longer stride lengths, and importantly there are fewer moving parts. So less maintenance to worry about, and when you want to store the machine, you simply fold, tilt and roll to a corner of the room. Nice.
Stride Length
Budget folding ellipticals are plagued by short stride lengths typically between 11-14 inches, which is ok for shorter users or anyone looking for just a walker for light workouts.
However, for taller users exercising on a budget elliptical can be a headache. Why? Because a short stride length will not allow you to run freely and heck, that's one of the main reasons you bought the machine, right?
The NordicTrack elliptical has a stride length of 18″ this isn't too bad for the price and its great for a folding elliptical still an 18″ stride length will be limiting for some users.
Generally, I'd recommend an 18″ stride length for users up to 6ft; if you're over 6ft, you'll need to look elsewhere, especially if you want to use the elliptical for fast-paced walking or running where you require a longer stride.
For users 6ft and under, the NordicTrack should suit your body well, allowing for light, medium, and intense calorie-burning workouts.
Resistance Levels
Nordic's SpaceSaver elliptical trainer is equipped with 22 levels of magnetic resistance.
22 resistance levels should be more than enough for most users. Although this machine sits just above the entry-level range, resistance strength is strong, with many users saying they can really feel the difference in the upper levels.
The SE7i  has not been built for serious athletes, but for most us, the 22 levels of resistance will be enough for calorie-burning workouts also, don't forget you also have the incline option to add a little more of a challenge to your workouts.
Magnetic
Most ellipticals either come with magnetic resistance or air resistance. Which is better? I'd recommend for home use magnetic is the way to go simply because magnetic resistance is whisper quiet in motion you can exercise without disturbing yourself or others around you.
Plus, another excellent benefit of magnetic resistance is that it is a constant resistance, the resistance only becomes stronger when you select a higher resistance level from the monitor.
The reason we like constant resistance is that it lets you run-walk at a slow pace on a high resistance level, something that was impossible with air resistance. Air resistance is dynamic; it only increases in strength when you walk or run faster. Air resistance is noisy, too, as it users a fan to create the resistance.
Monitor/Control Console
One of the most impressive features of the SE7i's monitor is the one-touch controls. One-touch controls allow you to easily choose and select resistance levels, workout programs, and incline.
Complicated hard to use monitors are something I've always disliked about cardio machines, yes, its nice to have all the latest tech. Still, most companies make using that tech time consuming and annoying, especially when you want to change levels, etc. while exercising.
For the less tech-savvy among us, the Nordicktrack one-touch console will be a refreshing change.
And just because this monitor is nice and easy to use,  doesn't mean Nordictrack has cut back on features, there's all the essential stuff such as heart rate monitoring, 24 preset workouts, 22 resistance levels, and power-adjustable incline.
Impressive to see power adjusted incline at this price saves manually changing it in the middle of a workout. (generally reserved for high-end ellipticals)
And the auto breeze fan, a smart fan that adjusts strength to match your workout intensity – cool little feature.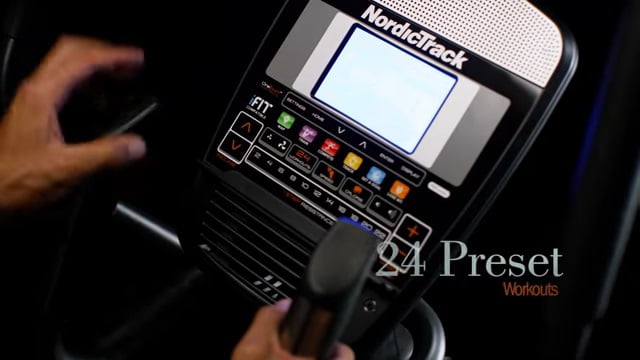 iFit
We should mention when you buy the NordicTrack elliptical; the monitor will come iFit ready! What does that mean? You need to pay attention here because this is what a lot of buyers of NordicTrack equipment get wrong. And you don't want to end up disappointed.
Lets first start by saying that iFit is not a free app. However, if you purchase the elliptical from their official site, you will get one-year free click here for their product page
NordicTrack cardio equipment works best if you use the iFit app, its almost as if they designed their cardio equipment to work exclusively with the app. I've read numerous complaints of users who didn't realize NordicTrack cardio gear only works well with this one app.
Yes, you can still use the machine without iFit, but it's a headache and almost unusable if you want to try other fitness apps. Just thought I'd give it a mention, not a deal killer but something I feel all buyers should know.
Thankfully, the iFit app is an excellent versatile app, and users seem to love iFit once it's set up and enabled on the elliptical. Hers a list of iFit features:
Allows you to track workout data over time – great for setting new fitness goals
You can download unlimited new workouts to your elliptical – various fitness trainers take you through different workouts in any global destination you choose, such as Greece, Swiss Alps, etc
New features added this year include special meal plans recommend by dietitians based on your daily calorie intake and burn – this will help you reach those goals faster
The feature I thought was most impressive was being able to use google maps to create your own trails. You can run anywhere you wish, even your local streets if you want. Cool! N.B, you will need your own tablet as you cant do to it through the elliptical screen; tablet holder is provided tho.
I'm not 100% sure about this with the SE7i model (I know this feature is available for other NordicTrack models) that the incline self adjusts to the workout. This is an impressive feature; when you're running up a hill or traveling across different gradients (using the iFit app) the elliptical self adjusts the angle of the incline, making your experience as real as possible, and even better a little more challenging!
Stability
Stability is something most people overlook when buying home gym cardio gear, yeah, it's dull compared to workout apps. Still, its something we must take into consideration. The last thing you want is an unsteady machine that moves around while you're exercising, which is usually the case with most folding ellipticals.
We mentioned earlier what sets this machine apart from other folding ellipticals is its build quality. This thing is heavy for a folding machine under $1k, and heavy is 'good'; not only is it a telling sign that the elliptical is made from quality materials the extra weight will also help a lot with stability, the heavier, the better.
Build quality, price and stability the NordicTrack gets a thumbs up.
Bad Points?
The good points certainly outweigh the bad when we look at this capable elliptical from NordicTrack, although there are a few things I don't like.
The lack of wireless heart rate monitoring is one! Pulse sensors will do an ok job at monitoring your heart rate, but a chest heart rate strap is much more accurate, and its a feature I feel a machine at this price should offer. Not a biggy, tho for some who love to train in their target heart rate zone, it will be missed.
Plus, you can only monitor heart rate when using the fixed set of handlebars as the pulse sensors are located there. If you're performing a full-body workout using the moving handlebars, you'll have nothing to monitor your pulse.
And lastly, NordicTrack has terrible customer service. Whenever I review their cardio machines, I always run into reviews where people are shaming their customer service. For a company that's been around for so long, you would think they might have sorted it by now.
Again none of the above our deal stoppers and every cardio machine you buy will have its cons as well as pros, and as I mentioned before, the SE7i has way more pros than it does cons.
It's one of, if not the best foldable elliptical out there despite its minor drawbacks. If you are tight on space and looking for a well built foldable elliptical with all the features and benefits of their full-sized machines, the NordicTrack SE7i SpaceSaver Elliptical shouldn't disappoint.
Click here for product page with free one-year iFit
Click here for best price Amazon