Horizon ellipticals are solid, well-built machines with impressive warranties.
I've reviewed a ton of ellipticals over the past few months and no other company receives as many positive reviews as Horizon. It looks like these guys really know what they're doing when it comes to our home gym cardio gear.
Packed Full of Features
And it's not just the build quality that shines when we look at the Horizon 7.0 AE Elliptical. This thing is packed full of useful features including 20 levels of power-adjustable incline, BlueTooth, wireless heart rate monitoring, an impressive 20″ stride length, heavy 23lb flywheel, and a compact front-drive design.
In this review, I'm going to take a close look at this versatile elliptical from Horizon Fitness. If you read through to the end, you can check out our comparison of the Horizon 7.0 AE with one its closest rivals, the excellent Schwinn 470 elliptical, but before all of that, let's take a quick look at the product specs!
Product dimensions –  76″ x 24″ x 65.5″
Incline – 20 levels – 0-10 degrees
Resistance Type – Magnetic
Frame – Heavy duty steel tubing
Why Do We Like The Horizon 7.0 AE Elliptical?
The best feature of this elliptical has to the power-adjustable incline. Choosing an elliptical that includes the incline feature will allow you to target different muscle groups.
If you have been after a machine that will help strengthen and build your hamstrings calves and butt, then you will definitely need an elliptical with an incline feature.
Getting hold of an elliptical with an incline is great, but getting hold of an elliptical with an incline feature that power adjusts is even better.
And thankfully, that's what we have here with the Horizon Fitness 7.0 AE; this elliptical has 20 power adjust levels with a max incline of 10 degrees. And what's best about all this is you can adjust the level of incline from the fixed set of handlebars, there's no need to jump off the machine and adjust it manually.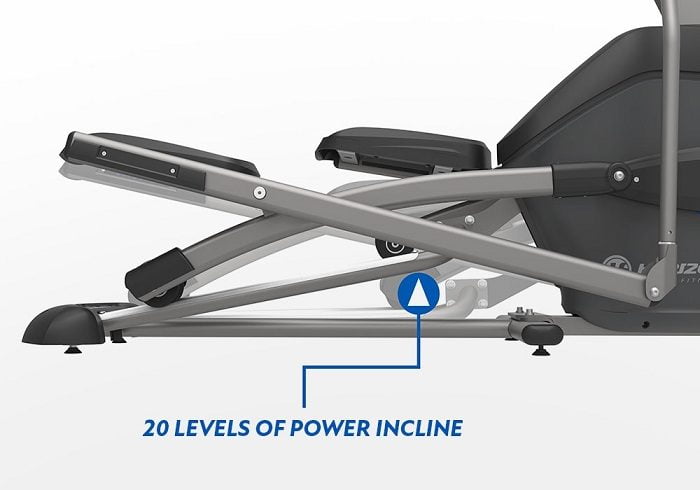 Low 10″ Step on Height
And another useful feature I like about all of the Horizon Fitness ellipticals is their low step-on height. Low step-on heights make it super easy to get on and off the machine, something I know many people with joint issues will love.
There's nothing worse than buying a piece of home cardio equipment that's difficult to use, and having a low step-on height of only 10″ should allow anyone to get on and off of the elliptical with ease.
Stride Length
You can't go out and buy an elliptical without first checking to see if you will be able to use the machine comfortably.
To comfortably exercise on an elliptical and get the most from the machine, you will have to check if the machine has a suitable stride length for your body size.
For those of you who are wondering what stride length is? The stride length is the measurement between the toe of the front pedal to the heel of the rear pedal while the pedals are at their widest stride, and it's this measurement that will determine how naturally you will be able to stride. Yes, you must get this right!
The Horizon 7.0 AE boasts an impressive 20″ stride length, that's the same stride length you will find on commercially rated ellipticals. The ones you see in local gyms and health clubs, so if you're ok using one of those, you should be fine on the Horizon 7.0.
(Min height for 20″ stride is 5'3″ and max height is 6'2″)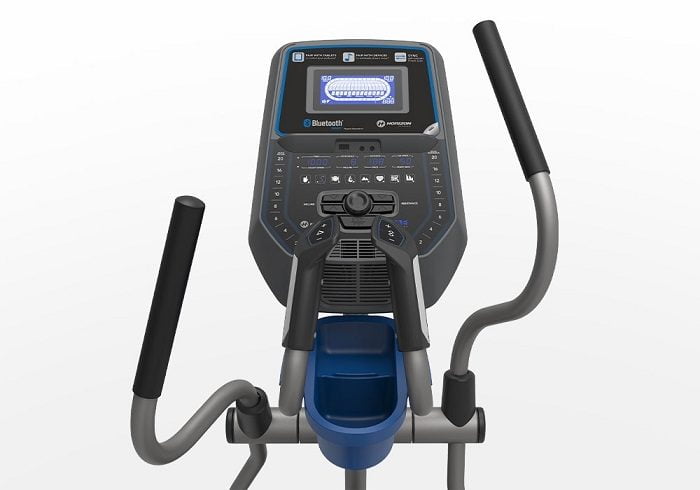 For a company known for its superior build quality and warranties, not their monitors, it was surprising to see a fairly advanced monitor on one of their ellipticals.
This thing boasts BlueTooth to connect to multiple devices to stream media through integrated speakers.
You can also wirelessly monitor your heart rate thanks to Pro Free ap.
Wireless monitoring is a much more accurate way to monitor your heart rate than the built-in handlebar pulse sensors, so a great feature for anyone who loves to train in their fav heart rate zones.
The monitor is app compatible with My Fitness Pal, AFG , Under Armour and FitBit
Plus all the other important stuff like resistance levels and incline angles can be easily choosen thanks to the one-touch buttons on the monitor.
7″ color screen will help you keep track of all your vital workout stats such as distance, speed, time, heart rate, etc.
And lastly theres a tablet holder, workout fan, and bottle holder. Overall a simple to use, yet advanced monitor with all you need for your workout sessions.
23lb flywheel and 20 resistance levels, sounds about right for the price point.
A 23lb flywheel is going to make the resistance feel smooth and uninterrupted. Plus the 20 levels should be enough for most fitness levels, ok seasoned athletes may have to look elsewhere, but for most us looking for a cardio machine to burn calories and tone muscle, 20 levels of resistance is enough.
I haven't heard any complaints about the strength of resistance when researching this elliptical.
Magnetic resistance is now the go-to resistance type for all home cardio gear. Why? Because its whisper-quiet in operation, you can watch TV listen to tunes without the sound of the machine disturbing you. And because this machine is nearly silent, you won't disturb any of the other household members with the sound of your exercising.
20 levels of whisper quiet resistance
Compact front drive design
Power adjustable incline (target different muscle groups)
Great warranty 3yr parts 1 yr labour and lifetime on frame
0% financing up to 24 months
Intergrated transport wheels, just tilt and roll to store
Limited selection of workout options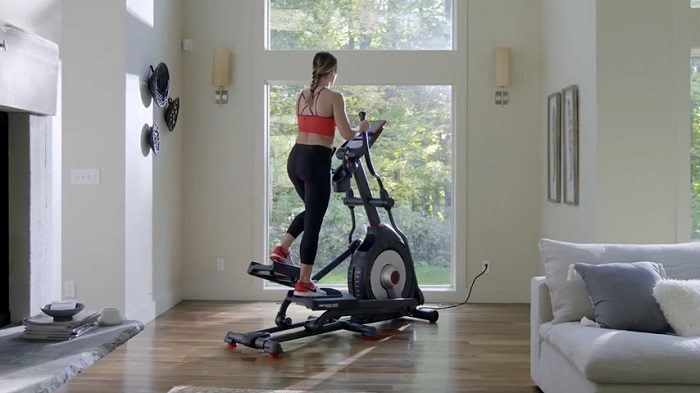 Schwinn 470 Elliptical
Schwinn are another well-respected company. These guys have been around for over 100 years and have been building cardio equipment for our homes for the past 40. They are still at the top of their game and produce some of the most advanced and affordable products on the market.
The Schwinn 470 elliptical is very similar to the Horizon. Both machines include wireless heart rate monitoring, both include a similar amount of resistance levels, and both include the 0-10 degree power adjustable incline.
Its a tough choice choosing between either of these machines because there really isn't much between them, even the fitness apps included come free, no subscriptions needed, which is a big bonus.
And when it comes to stride length, there's no difference there either with both machines boasting the 20″ stride length.
So how do we decide between the two? Not on price, at the time of writing this, both ellipticals cost just under $1k.
There's only one real difference here, and that's the warranties. Schwinn can not match the excellent warranty of the Horizon 7.0 A E, and if you are after peace of mind, the length of the warranty can be very important when choosing a cardio machine.
The Horizon warranty is three times longer on parts and twice as long on labor, although they both offer lifetime on frames.
So if push came to shove, I'd have to say the Horizon machine is a slightly more attractive offer. Ellipticals cost a lot to repair should something go wrong, so if only by a small margin, I'd have to recommend the Horizon 7.0 AE over Schwinn 470 Elliptical.
To Sum Up
Horizons relatively new to the market 7.0 A E is an excellent elliptical when it comes to both features and build quality. A nice heavy machine at 191lb the 7.0 is going to feel stable when exercising and shouldn't feel a lot different to machines from your local gyms. It isn't commercial quality, but it's not far from it.
The impressive warranty shows a company full of confidence for their product, which is something I always like to see.
If you have been looking for a machine for low impact full-body workouts at home? For the price, you won't find much better out there than the Horizon 7.0 AE Elliptical.