Horizon Evolve 3 Elliptical Machine
When we think of Horizon Fitness, we Imediatlily think quality cardio gear, these are the guys that build durable machines that last years of use. Their customer reviews testify to this. I've never come across so many happy users when it comes to ellipticals, as I have with Horizon.
Today we're going to be looking at the folding Horizon Evolve 3 Elliptical machine, and it's here that build quality is going to be important. Why? Because this thing is foldable.
Foldable ellipticals are usually poorly made and suffer from durability issues, and if anything, they are difficult and heavy to fold.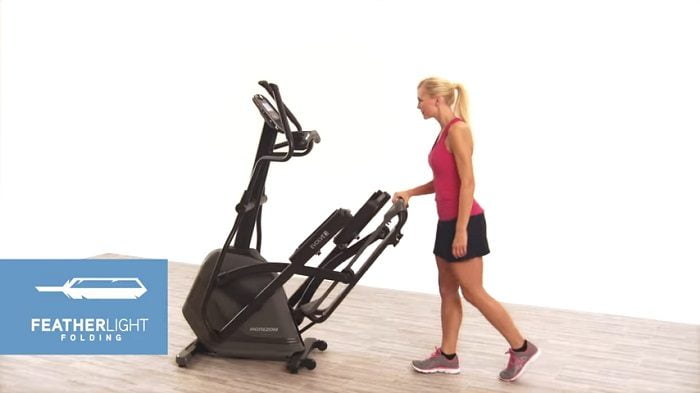 Well Built – Easy To Fold
So if you are going to consider a foldable machine, Horizon Fitness is probably your safest bet! Yes, the Horizon machines cost a little more than most, but your paying for that extra quality and the peace of mind that their excellent customer service will bring should anything go wrong.
And what we like most about this folding Elliptical is just how easy it is to fold and store. The manufactures say it's as light as a feather to fold. Nice!
Before we get on with the review, lets first take a quick look at the product specs.
Product dimensions –  69″ x 28″ x 69″  (L x W x H) Folded – 41″ x 28″ x 69″
Resistance Type – Magnetic
Frame – Heavy duty steel tubing
Why Do We Like The Horizon Evolve 3 Elliptical?
What stands out most to me about this elliptical is its stride length. Stride length is the most important feature you should consider before buying any elliptical.
It's the measurement between the toe of the front pedal to the heel of the rear pedal. Why's it so important? Because this is the measurement that will determine how naturally you will be able to stride.
Can you imagine buying an elliptical you can't even run at pace on? It will be a waste of money, especially if you purchased the machine for fast-paced calorie-burning workouts that require a larger stride.
Will you be able to exercise comfortably on the Evolve 3. You should be ok. The Evolve 3 boasts a 20″ stride length.
To put this stride length in perspective, you need to think of the commercial ellipticals in local gyms and health clubs; nearly all have a stride length of 20," so if you are ok exercising on one of those you should be just fine with Evolve 3's 20″ stride.
Max recommend height for 20″ stride is 6'1″
20 Magnetic Resistance Levels
Magnetic resistance has been around for a while now, and it's become increasingly popular for home cardio gear, simply because magnetic resistance is whisper quiet when in motion.
A quiet resistance system is excellent for home workouts as it lets you watch TV or listen to music without being disturbed by the sound of the machine. It's also useful for other household members who do not want to be disturbed by the noise of your exercising.
Another thing I particularly like about magnetic resistance is being able to workout on a high resistance level at a slow pace; this is possible because magnetic resistance is constant, i.e., the resistance strength can only increase if you manually change it via the monitor as opposed to air resistance which is dynamic, the strength of resistance only increases when you run or walk faster.
The Horizon includes 20 levels of resistance and an 18lb flywheel; an 18lb flywheel isn't impressive at this price point. Still, it is heavy enough to ensure smooth motion.
With 20 levels of resistance, both beginners and intermediates should easily be able to find a resistance level to suit their fitness needs.
From the hours of research I have carried out on the Evolve 3, I have not come across one customer who has complained about the strength of resistance. So a thumbs up here.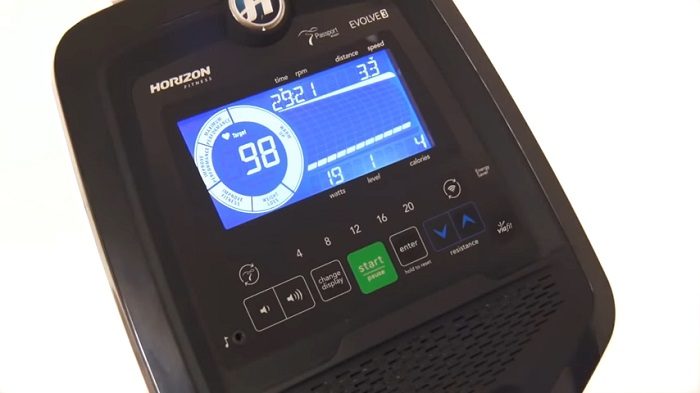 Monitor/Control Console
Not one of the most advanced monitors you will see in this price bracket, but nor is it one the worst. We have a 5-inch backlit display so you can easily read all your workout stats. Most of the important stuff like resistance levels and workout programs are easy to use and can be found with one or two touches of the control panel buttons.
What else does this monitor include:
My favorite feature has to be the workout programs. Workout programs are excellent for keeping you interested in exercising, some are fun, some are challenging, and most importantly, they will help you reach your fitness goals. The Evolve 3 comes with a whopping 32 built-in workout programs; 

10 Distance, 10 Step Workouts, 2 Performance, 3 Interval, 6 Calorie, Manual

ViaFit is Horizon's very own fitness app – This comes enabled on your machines, and if you want to use it, it can help track your long-term progress and access your fitness data with your mobile device. ViaFit also connects with social media

Also Cardio Compass™ for easy-to-read heart rate monitoring info 

And finally the monitor tracks all the usual workout data such as distance, calories burned, speed, watts, RPM and time
Assembly
One of the easiest ellipticals to assemble out there, usually these things take 2 hours + of head-scratching to assemble. Thankfully the Evolve 3 elliptical is constructed in three easy steps, with most users getting this one together in under 30mins.
'FeatherLight' fold sytmem make this elliptical surprisingly easy to fold in one simple step 
20 whisper-quiet magnetic resistance levels
Easy to assemble, under 30 minutes
ViaFit wireless fitness tracking
32 built-in workout programs
2 sets of handlebars – one fixed with pulse sensors, other moving for full-body workout
Passport player with videos costs extra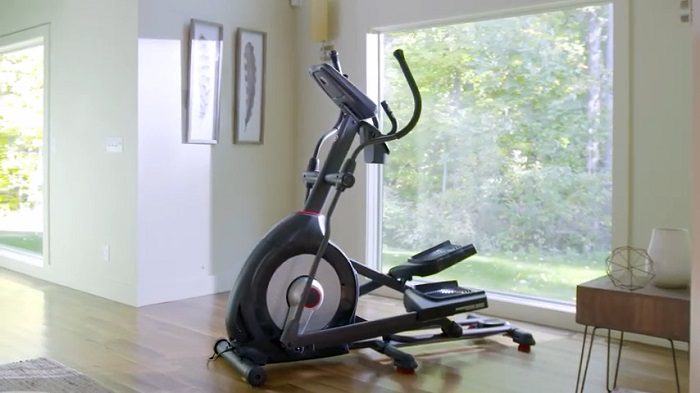 Schwinn 470 Elliptical
For our comparison, I thought it might be worth checking out an elliptical built by a company just as good as Horizon, except this machine is not foldable. You can get a heck of a lot more for your money if you choose not to buy a machine with a foldable feature.
This is Schwinn's top of line 470 elliptical, and it costs less than Horizons Evolve 3.
The Schwinn isn't a huge elliptical either as it has a smaller footprint than most thanks to its front-drive design, but yes, it will take up more room than the Horizon, so will need a permanent space to house it.
So what does this elliptical offer that the Horizon doesn't? Firstly this machine comes with an incline feature?
Incline is an important feature as it allows you to target different muscle groups, especially useful for those of you that want to strengthen and build your butt, calves, and hamstrings. Also, the incline power adjusts, you don't even have to get off the machine to change the angle of the incline!
Secondly, the Schwinn includes wireless heart rate monitoring, a much more accurate way of measuring your heart rate. An essential feature for those of you who love to train in your chosen heart rate zones. 
And lastly, this machine will have a much stronger and smoother resistance in the upper levels thanks to the heavy 25lb flywheel. So there shouldn't be too many worries about outgrowing the elliptical as your fitness levels increase.
There's a ton of other great stuff about this elliptical you can read about in pour full review – Click the link below.
To Sum Up
The Horizon Evolve 3 is built by a company that offers you the best warranties out there, double that of their competition. They stand by their products which is refreshing to see and something their customers love.
Okay, the Evolve 3 may seem a little overpriced when compared to other elliptical in this price bracket but this is mainly because of the fold for storage feature, if you can live without a few of the advanced features, power-adjustable incline, etc, and are tight on space, there isn't much better out there on the market when it comes to foldable ellipticals than the ones built by Horizon.