This is Schwinn's top of the line elliptical. Still, it's not a heavy-duty machine, nor is it anywhere near commercial grade, it's just as good as it gets for Schwinn. The Schwinn 470 elliptical is basically a mid-level machine, and it's a good one.
The 470 has been around for nearly a decade. Ever since I started reviewing ellipticals, the Schwinn 470 has always been at the top of the pile in the under $1k bracket. It's stood the test of time and still sells just as well today as it did when I first reviewed it many years ago.
Well Built, Smooth, and Includes That Desirable 20″ Stride.
Its been updated recently, which is a good thing because it needed it, so it now boasts some of the latest tech, like wireless heart rate monitoring and an excellent power incline. Still, I think what stands out more about the Schwinn elliptical is that it gets most of the essentials right, you have the desirable 20″ stride, it's well built as you'd expect from Schwinn, and most importantly this thing feels smooth, which is surprising considering the flywheel is on the light side.
The 470 has always been a fav of mine; it's not perfect, the flywheel is too light for starters, but as I just mentioned, it is an elliptical that gets most things right, which is rare for a $1k machine, so today I want to take a look at everything this mid-level elliptical has to offer, including those drawbacks.
Also, at the end of the review, I'll compare the 470 with the Sole E25 Elliptical, another impressive $1k machine. It will be interesting to see how the top 2 ellipticals in this price range match up.
First lets, check out the Schwinn 470 product specs!
Product dimensions – 28.2″D x 63.2″W x 70.1″H
Resistance Type – Magnetic
Pre-programmed workouts – 29
Why Do We Like The Schwinn 470 Elliptical?
This is Schwinn, so you can expect something good from these guys; they've been around for over a century and have been building cardio gear for our homes for over 50 years.
It's not an unknown company selling below-par products. And that's why I like them. You won't get any shocks, you already know what you're getting, and that's a well-made machine, not commercial grade, but easily good enough for a home gym.
And the easiest way to tell the quality of most ellipticals is by their weight.
The weight gives you a good clue to the overall quality of the parts used in the build. Commercial heavy-duty machines weigh around 300lb, a decent mid-level elliptical should weigh around 150lb, and the Schwinn weighs 165lb, which is what I wanted to find.
This amount of weight tells me it's not some cheaply made lightweight machine, and there's also enough weight there to keep things stable.
So don't expect gym quality with the 470, but you can expect a well-made, sturdy machine.
Suitable For Users Up To 6'3″
Something else I like about the Schwinn 470 is that you get the desirable 20″ stride, and I say desirable as this is the stride length they use on commercial ellipticals. And the reason it's used on most high-end machines is because it's a stride length that suits most people's heights, with a height range of 5ft to 6'3″.
I was reviewing a couple of NordicTrack Ellipticals last week, both costing over $1k, and I was surprised they didn't even have 20″ strides. There's a lot of ellipticals that are falling short when it comes to stride length, even ones costing up to $2k.
The Stride length is so important as you don't want to feel restricted when using your elliptical.
Burn Twice as Many Calories With Power Incline
The Schwinn 470 is a front-drive elliptical, and front-drive ellipticals only work the quads. This is because the flywheel is in front of you, which means you have to stand on the front of your feet and push the flywheel to get it spinning, which mainly works the anterior muscles of your legs, like your quads.
Working the quads is great, but the quads are a relatively small muscle compared to the much larger posterior muscles like your glutes and hamstrings; these muscles have a higher caloric output requirement, and if you want to work them on a front-drive elliptical, you must have an incline feature.
10 Level 10 Degree Power Adjustable Incline
So a decent inline is essential to give those large posterior chain muscles a hard workout, and the Schwinn 470 has an impressive power adjustable incline perfect for the job. It's a 10 levels 10-degree incline, and you can adjust it from the quick touch buttons of the monitor. This is about as good as incline features get for $1k ellipticals.
Even if you don't choose the Schwinn 470 elliptical, I recommend you always choose an elliptical with a power-adjustable incline. Otherwise, you'll have to get off the machine and adjust the incline manually, which disrupts your workout.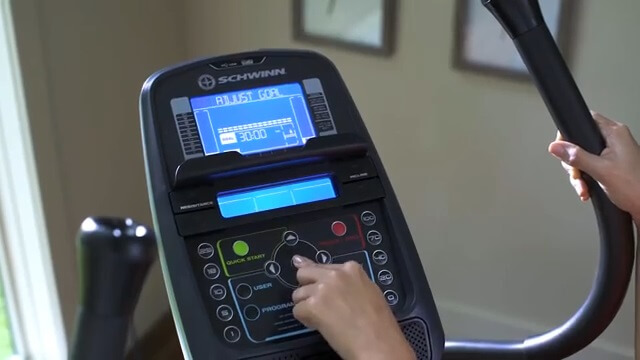 Easy To Use Monitor With 29 Workout Programs and App
An excellent monitor for the price bracket, there really isn't much this monitor doesn't include. It has everything you would expect from a high-end elliptical machine, apart from a full-color screen.
The dual backlit screen of the Schwinn works just fine for your workout needs, and if you need the color screen, you can always hook the elliptical up to a tablet. (table holder provided)
The best feature of this advanced monitor has to be the number of workout programs, 29 in total. Workout programs are excellent for taking away the boredom of long workout sessions.
I know an hour can feel like a long time on an elliptical, which is why workout programs are so useful. The Schwinn 470 workout programs include challenges, fun rides, heart rate programs, and thanks to the Explore The World app you can also race against friends with an extra 27 routes to choose from.
Wireless Heart Rate Monitoring
Another stand-out feature of the monitor is wireless heart rate monitoring; this is the only Schwinn elliptical to offer this feature. Schwinn rivals NordicTrack do not provide wireless monitoring in this price range.
Wireless heart rate monitoring is far more accurate than built-in pulse sensors. The only downside is you'll need to buy your own chest strap, about $50, but it's worth it, especially for those of you who like to work out in your target heart rate zones and need an accurate reading.
Plus, remember the built-in pulse sensors are situated on the fixed set of handlebars of most ellipticals, including the Schwinn, so it would be tough to monitor pulse while doing a full-body workout with the moving set of handlebars unless your elliptical has wireless heart rate monitoring capabilities such as the 470.
Frictionless Resistance System
Magnetic resistance is the perfect choice for an elliptical because it's frictionless, and by that, I mean the magnets never have to make contact with the flywheel. And because there's no contact, there's no sound.
It's the quietest resistance system you can use for any cardio machine. Making only 20DB which is whisper quiet, you can use this elliptical without disturbing others around you with the sound of your workouts.
Also, because it's frictionless, it's smooth, which is exactly what you want.
You get 25 levels of resistance with the Schwinn 470. But we need to remember that the flywheel weighs only 17lb, which means the resistance in the upper levels won't feel particularly strong. I'd expect at least 20lb in this price range,
So resistance isn't strong enough for serious athletes in training or anything like that, but it's easily strong enough for calorie-burning workouts and increasing fitness levels. Most beginners and intermediates should get a good few years of use out of this elliptical before outgrowing it.
Moving and Stationary Handlebars
If you're a beginners or a first time buyer, it's always important to choose an elliptical with a stationary pair of handlebars and a moving pair.
The stationary pair are very useful for beginners because they allow you to get used to the elliptical motion. And once you've built your confidence, you can move on to the moving pair for a full-body workout.
But it's not just beginners who will get a lot of use out of the stationary pair of handlebars, advanced users love to use them too, as you can grab hold of the stationary bars, crank the resistance to a high level and concentrate fully on the lower body, giving the legs a really hard workout.
Assembly
The Schwinn 470 elliptical comes shipped with a step by step, fully illustrated manual.
Most of the elliptical comes pre-assembled, but don't be fooled by the odd person saying it was a breeze to put together.
Ellipticals, even the compact ones, are by their very nature large machines, and I'd always recommend two people for assembly as some ellipticals will have parts that need to be held in place. Tools are provided; the average time for the build was between 1-2 hours.
Sturdy build, users have praised how stable the 470 feels
20″ stride length, can accommodate users up to 6'3″
Impressive 10 degree, 10% power incline
Decent monitor for price range, easy to use, and has a ton of built-in workout programs, including their app
25 levels of quiet magnetic resistance – can watch TV without being disturbed by the sound of the machine
Built-in speakers, BlueTooth, tablet holder, water bottle holder and transport wheels
The flywheel is on the light side for a mid-level elliptical
Have to buy HR chest strap seperatley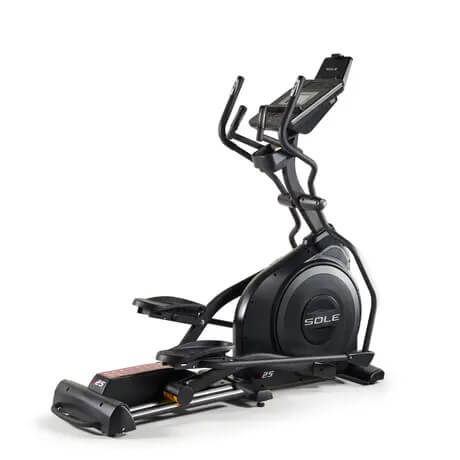 Sole E25 Elliptical
Sole Fitness are well known for making commercial fitness gear for hotels and sports clubs, but they also produce some excellent cardio equipment for home gyms. And their ellipticals are some of the best I've reviewed.
The Sole E25 is their lowest priced elliptical, costing just over $1k, so it's the same price right now as the Schwinn 470.
And what's most impressive about the Sole E25 elliptical is the build quality. These guys pride themselves on the quality of their equipment, and the E25 is a solid beast for the price point; this thing weighs 212lb assembled, it's a heavy, sturdy machine weighing nearly 50lb more than the Schwinn 470. It certainly won't feel cheap or unstable.
Also, with the Sole Elliptical, you get dual rails and 4 wheels for the pedals. This is something you won't find on any other elliptical in this price range, and I love duel rails because they prevent the pedals from any sideway movement, they really keep the elliptical path nice and straight, and the wheels keep everything moving smoothly.
The Sole E25 includes the best incline in this price bracket with a 20 level 20% incline, more than enough for your incline workouts, and you get a 20lb flywheel ensuring resistance feels strong, and the elliptical motion stays consistent and smooth.
But perhaps what's most important is that the E25 also boasts the 20″ stride. It is an elliptical that has everything, and to top things off, it has the longest warranty in the price bracket.
The fact that it gets all the essentials right, including that nice heavy build, is the reason why this is one of the top two ellipticals at this price point.
But is there anything letting it down? The monitor is basic, but this is normal for Sole Fitness. Even their high-end ellipticals come with basic monitors. They concentrate more on the build, and the monitors always come second, which is a good thing for me as I'd prefer them to focus their efforts on the essentials rather than the monitor.
Still, with just 10 workout programs and only 15 resistance levels, the monitor does leave you wanting. It's not a deal killer – it includes wireless heart rate monitoring and quick touch buttons for resistance and incline, which is a big plus, but it might be too basic for some people.
To Sum Up
The Schwinn 470 does everything it's supposed to do for $1k. There's nothing that special about it, but it's not lacking in any of the essential features either. I'm happy the 20″ stride is still there, and the build quality remains up there with the best in this price bracket,
The monitor is great, it has everything you need including a whopping 29 built-in workout programs, so no need to join any expensive subscription apps.
There's nothing I can really fault about the Schwinn elliptical, the flywheel is a little light at 17lb, but only a few pounds off of what I'd expect. Still, 17lb is heavy enough to keep the motion smooth and resistance fairly strong in the upper levels.
As I said at the start of the review, it's not a gym quality machine, and you can't expect that in this price range, what the 470 is, is a well made mid-level elliptical that does well on all the important stuff, like build quality, stride length, incline, and monitor.
Schwinn 470 Elliptical FAQs
Is Schwinn a Good Brand?
Schwinn has been around for over 100 years and has been making fitness equipment for over 50 years. They have a lot of experience, which is why they are such a trusted brand. They are known for making high-quality exercise bikes, ellipticals, and rowing machines. 
How Much Does The Schwinn 470 Weigh?
The Schwinn 470 weighs 165lb assembled and 175lb in box weight.
Does The Schwinn 470 Have BlueTooth?
Yes, the Schwinn 470 includes BluTooth you can use it to sync with their Explore The World Fitness app or a number of other apps like UA, MyFitnessPal, GoogleFit, Apple Health, and MapMyRun/Ride.
What is The User Height Range of The Svcwhinn 470 Elliptical?
The Schwinn 470 boasts the desirable 20″ stride length. A 20″ stride length has a height range of 5ft to 6'3″