Power adjustable incline, 25 levels of resistance, an impressive stride length of 20″ and wireless heart rate monitoring are among some of the top features of the Schwinn 470 Elliptical Trainer not only that; this thing has been built by a company who has been at the top of their game for over 40 years!
There no doubt, the Schwinn 470 has a lot to offer in this price range, and in this review, we'll be taking a closer look at all of the pros and cons of this capable elliptical.
Towards the end of the review, I'll compare the Schwinn 470 with its lower-priced little brother, the Schwinn 430. So, you should, by the end of the review, have a pretty good idea which Schwinn elliptical is the right choice for your budget and fitness needs.
First, let's take a quick look at the 470 product specs!
Product dimensions –   52 x 22 x 34.5 inches
Resistance Type – Magnetic
Pre-programmed workouts – 29
Why Do We Like The Schwinn 470 Elliptical Trainer?
One of the features I find particularly appealing and more useful than the others is the power-adjustable incline. An adjustable incline is especially helpful for those of you who want to target different muscle groups such as the butt, calves, and thighs, but what's great about the Schwinn 470's incline is that it power adjusts.
Power adjust inclines are a clever bit of kit that allows you to adjust the incline without having to get off the elliptical and manually change it yourself.
Also, the monitor includes the quick touch keys. The quick touch keys let you adjust the incline and resistance levels with one-touch rather than having to scroll through an annoyingly complicated menu. Nice!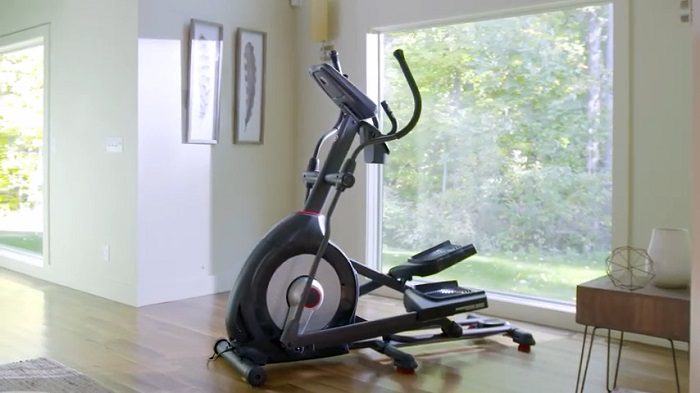 Stride Length
And the most important thing you should consider when looking for the right elliptical for your body size is the ellipticals stride length.
First and foremost, you must be comfortable and be able to walk and run freely on your elliptical. If you cant, then you've bought an elliptical with a too-short stride length, and the elliptical won't be doing the job it's supposed to do.
So, when it comes to stride length, we have to go on user height. Thankfully, the Schwinn 470 boasts a reasonably wide stride length for the price bracket at 20″.
20″ is similar to the stride length you will find on ellipticals in your local gym if you're ok using one of those you should be fine with 470 elliptical.
However, I'd recommend a max height of 6ft for a 20″ stride length anyone taller will have to spend a few more bucks on a machine with a wider stride length.
Resistance Type/Strength
From the hours of research I have put into this review, I haven't come across one user who has complained about the strength of the resistance of the 470, and to be honest; we shouldn't do at this price.
For a medium-priced elliptical, we generally see around 16-30 resistance levels, and the Schwinn 470 provides 25. This is more than enough for most fitness levels apart from maybe the odd pro runner.
Still, for most of us, the Schwinn 470 should provide enough resistance strength for intense calorie-burning workouts as well as lighter workouts for beginners.
Schwinn advertises their elliptical as using Eddy Current Brake (ECB) resistance; this is just a fancy term for magnetic resistance.
Magnetic resistance is my recommended resistance type for home use why? Because it is whisper-quiet when in motion, great for you guys who love to watch TV while you exercise and even better for people around you who don't want to be disturbed by the sound of your exercising.
You can get hold of air resistance ellipticals, but because of the noisy fan they have to use to create resistance, they are becoming far less popular for home use.
Plus another significant advantage of owning a magnetic machine is being able to run/walk on a high resistance level at a slow pace. Something that was impossible with air resistance as air resistance is dynamic it only increases in strength as you walk run faster.
Opposed to magnetic where the strength of resistance only increases when you manually select a more challenging level via the monitor (constant resistance)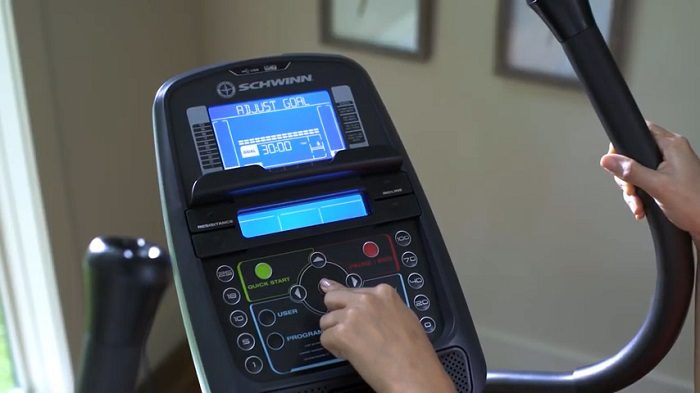 Monitor/Console
An excellent monitor for the price bracket, there really isn't much this monitor doesn't include. It has everything you would expect from a high-end elliptical machine apart from maybe a full-color screen.
The dual backlit screen of the Schwinn works just fine for our workout needs, and if you need the color screen, you can always hook the elliptical up to a tablet. (table holder provided)
The best feature of this advanced monitor has to be the number of workout programs 29 in total. Workout programs are excellent for taking away the boredom of long workout sessions.
I know an hour can feel like a heck of a long time on an elliptical, which is why workout programs are so useful. The Schwinn 470 workout programs include challenges, fun rides, heart rate programs and thanks to the Schwinn Run Social App you can also race against friends with an extra 27 routes to choose from
Another stand out feature of the 470 is wireless heart rate monitoring; this is the only Schwinn elliptical to offer this feature also Schwinn rivals NordicTrack do not provide wireless monitoring in this price range.
Wireless heart rate monitoring is far more accurate than the built-in pulse sensors. The only downside is you'll need to buy your own chest strap about $50, but it's worth it, especially for those of you who like to workout in target heart rate zones and need an accurate reading.
Plus, remember the built-in pulse sensors are situated on the fixed set of handlebars of most ellipticals, including the Schwinn, so it would be impossible to monitor pulse while doing a full-body workout with the moving set of handlebars unless your elliptical has wireless heart rate monitoring capabilities such as the 470.
Assembly
The Schwinn 470 elliptical comes shipped with a step by step, fully illustrated manual.
Most of the elliptical comes pre-assembled, but don't be fooled by the odd person saying it was a breeze to put together.
Ellipticals, even the compact ones, are by their very nature large machines, and I'd always recommend two people for assembly as some ellipticals will have parts that need to be held in place. Tools are provided; the average time for the build was between 1-2 hours.
High info monitor – Dual Track LCD displays
29 workout programs – Including free access to Schwinn Trainer App
25 levels of whisper-quiet magnetic reistance
Wireless heart rate capabilities
Media shelf, in console speakers with MP3 input port, USB media charging and adjustable fan
Pedals don't have adjustable angle, which would help make this front drive elliptical a bit more ergonomic
No wireless heart rate receiver
Alternative & Comparison Table
Our Choice
Schwinn 470 Elliptical
Stride Length – 20″

Resistance Levels – 25

Workout Programs – 29

BlueTooth

Incline – Power Adjust 0-10°
Stride Length – 20″

Resistance Levels – 20

Workout Programs – 25

 BlueTooth

Incline – Manual Adjust 0-10°
Schwinn 430 Elliptical Trainer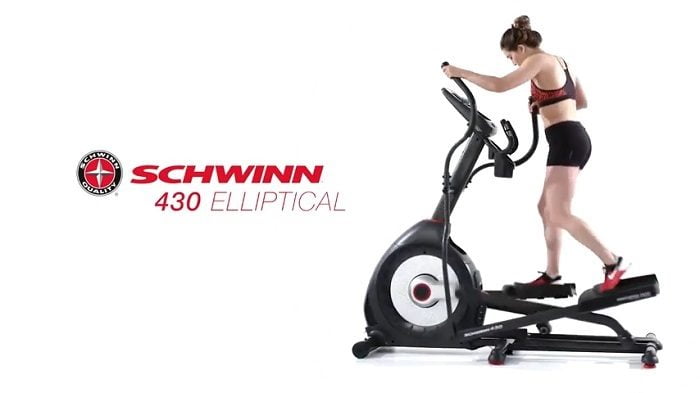 The Schwinn 430 is basically the same elliptical as the 470. Build quality, the weight of the machine, max load capacity are the same, also the most important feature the stride length is also 20″ the same as the 470.
So, all the important stuff for a low impact cardio workout is there. Both ellipticals are very similar, they only differ when it comes to a few features which may be more important for some of you than others. There's no wireless heart rate monitoring with the 430 and I know this can be a biggy for the more serious trainer.
And the lack of a power adjust incline is one feature I know I would miss, however its certainly, not a deal stopper, doesn't take long to manually change an incline but it does interrupt your workout.
This thing is a couple of hundred bucks less than the 470 so we have to expect a more basic monitor with fewer features at least they didn't cut back on the important stuff such as build quality and stride length.
The 430 is an excellent elliptical and one that beats most others hands down in its own price range but when matched against the 470 its feels fairly basic, especially as there no option to download workout apps. Even at this price, I'd expect to see a BlueTooth enabled monitor.
But for those of you who don't need all the bells and whistles, the 430 offers everything the 470 does when it comes to low impact workouts, there's enough strength in the smooth magnetic resistance for most fitness levels and enough workout programs to keep most users happy, plus an impressive stride length for the price bracket!
To Sum Up
The Schwinn 470 Elliptical Trainer is, without a doubt, one of the best ellipticals available in and around the $1k mark, the icing on the cake would have been an adjustable stride length, but that's just me being very picky.
This company never fails to impress when it comes to their home cardio gear, yeah, they don't make commercial-grade gear, but for home use their high-end stuff like the 470 is good enough for most users and fitness levels.
If you have been looking for a well built mid-level elliptical, then I don't think many people will be disappointed with this versatile, low impact cardio machine.