When we buy any piece of home gym equipment, the first thing we need to look out for is the company behind the product. The last thing you need is to splash out a load of your hard-earned cash on a product that's not up to scratch and breaks down within the first month of use.
There are so many ellipticals out there, especially in the under $500 price bracket it can be a headache trying to sort the good from the bad.
With Sunny Health and Fitness at least you don't have to worry about the company these guys have an excellent reputation for building quality home cardio machines at very affordable prices and their Sunny Health Elliptical Machine SF-E3912 is no exception.
Mid-Level Elliptical/Entry-Level Price
The SF-E3912 is Sunny's top of the line elliptical in their entry-level range. An elliptical packed full of features and boasting a super-smooth magnetic resistance system.
If you have been after a well-built elliptical that can offer you a full-body workout, a ton of resistance levels, and a huge 24 workout programs. The Sunny Health & Fitness elliptical machine may well be the machine for all of your cardio needs.
In this review were take a close look at Sunny's versatile elliptical; I'll also be comparing the Sunny with another top-rated machine at a similar price. But before we get on with the review, let's take a quick look at the product specs!
Product dimensions –  55 x 23.5 x 64.5 in
Resistance Type – Magnetic
Why Do We Like The Sunny Health Elliptical Machine?
There isn't much not to like about this machine, but what stands out most about the compact elliptical from Sunny is the build quality and weight of the machine.
The Sunny isn't some cheaply built budget machine; this thing weighs 105lb. That's a pretty hefty weight for a budget-priced elliptical not only does the weight help with stability, it's also a telling sign this machine is built form quality materials.
Ok, we're not looking at commercial grade here, but for a home gym, the Sunny Health and Fitness elliptical is an impressive machine for the price bracket. There's no other elliptical in under $500 that provides 16 levels of resistance, 24 workouts programs, and a whopping 330lb weight capacity.
So we know the Sunny is a well-built machine that offers you a ton of workout options and smooth magnetic resistance, but as with most things in life when it sounds too good to be true, it usually is.
And yes, there is one downside to this elliptical, and its an important one. While it may not be a deal stopper for everyone, it will affect some people reading the review, what am I talking about? The stride length!
Stride Length
Without a doubt, the most important feature of any elliptical you look at is the stride length. If any of you don't know what the stride length is, it's the measurement between the toe of the front pedal to the heel of the rear pedal while the pedals are at the widest stride.
This measurement is so crucial as it determines how naturally you will be able to stride. The Sunny elliptical machine, unfortunately, has a short stride length of 14″ while it isn't as low as a few of its counterparts with some as short as 11″. 14″ is still considered short which is why we wouldn't recommend this elliptical for people over 6ft
If you're only after a walker and your over 6ft the Sunny will be fine, but for running, anyone over 6ft is going to need a stride length of at least 18."
As I mentioned, the short stride length certainly won't be a deal killer for most of you. For shorter people, seniors and walkers, the Sunny elliptical is an excellent machine the best in the price range!
16 Levels of Magnetic Resistance
Magnetic resistance has become increasingly popular over the past few decades; even commercial gyms are replacing their air(fan) powered cardio machines with magnetic.
Why the change over? Magnetic cardio machines are whisper quiet when in use. The almost silent motion of magnetic resistance is the main reason people love to have a magnetic machine for their homes.
You can watch your favorite Netflix shows or listen to music all without disturbing yourself or others around you with the sound of the machine.
Another big plus of owning a magnetic elliptical is it the machine lets you workout at a high resistance level while walking or running at a slow pace, something that was impossible with air machines in the past.
Being able to run at a slow pace on a high resistance level is thanks to magnetic resistance being constant i.e., it doesn't become stronger when you walk or run faster as with air resistance, with magnetic the resistance strength will only increase if you change it via the monitor.
And with 16 magnetic resistance levels, the Sunny Health elliptical has enough levels to suit all your cardio needs. Many users have praised the strength of resistance, saying the resistance felt particularly strong in the upper levels comparing it to machines they had used in their local gyms.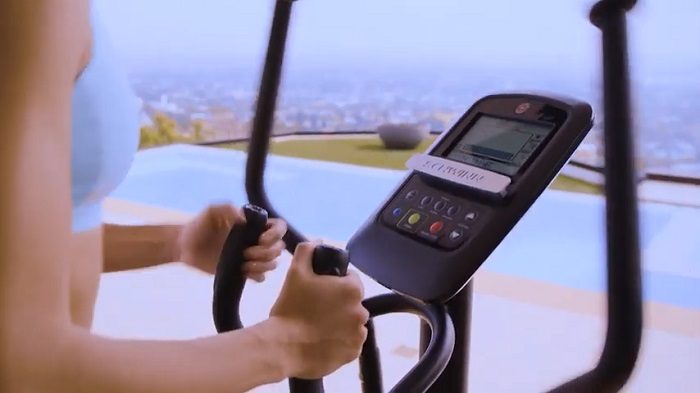 Monitor/ Control Console
We are at the top end of the budget range with the Sunny elliptical, so hopefully, we can expect to see a decent monitor, and thankfully we do; this is where SF-E3912 elliptical shines.
With more than double the workouts programs of its nearest rival, the Schwinn A40, the Sunny SF-E3912 boasts one of the most advanced monitors in the price range. And the LCD is large too, which is a good thing, makes reading your workout stats easy.
There's no Bluetooth with this one, but you can track heart rate, which is achieved through the sensors in the fixed handlebars, and lastly, all the usual workout data can be tracked, such as speed, time, distance, rotations per minute, watts and magnetic levels.
Overall an impressive, easy to use and read monitor, big thumbs up here!
Two Sets of Handle Bars
Its all too often you see ellipticals with only one set of handlebars this is fine if you are used to using an elliptical but for beginners and for people who like to concentrate on lower body workouts a second set of fixed handlebars is essential.
The Sunny Health elliptical comes equipped with both a moving set for full-body workouts and a fixed to help beginners with stability when first getting use to the elliptical motion.
N.B you can only monitor your pulse rate when using the fixed set of handlebars as the pulse sensor are built into the fixed handlebars only.
Advanced monitor for price range
Quiet machine thanks to magnetic reistance
Impressive 330lb max capcity
Assemebly time for two people 45 mins, users mentioned intrusions are easy to follow
Built in transport wheels, simply tilt and roll to move the machine
The calories reading isn't too accurate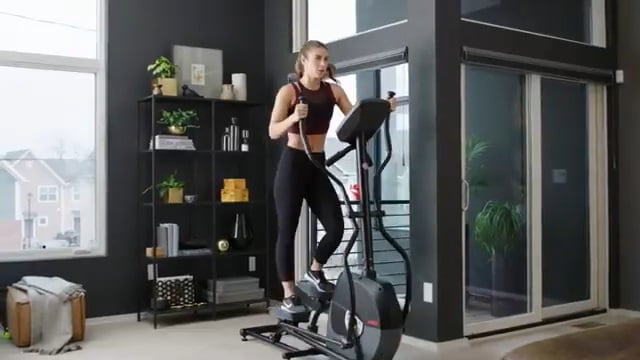 Schwinn A40 Elliptical Machine
Schwinn are another company known well in the cardio industry. These guys have been around for over 100 years and producing quality cardio gear for your home for well over four decades, so we can be sure we are dealing with a company with a ton of experience when it comes to delivering quality goods.
I've always been impressed with Schwinn while they don't necessarily flood their equipment with loads of workouts options; they do consistently provide durable cardio gear that's exceptionally well built.
The Schwinn A40 elliptical may lack the workout programs of the Sunny Health, but what the Schwinn lacks in workouts programs is made up for in durability and, most importantly, stride length.
Surprisingly the Schwinn boasts a 17.5″ stride length broadening its appeal not only to taller users but for anyone looking for a machine for more intense workouts. A wider stride length will allow runners a more natural stride, and its probably the biggest selling point of this capable elliptical from Schwinn.
Again the Schwinn elliptical benefits from smooth magnetic resistance; however, there are only eight levels compared to the Sunny's 16. The Sunny also doubles the workout programs of the Schwinn.
For me the Schwinn is certainly worth some serious consideration, especially if you are over 5'10" and your budget is limited. A well-built machine with high user ratings. One woman mentioned this thing still works like new four years after purchase.
If you're after a wider stride length, click the link below to read our full review of the Schwinn A40
To Sum Up
I researched well over 50 ellipticals, and when it comes to price, build-quality, and features, there is no better out there at this price point than Sunny's SF-E3912 and the Schwinn A40.
Its a shame the Sunny Elliptical has a short stride length as it means taller users will have to look elsewhere (Schwinn A40), but if your 5'10" and under the Sunny Elliptical SF-E3912 will prove to be a great buy. Low impact exercising at its best for under $500