When the Schwinn A40 elliptical machine hit the market a few years back, I remember thinking, at last, one of the top 3 companies has finally produced a decent affordable elliptical.
And yeah, by all accounts, this thing was better than anything else out there, especially when it came to building quality. But, however good it was, it still lacked a couple of essential features.
Improved Design – Two Set of Handlebars – Larger Monitor Screen
What was missing from the early version? The second set of handles(fixed) A set of fixed handles is vital for beginners who need that extra bit of stability when first getting used to an elliptical.
Fixed handles are also important if you want to focus entirely on a lower-body workout, you'll need the fixed set of the handles to grip onto. Secondly, the monitor screen was too small and proved hard to read.
Fast forward a few years, and we now have the latest model of the Schwinn A40. This model takes all the good stuff from the previous, durable, high-quality build and includes those two extra features I mentioned—all in all, a great improvement on an already impressive entry-level elliptical.
Before we take a closer look at this capable elliptical, let's first take a quick look at the product specs!
Product dimensions –  59 x 23 x 64 inches 
Resistance Type – Magnetic
Frame – Light gauged steel tubing
Why Do We Like The Schwinn A40 Elliptical?
What I like most about the Schwinn A40 is what it offers someone on a lower budget. It's impressive and surprising to be able to get hold of a top-quality cardio machine that offers a full-body Low impact workout for under 400 bucks.
Low impact exercising is becoming increasingly popular not just among older folks who want and need to protect their joints but for any age.
Running on a treadmill causes jolts to your body and increases the force felt by your joints to well over two times your body weight, that's a huge amount of stress on your lower joints and back.
Compare a treadmill high impact (feet hit the ground) to an elliptical where your feet never leave the pedals, here the body doesn't have to deal with any jolts or increased stress.
Ellipticals allow for a near to zero impact workout on your lower body which is why ellipticals are quickly becoming the go-to cardio machine for all ages.
Reaping the benefits of cardio exercises is always a good thing, but if you can do it with as little wear and stress on the joints as possible, your body will thank you for it.
However, looking for an elliptical machine in the entry-level range can be tough; it's like a minefield out when it comes to quality.
But with Schwinn, you have a company you can trust one that's been around for over 100 years. Schwinn is known and respected for their quality builds, excellent customer service, and leading-edge designs.
You can be sure the Schwinn A40 has the best build quality in the under $400 bracket; this machine is going to last. I reviewed a ton of Schwinn cardio machines, and not once have they failed to impress. These guys always receive high ratings from their users, and it looks like the A40 is no exception.
Impressive Stride Length For Price
I don't want to get too technical on you, but stride length is something that needs to be considered. The stride length is the measurement between the toe of the front pedal to the heel of the rear pedal while the pedals are at their widest stride.
The stride length is so important as it determines how naturally you will be able to stride. Nearly all entry-level/budget machines have a stride length of between 11″ – 14″.
11 to 14-inch stride length will not allow taller users to run or even walk at a fast pace on an elliptical, taller users over six feet need at least 18″ if they want to use an elliptical for an intense workout.
The Schwinn elliptical stride length falls somewhere in between a budget and a mid-level elliptical, with a stride length of 17″. An elliptical with a 17″ stride length isn't by any means a deal stopper heck, its a lot better than an 11″ stride length.
But what does a 17″ stride length mean? This means anyone under 6ft should be able to exercise comfortably on the Schwinn elliptical although fast-paced running may be difficult for those over 5'8″.
Monitor/Control console
We have to remember we are still on the edge of the budget range here, we can't expect too much from the monitor, although workout programs should be included at this price, and thankfully they are, with the Schwinn boasting 7.
Unlike many entry levels machines where you control the resistance strength by tuning a small knob, with Schwinn A40 elliptical machine, you can select which resistance level you want from the monitor. Easy to access and will not interrupt your workout.
As well as being able to choose resistance strength and workout programs the monitor also tracks time, RPM, distance, calories, results, and heart rate.
The heart rate is tracked via the pulse sensors built into the fixed handlebars. Pulse sensors, in general, are not as accurate as a heart rate chest strap, nor can you measure your heart rate when using the moving handlebars.
If you are after targeting heart rate zones with accurately etc. you will need to spend a few more bucks on a machine with an advanced monitor and one that allows for a chest strap.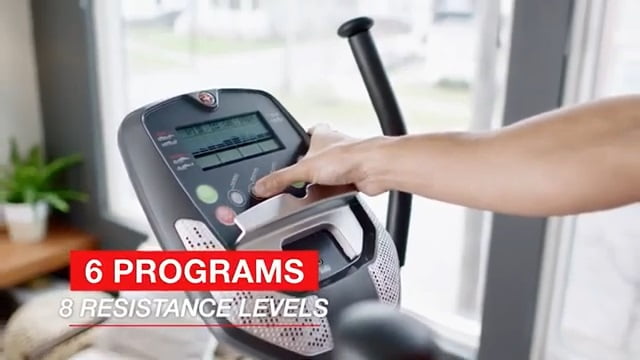 Magnetic Resistance
Many people may think with only eight levels of resistance, the Schwinn A40 is solely for beginners, but that isn't always the case.
You can buy a budget machine with 16 levels of resistance, but because the flywheel is light, etc. the resistance strength suffers, so although it may have more resistance levels, the machines top levels may not be as strong as a well-built machine with eight levels.
From the research I have carried out on this machine, it seems users are impressed with the strength of the resistance in the upper levels.
At this price, we don't expect resistance strength to be enough for seasoned athletes. Still, for beginners and intermediate levels, the Schwinn will provide enough strength for light, medium, and intense workouts.
Is magnetic resistance better than air? Yes, for home gym cardio equipment, I'd recommend going magnetic, its much quieter in motion than air. Air utilizes a noisy fan to create resistance while magnetic is whisper-quiet, great for those of you who don't want to be disturbed by the sound the machine while you exercise.
Assembly/ Maintenance
Although quite a compact machine, ellipticals such as the A40 are still relatively large pieces of equipment. I recommend having a friend or family member help you with the build. Users mentioned the A40 was quite easy to assemble as long as you follow the provided instructions carefully.
For maintenance, one user who has owned the machine for over 4 years recommends applying high-quality synthetic grease when assembling.
" Make sure you apply high-quality synthetic grease when assembling, and it will work for a long time. 4 years for me, 5 times a week, and still works like new" says A40 purchaser.
Great build quality for price point
Decent monitor- heart rate monitoring – 8 levels of smooth magnetic resistance and 7 workout programs
Quiet to use, excellent for apartment owners or anyone who doesnt wantt to disturb others with the sound of their exercising.
High speed, high inertia perimeter weighted flywheel
A few reports of long assembly times
No incline, but at this price point we very rarely come across an elliptical with an incline feature
Alternative & Comparison Table
Our Choice
Schwinn A40 Elliptical
Weight – 104lb

Stride Length – 17.5″

Pre Programmed Workouts

Rating 4.4/5
Sunny Health SF-E3912 Elliptical
Weight – 105lb

Stride Length – 14″

Pre Programmed Workouts

Rating 4/5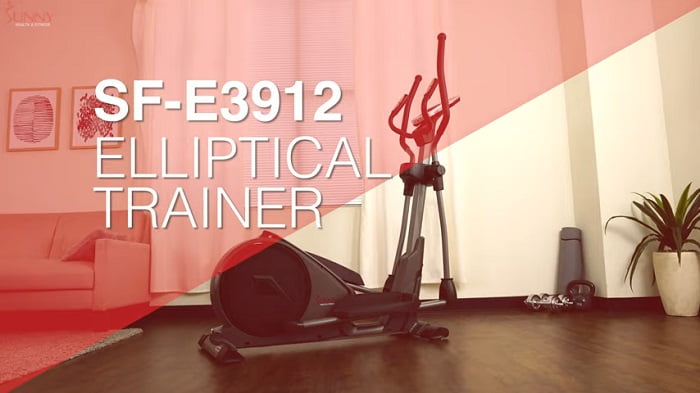 Sunny Health & Fitness SF-E3912 Elliptical
Sunny Health & Fitness is another well-respected company. These guys specialize in building quality affordable cardio gear; there's no other company out there that can genuinely match them on build quality for the price. Usually, you get a lot of bang for your buck with this company.
If its bang for your buck you're after you might well be impressed with their SF-E3912 elliptical trainer. It's packed full of features such as 24 workout programs, 16 magnetic resistance levels, and just like the Schwinn heart rate monitoring via the pulse sensors in the handlebars.
So you might be asking why do we prefer the Schwinn over the Sunny machine? For the simple reason, the Sunny Health & Fitness elliptical only boasts a 14″ stride length, and for a machine costing a little more than the Schwinn, this is disappointing.
The short stride length will inevitably restrict who can use this machine. If you only after a walker, then the Sunny is a great buy! But for anyone who wants to run even at a medium pace, the Sunny's stride length may well be too short.
Sunny's SF-E3912 is the Schwinns closest rival in the price range, and there no doubt the Sunny is an excellent machine, especially for shorter people, walkers, or seniors.
Taller users and fast runners will feel cramped by the 14″ stride length, and because of this, the machine won't be doing the job it should.
Overall excellent build quality, versatile, and an advanced monitor for the price range, but with a stride length almost 4 inches less than the Schwinn we'd have to say the Schwinn by only a small margin outshines the Sunny Elliptical.
To Sum Up
After correcting the few mistakes, Schwinn made with earlier versions of the A40; it seems they have finally cracked it with this version. Although it would have been nice to have seen a few more resistance levels for the price, the Schwinn recumbent is unbeatable in this price bracket both in build quality and stride length.
I've come across no real complaints about the Schwinn A40 Elliptical, look after the machine, and it will last you years of cardio workouts. If you are after a low impact machine to burn calories, tone muscles and increase your cardio fitness, there's no better out there for under $400 right now than the Schwinn A40.