Body Champ Cardio Trainer
You are not going to find many elliptical machines in the Under $300 bracket that offer a whopping 16 resistance levels and multiple workouts programs the Body Champ Cardio Dual Trainer provides you all of this plus a built-in exercises bike!
The Cardio Trainer BRM3671 is two cardio machines built into one, great for you guys tight on space. And an excellent alternative for anyone whose budget is limited and wants to reap the benefits of both an elliptical trainer and an exercise bike.
This new breed of hybrid exercise machine is an appealing buy for most, but when you try to pack too much into one machine, you can run into a few problems; one of them is a short stride length. Which I'll go into in detail later in the review.
Will the Body Champ Cardio Trainer suit your fitness needs? Let's find out. First, let's take a quick look at the product specs.
Product dimensions –   38.6 x 12.6 x 24 inches
Resistance type – magnetic
Why Do We Like The Body Champ Cardio Dual Trainer?
There's a lot to like about the Body Champ Duel Trainer, not only does this thing offer more resistance levels and training programs than most in the price bracket. It also boasts a quality build, which shouldn't be surprising since Body Champ has been producing quality, affordable cardio gear for over two decades now.
90lb is a good weight for an elliptical machine in the budget price range, especially when we consider many weigh less than 60lb. The extra weight is going to help keep the Body Champ stable, and its also a telling sign this dual cardio machine is made from quality materials.
It was also great to see the Body Champ duel trainer includes built-in handlebar pulse sensors. Pulse sensors are a useful feature that allows you to monitor your heart rate while you are working out. And with the bonus of 4 heart rate programs, the Body Champ is going to appeal to the more seasoned user.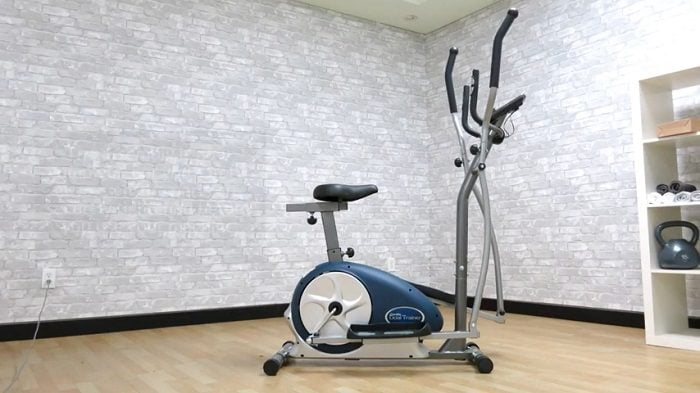 Burn Calories – Tone Muscle – Full Body Workout
People often ask me if an elliptical is as good at burning calories as a treadmill, and many people are surprised that it is, especially, ellipticals that bring the upper body into the workout, such as the Body Champ.
The Body Champ works both your upper body (moving handlebars) and the lower body (elliptical pedals). By moving both the pedals and the handlebars at the same rate, you are exercising your entire body and burning a ton of calories while you're at; the dual-action results in a calorie burn of between 270-400 calories an hour. 
And unlike a treadmill that causes jolts to your body and adds over 2.5 times your weight to each running step (huge stress on joints), the elliptical reduces lower body stress to almost zero. It's one of the best low impact cardio machines you'll going to find.
The benefits of an elliptical don't stop at cardio, because you work both your upper and lower body and if done correctly (lower & upper same rate) you can target, tone and strengthen your glutes – hamstrings – quads – chest – back – biceps – triceps and core muscles!
Stride Length
We've learned of the fantastic health benefits of an elliptical, but what's most important is to find a machine to suit your body size, your height in particular. The Body Champ is an excellent versatile machine for the price point, but as I mentioned earlier, the stride length is short.
What's the stride length? It's the measurement between the toe of the front pedal to heel of the rear pedal while the pedals are at their widest point. This measurement is crucial as it determines how naturally you will be able to stride.
If you buy a machine with a short stride length and want to run at fast pace 'wider strides,' but the elliptical doesn't provide space for it, then the machine you have purchased will not be doing the job it should.
And with a 14″ stride length for the Body Champ, we're looking at a machine that can only cater for users no taller than 6ft, even under 6ft some users may have trouble running at pace.
We have to remember this is a budget machine, and they typically come with short stride length some as short as 11″ so 14″ isn't too bad considering what else is on offer in the budget range.
To sum up, this machine is best suited for users under 6ft who want to exercises at a low to medium pace, although shorter users 5'8″ and under will have no issues exercising at a fast pace.
Sadly, taller users 6ft and over will need to look for a more expensive machine with a wider stride length of at least 18."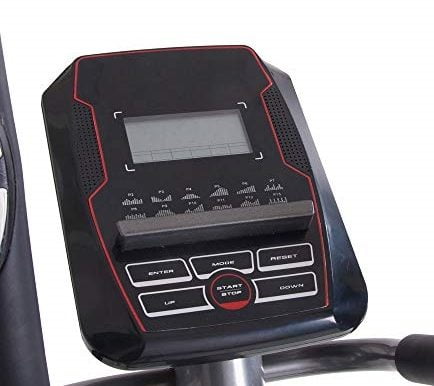 A surprisingly feature-packed monitor for an entry-level machine.
This thing boasts 16 magnetic resistance levels, which is more than enough for most fitness levels, ok even the strongest resistance setting may not be enough for seasoned athletes. Still, for most of us, the 16 levels will provide enough strength for an intense cardio session.
And thanks to the magnetic resistance, the Body Champ is also going to be whisper quiet when in use, excellent for those of you who don't want to be disturbed by the sound of the machine.
Another big plus of magnetic resistance is being able to exercise on a high resistance level at a slow pace, how? Because magnetic resistance is constant, i.e., the resistance only gets stronger if you manually change the strength from the monitor. Unlike air resistance which only increases when you cycle/run/walk faster dynamic resistance
All Features of Body-Champ Cardio Dual Trainer Monitor
LCD 

Manual Mode – Values set by the user for Time, Distance, Calories, and Pulse.

Program Mode – 12 preset resistance profiles already designed for the user's workout.

16 levels of magnetic resistance

User Mode – Allows the user to create a workout with up to 16 workout intervals

Heart Rate Mode – Allows the user to select a target heart rate during the workout.

 Recovery Mode compares your heart rate during your workout to your recovery heart rate and assigns you a fitness score.
Tracked Data
Speed
Revolutions per minute
Time
Distance Traveled
Calories
Pulse
Watts
Assembly
The Body Champ® BRM 3671 Cardio Dual Trainer is supplied with a step by step build manual, most users found making the Body Champ surprisingly easy with an average build time of one hour. As we most large home fitness equipment building the elliptical is a whole lot easier with two people.
Hers an assembly video in case you're finding it difficult.
Patented 2-1 elliptical motion design – 2 cardio machines in one 
Good build quality for price
16 magnetic resistance levels and 12 programmed workouts
Adjustable seat with horizontal and vertical movement
High calorie burning low impact machine
Only 14" stride (not good for users above 6ft)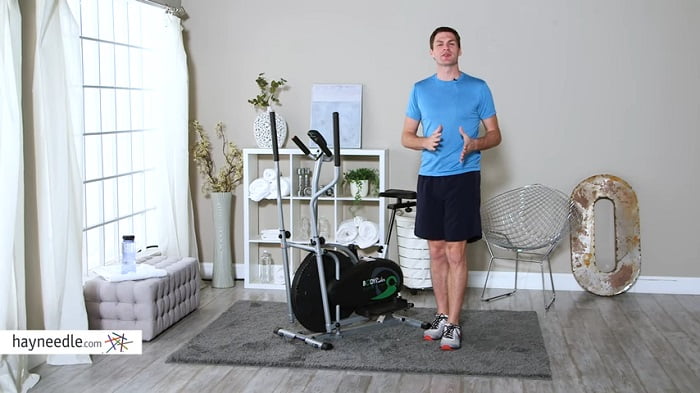 Body Rider BRD 2000 Dual Trainer With Seat (fan)
The Body Rider BRD Duel Trainer is very similar in design to its bigger brother the Body Champ both ellipticals are designed by the same company Body Max but are sold through different brand names.
However, the Body Rider BRD 2000 does differ slightly on a few important features, the first being the resistance type. The BRD 2000 utilizes a fan to create resistance.
If you have exercised on a fan-operated cardio machine in your local gym, a rowing machine, e.g. you will know they can be reasonably loud, so this is something to take into consideration.
The resistance type will not affect the all-important smooth motion we are looking for from an elliptical/bike; in fact, many users have praised the smooth motion of the BRD2000. The only real notable difference is the increased sound made by the blades of the fan as you exercise.
And something else worth noting is the lack of workout programs, while the Body Champ boasts 12, Body Riders elliptical trainer doesn't offer any at all.  Costing $100 less than the Body Champ, we didn't really expect to see any.
Don't worry about workout programs; they are not essential; workout programs are just something extra to challenge you and keep you interested in exercising on the machine.
Many people go without workout programs and are just fine with a basic monitor that tracks time, distance calories, and speed.
When it comes to build quality, we'd have to say it the Body-Rider isn't quite up there with the Body Champ, but for the price point, it is perfect, with a weight of 66lb and a stable steel frame with wide stabilizing feet – stability shouldn't be an issue.
If you can live without workout programs and pulse sensors, the Body Rider BRD 2000 offers anyone with back leg or hip problems an affordable option for full-body, low impact workouts at home.
To Sum Up
The Body Champ Cardio Dual Trainer offers a lot of bang for your buck. There's no other cardio machine out there in this price range that boasts heart rate monitoring, 16 levels of smooth magnetic resistance, and a ton of workout programs. The Body Champ is simple to use, easy to assemble, and built well by a company that has been in the home fitness industry for decades.
Although the Body Champ stands out among others in this price range when it comes to quality and features, It does share a common downfall suffered by all entry-level ellipticals, the short stride length. Tallers users will have to stay away but for anyone 5'10" and under the Body Champ shouldn't disappoint, a versatile cardio machine at a great price.