NordicTrack 7.5C Elliptical Trainer
It's always reassuring to have a company with a ton of experience behind a product, and NordicTrack has more than most.
NordicTrack are a company that's been around for decades since the 1970's NordicTrack has manufactured cardio gear for our homes.
Fifty years on and they're now a world-leading brand in-home fitness equipment. Their elliptical machines are some of the best on the market, only rivaled by the guys over at Schwinn/Nautilus. Today we are going to take a look at one of their lower-priced ellipticals, the NordicTrack C 7.5 Elliptical Machine.
You may have read a few reviews that call the C 7.5 an entry-level elliptical, that's just rubbish this thing is miles off entry-level, entry-level ellipticals typically provide eight levels of resistance no workout programs and a short stride length (11-14 inches)
The NordicTrack elliptical machine boasts Bluetooth, an adjustable 20″ stride length, 22 levels of resistance, 26 workouts programs, and a 0-20 degrees power incline. There's nothing entry-level about those features.
Is the NordicTrack the best elliptical trainer under $1k? Read on, and you'll find out as I'll also be comparing the C.75 with its closest rival both in price and features the Schwinn 430.
Product dimensions –  L 67, W 25, H 69 inches
Resistance Type – Magnetic
Frame – Heavy duty steel tubing
Why Do We Like About The NordicTrack C 7.5 Elliptical?
What stands out about this elliptical isn't just the build quality as we would expect from Norditrack but the number of features it comes with.
Even Schwinn can't keep up with the Nordictrack. For a machine costing under 800 bucks to include a power-adjustable incline is impressive.
There are numerous benefits to walking or running on elliptical in incline as it takes more effort to walk uphill than on flat land; therefore, heart rate and calorie burning increase. Plus, incline workouts target muscles such as your butt and hamstrings great for anyone looking to strengthen, build, and tone muscles in this area.
Incline is a very useful feature to have and even better if you don't have to disrupt your workouts by changing the levels of the incline manually; thankfully, the incline is power-adjustable on the C 7.5. You can select what degree you wish to use from the monitor.
What I liked most about the adjustable incline feature is its ability to be used with the built-in iFit® app. When the iFit app is enabled on the control console, you can choose a route from google maps, and what's smart about this is the iFit app will automatically adjust your incline to simulate the natural terrain.
Stride Length
For those of you that don't know, the stride length is the measurement between the toe of the front pedal to the heel of the rear pedal while the pedals are at their widest stride. Whys this measurement so important? The stride length of your elliptical will determine how naturally you will be able to stride.
E.g., if the stride length of your elliptical is too short, it will feel uncomfortable to run or walk at a fast pace. You need to choose a stride length that suits your body (height) and your workout needs.
Shorter users 5'8″ and under are usually okay with a stride length anywhere between 14-18 inches, but for taller users 5'8″ and over, a stride length of 18″ plus is recommended.
You will be glad to hear the NordicTrack boasts a 20″ adjustable stride length. This is an excellent length for a machine costing under $1k. And its also a stride length many of you may be used to, as most ellipticals in local gyms use this stride length.
The updated version of the C 7.5 the machine we are reviewing today also includes the adjustable stride feature, this is another excellent feature especially handy for short users who do not need the full 20″ stride length. And just like the incline feature, the stride length is power adjusted, nice!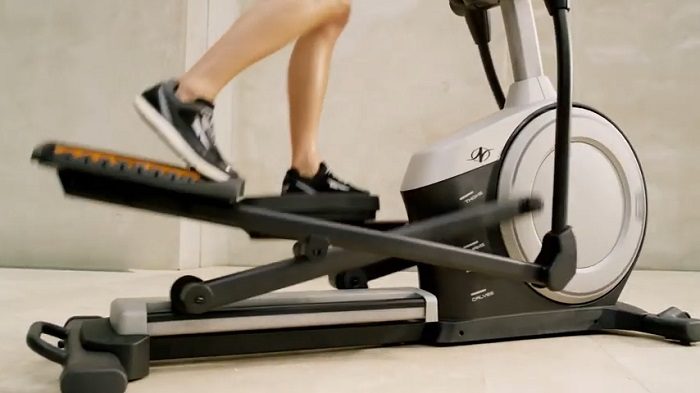 22 Levels of Magnetic Resistance
Another essential feature to consider when purchasing an elliptical is the resistance system.
For home use, I would highly recommend going for a magnetic system; in general, they are much quieter compared to their air counterparts, which use a noisy fan to create resistance. Magnetic resistance allows you to exercise without being disturbed by the sound of the elliptical.
The NordicTrack comes equipped with 22 magnetic resistance levels that more than enough levels for calorie burning and muscle strengthening.
Ok, there may not be enough strength in the resistance for serious athletes, but for most of us, there's enough room in there for years of growth. And from the hours of research I have carried out on the C 7.5, there seems to be no complaints of weak resistance, which can be a common complaint about many ellipticals in the under $1k category.
When it comes to the number of resistance levels and flywheel weight, the C 7.5 NordicTrack elliptical gets a big thumbs up!
Monitor/Control Console
We all like to get as many features as possible for our money when it comes to home cardio gear, but what I don't like and I'm sure many of you don't are complicated, hard to use time killer monitors; sometimes it can take longer to work out how to use the monitor than the workout itself.
So what I really liked seeing on the C 7.5 monitor were the one-touch controls.
One-touch controls allow you to easily select workout programs, change the incline angle, choose resistance strengths and many other important adjustments in a few seconds. If you have been after an advanced monitor that boasts all the techy stuff but is nice and simple to use, NordicTrack's console is one of the best out there.
Console features include:
Large 5" backlit display

iPod® compatible so you can listen to your favorite music with the built-in sound system

iFit® Bluetooth smart enabled console provides you with unlimited workouts designed by certified personal trainers

22 magnetic resistance levels

26 workout apps

Power adjustable stride

Power adjustable incline

Heart rate monitoring (handlebar pulse sensors)

Stay cool and comfortable with a fan that automatically adjusts its speed to match your intensity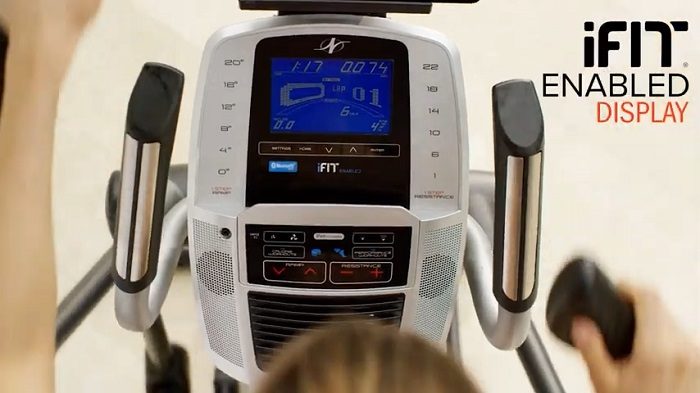 Stability
Often overlooked by many people when choosing an elliptical is the stability of the thing. What we don't want is an elliptical moving around when we're working out. Even the odd wobble can be off-putting.
Thankfully the C 7.5 is pretty heavy for the price, weighing close to 220lb. The weight of the machine will go a long way in helping to keep things stable also, the extra weight is a reassuring sign the elliptical is made from quality materials.
Also, we have wide stabilizing feet at the front and rear of the machine; these will prevent toppling and most wobbles, even the feet are capped to ensure no scratches to your polished hard floors.
Anything We Don't Like?
For the money, this elliptical is in one word 'impressive' there's everything you could need for a low impact cardio workout at home. But I've spent some time researching this machine, and I've reviewed a ton NordicTrack products in the past, and each time I review one of their products, I seem to come across people complaining about their customer service.
And these are not one or two complaints here and there, there's a whole load of them and as I said this is a continuing problem with NordicTrack.
Hey, bad customer service shouldn't be a deal-killer but its something to bear in mind when purchasing anything from these guys.
Generous 20″ stride length
High quality build for price
Advanced easy to use one-touch monitor
NordicTrack iFit® Membership Ready – follow personal trainers as they lead you all over the world
Power adjusted incline – great to see at this price
Auto breeze workout fan – self adjusts with your workout intensity
22 whisper-quiet magnetic resistance levels 
Customer service can be slow at times 
Not for advanced trainees
Schwinn 430 Elliptical Trainer
Just like NordicTrack Schwinn are another hugely successful home fitness company that has been around for decades. These guys produce all types of cardio gear for your home, not only are they known for high-quality equipment most of their gear is well priced.
The Schwinn 430 is very similar to the NordicTrack C 7.5 its around a 100 bucks cheaper but provides you with everything you need for a calorie-burning workout at home. Just like the NordicTrack, the Schwinn boasts an impressive 20″ stride length and a similar amount of workout programs.
The only real difference we find when comparing both machines is the automated stuff. NordicTrack has the handy feature of being able to adjust the stride length and incline form the monitor, which is useful and saves disrupting your workout.
The Schwinn, while still impressive with six incline angles, has to be adjusted manually.
As I said both ellipticals are very similar in features both provide Bluetooth options and again both similar amount of magnetic resistance settings (NordicTrack 22, Schwinn 20)
What I liked most about the NordicTrack are the power adjust options; this is an excellent feature and saves the hassle of doing it manually. But the Schwinn is priced slightly lower, and their customer service is a whole lot better with users prising how fast they are to sort any issues out.
It's a hard choice between the two; still if I were pushed to recommend one over the other I'd have to go with the NordicTrack C 7.5 elliptical, this machine has a ton of features, and one that stands out is the one-touch monitor, thoughtfully designed and simple to use! The power incline is also a cool feature, especially when you combine it with their iFit workout app.
However, there's absolutely nothing wrong with the Schwinn 430 elliptical, it is, without a doubt, one of the best ellipticals for the money. If you're happy to go without the power incline and fewer workout programs and features, save yourself a $100, and opt for the Schwinn you won't be disappointed.