There's a ton of budget ellipticals out there, and over the past few months, we've reviewed most of them. The one thing that stood out when looking at budget ellipticals is just how difficult it is to separate a decent one from the rest, as the quality of machines on offer in this price bracket seems to vary hugely.
Thankfully the Doufit Elliptical, although basic, is one of the more impressive affordable ellipticals.
This thing offers 8 levels of whisper-quiet magnetic resistance, a maintenance-free belt drive system, and a 12″ stride, which at this price isn't too bad at all.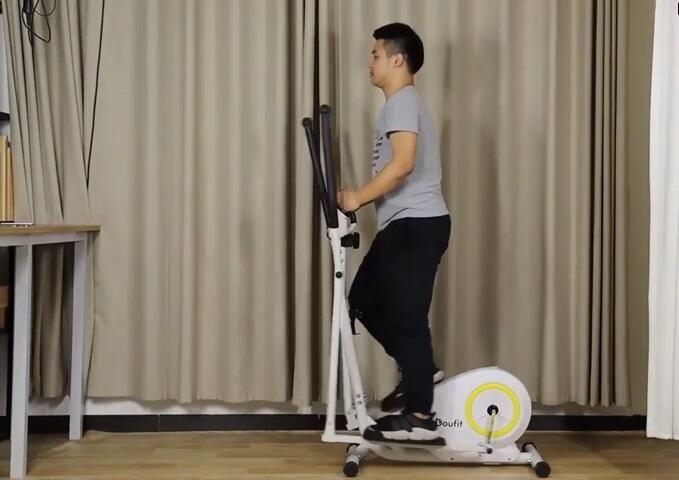 A Fuss-Free Elliptical That Gets All The Essentials Right.
The Doufit is what we'd call a fuss-free elliptical. There no advanced features such as an incline or a fancy monitor. It's a basic machine that's built well and does the job it's supposed to do.
Compact and easy to store, this low-impact cardio machine will appeal to beginners or anyone who doesn't want to overspend on extra's and simply needs a cardio machine to increase their cardio fitness and muscle tone.
Today I want to take a close look at everything the Doufit offers, including a few of its drawbacks. At the end of the review, I'll also compare the Doufit with one of its closest rivals.
First, a quick look at the Doufit Elliptical products specs!
Package size –89*35*46.5cm.
Resistance Type – Magnetic
Why Do We Like The Doufit Elliptical Machine?
Without a doubt, the best feature of this elliptical is its magnetic resistance system.
Magnetic resistance has been around for over a decade, usually reserved for high-end cardio machines. It wasn't until recently its started to feature on mid-level and budget machines.
What's so great about magnetic resistance? Its whisper-quiet when in motion.
The magnetics used to create resistance never have to touch the flywheel, which results in an almost silent resistance system. Especially handy for those who don't want to disturb other household members with the sound of your workouts.
Another useful benefit of magnetic resistance is that you can choose a high resistance strength/level and walk at a slow pace, which was impossible with air resistance; this is excellent for working and toning the muscle in your butt and legs.
The magnetic resistance system of the Doufit elliptical is manually adjustable. You do not change resistance strength from the monitor.
You change the resistance strength via a tension knob situated just under the monitor. This isn't a bad thing. It's easy to do and can be done even while working out you dont have to stop exercsing. Also, because it's manually adjusted, there's no power cord, no need to worry about plugging this elliptical into the wall.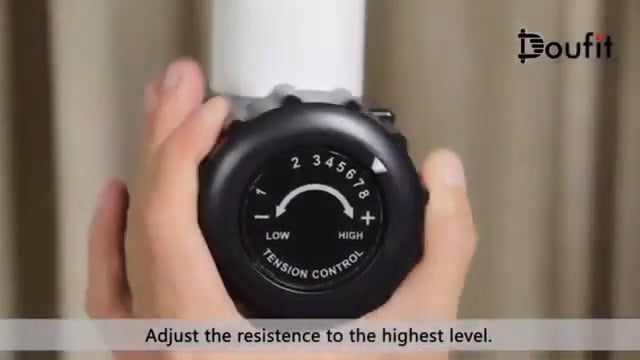 12″ Stride Length Suitable for users Up To 5'7″
Before purchasing any elliptical, we have to consider the stride length. The stride length is the distance between the toe of the front pedal and the heel of the back pedal when at their widest point.
The stride length is vitally important as it determines how naturally you will be able to stride.
The Doufit elliptical boasts a stride lgth of 12″, which is what I'd expect at this price point. This isn't too bad; I've seen many ellipticals costing $400+ that have similar length strides.
Still, a 12″ stride will be limiting for some. The manufacturer states a max height of 5'9″ for the Doufit machine. Still, in my experience, a 12″ stride has a max user height of around 5'7″, especially true if you plan on walking or jogging at a pace that requires a larger stride.
However, if you are only planning on light exercise, gentle walking, etc., the max height can be slightly higher, even 6ft with a 12″ stride, because light workouts require shorter strides.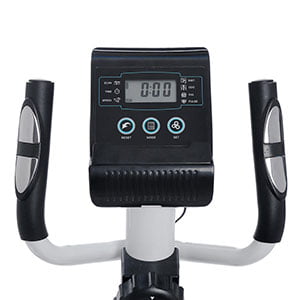 Easy To Use Basic Monitor
Sadly budget ellipticals are equipped with very basic monitors, they do not include features such as BlueTooth or workout programs, and there's no built-in fitness app with HD screens.
It's not all negative, though, as basic monitors are extremely easy to use. You can jump on the elliptical and get going with your workout without having to spend half an hour trying to work out how to use it.
The Doufit monitor tracks all the essential data such as time, distance, and calories, plus we have the pulse sensors built into the fixed handlebars. This allows for pulse monitoring and can be useful for those who like to work out in their target heart rate zones.
Full-Body Workout Duel Action Handle Bars
And lastly, we get to why most of us want an elliptical for home – these excellent cardio machines offer a full-body, low-impact workout.
The Doufit elliptical is equipped with two sets of handlebars, one fixed set, which is great for beginners as they offer support while you get used to the elliptical motion, and a second set of moving handlebars to work your upper body resulting in a full-body workout.
The only slight drawback here is that the pulse sensors are built into the fixed set of handles, meaning we can't monitor our pulse while using the moving set of handlebars. And there's no option for a heart rate chest strap with this monitor as it doesn't include the technology to support one.
Doufit Elliptical Assembly Video
Quiet operation – magnetic resistance
Great price for a sturdy home elliptical
Large pedals with three adjustment positions
Smooth elliptical motion thanks to the belt drive system and high-quality flywheel 
Virtually maintenance free
Easy to use monitor – tracks all essential workout data
Height adjustable rear stabilizers help to keep the elliptical stable on uneven floors
Compact design , easier to store than most ellipticals
Integrated transport wheels, just tilt, and roll to move
No pre-programmed workout programs
Max height of 5'7″ for fast paced workouts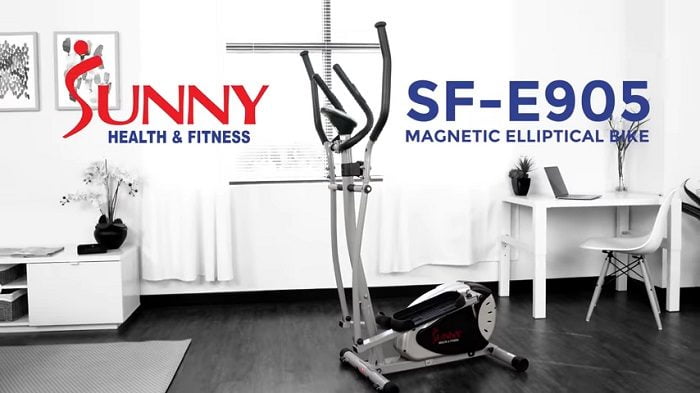 Sunny Health & Fitness SF-E905 Elliptical Trainer
Sunny Health & Fitness have been around for a couple of decades they specialize in building low-cost, high-quality cardio gear, and their SF-E905 elliptical is one of the most popular budget ellipticals on the market right now.
It's quite similar to the Doufit in that they weigh about the same, they're both compact, both include 8 levels of magnetic resistance and a belt drive system.
The Sunny Elliptical has a slightly longer stride length of 13″ which is impressive for an elliptical that costs under $200. Other than that, these two elliptical are almost identical in features.
Event the monitors track exactly the same data and the Sunny just like the Doufit comes with pulse seasons built into the handlebars.
It's a tough choice as to say which is the better machine both of these ellipticals offer a lot for the price, with both the Sunny and Doufit ellipticals receiving excellent user feedback which is rare for such low-priced ellipticals.
To Sum Up
It's always nice to find an entry-level elliptical machine that doesn't suffer from poor build quality. I've read so many user reviews of this machine, and most of them are praising how good the Doufit elliptical is for the price.
Yes, it's a basic elliptical, but it gets all the essential right. The stride is a good length for the price, and you benefit from magnetic resistance and a belt drive system. Both of these systems are maintenance-free.
The Doufit isn't suitable for advanced users or athletes training for events, the resistance strength isn't strong enough, but for most of us who want to increase our cardio fitness at home with light to medium-paced workouts, the Doufit is more than up to the job.
For around $200, it is one of the best we have come across. And certainly worth some serious consideration.