The reason why we choose an elliptical rather than a treadmill is that ellipticals offer a full-body workout. They're one of the only cardio machines that allow for a full-body workout while increasing your cardio fitness at the same time.
And the good thing is you dont have to own a high-end one that costs thousands to reap the health benefits of these impressive cardio machines.
Snode E-16 – Entry Level Elliptical With a Couple of Impressive Features.
However, you dont want to go too cheap. We still need an elliptical with a decent stride length, one that can cope with intense cardio sessions for calories loss, and a machine with enough resistance strength to grow with you as your fitness levels increase.
Thankfully the Snode E16 Elliptical is one such machine. Yes, it is a budget elliptical, so we can't expect too much, but it's not super cheap, which is a good thing as it allows for a longer stride length and a more durable build.
Plus, the Snode boasts a whisper-quiet magnetic resistance system that's perfect for home use. You'll be able to watch TV listen to music without being disturbed by the sound of the machine.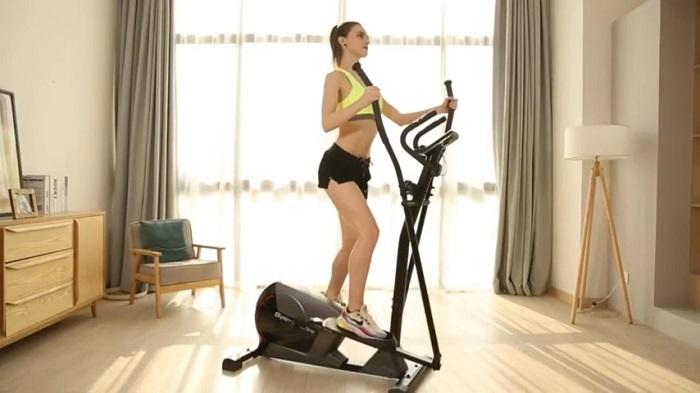 Today I want to closely examine everything the Snode E16 has to offer, including its drawbacks. At the end of the review, I'll also compare the Snode with one of its rivals in this price bracket. First, let's take a quick look at the Snode E16 product specs!
Product dimensions –  41.7L x 21.3W x 64.2H inches 
Resistance Type – Magnetic
Why Do We Like The Snode E16 Elliptical Trainer?
One of the most important features you must consider before choosing your elliptical is the stride length, too short, and you won't be able to run or even walk at pace on the machine, preventing the elliptical from doing the job it's built to do.
For those who don't know, the stride length is the measurement between the toe of the front pedal to the heel of the rear pedal.
The majority of ellipticals in this price bracket suffer from a short stride length, some as short as 11 inches which puts a height restriction on many budget machines of just 5'7″.
The Snode E16 has a slightly higher price tag than the cheapest ellipticals, so thankfully, we see a longer stride length of 14 inches, allowing users up to 6ft to walk or run at pace on the elliptical comfortably.
8 Levels – Whisper Quiet Magnetic Resistance
It's good to see the Snode E16 uses magnetic resistance. It's a much quieter option than air resistance as the magnetics it uses to create resistance do not touch the flywheel.  This is great news as it means you won't disturb others with the sound of your exercising, plus you can watch your fav Netflix shows while working out on the machine.
Another plus of magnetic resistance is that it's maintenance-free. There's literally no maintenance involved with the Snode elliptical just make sure the nuts and bolts are tight and use some lubrication when needed if you start to hear any squeaks, etc.
One of my favorite things about magnetic resistance is that it lets your walk at a slow pace on a high resistance setting,  something that's impossible with air resistance, and great if you want to tone and strengthen the muscle in your butt and legs.
Easy To Use Basic Monitor
In this price bracket, we come across very basic monitors. There are no built-in workout programs, and sadly you can not adjust resistance strength from the monitor as this machine supports manual adjustment.
If you want to change resistance strength, you must turn a knob just below the monitor.
Still, the monitor does track all the usual workout data such as time distance calories and pulse. The calorie count is never too accurate as the machine doesn't know your height, weight, etc.
On the positive, at least the monitor is nice and easy to use. You can just jump on the elliptical and get going. You won't have to spend half an hour trying to work out how to use the thing.
There is a tablet holder, but as with so many of these ellipticals, it will cover the monitor screen when you put the tablet in the holder. If it bothers you, you can always buy a tablet holder. They cost around $15 and can be fitted to any elliptical/treadmill/bike.
Two Sets Of Handlebars – Full-Body Workout
This is an elliptical trainer, so we get two sets of handlebars, one fixed, which is perfect for beginners as they will give you support while you get used to the elliptical motion, and the second set of handlebars that allow for a full-body workout.
It's great to have both sets of handlebars. The only slight problem is that the pulse sensors are situated on the fixed set of handlebars. This means there no pulse monitoring when using the moving set, and the monitor doesn't allow for heart rate chest straps. This may be a problem for users who love to train in their chosen heart rate zones.
Build Quality – Will It Last?
We are talking about budget prices here, so don't expect anything like the ellipticals you're used to using in your local gym. Still, for the price, it isn't bad.
It's a small elliptical, but at 74lbs, it's reasonably heavy, which should help a lot with stability. Also, it's a telling sign the elliptical is made from quality materials. It shouldn't feel cheaply built and unstable like so many do in this price range.
As for durability, most users seem happy and are praising the Snode, saying it's good value for money. It hasn't been out long enough to give any real durability score. This machine is quite new to the market.
Sturdy frame for price can handle max weight of 265lb
8 levels of magnetic reistnace
Quiet elliptical – you won't disturb others with the sound of your exercising
Decent stride length – suitable for users up to 6ft
Adjustable stabilizers help keep the elliptical level on uneven surfaces
Integrated transport wheels just tilt and roll to move
Monitor doesnt come with any workout programs
Can only monitor pulse using the fixed set of handlebars
Sunny Health & Fitness SF-E320002 Elliptical
I'm a big fan of Sunny Health & Fitness, especially when it comes to affordable cardio gear. These guys have been around for decades. They specialize in producing high-quality gear at low prices.
Their SF-E320002 is one of their entry/mid-level ellipticals boasting an advanced monitor with a ton of workout programs and 16 levels of magnetic resistance.
The sunny costs around $100 more than the Snode, and that's because you are basically paying for a more advanced monitor that includes 24 workout programs plus, it weighs slightly more and has a heavier flywheel, so will feel of higher quality and have a smoother elliptical motion.
Bang for buck is an impressive elliptical, but it suffers from a short stride length of just 11.5″, disappointing as everything else about this machine is so good.
The Sunny SF-E32002 is one of the best ellipticals you will find for the price, but it's only suitable for users with a height of 5'6″ or under.
To Sum Up
The Snode E16 isn't anything special, it's a basic elliptical that provides all you need for a low-impact workout at home. There are no workout programs or built in apps. So a tablet or phone is needed if you want to use a fitness app with the machine.
However, it does include a decent stride length one of the longest I've come across in this price bracket and the build quality is up there with the top 3.
If you can live without all the bells and whistles of higher-priced machines, and just want a basic, well-built elliptical to help you lose weight and tone muscles in your upper and lower body? The Snode E16 Elliptical is as good as any out there right now. Another plus is that its compact design will allow it to fit into small spaces.