Finding Treadmills with 400 lb weight capacity is tough; there aren't many manufactures out there that produce high capacity treadmills, and the ones that do cost well over $1.5k.
Low Cost & Semi-Commercial Compared
Thankfully we found a couple of affordable options that offer the 400lb weight capacity and one semi-commercial grade machine that stood out from the rest, and it's these three machines that we'll be looking at today.
We've spent the last month researching and reviewing as many treadmills with a 400 lb weight capacity as we could find. This guide is the result of all of our hard work.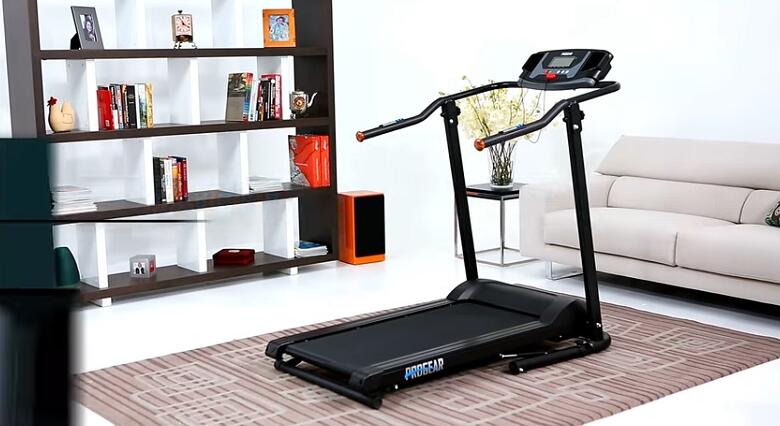 Think of Your Fitness Needs First Before Buying – You'll Save 100s of Dollars?
Everyone who purchases a treadmill will have different fitness levels. A person training for a marathon will not buy the same treadmill as someone who just started their fitness journey.
People who are overweight generally do not need a treadmill for serious running; most are looking to lose some weight and increase their general fitness levels by walking or light jogging, so there's no real need for a high-end treadmill with long-running belts and tons of advanced features.
However, because most treadmills with a high weight capacity are heavy-duty, expensive machines, many overweight people are forced to pay for a treadmill that usually only appeals to the serious runner/athlete.
While this isn't ideal, a high-end treadmill will last you years of use as the build quality is better than the affordable options. Still, if you're only going to use the treadmill for walking and light cardio, any treadmill, even the affordable ones, should prove durable.
So depending on your personal fitness needs – are you going to Walk? Jog? Run? Your perfect treadmill might not be a heavy-duty machine; the affordable high capacity treadmills may well suit your cardio needs perfectly.
In this guide, we've included a small mix of treadmills as there really are only 3 treadmills worth considering. One is a high-end, high capacity treadmill, the others are the best 2 affordables, all are capable machines, and all offer the 400lb weight capacity.
Before we get on with the reviews, let's take a quick look at the Top 3 comparison table.
Best Affordable - 400lb Treadmill
Exerpeutic T1000 Treadmill
Foldable

Weight – 120lb

Running belt – 19.5″ X 43.3″

Speed – 0.5 – 4 mph

Motor – 1.5HP

Incline – 2 levels manual

Weight capacity – 400lb
Foldable

Weight – 120lb

Running belt – 20″ X 40″

Speed – 0.5 – 4 mph

Motor – 1.5HP

Incline – 2 levels manual

Weight capacity – 400lb
Best Heavy Duty - 400lb Treadmill
Sole F85 Treadmill
Foldable

Weight – 290lb

Running belt – 22″ X 60″

Speed – 0.5 – 12mph

Motor – 4HP

Incline – Power adjustable

Weight capacity – 400lb
Best 3 Treadmills With 400 lb Weight Capacity Reviews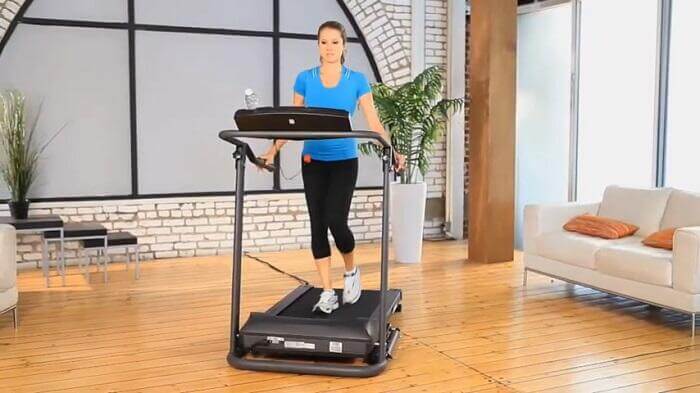 1. Exerpeutic TF1000 High Capacity Treadmill (best affordable)
Exerpeutic are a company that has been around for a couple of decades. These guys specialize in building quality cardio equipment for people with health issues and seniors. They are one of only two companies that produce a decent high capacity treadmill at an affordable price.
The Exerputic TF1000 is a walking treadmill it hasn't been designed for serious runners, with a short running belt and low powered motor this machine is best suited for walking or light jogging.
And because it has been designed for walking and light jogging, we will not see gym-sized belts or advanced features. Still, the TF1000 Treadmill does boast a wide belt at nearly 20."
A near 20″ width running belt is great to see in this price bracket. The extra width will allow you to feel comfortable when walking and prevent any chance of stepping off the machine while exercising.
Another useful feature of the TF1000 is the extended handlebars, and at 18," the handlebars are twice as long as the ones you would see on a regular treadmill.
Extended handlebars are there to give you extra support while you exercise, and if this is your first treadmill, the extra length of the handles will give you an extra boost of confidence to get on the machine and start exercsing.
Let's talk a  little about height restrictions because, as we mentioned earlier, the TF1000 has a short belt. For walking or power walking, users up to 6'3″ should be fine. If you were thinking of using the machine for light jogging,  we recommend a max height for jogging of 6ft.
Let's not forget this entry machine, yet it still includes a 2 level manual incline. When your fitness levels improve, you will be able to challenge yourself further by including incline workouts into your cardio sessions, burning more calories, and strengthening those hard to train muscles.
The one major positive of owning a machine with a short running belt is that it makes the treadmill compact, which will allow many of you to keep the machine unfolded permanently in the corner of a room as the smaller footprint won't take up much space.
Still, for those who lack the space to house a treadmill permanently, the TF1000 includes a folding feature, so it can easily be folded and stored.
Plus, it's almost 3 times lighter than a heavy-duty treadmill making it much easier to move once folded; transport wheels are also provided.
And when it comes to assembly, the TF1000 is one of the easiest to assemble on the market; all you have to do is attach the monitor as most of the treadmill comes preassembled. Many users have praised how easy the T1000 is to assemble, saying it took them less than 10 minutes!
Overall you won't find a better-built treadmill with a 400lb max capacity for under $600. The TF1000 boasts an easy to use monitor, an incline feature, a nice wide running belt, long handlebars for extra support, and surprisingly easy to assemble.
If you've been after a high capacity treadmill for light cardio workouts and don't want to break the bank buying one? The Exerpeutic is the best affordable option on the market.
Affordable high capacity treadmill
Easy to assemble – most of the treadmill comes pre-assembled
Wide running belt similar to commercial machines
Console display is fairly small
2. Sole F85 Treadmill (best heavy-duty)
If you are going to spend a lot of money on a treadmill, you might as well go with a Sole treadmill.
Sole are a company known for producing some of the best treadmills on the market. Their warranties are market-leading, and the build quality of their machines is second to one, and surprisingly they don't cost the earth when you consider the features on offer.
The warranty on the Sole F85 is impressive with a lifetime on the frame, motor, and running deck; you also get 5 years on parts and two years on labor, and what's best of all, should anything go wrong, these guys come to your house to fix the machine which saves you the hassle of having to send it back.
One of the best features of the Sole F85 Treadmill Sole is its gym-sized running belt at 22″ x "60. This sized running belt is suitable for walking, jogging, and fast-paced workouts; it's large enough to match any fitness level – even the most serious of runners.
And the incline feature is the best in its class, providing 30 levels of power-adjustable incline at a max incline angle of 15%, all adjustable via the monitor. You won't find a better incline for the price than on the F85.
When choosing a treadmill, I always recommend choosing one that includes an incline feature, as incline workouts target different muscle groups to walking on a flat surface.
Incline cardio sessions will build and strengthen hard to train muscles such as your butt, hamstrings, and claves, and that's not all, as walking/running at an incline will burn up to 3 times more calories! So as you can see, if you want to get the most from your cardio workouts, an incline feature is essential.
The Sole F85 also boasts an impressive Anti-shock-system, which Sole calls its Cushion Flex Whisper Deck,
The cushioning system helps absorb up to 40% of the impact when running; with less stress on your feet, ankle knees, and hips, you should be able to enjoy a longer workout and recover quicker, an excellent feature not just for overweight people but for anyone who wants to protect their joints from the stresses of cardio workouts.
These high-end machines always include a cool folding system. Not so many years ago, it took two people to fold a large treadmill. Now companies like Sole build their machine with Hydraulic folding systems.
The Sole F85 is so easy to fold and unfold that it literally does it on its own; all you'll need is one hand to fold the machine.
Something I know many people like about the Sole is how easy the monitor is to use. Usually, semi-commercial machines like this have over complicated monitors, but this isn't the case with the Sole F85. The F85 monitor is easy to use with large one-touch buttons.
All the essential stuff, such as speed, incline levels, and workouts, can be found with a simple touch of a button from the monitor. A 10″ large display screen is provided, making it really easy to view your workout stats.
Overall we feel the Sole 85 is the best 400lb capacity treadmill on the market, with a fantastic warranty and more than enough features to keep all users happy. Plus, the Sole is priced competitively for such a well-built machine.
The Sole F85 is a machine built for the serious runner, but it's also a machine that boasts the all-important 400lb weight capacity, so it will appeal to heavier users. The Sole F85 offers more for the price than any other high capacity, heavy-duty treadmill.
Powerful 4CPH motor – most powerful motor we have seen on any foldable treadmill – suitable for all fitness levels
High weight capacity – 400lb 
Best incline in its class – 15% – 30 levels power-adjustable
CushionFlex Whisper Deck – Protects joints reduces impact by 40%
Hydraulic folding system – F85 can be folded with one hand
Heart chest strap compatible monitor – 99% accurate – great for training in target heart rate zone
Excellent warranty/customer service
Large footprint when unfolded
3. ProGear 4000 HCXL High Capacity Treadmill
The ProGear is another entry-level high capacity treadmill. It shares very similar features to the Exepructic T1000, which isn't surprising considering both ProGear and Exerputic are owned by the same company – Paradigm Health & Wellness.
Still, the ProGear is slightly cheaper and has a shorter running belt at 40″. Both machines include the excellent 400lb max capacity, both include the long handlebars, and both use simple, easy-to-use monitors; monitors that track all the useful data such as your speed distance, calories, and pulse.
Again we see the excellent wide running belt  20″, which gives you a ton of room to exercise comfortably, and thankfully ProGear included the important 2 level incline.
The Progear has a 1.5HP motor so its suitable for walking, power walking, and light jogging but as we mentioned the running belt is shorter than the Exerpeutic so I'd only recommend this machine for walking and power walking.
And when you consider both machines only have a top speed of 4mph their isn't really an option for any fast-paced workouts.
The ProGear, just like the Exerputic offers a lot of bang for your buck; this is, after all, a high capacity treadmill one with an incline and excellent safety features such as the long handlebars and a low step-on height, all of this for under $600.
If it weren't for Progear or Exerputic, many people wouldn't be able to afford a high capacity treadmill; they would miss out on the huge health benefits of regular cardio sessions at home.
I think both companies deserve a big thumbs-up for producing a low priced treadmill suitable for heavier users, as for years there haven't been any affordable options at all.
If you don't mind a slightly shorter running deck, then the ProGear usually retails around 50 bucks less than the Exerpeutic.
High info monitor for price range
Easy to assemble, under 30 minutes
Built-In wireless pulse receiver
Buyers Tips – Info & Benefits of Treadmill Workouts
How to Increase Fat Burn – There are a few ways to increase fat burn using a treadmill. For example, you can change the inclination angle, increasing the number of calories your body burns while exercising.
A woman that weighs 300lb on average burns 400 calories in an hour while she is walking fast on a treadmill; however, if she changes the inclination angle, she burns the same 400 calories in just 27minutes.
Diet plays a significant role in weight loss, and you should combine a healthier eating plan with your treadmill workouts to lose weight and better your health.
When To Exercise – Time matters! You can make weight loss more efficient if you are working out at a particular time of day. The best time is early in the morning before breakfast. It is the best because, at that time, there is a low level of glycogen in your body, and the body uses fat as fuel.
One study has shown that the test subjects burnt 200-300% more fat when they exercised early in the morning before having breakfast than when they had workouts after a meal later on in the day.
How Long To Exercise – How long should a treadmill workout last? To efficiently start using fat as fuel, your body needs 15-20 mins of nonstop walking or running on a treadmill. During the first minutes on the treadmill, your body usually uses glycogen as fuel. But the longer you are moving more fat you burn.
Many advise that the ideal treadmill workout should not last shorter than 25 minutes and not longer than 40 minutes.
Both walking and running on a treadmill are good for fat burn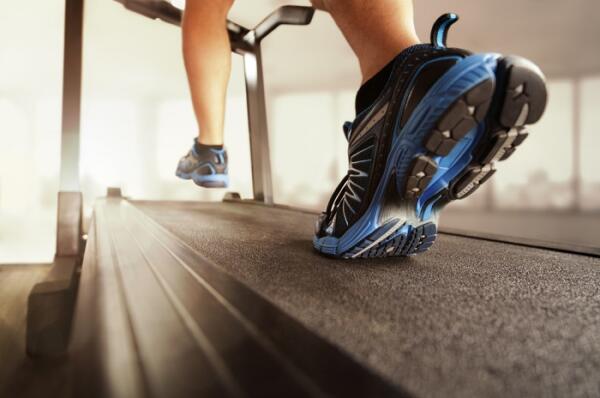 Buyers Tips – Essential Features To Consider
Apart from the 400lb weight cpacity, there are no stand-out features someone who is on the heavier side should look out for. Like anyone else, you will need a treadmill for increasing cardiovascular health, lowing blood pressure, burning some unwanted calories, and strengthening lower body muscles.
So yes, if you are on the heavier side, it's best to find a treadmill that can support your weight, but you also need to consider all the other features that make a treadmill the right choice for your cardio needs.
Do I need An Incline Feature?
While most budget treadmills do not include an incline feature, if you spend slightly more – $500+, we start to see treadmills with manual incline.
A manual incline does require you to get off the machine and adjust the incline level manually, but this small inconvenience is more than made up for by the health benefits of incline workouts.
Walking. Jogging or running on an incline will target different muscle groups compared to walking on flat surfaces. You'll be able to strengthen and build your glutes, hamstrings, and calves, and walking at an incline will also burn twice as many calories.
If you have deep pockets, there are treadmills that include power-adjustable inclines.
Power adjustable inclines are the gold standard for a home treadmill. The great thing about them is you don't have to interrupt your workout getting off the machine to change the inclination level; all you have to do is press a button on the monitor.
Power adjustable inclines are not an essential feature, so don't worry if you havent got the cash to buy a treadmill that includes a power-adjustable incline. Manually adjusted inclines do the same job. The only downside is they take a couple of seconds to adjust manually.
Still, I would recommend you always choose a treadmill with an incline feature manual or power, especially if you want to get the most out of cardio sessions.
Running Belt
The length and width of the running belt are more important than most people think. The length of the running belt will determine whether you can walk, jog run on the machine.
Typically we see running belts with a length anywhere from 36″- 50″ on budget machines.
36″ – 43″ running belt is best-suited for walking or power walking – shorter users may be able to jog on a belt this length. However, it will still depend on the motor; if the motor is under 600W, it may not be powerful enough to keep up with a jogging pace.
43″ – 50″ running belt is usually ok for both walking and jogging. If you're over 6ft, I'd recommend paying more and finding a machine with at least a 55″ – 65″ running belt, especially if you want to run on the machine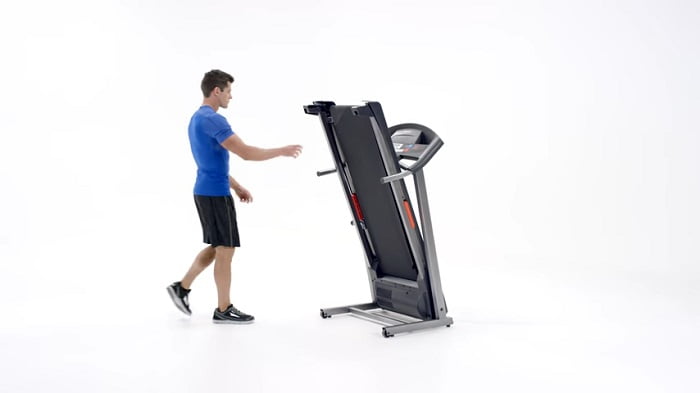 Fold For Storage
Most treadmills are foldable. This is a good thing as a treadmill has a large footprint, and finding one that folds to half its original length will save you a lot of space.
When it comes to the folding feature – Look for one that includes systems like the soft drop! Systems like this make unfolding the machine hassle-free. A few budget machines are a nightmare to fold and unfold, so look out for easy to use folding systems.
If you're super tight on space, then a fold-flat is your best option. These machines will fold almost completely flat. They can be stored under beds or propped up against a wall.
Power
Unless you are buying a treadmill just for walking, you will need a motor of at least 1.5HP anything less will have trouble keeping up with your pace even when jogging.
A rough estimate to motor power is 500W – 1.5HP for walking, power walking | 1.5 – 2.5HP jogging |  2.5 – 5HP running
Anti-Shock – Belt Cushioning Protect Joints
Looking after our joints at any age is always a good idea. One of the main reasons people choose indoor running is the stress road running/walking puts on our joints; therefore, it's a clever idea to look for a decent deck cushioning system on a treadmill.
The best cushioning systems are normally reserved for the high-end semi-commercial or commercial treadmills, but we can find some impressive anti-shock systems on lower priced treadmills.
Even the low priced treadmill cushioning systems will take up to 30% of the stress of each foot strike.
It's important to note that not all treadmills will come fitted with anti-shock systems, so make sure you check first before buying if a cushioning system is an important feature for you.
Monitor/Control Console
The more features your treadmill monitor includes, the more expensive the treadmill is going to be. While I like the idea of HD screen and subscription fitness apps, they are definitely not essential for your cardio session, plus many of the advanced monitors are complicated to use. It can take an hour just to work out how to use the thing.
I find it a better idea to look for companies that spend most of their time and effort on the machine's quality and durability and its essential features such as belt size, incline, deck cushioning, and ease of use.
Many treadmills out there with flashy advanced monitors do not deliver when it comes to the treadmill's build quality. They cut on overall quality to give the user an advanced monitor.
If you want a high-end treadmill that delivers on build quality and durability but also comes with easy to use well-equipped monitors, look for Sole or Horizon treadmills, these guys have the best reputations when it comes to home fitness products.
However, if you are spending under $600 on a treadmill, you won't find any advanced monitors anyway.
All monitors in the under $600 price bracket are basic and track all the essential workouts data such as time, distance pulse, and calories burned. Heck, nothing wrong with basic, they are easy to use, and you can usually jump on the machine straight away as they only take a minute or two to set up.
To Sum Up
Although there's not a  huge choice on offer when it comes to finding a high capacity treadmill, there are a selection of treadmills for different budgets.
The Exeperutic TF1000 is an excellent choice if you are on a limited budget. It's built by a reputable company that has years of experience in this space.
Yes, the TF1000 monitor is basic, but the treadmill includes all the features you need for calorie-burning workouts at home, including a manual incline.
The Exerpeutic TF1000 makes for a great first treadmill and should last years if looked after. An excellent choice if you are after a high capacity treadmill for light cardio workouts.
If you are looking for something a little more serious and if budget allows, the Sole F85 is by far the best semi-commercial folding treadmill you will find with a 400lb weight capacity. This thing shines when it comes to durability and build quality, and the warranty reflects the confidence this company has in its products.
The Sole F85 is probably overkill for a first treadmill, but if you're after a machine that will take years of heavy use and not break down, the Sole F85 Treadmill is a safe bet. And surprisingly comes with a great price tag on sale now for around $1500.