Walking, jogging and running are all possible with a treadmill in this price range. You're not limited to light cardio. The best treadmills under $1500 include large running belts and powerful motors; some even boast heavy-duty frames. These are impressive features for the price point and will allow for walking, jogging, and even running.
Yeah, they're a little way off commercial grade, so they're not built for the serious athlete, but they're easily good enough for 30-minute runs and HIIT.
Mid Level Treadmills – The Most Popular Price Bracket.
Mid-level treadmills have improved so much over the years. Companies have realized this is the most popular price bracket, so every company is trying to outdo the other. Competition is healthy, it drives up the quality of the products, and you guys end up with a treadmill that typically punches way above its price tag.
Still, with all those treadmills fighting for the top spots, it can be tough to choose one, especially if this is your first treadmill, so here's a quick two-minute guide you can read so you know what to expect when spending this amount on a treadmill.
Buying Tips – What To Expect
Running Belt Size – The most important feature of your treadmill is the size of the running belt. It determines who can use the machine and for what. Surprisingly, we can expect near commercial-size running belts in this price range. Suitable for users up to 6'2 for running. Look for 60″ x 20″. This is typically the largest belt size in this price bracket. Commercial-size running belts usually measure 60″ x 22″, so as you can see, we're not far off commercial size in this price range.
Weight – The weight of a treadmill is more important than people think—the heavier, the better when it comes to treadmills. The heavier treadmill is usually a telling sign of the quality of materials used in the build. Also, the extra weight gives you more stability. Look for treadmills weighing over 200lb. You want a solid treadmill.
Power Incline – every treadmill in this piece range should come with a power-adjustable incline, not a manual incline. An incline feature is essential as you'll burn twice as many calories jogging on an incline and build and strengthen hard-to-train muscles such as your calves, glutes, and hamstrings. Look for –  anything over 10% with ten levels or more is good. It's possible to find 15% inclines in this price range with 15 levels.
Motor – the power of the motor is important. If the motor is too weak, you won't be able to run, and the weight capacity for the treadmill will be much lower. Look for – 3HP or over. 3HP is powerful enough for walking, jogging, and medium-paced running… anything over 3HP is a bonus in this price range.
Monitor – monitors are not as important as the essentials above, but some are much better than others in this price range. You can find 10″ HD screens for under $1500 with built-in fitness apps and workout programs. One important feature to look for is wireless heart rate monitoring. Wireless is a much more accurate way of measuring pulse rate than pulse sensors. The majority of treadmills in this price range include this feature, and some even supply the HR chest or wrist strap.
Folding System – a treadmill that folds is an essential feature for many people who are tight on space. Usually, this feature will half the overall footprint of the treadmill. Look for – Soft drop folding systems. This type of system uses hydraulics. The hydraulics do the hard work, which makes folding the treadmill almost effortless.
Best Treadmills Under $1500 Comparison Table
Our Choice
NordicTrack EXP10i ($1499)
Foldable

Weight – 220lb

10″ HD Touchscreen

Running belt – 20″ x 60″

Speed – 0.5 – 12mph

Motor – 3.5CHP

Weight capacity – 300lb

Incline – 3% decline and 12% incline
Foldable

Weight – 250lb

6.5″ LCD

Running belt – 20″ x 60″

Speed – 0.5 – 12 mph

Motor – 3HP

Weight capacity – 325lb

Incline – 10% – 15 level
NordicTrack EXP7i ($1099)
Foldable

Weight – 210lb

7″ HD Touchscreen

Running belt – 20″ x 60″

Speed – 0-12mph

Motor – 3HP

Weight capacity – 300lb

Incline – 0 – 12%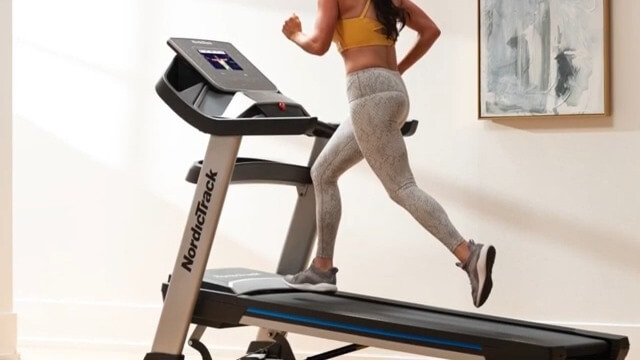 1) NordicTrack EXP 10i Treadmill
I'll admit I don't love all NordicTrack Treadmills, some are just too techy, and because of all that tech, they forget about the important stuff, but the new EXP series of treadmills is just something else. They have a ton of cool tech, but they also boast excellent features. There's no other treadmill with a 10″ HD touchscreen and a 60″ running belt in this price range.
This EXP 10i is a treadmill that has it all. I love this series almost as much as NordicTrack's commercial series.
The EXP 10i boasts the best power adjustable incline in its class, including a 3% decline. You'll also benefit from their auto-adjust system, a cool system that allows the trainers of the IFIT app to auto-adjust the incline and speed depending on your workout.
The auto-adjust feature is also available for global routes; this feature lets you run anywhere in the world viewed through your 10″ HD screen, and the treadmill will auto-adjust the incline depending on the terrain you're running on. Nice!
And when you look at the essentials, this EXP 10i is just as impressive. It weighs over 200lb, meaning it's going to feel solid, which is exactly what you want. You have a large, almost commercial-size running belt suitable for users up to 6'2 for running and 6'4″ for jogging. Plus, you have a decent motor. At 3.5HP, this is powerful enough to cope with most workouts, even HIIT.
This is a full-featured treadmill. It doesn't leave you wanting. And it costs just under our top price limit of $1500, which I think is very reasonable considering what's on offer.
Still, Nordictrack treadmills, in fact, most of their fitness gear, is designed around their IFIT app. With this treadmill, you have an impressive 10″ touch screen, but it can only be used with the IFIT app and Global routes. They don't allow you to download any other apps using the touchscreen.
IFIT costs around $1 a day, it's one of the best fitness apps on the market with over seventeen thousand workouts, and I feel it's worth the $1, a day a great app for keeping you challenged and coming back for more. It just might not be everyone's cup of tea.
Of course, you can use the treadmill without the app, and it has some built-in workout programs, but to get most from the treadmill, its HD screen, and other features, it's best used with the app.
Overall an excellent treadmill, the best you'll find for the money, both on tech and the essentials. It surpasses everything else in this price range.
10″ HD touchscreen with tilt feature
Heavy duty frame feels solid
IFIT compatible – extensive workout library with over seventeen thousand workouts
Auto-adjust – let trainers auto adjust your speed and incline while you workout
Impressive 12% power adjustable incline and 3% decline
3.5HP motor with top speed of 12MPH
FlexSelect™ Cushioning – adjustable deck cushioning, only treadmill to include firm and soft options for cushioning
Built-in transport wheels, Bluetooth, speaks and workout fans
Relatively short warranty
Not many built-in workout programs unless you use IFIT
Heart Rate chest strap not included
2) Sole F63 Treadmill
Sole Fitness are a company known for the quality of their fitness gear, these guys pride themselves on getting all the essentials right, and they focus a lot less on tech than many companies. This is a good thing for some people as not everyone is interested in HD screens and paid fitness apps.
The Sole F63 is a treadmill that boasts all the features you need for serious cardio at home. It has a near commercial-size running belt (60″ x 20″) and a nice heavy-duty frame with a treadmill weight of 250lb. This thing is solid and heavy for the price point, so no worries about stability. And you have pretty decent more at 3HP. We need to remember this treadmill is $300 less than the NordicTrack Exp 10i.
For the price point, you get a lot of treadmill the with Sole F63. Yes, the monitor is disappointing; it's a 6.5″ LCD, so it feels slightly dated, but you can't expect much more at this price, especially considering all the other impressive features of the Sole F63.
In fact, I quite like the monitor. It's easy to use,  boasts wireless heart rate monitoring, and they chuck in the chest strap for Free. There are ten workout programs and an excellent 15-level power adjustable inline. You can adjust it using the one-touch buttons of the monitor.
Final thoughts – The F63 is the treadmill to buy if you don't want IFIT in this price range. This machine shines way above most. You won't be disappointed.
Heavy duty build – can handle up to 325lb capacity
Impressive 15% power adjustable incline
Large running belt 20″ x 60″
3HP motor top speed 12MPH
BlueTooth compatible and BlueTooth speakers
Cushion Flex – deck cushioning system, protects joints by up to 40%
Wireless heart rate monitoring and chest strap included 
10 workout programs – including 1/4 mile track feature and a Peak and Valley graph for different programs
6.5″ screen feels small and dated
Minimal tech – can be a good thing if you like fuss-free fitness gear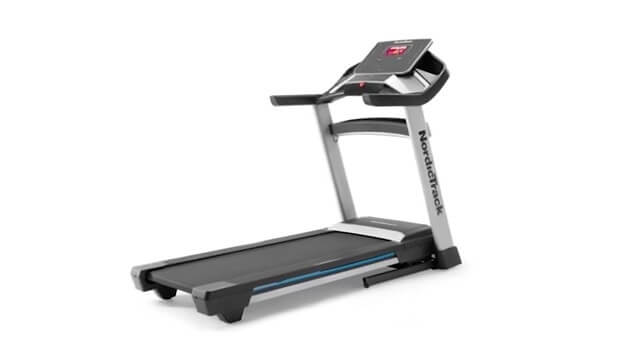 3) NordicTrack EXP 7i Treadmill
It might be a surprise to see NordicTrack feature again in this guide, but the EXP series is so good that I just had to include the EXP 7i as well.
This treadmill is very similar to the EXP 10i. It, too, boasts a near commercial-size running belt 20″ x 60″ and an impressive 12% power adjustable incline. It weighs over 200lb and boasts an HD touchscreen.
So why is it $400 less than the EXP 10i? There really isn't a huge difference; the screen is smaller. You only have a 7″ touch screen with EXP 7i. Also, there is no decline, and the motor has slightly less power.
But for $1100, you basically have a well-built, solid treadmill that includes the largest running belt in its price range, an excellent incline, and an HD touch screen. There's no other treadmill for the price than can offer such features.
If you're okay with a smaller HD screen and a little less power, the NordicTrack EXP 7i is unbeatable. Save yourself some money and choose this over the 10i because, just like the EXP 10i, it includes features you usually only see on high-end commercial treadmills but at a much low price.
Like all NordicTrack treadmills, you have access to the IFIT app and thousands of workouts streamed from their online library, again one month for free and a $1 a day for the subscriptions. The treadmill can be used without IFIT if paid subscriptions are not your thing.
Solid build with 300lb max capacity
7″ HD touchscreen gives access to iFIT and thousands of workouts
Good sized running belt – suitable for walking, jogging and running 
Impressive power incline – 12% 12 level
Adjustable FlexSelect cushioning system to protect your joins from the impact of each foot strike
3CHP motor can handle jogging and running
Hydraulic folding system – can fold with one hand
handrail pulse sensors – can be used in conjunction with iFIT it can use Bluetooth HR strap
Built in transport wheels, just tilt and roll to move
Some users may feel the screen is too small
The auto breeze fan won't hit you at the right angle if you're tall
NordicTrack are well known for slow customer service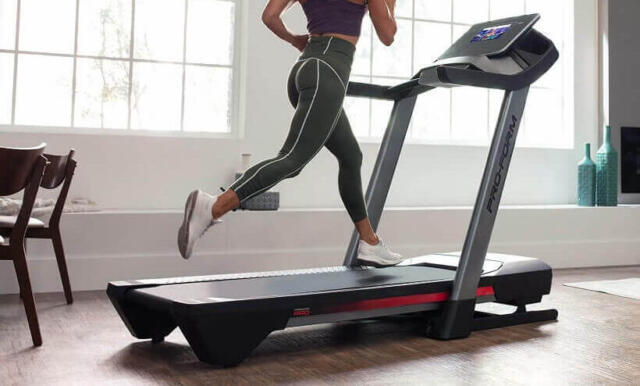 4) ProForm Pro 2000
ProForm is a company owned by ICON Fitness. They also own IFIT and NordicTrack, so you can expect fitness gear from ProForm to be quite similar to NordicTrack, and it is, in some cases, their treadmills are identical to NordicTracks offerings.
The Proform Pro 2000 is a model that's been around for nearly a decade; it's always been popular, and the treadmill in the above picture is the latest version for 2022/23. I've always liked the Pro 2000 and praised it many times in the past. And the newest version looks just as impressive as any treadmill on the market under $1500.
It boasts a heavy-duty build weighing 250lb, a 12% incline and 3% decline feature, the 20″ x 60″ running belt, 3.25 HP motor, and just like the EXP 10i, you have the 10″ smart HD touch screen, so on paper, this treadmill should be sitting in at least the No.2 spot in this guide.
But I've heard complaints about this recent release, people are having a hard time assembling it, with the wrong parts being sent, and I've even heard some people had trouble with the motor. Which just isn't good enough for a treadmill costing $1499.
Hopefully, ProForm will pull their socks up and sort these issues. As the last thing you want is to have to call customer service on the first day of your treadmill arrival, and from my experience, their customer service is slow.
Solid build weighs over 250lb feels stable
Free month of IFIT – global routes (google maps) run anywhere in the world. and thousands of studio workouts
Auto adjust feature, when selected you can allow personal trainers to automatically control speed incline and decline
Impressive 15% power adjustable incline and 3% decline
Quick touch buttons for speed and incline
ReBound Pro™ Cushioning protects your joints from the impact of each foot strike
Built in transport wheels, dual speakers, cooling fans, BlueTooth
Some users had trouble with assembly and missing parts
Sunny Health & Fitness SF-T7917 Treadmill ($600)
Sunny Health & Fitness are a company that specializes in affordable cardio gear. These guys have been building low-cost treadmills for decades. There's no one better than Sunny at producing high-quality treadmills with low price tags.
The Sunny SF-T717 isn't a treadmill for runners. It doesn't have the power for that or a long enough belt, but it is the perfect choice for walkers and joggers. And the belt is still impressive, considering the price. It measures 52″ x 19″, which is suitable for users up to 6'1″ for jogging.
And what impresses me most about Sunny's treadmill is that it includes a 15% 15-level incline. That's unheard of in this price range. Yes, you haven't got an HD screen or any other fancy tech stuff, But if you're looking for a well-built treadmill for jogging with an excellent incline, this could be a good choice.
There are no subscriptions to pay. Instead, you have 15 built-in workout programs. The treadmill is also BlueTooth enabled and has built-in speakers and pulse monitoring. And a cool feature I like are the extra pair of control buttons on the handrails for adjusting incline and speed, saving you from having to adjust from the monitor in the middle of a workout.
Overall this is an excellent treadmill for the price and perfect for those looking for a fuss-free treadmill for light cardio.
Good quality for price point
Best incline in its price range – 15% power adjustable
Good sized running belt – suitable for users up to 6'1″ for jogging
Extra pair of control buttons for speed and incline on the handrails
Easy to use monitor with BlueTooth, built-in speakers and 15 workout programs
Deck cushioning for joint protection
Built-in transport wheels
Motor is only 2HP so not suitable for intense cardio
No wireless heart rate monitoring
To Sum Up
The NordicTrack EXP 10i is the treadmill that stands out in this price range, it has the most power, the best tech, and it's well built. For just under $1500, it's well worth it.
However, the SOLE F63 treadmill is impressive in its own right, theses guys have always made excellent treadmills, and their F63 is their most popular. Users love this treadmill because of its build quality and its fuss-free design. If you are not into IFIT and can live without HD screens and subscription apps? This is the treadmill to go for.
Best Treadmills Under $1500 FAQS
Are Treadmills Under $1500 Worth It?
Yes, you will be surprised how good some treadmills are in this price bracket. You can expect near commercial-size running belts, power inclines, and decline. Some even have 10″ HD screens. These are features you usually find on commercial treadmills. So yes, if you do your research, there are some excellent treadmills in this price range.
Which Brand is Best For a Home Treadmill?
NordicTrack, Sole Fitness, Horizon, Sunny Health & Fitness, and Proform are the most popular home treadmill brands. NordicTrack are known for the best tech and their subscription fitness app IFIT. And Sole fitness, NoridcTrack's main competitors, are known for their high-quality builds and fuss-free designs.
What is The Best Treadmill Under $1500?
We've rated the NordicTrack EXP 10i as the best treadmill under $1500. It has the most up-to-date tech, great build quality, and the best incline.