The market is flooded with 50lb and 25lb adjustable dumbbells; there just arent many 90lb adjustable dumbbells out there. You can go old school and plate loaded, but adjustment times are slow, so advanced techniques such as drop sets are out. I've been reviewing and using adjustable dumbbells for many years, and the only decent fast to adjust heavy sets I've come across are made by Powerblock, Bowflex and Ironmaster.
Powerblock, Bowflex & Ironmaster.
I own a set of Powerblocks that are expandable up to 90lb. Since I bought my Powerblocks over seven years ago, Powerblock has released the Pro EXP Series, similar to my Powerblock Elites, which are expandable up to 90lb per dumbbell. Bowflex makes a 90lb pair called the 1090s, Ironmaster make the 75lb Quick Locks expandable up to 120lb and Yes4All makes an affordable 100lb per dumbbell plate loaded set. All of these we'll compare in this guide.
The choice isn't huge, but at least there is a choice. I've reviewed other heavy pairs over the years, but none come close to the Powerblocks or Ironmasters and didn't make it into this guide.
Let's take a quick look at the comparison table and then on with the reviews.
90lb Adjustable Dumbbells Comparison Table
Title
PowerBlock EXP Adjustable Dumbbells, Sold in Pairs, Stage 1, 5-50 Lb. Dumbbells, Durable Steel Build, Innovative Workout Equipment, All-in-One Dumbbells, Expandable with Expansion Kits
Ironmaster 75 lb Quick-Lock Adjustable Dumbbell System with Stand
Yes4All Dumbbell Adjustable - 200lbs
Preview
Weight Per Dumbbell
50lb-Expandable up to 90lb
75lb-Expandable up to 125lb
Title
PowerBlock EXP Adjustable Dumbbells, Sold in Pairs, Stage 1, 5-50 Lb. Dumbbells, Durable Steel Build, Innovative Workout Equipment, All-in-One Dumbbells, Expandable with Expansion Kits
Preview
Weight Per Dumbbell
50lb-Expandable up to 90lb
Title
Ironmaster 75 lb Quick-Lock Adjustable Dumbbell System with Stand
Preview
Weight Per Dumbbell
75lb-Expandable up to 125lb
Title
Yes4All Dumbbell Adjustable - 200lbs
Preview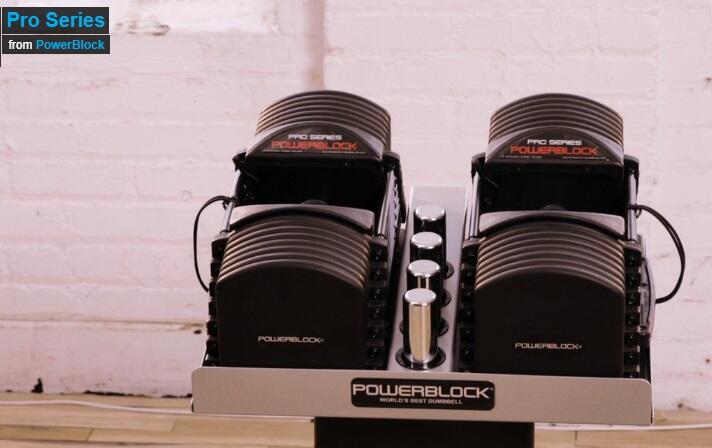 Powerblock Pro Series 5-50lb (EXP up to 90lb)
Powerblock has been making adjustable dumbbells for nearly two decades. These guys smash Bowflex when it comes to dumbbell design, and here's why. The Powerblock dumbbells use a weight stacking system; this keeps the dumbbell handle compact, which is exactly what you want.
The Powerblocks compact handle gives a natural feel, much like lifting a fixed-weight dumbbell. There are no long awkward handles to deal with like the Bowflex Pairs.
The Powerblocks are the only fast to adjust, compact 90lb dumbbell on the market. There's no advanced or basic bodybuilding technique you cant perform with a pair of Powerblocks. The Magnetic selector pin takes a second or two to adjust.
If you want to adjust the Powerblocks in smaller weight increments like 2.5lb. Adjustment times are slightly slower as you need to add the 2.5lb metal weight cylinders to the handles, but this only takes a couple of seconds.
The Powerblock Pro EXP Series start at 50lb per dumbbell and are expandable to 90lb.
Powerblock sells the 70lb and 90lb expansion packs separately. However, when you go heavy, things start to get expensive. Once you purchased the add-on weight packs to get the Pros up to 90lb, you're looking at a price tag of $800 for the pair.
You could choose their Elite set of adjustables very similar to the Pro series, 'the Pros are a touch more compact and look more impressive,' but they're generally the same dumbbells. The Elites, which I own, cost around $700 for a pair with the expansion packs.
There's no doubt that the Powerblocks are the best adjustable dumbbell. They're tough, fast to adjust, compact, and offer 2.5lb weight increments essential for progress in some exercises.
I've never come across anything better than the Powerblock in price, build quality, and features. Yeah, they are pricey when you go heavy, but when you consider a set of Powerblock 90lb EXPs replaces 22 pairs of fixed-weight dumbbells, they work out a lot cheaper than buying a full rack of fixed-weight dumbbells, and they save a ton of space too.
N.B If you choose the Powerblock Pros, choose the EXP set. Powerblock makes two sets of Pros one is expandable, and the other isn't.
Solid well made dumbbells, no plate rattle
Compact – feel like a fixed weight dumbbell
Fast to adjust magnetic selector pin
Small weight increses essential for proresss (2.5lb weight increments)
Minimal Plastic in the design 
Replace 22 pairs of fixed weight dumbbells
Doesn't come with a dumbbell stand has to be purchased separately
The cylinder weights take extra time if you want to increment in 2.5lb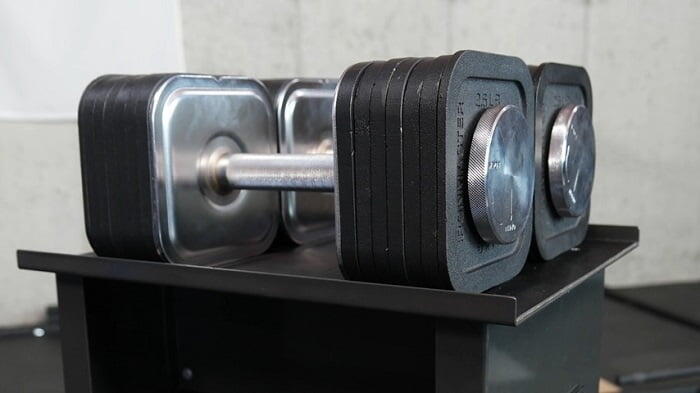 Ironmaster 75lb Quick-Lock Dumbbells (EXP up to 120lb)
Ironmasters are well known for making heavy-duty gear. I reviewed their Super Bench Pro last year, and that thing was built like a tank, and their dumbbells are no exception; you won't find any delicate adjustment system on this pair of bells. It's an all-metal set made to last a lifetime.
The Ironmaster dumbbells weigh 75lb per dumbbell. They are sold as a pair and come with a stand. Ironmaster offers 90lb and 120lb weight expansion packs for their 75lb adjustable dumbbells. So you can go pretty heavy with this set.
Like the Powerblocks, the Ironmaster dumbbells boast a handle that only increases in length when you add more weight; this makes for a compact handle and feels natural to lift with.
What sells these dumbells is their heavy-duty design. They are one of the only adjustable dumbbells on the market you can drop on that last killer rep without the fear of breaking them.
Still, you can cant get away from the fact the Ironmasters are a plate-loaded set. You'll have to add and remove plates when adjusting the weight, which takes time, so sadly, no drop sets.
The price for the Ironmaster isn't too high, and they come with the stand, which is rare for a set of adjustables. For the 75lb pair and stand, the price tag when I last looked was just under $800. 
Rock-solid adjustable dumbbells with lifetime warranty
Compact – feel natural to lift with
Can go heavy up to 120lb per dumbbell
Supplied with a heavy-duty stand
All metal design – drops allowed
Space saving design Replacing 20 pairs of fixed weight dumbbells
Weight plates marked in lb and kg
Not the fastest adjustable dumbbells you'll find – loading and unloading plates takes time
Would be good to have an option to buy the 75lb dumbbells without stand as it would lower the price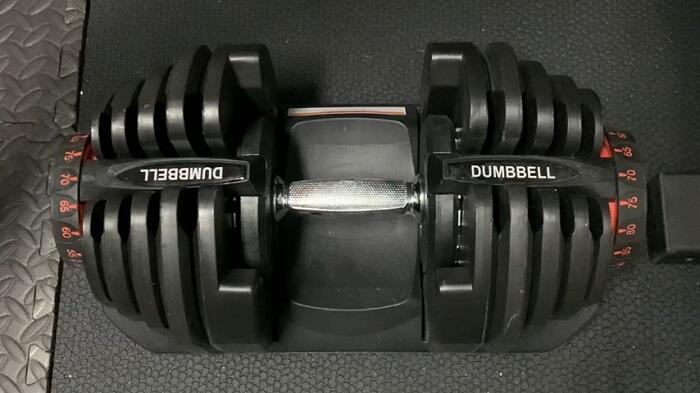 3. Bowflex 1090 Adjustable Dumbbells (90lb per dumbbell)
Bowflex, just like Powerblock, has been making adjustable dumbbells for years. Bowflex are the company that introduced the weight selection dial to the dumbbell market. A super-fast adjustment system that can be adjusted in just a second or two.
Quick changes make the Bowflex's more appealing than most adjustables in this weight range, especially if you want to perform advanced techniques. To adjust a Bowflex dumbbell, you'll need to turn the dial on either end of the dumbbell to the amount of weight you want to lift. It's that easy.
The Bowflex 1090s adjust in increments of 5lb with a max weight of 90lb per dumbbell. There are no expansion packs for this set. Each dumbbell weighs 90lb when your purchase it.
The Bowflex 1090s are sold in singles for around $350.
The Bowflex bells are impressive because they're a fast to adjust alternative to sets like the Iornamsters and other plate-loaded designs, but they have a few drawbacks, such as the fixed-length handles.
The Bowflex 1090s use a fixed-length handle. A fixed-length handle is a handle that stays the same length no matter how much weight you're lifting; whether it's 20lb or 90lb, the length of the handle remains the same. And their empty handle measures nearly 18″. Handles this long are awkward to lift with. Not a deal stopper as you'll adapt to the length in a few weeks, but still something to think about.
My main issue with the Bowflex 1090s is how much plastic these guys use with their dumbbells. There's plastic in the adjustment system, handles, and plastic casings surrounding the weight plates. Admittedly, the plastic is fairly durable, but it won't survive drops.
Many people had problems with the weight plate casing cracking when they accidentally dropped their Bowflex dumbbells. And the delicate adjustment system doesn't hold up much better either. Drops aren't covered in the warranty so remember you'll have the hefty repair bill if you break one.
Issues aside, the Bowflex 1090s are still a good option for people looking for a heavy fast selectable pair. The majority of guys who own the 1090s love them, with an average of 4.5 out of 5 stars from over 700 ratings.
Fast adjustment times – easy to use adjustment system
No need to buy expansion packs separately as the 1090s provide a weight range of 10-90lb per dumbbell
Space-saving design – replaces 17 pairs of fixed weight dumbbells
No Drops – too much plastic in the design. Need to be extra careful with the Bowflex 1090s
Long finxed length handles can be awkward to train with
Yes4All 100lb Per Dumbbell (200lb set)
If you want to save some cash, you could go old school and choose a pair of plate-loaded adjustables. The Yes4All Adjustable Set offers 200lb of weight. With a selection of 2.5lb, 5lb, and 10lb plates.
The Yes4Alls use standard 1-inch bars, which will allow you to purchase additional standard weight plates if and when needed. I've always liked the old-school sets of adjustables simply because they're all metal. You can train to failure and drop them without the fear of breaking anything. Sets like this will last decades.
You can adjust in 2.5lb increments, so no need to worry about large jumps in weight holding back your progress, and they come in at half the price of most heavy adjustable dumbbells like the Powerblocks and Bowflex. They're a no brainer for anyone who wants to lift heavy on a budget.
There's a few minor drawbacks the handles are fixed length, but at around 15″, there not as long and awkward to train with as the majority of adjustable dumbbells.
The biggest drawback of the Yes4Alls is how much time it takes to change weight. Plate loaded adjustable dumbbells are the slowest to adjust out all the sets. Taking up to a minute to change both dumbbells.
Old school sets like the Yes4Alls will always be popular as they're tough, they offer the most weight for your cash, and you can adjust in small weight increments, something that's important for a lot of lifters.
The Yes4All adjustable dumbbells might be the best deal you'll find if you can live with the slow adjustment times.
Going old school will saves a ton of cash
All metal – tough dumbells will survive drops, last decades
1″ bar allows you to buy additional standard size plates when you need that extra weight.
Easy to disassemble for storage
Paint will chip off the plates over time
Buying Tips
Adjustable dumbbells are expensive, so you want to get it right the first time. You don't want to have to send back heavy packages. It's a pain in the butt.
I'll share a few buying tips, and some I've already mentioned in the review but are worth repeating.
How Much Plastic is Too Much Plastic?
Nearly every selectable pair of adjustable will have some amount of plastic in their design. Even the mighty Powerblocks have plastic handles. While the Powerblocks have minimal plastic compared to the competition, they're still an adjustable dumbbell you need to avoid dropping from height, yeah they'll survive a few drops. Still, it's not something I recommend you do regularly.
If you're lifting heavy, dropping the dumbells after a killer set might be something you're used to. Especially if you're transistioning from a local gym to home, you'll either have to change things up a little or choose an all-metal pair of adjustables and live with the slower adjustment times.
Fixed Length Handles
Something I always try to avoid with adjustable dumbbells are fixed-length handles. Curing 20lb adjustable dumbbells with 18″ handles is a problematic. If you can, it's always better to try and find an adjustable dumbbell whose handle only increases in length when you add more weight. We want our adjustable dumbbells to feel as close to the natural feel of a fixed-weight dumbbell as possible, and you'll need an adjustable dumbbell with a compact handle to achieve this.
Weight Increments
In Bodybuilding, Small weight increases are one of the keys to progress, and ideally, for dumbbells, you want 2.5lb increments or 5lb at most. Thankfully, most heavy sets adjust in 2.5lb or 5lb increments. Some cheaper sets adjust in 10lb increments, which is too big a jump even for the most season of lifter and useless for bodybuilding.
Depending on your training, large jumps in weight may be ok,  but for bodybuilders' 2.5lb increments are ideal.
Adjustment Systems
Quick weight changes are a must for some exercises, so choosing an adjustable dumbbell with an adjustment system that allows for weight change in under 5 seconds is important. I say five seconds as no advanced or basic bodybuilding technique requires a weight change faster than this. Again this will depend on your training schedule if you need quick weight changes or not.
The only problem with most of the fast to adjust dumbbells is the plastic used in the adjustment systems, they're delicate, and they'll break when dropped.
The Ironmaster dumbbells sort of address this problem, they're unbreakable, and while they are plate loaded, they are twice as fast to adjust compared with the old school sets plate loaded sets. The Ironmasters use a single pin 'rather than two spinlocks,' which you turn to lock once you load the plates. You won't be able to perform a few advanced techniques, but it's a huge improvement over the old plate loaded sets, and best of all, you have an adjustable dumbbell that you can drop!
To Sum Up
Powerblock has been the leader in adjustable dumbbell design for years. Their dumbbells are compact and fast to adjust, they boast the 2.5lb weight increments, and they're tougher than most of the selectable dumbbells out there.
The PowerBlock Pro EXPs are unbeatable for anyone who wants to lift heavy.
It's a bit of a shame they don't offer anything heavier for the Pro series, as Powerblock used to make the U90s that were expandable up to 120lb. Still, the Pro EXP series replaced the U90s. And 90lb is now the max for Powerblock's heaviest set.  
Ironmaster Quick Locks are a good choice if you can live without super fast adjustment times. They're extremely tough. You can throw them around your gym if you like. They have a compact handle like the Powerblocks, offer small weight increments and are expandable up to 120lb, which is impressive. Plus come with a heavy duty stand.
Whichever set you choose, I hope our guide has gone some way in helping you make the right choice.