Updated February 19, 2020
The creme de la creme of all home gym dumbbells would be a set of fixed weight dumbells, but if you don't quite have the budget or the space to store a fixed dumbbell weight set, your next best option could be a pair of the Powerblock dumbbells.
In this review, we will be taking a look at their elite range, the most popular and respected series for serious weightlifters made by Powerblock.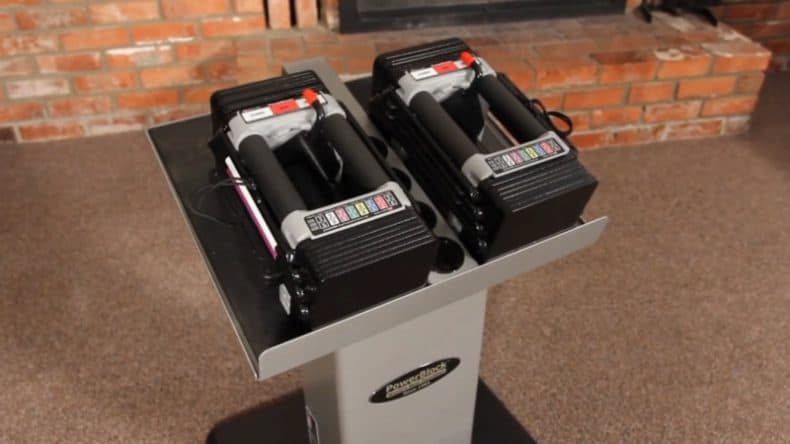 The Elite series is available in three different weight capacities: Elite 50, Elite 70, and Elite 90, the end number being the weight range of that particular pair of dumbbells.
All the pairs are primarily built the same apart from the selected weight range. This will let me review the range as a whole rather than individual pairs.
When looking for a pair of adjustable dumbbells, you need to take into consideration weight range, durability, speed of adjustment, and most importantly – does the adjustable dumbbell pair have the natural feel of a fixed weight dumbbell?
I'm happy to report you will not find many better adjustable dumbbells than the Powerblock's elites.
They're built to last, have a wide weight range, and even if you opt to buy the lower weight, elite 50's and grow out of them, there's the option to buy the expansion packs to turn them into the '70s and '90s as seen in the video below.
Powerblock has been producing adjustable dumbbells for the past 25 yrs. They have a wealth of experience in the home gym industry. You can be sure to trust they have researched their products thoroughly to give you the best possible piece of kit for the money.
2 x adjustable dumbbells – 50lb each or 70lb or 90lb pairs available
The 50lb set has a weight range of 5-50 lb per hand and increments- 2.5 (added weight), 5, 7.5, 10,15, 17.5, 20 25, 27.5, 30, 35, 37.5, 40, 45, 47.5, 50 pounds per hand
10 year home usage warranty
Product dimensions – 12 x 6.5 x 6 inches
Weight
With adjustable dumbbell pairs such as  Bowflex, Stairmaster, and Core-fitness, although excellent adjustable dumbbells, there's one missing feature holding them back? There is absolutely no way of adding any extra weight to any of the pairs.
They are all limited to around 50lb per dumbbell, which is fine and a substantial amount of weight for a few years when you first start lifting, but you will outgrow them as you get stronger. And then you're going to have to pay out for the second set of dumbbells for heavy workouts.
What's great about the Elite set, even if you start with the lower weight of the 50lb set, is that you will never need to worry about outgrowing them, all you do is buy an expansion pack 70lb or 90lb. Expansion packs take as little as 10 seconds to add on and are priced around the $120 mark.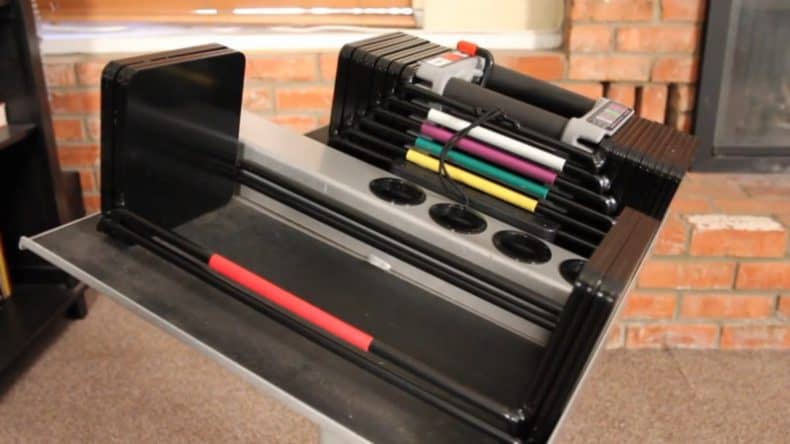 If you are a serious lifter and have the cash available, then the 90lb set would be the recommended set to buy, this will save you a few $'s having to extend the weights with expansion sets later on.
NB, although I said I would only talk about the elite range it's worth mentioning that Powerblock makes a heavier series:
The U90 stage4, targeted towards the more extreme of weightlifters as you can take this pair right up to 125lb per dumbbell and they also have the option of changing the handle out for a kettlebell feature, which will start to bump up the number of exercises you can do with the dumbbells.
Faster than the Ironmaster's Quick-Lock adjustment system but slower than the Bowflex and Core adjustable dumbbell lock and dial systems, the Powerblock Elites sit somewhere in-between when it comes to adjustment times.
Powerblock's adjustment system works by using a magnetic selector pin, you can use the pin to change the weight stack in 5lb increments, but that's not all, what makes this pair of dumbbells even more versatile is the 2.5lb cylinder you can place in the handle. This now leaves you with the option of changing the weight load up in 2.5lb increments.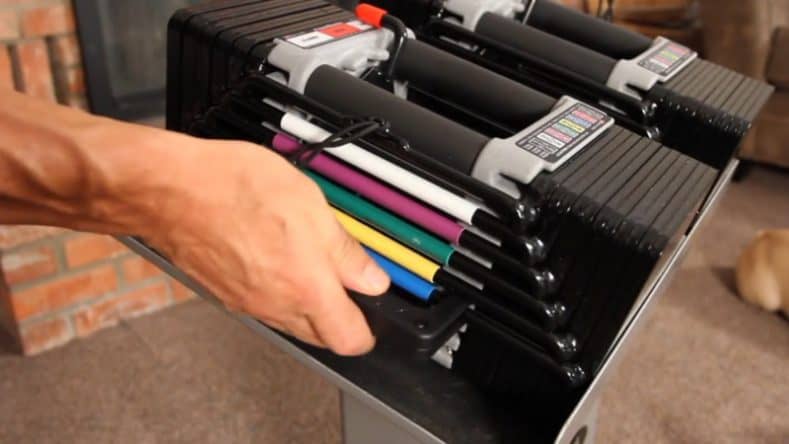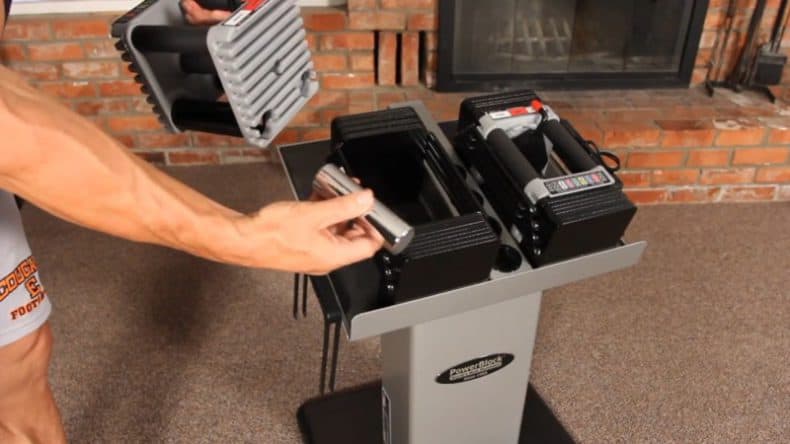 Not all of you will use the 2.5lb added weight feature as I'm sure many would skip that and go up in 5lb. Still, on some isolation exercises, many people will find this extra versatility useful, and in my opinion, having this feature is better than needing and not having.
It's worth pointing out that changing the cylinder weight does take that extra few seconds, 5-10 at most, as you have to put the cylinder in the handle manually, but you will see just how easy this is in the video.
Powerblock Dumbbells Video
Build Quality & Durability
Built primarily to last, the Powerblock dumbbells reflect this with their 10 yr warranty, which is quite impressive for a set of adjustable dumbbells. Still, as with most of the new sets of adjustable dumbbells, they are made with plastic parts.
If you are used to training with fixed weight hex dumbbells or something similar, be aware you cannot drop or throw around a pair like this because they will break.
It's never a great idea to stick heavy metal and plastic together, especially with a product that's going to take some beating and is more than likely to be dropped.
Still, it seems almost unavoidable to the makers of new school adjustable dumbbells like this, apart from the Ironmaster, which is of all-metal construction. However, compared to adjustable sets such as the Bowflex or Corefitness the amount of plastic used in the Powerblocks is minimal.
Will the construction of the Powerblocks affect you're training? Well, Powerblock's official stance is they will survive a drop or two from a height but nothing more. They recommend only a 6″ – 12″ drop is ok but to be honest, at this price, I don't think I would even risk dropping these from any height.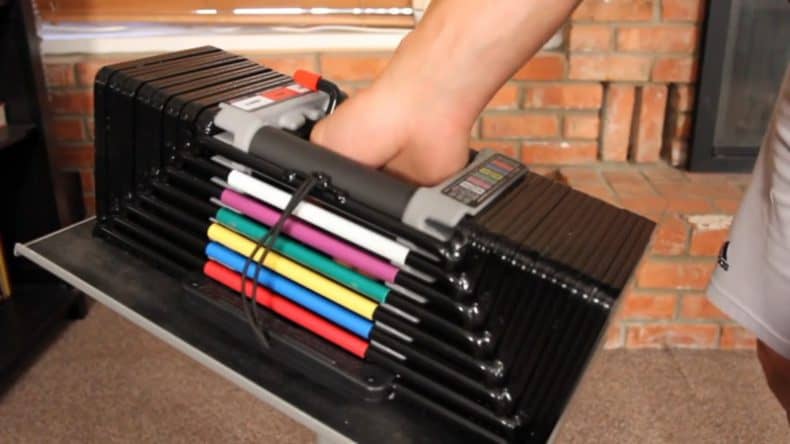 The build is well thought through, and what's nice to see is a weight range stacking system, it makes the dumbbells compact, and because they don't have a standard length handle such as the bracket system, the dumbbell only increases in length when extra weight is added.
The stacking system gives the dumbbell as natural a feel as possible, especially on the lower weight range where the dumbbell is at its most compact.
Design-wise the dumbbells do look let's say not too conventional, the square design of the pair might put a few people off, I know I thought they looked kind of weird when they first came out, thankfully the shape in no way distracts from their functionality, this also makes them a no-roll pair.
I've only picked up a friend's pair of dumbbells and never actually trained with a set, but I had a few curls with the Powerblocks, and there were no issues of them hitting my hips, which can happen with longer length and bulky designs.
You might be wondering what the four iron bars are on each side of the dumbbell? I believe they're there initially for wrist support as many people have issues with bending their wrists using heavy dumbbells, so Powerblock added the padded bars for support. Secondly, the bars help keep the 2.5lb weights in place.
From the many reviews I've read about the dumbbells, they have received very high praise indeed for design and durability with some guys owning them for several years with no breakage or training issues.
Quick and easy magnetic pin adjustment system
Compact well balanced natural feel
Wrist guards with comfortable grip handle
Versatile, adjustable in 2.5 and 5lb increments
Wrist guards with comfortable grip handle
ALTERNATIVE TO POWERBLOCK ELITE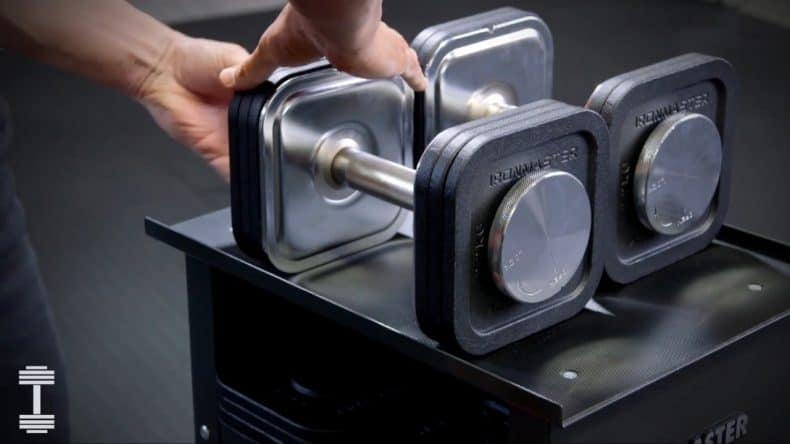 Ironmaster Twist Lock 75lb Dumbbells
If you can't quite make your mind up on the Powerblocks, you might want to consider taking a look at Ironmasters rock-solid set of dumbbells.
The Twist Locks! Ironmasters Twistlocks are a little slower to adjust than the Powerblocks because you have to load the weight plates manually, but what you lose in time you make up for in durability.
These dumbbells are robust; their all-metal construction means you don't worry about drops so much as there's no plastic involved in the design.
The Ironmaster dumbbells just the like the Powerblocks offer expansion packs. Ironmaster offers two different weight packs, 120lb and 165lb per dumbbell; that's some serious poundage!
On the downside, you can forget drop sets with the Ironmasters. They are relatively quick to adjust, but you're looking at around 20 seconds per dumbbell, compared to a couple of seconds with the Powerblocks.
But if you are looking for lifetime warranties and a rock-solid set, then you can take a closer look at this excellent pair of dumbbells in our full review: Ironmaster 75lb Quick-Lock Dumbbell Review
Powerblock has produced a pair of dumbbells that prove to be versatile yet durable, the inclusion of weight expansion kits make this set the right choice for anyone serious about their weightlifting. They certainly are Ironmaster's nearest competition in the adjustable market.
The well thought out design and the expandable weight range of the Powerblock dumbbells will be their key selling points. Definitely, worth some serious consideration, I don't know if they will last a lifetime, but they will prove to be an excellent addition to any home gym.