The Powerblock Pro 50 Adjustable Dumbbells are Powerblock's new series of adjustable dumbbells. Powerblock has a ton of different lines of adjustable dumbbells, and it can get confusing, so let's clear up any confusion at the start of the review that this is the Pro 50 Powerblock set that isn't expandable.
Pros Cheaper Than EXP Set.
The Powerblock Pro 50 dumbbells are a little cheaper than the EXP set, which currently retails at around $520 for the stage 1 pack. The standard pair we're reviewing today can be purchased for $100 less, which is a great deal.
There's no difference between the Pros and the EXP, except the EXP can be expanded to 70lb and 90lb when purchasing the expansion packs separately for $199 each.
PowerBlock Pro 50 – Tough and Compact
Not many lifters will outgrow a 50lb dumbbell anytime soon, making the Powerblock 50s an excellent choice for beginners or intermediates looking for a mid-weight adjustable dumbbell pair. The Powerblock Pro 50s includes everything you expect from a Powerblock dumbbell pair, such as a high-quality build, compact design, and small 2.5lb weight increments, essential for progress in bodybuilding. And they're tough with less plastic than most adjustables on the market.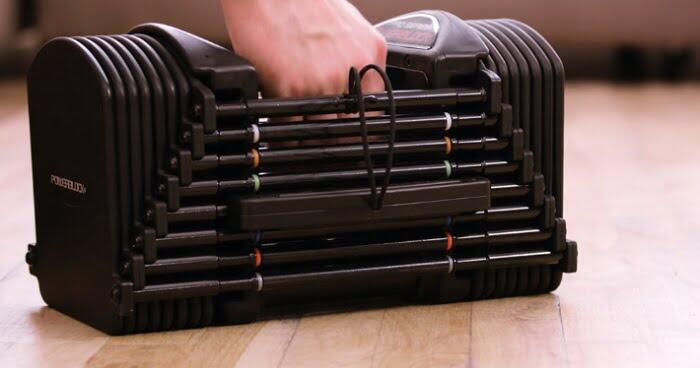 PowerBlock has covered all the essentials with their new and improved Pro series of dumbbells. I prefer them to my Powerblock Elite set, which I've owned for the past seven years, as the Pros have more options; they can be used with the kettlebell attachment, the EZ bar attachment, and the straight barbell attachment; plus, they look cool. They also use flex technology which I'll get into later. There is nothing these guys haven't thought of.
The Pros are undoubtedly worthy of a closer look, and today we're taking a close look at everything they have to offer, including any drawbacks.
First, the product specs!
Product dimensions – 13″L x 7." W x 7.25″ H (loaded)
Weight – 50lb per dumbbell
Adjustment system – magnetic selector pin
Weight increments – 2.5, 5, 7.5, 10, 12.5, 15, 17.5, 20, 22.5, 25, 27.5, 30, 32.5, 35, 37.5, 40, 42.5, 45, 47.5lb
Material – Metal, plastic
5 year warranty – doesn't cover drops
Why Do We Like The Powerblock Pro 50 Dumbbells?
What I love about the Powerblock Pro 50s is how compact they are, and that's because they use a weight stacking system. The weight stacking system allows for a dumbbell handle that only increases in length when you add more weight. This is exactly what you want.
No Long Handles To Deal With
The compact handle design of the Powerblock Pros 50s gives the dumbbells a natural feel when lifting as there are no long awkward handles to deal with.
It's the opposite with sets like the Bowflex 552s and 1090s, as they use a fixed length handle. A fixed-length handle is a handle that stays the same length no matter how much weight you're lifting. Whether you're lifting 10lb or 50lb, the length of the handle stays the same. This type of dumbbell handle is a headache to train with, especially when curling.
An empty Bowflex Dumbbell handle measures 17 inches while an empty Powerblock Pro handle measures just 10 inches; that's a huge difference and something you really notice when lifting.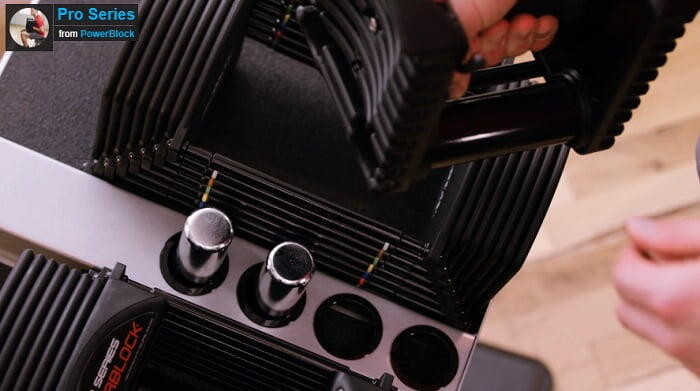 Small Weight Increses Are One of The Keys To Progress
Ideally, for adjustable dumbbells, you'll want pair that either adjusts in 2.5lb weight increments or 5lb at most. It's best to avoid the cheaper sets that use the 10lb increments. 10lb is too big a jump in weight, even for seasoned lifters. Jumps in weight this large can cause you to cheat your form and will slow progress.
2.5lb Weight Increments
The Powerblock Pros adjust in increments of 2.5lb, which is impressive as only a small amount of adjustable dumbbells offer the desirable small increases in weight.
If you want to adjust the Powerblocks in the smaller 2.5lb weight increments, you can use the metal cylinder adder weights. You place the cylinder weights into the handle and then lock them. It's fairly quick to do and easy.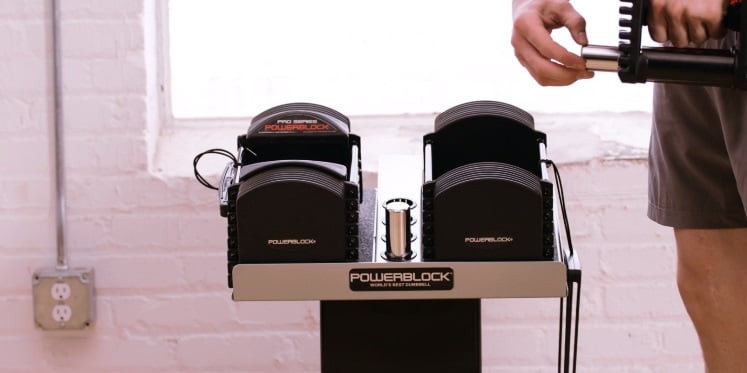 There's also a magnetic selector pin you can adjust for the larger weight increments. This takes just a second to adjust.
Adjusting in 2.5lb increments does slow things down a little because you'll need manually add the cylinder weight to the handle. Still, using the adder weights shouldn't take any longer than 5 seconds which is fast enough for any advanced or basic bodybuilding techineige. Even drop sets requiring the fastest weight changes can be performed with the Powerblock Pros.
One of The Toughest Adjustables Out There
Nearly every pair of 50lb adjustable dumbbells use a ton of plastic in their design. Take the Bowflex 552s for an example – There's plastic in the handle, adjustment system, and plastic casings surrounding the weight plates. There's so much plastic in pairs like the Bowflex 552s that dropping them will almost certainly result in breakage, and drops aren't covered in the warranty, so you'll end up with a hefty repair bill.
The Powerblovck Pros use less plastic than most. There's no plastic casing surrounding the weight plates and no delicate parts in the adjustment system to break. With the Powerblock Pros, there's only some plastic in the handle. While I wouldn't recommend throwing the Powerblock Pros around your home gym, they will survive a few drops from height.
Flex Technology
And something new for the Powerblock Pros series is the FLEX technology. Rather than being welded like previous models (classic/Elites and sports lines), the Pro series uses flex technology, which helps prevent breakage if you drop the dumbbells.
What Else is New?
The weight plates of the Powerblock Pro series now come Urethane coated. Just a minor improvement; still, it helps keeps weight changes smooth and much quieter and protects the weight plates from rust.
Perhaps the most important improvement is the open handle design. This is something Powerblock users have asked for years. The old Powerblock handles restricted wrist movement, especially for larger guys. The new open handle design of the Powerblock Pro Dumbbells gives you a greater range of movement for the wrist to move the forearm back or forward.
And lastly, the Pro series is the only series of Powerblock adjustable dumbbells compatible with the EZ bar attachment, the Barbell attachment, and the Kettlebell attachment.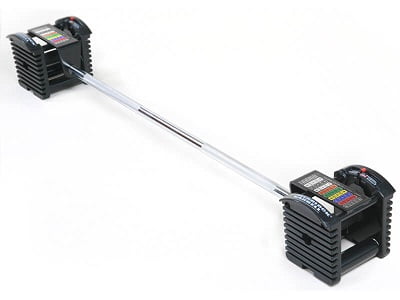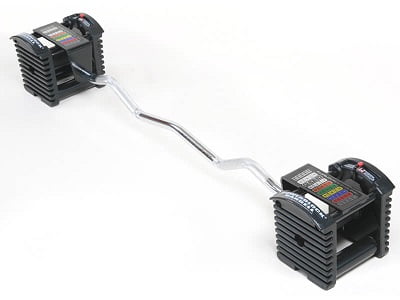 Space Saving Design
Because you have a dumbbell that includes those desirable 2.5lb weight increments, you have a design that replaces 20 fixed weight pairs of dumbbells or 40 single dumbbells. This saves you a lot of space, and it's one of the reasons I use adjustable dumbbells instead of fixed weight dumbbells, as they free up space for other equipment. And it's not just space they save. They save a ton of cash too. Purchasing a rack of 20 fixed weight pairs would cost $800+, which is twice the price of a pair of Powertblock Pro 50 dumbbells.
Flat Ends
Something else I like about the Powerblocks is the dumbbells' flat ends. When setting up for presses, it's always good to use a dumbbell with flat ends, selectable sets with a dial on each end like the Bowflex will dig into your thighs which can be off-putting.
Anything I didn't Like?
Honestly, it's hard to find much wrong with the Powerblock Pro 50s. They are that good. The blocky design might put some users off. Also some exercises are difficult to perform with this type of design, such as goblet squats, as it's hard to grip the dumbbell, especially true if lifting heavy.
Also, having to add the cylinder weights manually will slow adjustment times. This isn't a deal stopper as it only takes 3 or 4 seconds but its much slower than some of the selectable sets of dumbbells that use fast twist-lock systems or dials to adjust weight amount.
High-quality solid pair of adjustable dumbbells. Urethane coated plates make the Pros the quietest and most durable Powerblock dumbbells
New: Flex technology – non welded design with help withstand impact if accidentally dropped
Open handle design – more room for wrist movement
Compact handle – weight stacking system, no long awkward handles to deal with
Less plastic than most adjustables
The Powerblocks Pros are the only series with attachments avaliable like the EZ bar
Space saving design replaces 20 pairs of fixed weight dumbbells
Can be hard to find a proper grip for some exercises
The adder weights slow adjustment times
Stand sold separately and its expensive. Better off purchasing a non branded dumbbell stand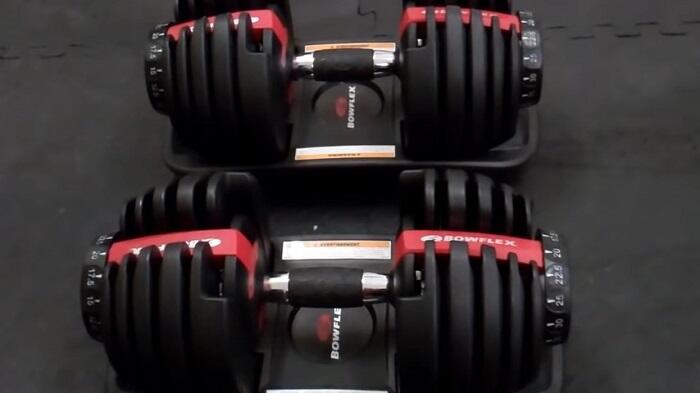 Bowflex 552 Adjustable Dumbbells
The Bowflex 552s have been the most popular pair of adjustable dumbbells for a long time. They're made by a company with a long history and a great reputation, but what really sells these dumbbells is their adjustment system. Bowflex was the first company to introduce the Weight Selection Dial, and it's just as impressive now as it was when I first used it nearly 15 years ago.
Taking only a few seconds to adjust their weight select dial system was a game-changer. Also, the Bowflex 552s were the first selectables to offer 2.5lb weight increments, making them a great choice for beginners and isolation exercises that demand smaller weight increases.
The Bowflex 552s have a lot to offer; speedy weight changes, a wide weight range, and they're priced competitively at around $400 for a 52.5lb per dumbbell pair.
Still, adjustable dumbbell design has moved on, and Bowflex hasn't changed its design in years; yes, it still works, but it has flaws, and one of those are the fixed length handles. The handles stay the same length no matter how much weight you lift, and at 17 inches, they're long and awkward to lift with. Over time, you can get used to the length, but they'll never feel natural to lift with.
Another drawback of the Bowflex 552s is the amount of plastic used. It's everywhere in the handles, the adjustment system, and plastic casings for the weight plates. Whatever you do, don't drop a Bowflex dumbbell because you'll break something.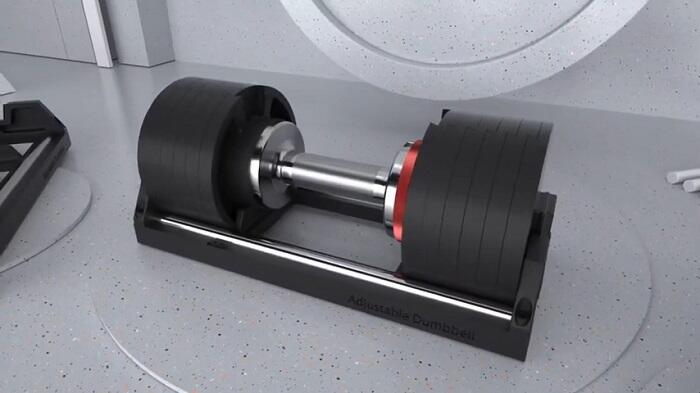 Snode AD-50 Adjustable Dumbbells
I've reviewed a lot of Snode gym gear over the years, and these guys are making some impressive equipment. Their new set of bells, the AD-50s, are an all-metal pair of adjustable dumbbells.
Their twist-lock adjustment system is the fastest adjustment system for dumbbells. All it takes is a twist of your wrist to change weight, its that easy! They are the only all-metal adjustable dumbbells that use the impressive twist-lock adjustment system.
The Snode dumbbells, as you might of guessed are more expensive than the Powerblocks and the Bowflex dumbbells but are worth it. They're an all-metal pair that can survive drops without any problems.
And they're compact as they use a handle that only increases in length when you add more weight. The Snode AD-50 dumbbells are about as close as you are going to get to the feel of fixed weight dumbbell. The conventional design and the compact handle give that natural feel we all look for from a dumbbell. These things are impressive.
Priced at just over $480 isn't too bad for an all-metal pair of twist lock adjustables. Each dumbbell weighs 50lb and its only real drawback is that it adjusts in the larger 8lb increments
To Sum Up
The Powerblock Pro 50 Dumbbells are a significant improvement over the already impressive Powerblock sets like the Elites. I love the flex technology and the new open handle design. These are the upgrades we have been waiting for.
But what makes the Powerblocks so appealing is their compact design and 2.5lb increments. Both of these features set the Powwerblocks apart from its competition. The Build quality is also much higher than the selectable sets like the Bowflex and Core Fitness dumbbells that use too much plastic. 
The Powerblock Pro 50s are a solid, versatile dumbbell that can be used by anyone who wants to lift at home.