People are always asking me what the best adjustable dumbbells are? 'I want a fast to adjust dumbbell that can take drops without breaking', and the answer is simple, there are no super fast to adjust dumbbells that you can throw about and still use the next day.
All the fast select dial adjustable dumbbells have weak adjustment systems, and the plates loaded type are tough but sadly are slower to adjust.
The Ironmaster set are somewhere in the middle, and in our detailed Ironmaster Dumbbells Review, we're taking a close look at what makes this set one of the top two on the market.
Tough – Heavy Duty
The Ironmaster dumbbells can't promise the speed of a select dial adjustment system, but they're tough heavy-duty dumbbells, they'll take pretty much all you can throw at them and what's best is that these things are compact.
When we buy an adjustable dumbbell for home, we want to get as close to the feel of a fixed weight dumbbell as we can, and that's what shines about the Ironmaster quick-lock 75lb adjustable dumbbell set.
The Ironmaster set boast a compact natural feel design, a design that eliminates the long awkward handles, and because the guys over at Ironamter love the gear they produce so much, these things also come with a lifetime warranty, nice.
Before we got on with the review lets take a quick look at the product specs!
Product dimensions –  6.5″ x 6.5″ x 14.5″ (W x H x L)
Weight range – 5-75lb per dumbbell – expandable to 120-165lbs
32 weight settings – adjustable in 2.5lb increments
Stand dimensions – 14.5″ x 19″  x 2
Weight
The 75lb Ironmaster dumbbell set should be heavy enough for most lifters; the Ironmaster set has been built with the advanced weight trainer in mind.
If you've been looking at some of the other adjustable sets such as the Bowflex, etc., you might want to be careful because unlike the Ironmaster pair, a few of them do not let you add additional plates.
Once you've hit the max weight load of any of select dial dumbbells (Bowflex, Merax), that's it; you'll have to sell them, move on and buy a heavier set, there's no expansion sets available.
The only new school sets of adjustable dumbbells that sell expansion packs are the PowerBlocks and Ironmasters.
So firstly if you are a beginner or you are looking to upgrade, be aware of a weight range that will allow expansion packs for future growth, and secondly please do not splash out $600 on a set of Ironmasters if you are not 100% sure you need a heavy set.
Ironmaster does sell the cheaper 45lb pair without the stand; this could be a good idea to start with the 45lb set and add as you grow.
2.5lb Increments
The dumbbells' weight increases in 2.5lb increments,  presenting you with around 30 different weight settings, making them one of the most versatile pairs of adjustable dumbbells on the market.
If you think how many pairs of fixed dumbbells you would need to have something similar in your home gym, you really do start to see why the adjustable dumbbell is such a great space-saving bit of kit.
Add On's ( expansion kits)
What a lot of experienced weightlifters are going to like about the Ironmaster adjustable dumbbells are the options of the add-on kits, and let's say they're pretty big.
The first set increases the weight of each dumbbell up to 120lb, and the second to 165lb, I'm sure this will cover just about any lifter out there.
Each set includes two extra length locking pins, as the standard ones you receive with the dumbbells are not long enough when the extra weight is added to both ends.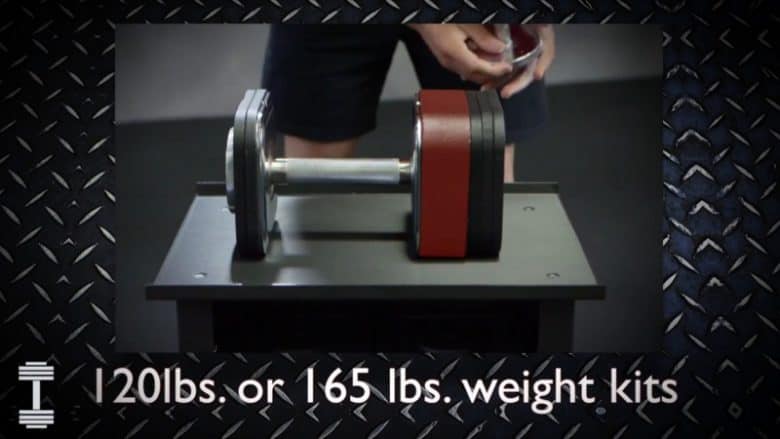 Adjusting The Ironmaster Dumbbells
Unlike the dial system of the Bowflex or the twist locks of the Core Fitness adjustable dumbbells, you will find the Ironmasters take considerably more time to adjust.
Even the Powerblock push and pull-pin system is a much quicker design to adjust compared with the Ironmasters' Quick-Lock system. You're looking at around 20 seconds to change each dumbbell, 40 secs in total between sets.
Depending on how you're training the short time taken removing /adding plates for most, shouldn't be a deal-breaker but I think it's the only issue you will find with this pair of dumbbells especially if you want to add drop sets into your routine.
The locking pins are knurled on each end helping with grip especially useful if your hands are sweaty, another nice little design feature from Ironmaster.
The steel locking pins lock extremely tight with no rattles and give a nice solid feel.
You slide the lock pin through the dumbbell until it reaches the stopping point and then with a simple half-twist of the wrist the pins lock in place, couple this with their compact design and you have an adjustable dumbbell that feels solid and not too far from the natural feel of a fixed weight dumbbell.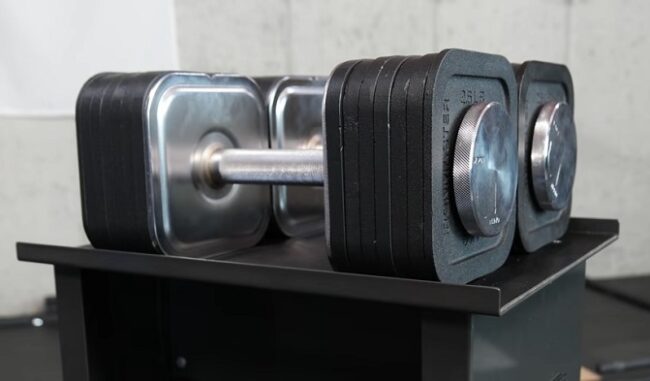 Company & Dumbbell Description
Ironmaster pride themselves on the quality of their products, and their adjustable dumbbells certainly reflect this. Ironmaster has been producing some of the most sought after and respected home gym equipment since 1978.
The weight plates are square and have indented grooves that attach with 1″ sized hole diameters; the plates are machined to fit tight to prevent any rattle.
The plates are nicely cast and have the Ironmaster name and logo cast into them, looks quite cool, as well as their weight in lbs and kgs. A square plate will also stop any rolling dumbbells.
The handles' diameter is 1.25″ with medium knurling, coated in chrome, some of you will prefer 1.5″ handle diameter for heavy presses, but 1.25″ works and you shouldn't get any problems. There has been no mention of the 1.25″ handle causing any issues in the many reviews I have read.
Unlike the PVC coated iron plates on some of the other adjustable pairs I have reviewed,  the Ironmasters can be dropped. And you don't have to worry about flimsy plastic parts with these dumbbells you can drop from height when training to failure and not worry about harming the dumbbells.
They're built to last a lifetime; an old-school/new-school dumbbell, with Ironmasters, patented Quick-Lock design feature aiming for speedy adjustment times. And when they say a lifetime, they mean it!
The Ironmaster dumbbells come with a lifetime warranty. Shows this company has a lot of faith in its gym gear.
The handles on their own weigh 5lb and feel solid, add the pins weighing 2.5lb each, and you get a total empty handle of 10lb, a good handle weight feeling heavy duty and quality.
The Stand
Designed to take up minimal space, the dumbbell stand is quick to assemble and is a good bit of kit to purchase alongside the dumbbells. Complete with three shelves, there's easily enough room to accommodate the additional weights from the add-on packs.
There is space on top of the stand to keep dumbbells locked and ready for your next session. Each shelf is coated with a rubber layer to help prevent the stand from rust.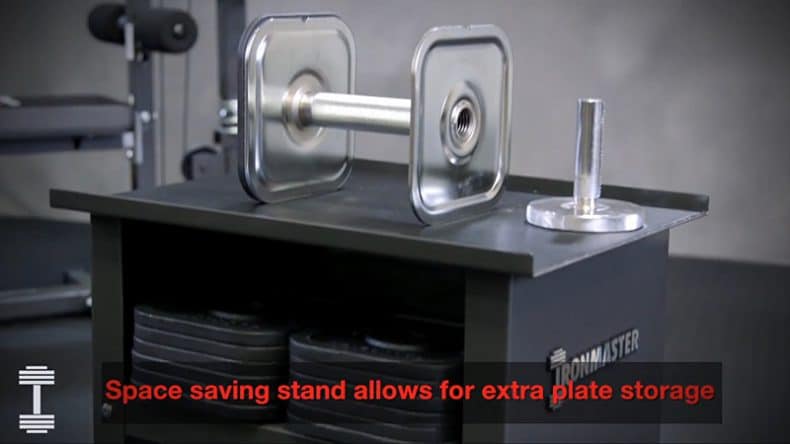 Expansion packs available up to 165lb
Plates will fit on any 1″ standard bar
30 weight settings – space-saving – replacing 30 sets of fixed weight dumbbells
Can only buy the dumbbells with stand (expensive)
Not slow but takes more to adjust than competitors like the Powerblocks etc, which mean no drop sets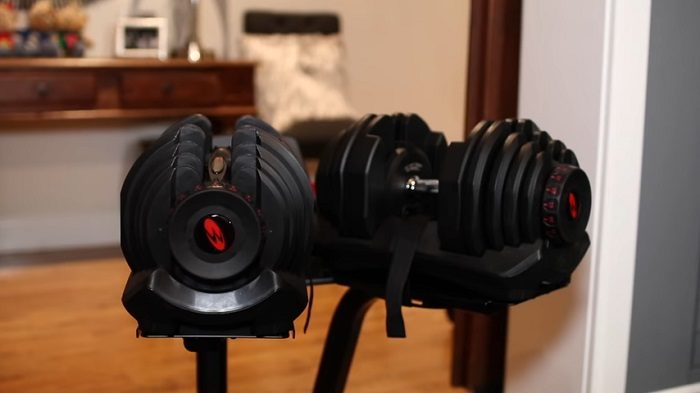 Bowflex 1090 Adjustable Dumbbells
Bowflex are a company that's been around for a long time now, known for building some decent home gym gear, including dumbbells and benches. The 1090 dumbbells are the bigger brother to Bowflex extremely popular 552's.
The 1090s are targeted towards the more serious lifters out there with a max weight of 90lb per dumbbell.
Do we like them? Kind of, what we do like are the fast adjustment times, just a quick turn of the dial, and you've adjusted the weight in less than five seconds so great for drop sets, etc. What we don't like are the long handles its shame as again they share the same issues as the Bowflex 552 pair.
Long handles get in your way on curls, lateral raises, and other exercises. It shouldn't be a deal stopper as you can get used to long handles after a few training sessions, but its something if you can avoid, you should.
Another issue with the 1090s is the amount of plastic used in the build, especially the adjustment systems; it's the main reason I don't like sets such as the 1090s. If you drop one even from a small height, you're probably going end up breaking the adjustment system, and drops are not covered in the warranty.
On the positive, the 1090s are priced competitively, and if you can live the long handles, they're not a bad buy, and I know many who own the set seem quite impressed with them.
90lb is a good weight and should last most people years of growth. If you think you might consider a set Bowflex 1090s, just remember, don't drop them!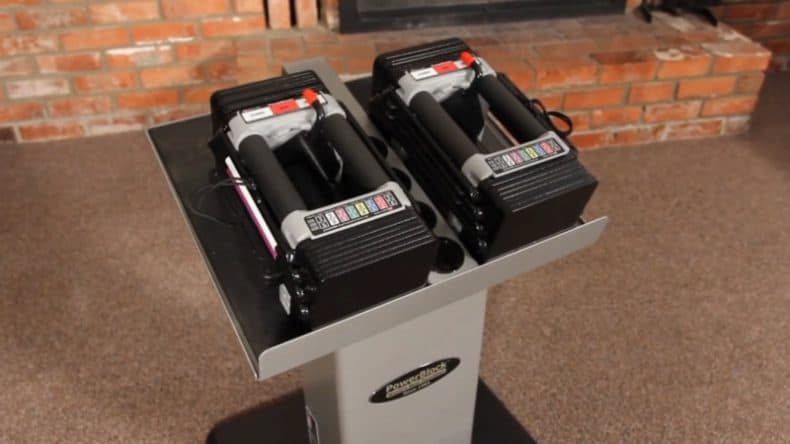 PowerBlock Elite Series
I've always liked PowerBlock gym gear, their benches, their bells all are well built and stand the test of time, these dumbbells have been out a couple of decades now and still receive high ratings wherever they are purchased.
We're taking a look at the Elite set, you buy the Elite set either at 50lb 70lb or 90lb. Most people opt for 50lb and then buy expansion packs when needed, yes just like the Ironmaster the PowerBlocks offer expansion packs maxing out at 90lb.
Its easy to see why the PowerBlock dumbbells are Ironmasters closest rivals these things boast a compact design thanks to the weight stacking system, (the dumbbell only increases in length when extra weight is added), and because the PowerBlocks use magnetic selector pins for weight adjustments they are fast to adjust twice as fast as the Ironmasters.
The only issue some may have with the PowerBlcoks is the plastic used in the handle; however, the plastic is not used in the adjustment system, so although I wouldn't recommend dropping a PowerBlcok from the height, they will survive a few drops. They're a much more solid dumbbell than any of the select dial sets.
Just like Ironmaster, the PowerBlocks go up in 2.5lb increments, always nice to have the option of smaller increments, especially for isolation exercises.
If you don't like the slow adjustment times of the Ironmaster and you're after a fast to adjust compact, robust set, then the PowerBlcoks are an excellent choice, not as tough as the Ironmasters but by far the best and most rugged set of the new school fast to adjust dumbbells.
To Sum Up
A solid pair of dumbbells from Ironmaster, if you want the feel of a fixed weight dumbbell but like the space-saving design adjustable dumbbells offer, then the Ironmaster dumbbells are about as close as you are going to get.
The Ironmaster Pair are built to last and will take just about all you can throw at them, with the additional weight add-ons and a lifetime warranty, you shouldn't have to purchase another set of dumbbells in your lifetime.
Great design, fantastic weight range, and an awesome stand to keep everything together, a very well thought out pair of dumbbells from one of the kings of home gym equipment.