The huge success of their stepmill made Stairmaster a very well known name in the fitness industry, there's no doubt Stairmaster make quality products but are their adjustable dumbbells worth the price tag?
We take an in-depth look at the Stairmaster dumbbells, covering everything from weight range, speed of adjustment, durability, and build quality, we'll miss nothing out in our fully researched review.
Save Space and Time!
If you are used to going to commercial gyms, you may have noticed or used the free weights section.
In the free weight section or room they have the fixed weight dumbbells, here you will see up 20 different sets of fixed weight dumbbells and it's this that most of us would love to try and replicate at home, why? Because unlike most of the budget dumbbells we use to train at home, the fixed weight dumbbells need no extra time to change weight loads.
Fixed weight dumbbells are ready to use straight off the rack and dramatically cut down time between sets, making your dumbbell workout more efficient and hassle free…And it's this time-saving feature we want most from our adjustable dumbbell choice.
Well, that's what is great about the new adjustable sets on the market, you no longer need to go to crowded gyms and you don't have to pay out a $1000's + for the home gym equivalent.
Sets like the Stairmaster have an adjustment system that is designed to change weight load in seconds, cutting your time between sets down to the minimum.
With pairs like the Stairmaster, you are essentially replacing a number of fixed weight dumbbells. By using the Twist- Lock weight selector you have the option of choosing up 10 different weight settings, saving you a ton of valuable space in your home gym.
Because of their compact and well thought out design, the Stairmasters have the most natural feel of all the adjustable dumbbells.
Set of two adjustable dumbbells
Product dimensions – 14.5″ x 7.9″ x 7.5″ (L x W x H)
Weight range of 5-50 lb per dumbbell
10 different weight settings: 5, 10, 15, 20, 25, 30, 35, 40, 45, and 50 lb
Adjustable in 5lb increments
Weight
The Stairmaster Twist-Lock adjustable dumbbells have a weight range of 5-50lb per dumbbell, adjustable in 5lb increments, let's be honest here, it's not a huge max weight, but it's large enough to keep intermediate weightlifters happy for some time and a great starting weight range for beginners who will benefit most from this set.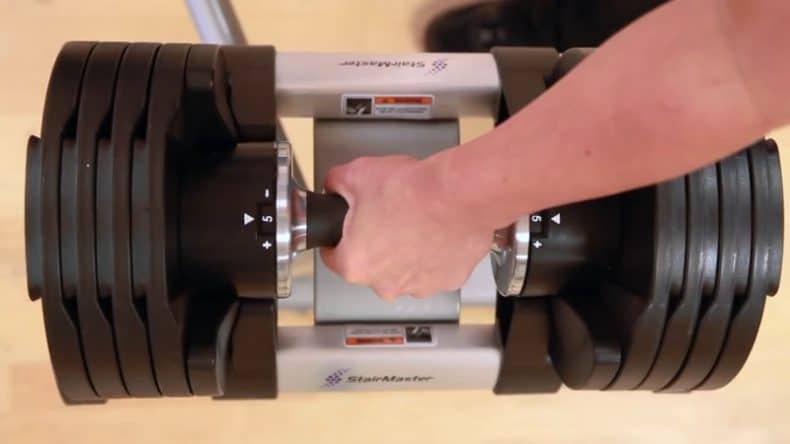 Just like the Bowflex and Core Fitness adjustable dumbbells, the inability to add extra weight expansion packs to the Stairmaster set is probably its biggest drawback. Whilst 50lb per dumbbell will allow for a lot of growth for beginners and intermediates more serious weightlifters would be better looking at the
Ironmaster
or Powerblock sets which both have the option of adding expansion packs.
I'm impressed with the Twist-Lock adjustment system, it's very easy to use and completely foolproof, it's the quickest of all adjustment systems I have seen on the market.
I'm not quite sure who patented it because the Core adjustable dumbbells use the same system but it's certainly much quicker than Ironmasters quick lock and slightly faster than the Powerblocks. Bowflex comes in a very close second for speedy adjustments.
READ NEXT: Our Best Adjustable Dumbbell Reviews And Comparisons 
How does it work? Well, it's very similar to the Bowflex pair, whereas Bowflex use a dial system at each end of the dumbbell to select a weight setting, Stairmaster have integrated the select system into the handle, this allows one simple twist of the handle rather than adjusting both ends like the Bowflex.
Is this a better system than the Bowflex? It marginally makes it faster, but it also eliminates the option for offset workouts, with Bowflex you can have one end of the dumbbell heavier or lighter than the other because of the separate selectors.
Most offset training is done with barbells so not having this feature isn't a biggy in my opinion, it's nice to have for hammer curls, farmer's walk etc, but it's certainly not a deal breaker.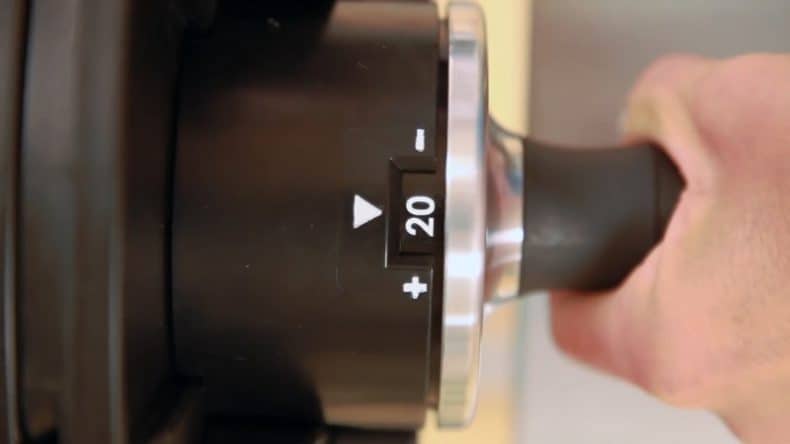 The actual adjustment system is very secure, there are no worries of plates falling off the handles once the handle is taken from its cradle.
When you select a weight in the cradle, the handle will lock into the weights selected, you can only twist the handle when it's situated in the cradle. This leaves you with a very solid dumbbell with no room for plate movement.
Durability & Build Quality
Something most reviewers miss out on with the Stairmaster and Core Fitness dumbbells is the length of the handles, both the Core and Stairmaster dumbells are compact,  giving you a more natural feel than the Bowflex.
The reason why they are compact is that the handles of the Stairmaster dumbbells only increase in length when you add weight. So at low weight settings, the dumbbells feel as natural as any fixed weight dumbbell which for me is their biggest selling point and even at max weight they are shorter than the Bowflex.
Bowflex's handles are long because the entire handle goes through the whole set of weight plates, even if you have the lowest weight selected the handle will still be at maximum length giving them an unnatural awkward feel.
Do longer handles affect training? Yes to a certain degree, they can hit your hips when curling, clash overhead when pressing and longer handles have a tendency of hitting the side of your head when pressing, basically long handles are awkward and take some getting use too.
Stairmaster Dumbbells Video
My main concern with the Stairmaster dumbbells is the amount of plastic used in their construction, it worries me they use plastic parts in the mechanisms for the adjustment system, they could wear over time and I feel for the price of this pair they should be metal.
Also the actual weight plates are covered with a thin plastic coating and I doubt very much they can take many drops before cracking.
I wouldn't recommend training to failure with these or dropping at any height. If you're careful they are a fantastic set of dumbbells. If you tend to train hard and are a little rough in your gym, then go for the Ironmasters, they take a little more abuse.
A 2-year warranty is nice to have and covers any defective parts but be aware it does not cover cracked plastic on the weight plates.
From what I have read the Stairmaster dumbbells get some pretty decent reviews, it seems the durability of the Twist-Lock adjustment system holds up but a few reports of cracked plastic around the weight plates from dropping prove to be the only issue.
Can't quite understand the price of the Stairmasters considering they look almost identical to Core fitness's Twist-Lock pair but at double the price of the Bowflex I cannot see this pair becoming too popular.
Very fast adjustment times
Weight range is not expandable
Price, twice as much as competitors for similar product
I really liked the compact design of the Stairmaster adjustable dumbbells, it gives Stairmasters pair the natural feel of a fixed weight dumbbell set.
Fast adjustability, coupled with a decent weight range makes Stairmasters dumbbells a worthwhile consideration. But with no expansion packs, it will limit the appeal for more serious weightlifters.