The early version of the NordicTrack Adjustable Dumbbells (the blue ones) were impressive; they were fast to adjust, fairly compact, and affordable. I reviewed them a few years ago, and for the price, they were easily one of the best pairs of heavy dumbbells on the market. The new and improved NordicTrack 55lb dumbbells, which we're reviewing today, include everything that was good about their first set but with a few noticeable improvements.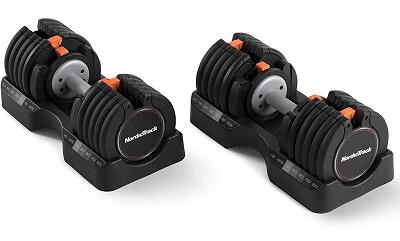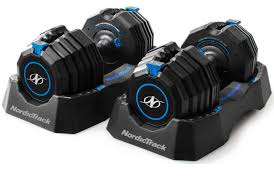 More Compact and Less Plastic in The Design.
The first improvement you'll notice about the orange set of  NordicTrack dumbbells is they use less plastic which is always a good thing, but perhaps what's best is the design is more compact which makes the orange version feel more like a fixed-weight dumbbell. They feel natural to lift with, and that's exactly what you want from an adjustable dumbbell. They also feel solid with no plate movement.
Still, selectable dumbbells are never perfect, and there are a few minor drawbacks with this set which ill go into in the review, but overall, Im impressed. They're a solid set of bells and worth taking a closer look at. At the end of the review, I'll also compare the NordicTrack adjustable dumbbell with two of its closes rivals, the Bowflex 552's and the Core Fitness Twist Lock dumbbells, as it will be interesting to see how they match up.
First, a quick look at the NordicTrack Select-a-Weight dumbbell 'product specs!
Weight – 55lb per dumbbell
Adjustment system – selector bars – slide
weight increments – 10, 12.5, 15, 20, 22.5, 25, 30, 32.5, 35, 40, 42.5, 45, 50, 52.5, and 55 Lb
Material – metal, plastic
Why Do We Like The NordicTrack Adjustable Dumbbells?
The best thing about the NordicTrack dumbbells is their compact design. They use a handle that only increases in length with the more weight you add. This makes for a much more compact dumbbell. It feels natural to lift with and much closer to the feel of a fixed weight dumbbell than most adjustable dumbbells.
A natural feeling adjustable dumbbell is hard to find as most adjustable dumbbells, including popular sets like the Bowflex 552s, use a fixed-length handle.
A fixed-length handle is a handle that stays the same length no matter how much weight you're lifting, you could be lifting 5lb or 50lb, and the length of the handle stays the same. Fixed-length handle dumbbells are awkward to lift with, especially for beginners, so I was glad that Nordictrack kept their new set of bells compact. The length of the handle can make a huge difference in how comfortable you feel when you're lifting.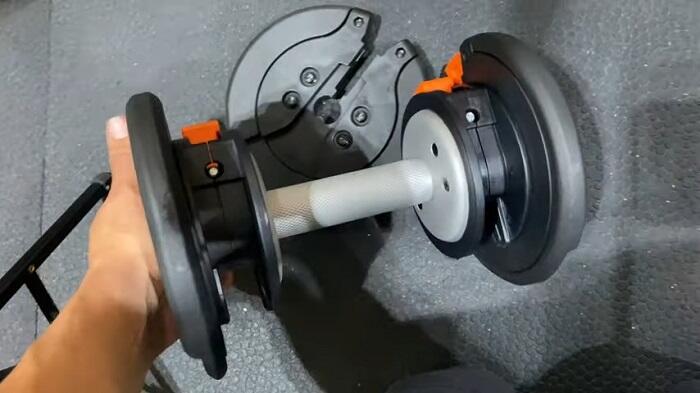 Small Weight Increases Are Best For Progress
Another appealing feature of the NordicTrack select-a-weight dumbbells is that they adjust in weight increments of 2.5lb. The amount an adjustable dumbbell moves up in is one of the the most important feature to consider when choosing an adjustable dumbbell. Too large a jump in weight will make you cheat on your form and slow your progress.
Small weight increases are one of the keys to progress no matter what exercises you are performing or what piece of equipment you are using, and ideally, for dumbbells, we want 2.5lb increments or 5lb at the most.
Think about it like this if you can curl a 20lb dumbbell for ten reps and you want to keep adapting, curing a 25lb dumbbell represent a 25% increase in load. That's a big jump even for a seasoned lifter, so finding an adjustable dumbbell with 2.5lb increments will allow you to progress properly, especially important for isolation exercises that demand smaller weight increases.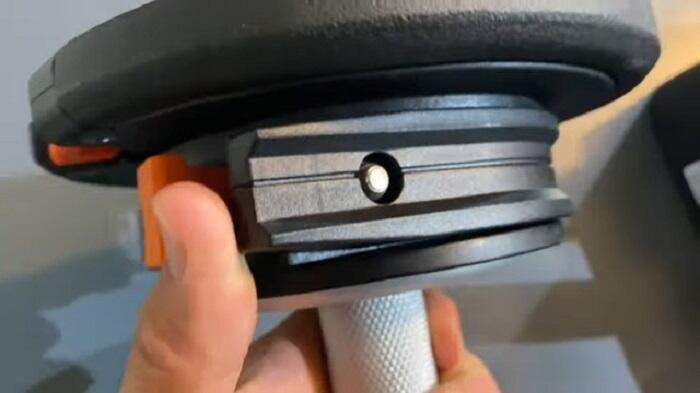 There's Still Some Plastic
Plastic seems to plague every fast-to-adjust dumbbell set, and the NordicTrack set is no exception. While there is less plastic than the previous version as we have an all-metal handle and the 10lb weight plates are metal, there's still plastic casing surrounding the other weight plates, and there's plastic in the adjustment system.
The first thing that usually breaks on most of sets like this is the plastic casings for the weight plates.
If you drop a dumbbell, the casing normally cracks first, making the dumbbell unusable. There have been many complaints about this happening with Bowflex and other popular sets.
Plastic is something you have to live with if you want to benefit from the speedy adjustment times of selectable dumbbells, but it's not a deal killer. You just need to be careful not to drop them, which means no training to failure and dropping the bells on that last killer rep. Still, the Nordictrack dumbbells are quite tough. They feel solid, and im sure they'll survive drops of 6″ or so, but I wouldn't risk anything higher.
Drops aren't covered in the warranties of any adjustable dumbbells, so if you break one, you'll end up with a hefty repair bill.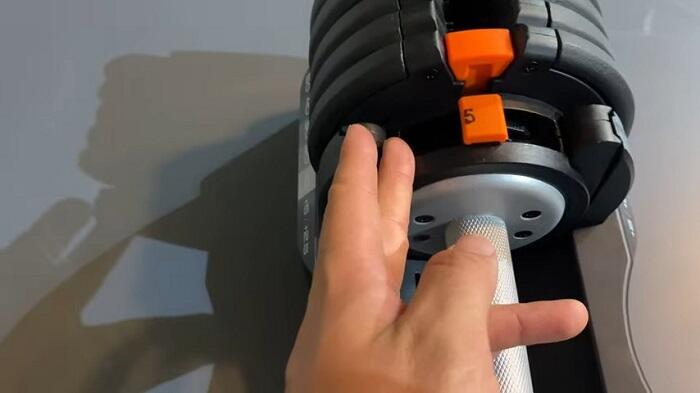 Selectors For Speedy Weight Changes
No advanced or basic bodybuilding technique requires a faster weight change than five seconds, so ideally, we need to look for an adjustable dumbbell set that can achieve times of under 5 seconds. While the selector type adjustment system isn't the fastest of adjustment systems, it's no slouch either, taking around 2 seconds to adjust each Nordictrack dumbbell. Easily fast enough for advanced techniques such as drop sets that require speedy weight changes.
From experience, I recommend not to be too heavy-handed with a selector adjustment system as they can snap off. They rarely do, but it's worth mentioning as I've known it to happen.
Replaces 15 Sets of Fixed Weight Dumbbells
One of the significant advantages of adjustable dumbbells is just how much space a set like the Nordictracks can save you.
When you think the NordicTrack dumbbells come with 15 different adjustment settings, equal to 15 sets of fixed weight dumbbells or 30 separate dumbbells, that's a lot of space you've saved. It's great for anyone who's tight on space or needs to pack away their gym gear after a workout.
Who Are They For?
With a max weight of 55lb per dumbbell, the NordicTrack dumbbells are targeted towards beginners and intermate weight trainers.
If you've just started resistance training or you've been at a few years, a 55lb set should be enough for your training needs; many of you may never outgrow a 55lb dumbbell.
It's always important to think about how seriously you take or are going to take your weight training before you buy any gym equipment. Max capacities for weight benches and max weight range of dumbbells are important.
Your strength can increase fast when weight training; you'd be surprised how much your strength and muscle mass can increase with just one year of consistent resistance training, so be sure to buy a dumbbell that can match your goals.
But as I mentioned earlier, 55lb is still a hefty max weight and should last years of growth, and even if you do happen to outgrow them quicker than you planned, as long as you have looked after the set, you can sell them on and upgrade to a heavier set of bells.
Anything Else Worth Mentioning?
If you want fast, smooth weight changes, always change the weight when the dumbbell is sitting fully in its storage cradle. Make sure it's pushed right down into the tray before changing the weight.
And lastly, something I really liked about the weigh plates is that the bottom of the plates are flat so that the dumbbell won't roll around on your gym floor, a nice touch from NordicTrack!
Compact – as close as you are going to get to the natural feel of a fixed weight dumbbell
Space saving design replaces 15 sets of fixed weight dumbbells
Anti-roll flat bottom weight plates
Solid design – durable if looked after correctly
Small weight increases – beneficial to all levels of lifters
Well priced for a medium weight set
Be careful of drops – fragile adjustment system that includes plastic parts
No option to expand the weight range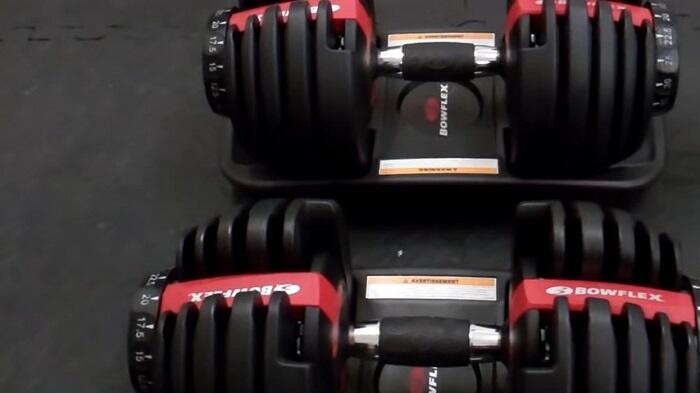 Bowflex 552 Adjustable Dumbbells
There's no doubt Bowflex produces high-quality gym gear. I've reviewed a ton of their products, and they never fail to impress, the Bowflex 552's are another product form Bowflex that both impress and surpass most other select dial dumbbells on the market.
The 552's offer 2.5lb increments, which are very useful for isolation exercises and beginners, they're also super easy to adjust as well as being fast.
These are the guys who bought the dial select technology to the home gym market, so it goes without saying they should be the best at it.
Still, their Select-Tech dial system suffers from the same issue as the NordicTrack, it's fragile and will break if the dumbbell is dropped, and because the dial selectors are at either end of the Bowflex handle we see the long handles.
When it comes to handle length, NordicTrack beat the Bowflex hands down; if you want a natural feeling compact dumbbell, NordicTrack is the way to go.
The long handles of the Bowflex are not a deal stopper, but they will for at least a few weeks feel awkward to train with, and if you are paying $400+ for a set of dumbbells, it's something you shouldn't have to put up with.
Overall the Bowflex dumbbells are a capable set of dumbbells, fast to adjust, easy to use, and built by a reputable company. I'll admit the long handles are a bit of a put-off, but its something you come to expect with most of the selct dial weight systems.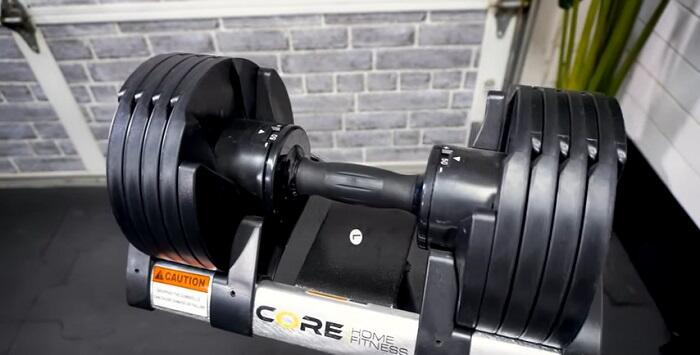 Core Fitness Twist Lock Dumbbells
Core Fitness was the first company to introduce the twist lock adjustment system. It's one of the most impressive adjustment systems and easily the fastest. To adjust the Core Fitness Dumbbell, you must twist your wrist to the desired weight you want to lift. It's that easy and takes just a second.
Fast weight changes aren't the only impressive feature of the Core Fitness set of dumbbells. They're also compact because, just like the Nordictrack dumbbells, the Core Fitness dumbbell handle only increases in length when more weight is added. Again, it's a natural feeling dumbbell, which sells it to me.
For speed and feel, this dumbbell ranks amongst the highest out there. It's an excellent dumbbell to lift with, but like every selectable dumbbell, it comes with a few drawbacks, and one of those is just how much plastic is used because there's a ton of it. It's in the handle the adjustment system, and the weight plates include the plastic casing, so they're another set you'll need to be careful with.
The other drawback is the lack of 2.5lb weight increments. The Core Fitness dumbbells adjust in 5lb weight increments which isn't too bad. 5lb is still okay for most exercises and most levels of lifter. It's the dumbbells that adjust in increments of 10lb you need to avoid. Many cheap adjustable dumbbells adjust in 10lb weight increments, which is too big a jump. If you want to keep adapting, avoid these sets at all costs.
Overall the Core Fitness dumbbells are among the most compact solid sets of dumbbells on the market. There's no plate movement, adjustment times are extremely fast, and the price is great too, just $349 for two 50lb twist-lock dumbbells.
Certainly a worthy alternative to the Nordictrack dumbbells.
To Sum Up
While we're used to NordicTrack making high-quality fitness equipment, it seems a  surprise that their take on an adjustable dumbbell is now right up with the best. These guys have done their market research and produced a design that's not only compact but easy and fast to adjust.
The new set of NordicTrack Adjustable Dumbbells hasn't been around long enough to give them any real durability score, but I'm sure, as with any gym equipment, if you look after them, they will last you years of use. It's only the adjustment system you need to be careful with, including not dropping them.