NordickTrack Adjustable Dumbbell Set
With a ton of fast to adjust adjustable dumbbells out there, it can be confusing trying to sort out the best dumbbell for your training needs.
The NordicTrack Adjustable Dumbbell Set are thankfully one of the more thoughtfully designed dumbbells on the market; they're compact, fast to adjust, and have an impressive weight range maxing out at 55lb.
55lb per dumbbell isn't super heavy, but it's enough for years of growth, especially if you are just starting out, or your training doesn't demand extremely heavy dumbbells for strength training.
If you are training for hypertrophy (muscle size), then a set like the NoricTracks are the right type of dumbells for your needs.
We'll Look At The Pros – Cons & Compare With Bowflex 552's
In this review, I'm going to take a close look at NoricTracks adjustable 55lb per dumbbell set, including all the pros and some of the issues the NordicTrack pair share with similar fast-to-adjust sets.
At the end of the review, I'll compare the NordicTrack with the popular Bowflex 552 Select-Tech dumbbell set so you should, by the end of the review, have a pretty good idea if this is the right set for you.
First, let's take a quick look at the product specs!
Product dimensions –   16.5L x 8W x 9H inches (42L x 20.3W x 22.8H cm)
Weight – 55lb per dumbbell
Adjustment system – Dial + selector bar
No. Adjustment settings – 15
Why Do We Like The NordicTrack Adjustable Dumbbells?
When we look at the popular sets of fast to adjust dumbbells, such as Bowflex, AtiviaFit, and Merax dumbbells, they all have something in common, long handles.
Because of their design, dumbbells like the Bowflex with select dials on each of the dumbbells call for long handles. And its this design feature that is their downfall. It doesn't matter what weight you choose, whether it is 10lb or 50lb; the length of the handle always stays the same.
NordicTrack's adjustable set uses a much smarter adjustment system, one that doesn't need a fixed length handle. The length of the Noridctrack dumbbell handle only increases in size with the amount of weight you lift. This makes for a much more compact dumbbell.
A compact dumbbell is a lot easier and more natural to train with than the long-handled type, long handles tend to be awkward, and they can clash above your head or hit your hips when you curl.
It's great to see NordicTrack thought about their design; it's one of only two fast adjust dumbbells sets on the market, the other 'Core Fitness' that uses this technology to achieve a quick to adjust compact dumbbell.  A big thumbs up here too, NordicTrack.
Build Quality
NordicTrack are a company that has been around for a long time, these guys are known for building high-quality gear, and their dumbbells are no exception.
The NordicTrack 55lb bells are a solid set, and to be honest, not too much can go wrong with a set of adjustable dumbbells; the only trouble you might have is with the adjustment system.
Adjustment systems on this type of dumbbell can be quite fragile; why? Because the adjustment system has moving parts and, two have a certain amount of plastic in the design.
Plastic and weight training do not go together well, the very nature of lifting weights can be quite rough, especially if you plan on training to failure where you might need to drop the dumbbell on that last killer rep!
I'd advise you never to drop any dumbbell with a dial adjustment system, they will break, and as drops are not covered in the warranty, you'll need to super careful not drop the dumbbell from any height. This is not a deal killer; it's something you have to keep in mind whenever you train with your set of bells.
And this isn't an issue that only affects the NordicTrack dumbbells. This same' no-drop' rule applies to all the dial select dumbbells, including Bowflex, Merax, etc.
There isn't a  company yet that has managed to build a speedy adjustment system that can take a drop from height.
Still, Bowflex has been selling their dumbbell sets for decades. They are the most popular dumbbell on the market, it goes to show that even with delicate adjustment systems, the select dial dumbbells continue to be a great choice for your home gym, as too will the NordicTrack dumbbells, just be careful, and this set should last you years of use.
Space-Saving
One of the significant advantages of adjustable dumbbells is just how much space a set like the Nordictracks can save you.
When we think the NordicTrack dumbbells come with 15 different adjustment settings – that's equal to 15 sets of fixed weight dumbbells or 30 sperate dumbbells, heck, that's a lot of space you've saved. Great for you guys who are tight on space or need to pack away your gym gear after a workout.
Who Are They For?
With a max weight of 55lb per dumbbells, the NordicTrack dumbbells are targeted towards beginners and intermate weight trainers.
If you've just started resistance training or you've been at a few years, a 55lb set should be enough for your training needs; many of you may never outgrow a 55lb dumbbell.
It's always important to think about how seriously you take or are going to take your weight training before you buy any gym equipment, max capacities for weight benches, and max weight range of dumbbells are important.
Your strength can increase fast when weight training; you'd be surprised how much both your strength and muscle size can grow with just one year of consistent resistance training, so be sure to buy a dumbbell that can match your goals.
But as I mentioned earlier 55lb is still a hefty max weight and should last years of growth, and even if you do happen to outgrow them quicker than you planned, as long as you have looked after the set, you can sell them on and upgrade to a heavier set of bells.
Compact – as close as you are going to get to the natural feel of a fixed weight dumbbell
15 adjustment setting – replaces 15 sets of fixed weight dumbbells
Solid design – durable if looked after correctly
Well priced for a medium weight set
Be careful of drops – fragile adjustment system that includes plastic parts
No option to expand the weight range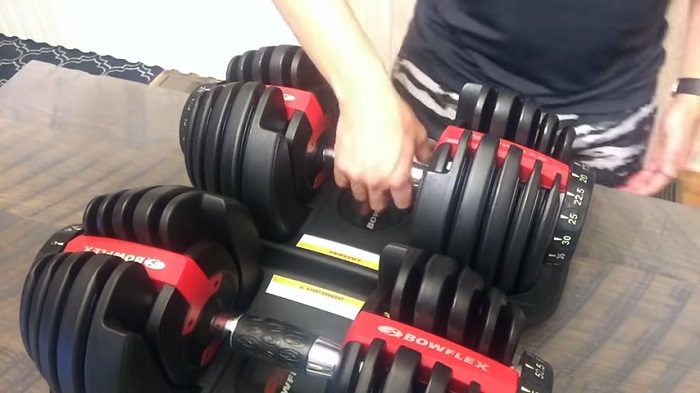 Bowflex 552 Select-Tech Dumbbells
There's no doubt Bowflex produces high-quality gym gear. I've reviewed a ton of their products, and they never fail to impress, the Bowflex 552's are another product form Bowflex that both impress and surpass most other select dial dumbbells on the market.
The 552's offer 2.5lb increments, which are very useful for isolation exercises and beginners, they're also super easy to adjust as well as being fast.
These are the guys who bought the dial select technology to the home gym market, so it goes without saying they should be the best at it.
Still, their Select-Tech dial system suffers from the same issue as the NordicTrack, it's fragile and will break if the dumbbell is dropped, and because the dial selectors are at either end of the Bowflex handle we see the long handles.
When it comes to handle length, NordicTrack beat the Bowflex hands down; if you want a natural feeling compact dumbbell, NordicTrack is the way to go.
The long handles of the Bowflex are not a deal stopper, but they will for at least a few weeks feel awkward to train with, and if you are paying $400+ for a set of bells, it's something you shouldn't have to put up with.
Overall the Bowflex dumbbells are a capable set of dumbbells, fast to adjust, easy to use, and built by a reputable company. I'll admit the long handles are a bit of a put-off, but its something you come to expect with most of the selct dial weight systems.
To Sum Up
While we're used to NordicTrack making high-quality fitness equipment it seems a  surprise that their take on an adjustable dumbbell is right up with the best. These guys have done their market research and produced a design that's not only compact but easy to adjust.
Yes, 55lb isn't heavy enough for the advanced lifters out there but for most us, the 55lb weight of each dumbbell should be enough.
The NordicTrack Adjustable Dumbbells haven't been around long enough to give them any real durability score but I'm sure as with any gym equipment, if you look after them they will last you years of use. Its only the adjustment system you need to be careful with and that includes not dropping them.