There are well over 50 sets of dumbbells out there right now, that's a huge choice, it can be overwhelming just how many; however, there's one thing most of these dumbbells have in common, and that's the price they're all expensive.
Nearly all the sets available are hovering around the $400-$600 mark that's a lot of dollars, and not all of us can or want to spend that much on a set of dumbbells.
A Few Gems under $300.
The question is, can you get hold of a decent set of dumbbells for a good price? The simple answer is yes, the choice isn't so big, but there are a few gems out there certainly worth taking a look at.
And just because we're looking at the best cheap adjustable dumbbells doesn't mean you won't be able to add the muscle mass you want?
All dumbbell sets, including the cheap sets, will allow for full-body workouts that include isolation exercises and the muscle mass building compound movements.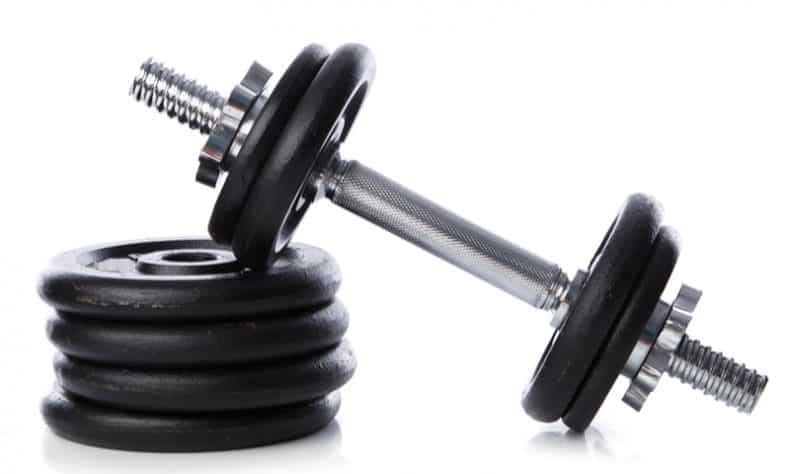 Buying cheap will obviously have its drawbacks; one will be the amount of weight per dumbbell, so if you're a serious lifter and you are looking for 50lb+ per dumbbell, you might need to save a few more bucks because we won't be looking at any super heavy sets today.
Today we're going to take a close look at a range of cheap dumbbells focusing on the Top 2 affordable fast to adjust dumbbells.
We'll also take a close look at the Top 2 affordable old school sets the plate loaded type, this is where you can go quite heavy for the price point, and lastly, we take a look at some fixed weight dumbbells, the gold standard for home gyms and surprisingly we've found some at a great price!
Before we get on with the reviews, let's take a quick look at the comparison table.
Best Cheap Adjustable Dumbbells – Comparison Table
Yes4Alls
Best Cheap Plate Loaded
Tough Dumbbells

Most Affordable Option

Max Weight – 40lb -100lb sets

Space Saving

Slow To Adjust

Cast Iron plates
PowerBlock Sports (our choice)
Best Cheap Fast Adjustable's
Speedy Adjustment Times

Durable

Max Weight – 24lb or 50lb

Replace 8-16 Sets Fixed Weight Dumbbells

Long Warranty

24lb Set Under $150
Amazon Hex Dumbbells
Best Cheap Fixed Weight
Natural Feel – Compact

Robust – Will Take Drops

Max Weight 10lb – 50lb

No Time Wasted Adjusting Weights

Non-Rolling Hex Shape

Rubber Cased Ends Protect Floors
Best Cheap Fast To Adjust Dumbbells
1. PowerBlock Sports Adjustable Dumbbells
PowerBlock has been around for a couple of decades; they are the king of the adjustable dumbbell market and my pick for the best cheap dumbbell. So what makes this set of dumbbells so appealing?
First off, it's great to be able to include a PowerBlock set in the cheap dumbbell range.
Thankfully these guys deiced to offer a more affordable version of their excellent dumbbells sets, and while they may not boast the high weight range of their bigger brothers, the PowerBlocks Elites. The PowerBlock 24lb per dumbbell and 50lb per dumbbell Sport Sets do not differ in quality.
Built to the same excellent quality standards as their higher range sets, the sports are an excellent alternative for beginners and intermediate weight trainers looking for a fast to adjust, durable and affordable set for home.
What makes the PowerBlocks more desirable than the likes of  Bowflex, Merax, and the AtivFit adjustable dumbbells is their size.
The PowerBlocks are compact thanks to their weight stacking system; compact dumbbells are what we need to look for when choosing an adjustable dumbbell.
A compact dumbbell is much easier to train with; they give a more natural feel and avoid the long awkward handles of sets like the Bowflex, which hit your sides when you curl or clash above your head when you press.
Bowflex and the other dial select sets include the fixed-length handle. It doesn't matter what weight you are lifting, whether it be 10lb or 50lb; the length of the handle stays the same. The Powrblocks only increase in length with the amount of weight you lift.
Another problem all fast to adjust sets share is the amount of plastic used in the build; Bowflex, Merax, AtivaFit all select dial dumbbells use a ton of plastic in their adjustment system.
Fragile adjustment systems mean you're in trouble if you drop one as the adjustment system will break, leaving you a costly repair bill, which is not covered in the warranty.
While I wouldn't recommend dropping the PowerBlocks, they are built with a much tougher design thanks to the pin selector adjustment system; they'll survive a few drops. You can be a little rougher with this set than any of the other fast to adjust sets.
The PowerBlocks Sports have been designed with beginners, intermates, and the female market in mind, especially so with the 24lb per dumbbell set. Still, for under $150 for this set is excellent value for money, and when you take into account, the 24lb set replaces eight sets of fixed weight dumbbells, saving you a load of space as well.
It would be best to think about how you train and how serious you are about your training before choosing any set of dumbbells. 24lb per dumbbell will be enough for a lot of people's training needs but not for all.
For those of you who are going to take their lifting that much more seriously, you may need a heavier dumbbell.
Your strength will increase quite fast with regular training, and choosing a dumbbell set that can match your strength gains is important, so for those more serious, I'd recommend you choose the 50lb per dumbbell sport set.
Whichever PowerBlock set you to opt for, I'm sure you won't be disappointed.
The PowerBlock Sports are fast to adjust, compact dumbbells; they'll save you space and last thanks to their durable design. An excellent dumbbell from a reputable company, one that really knows what they are doing when it comes to their dumbbells and design.
N.B PowerBlocks Sports 24's can be purchased with either white or black handle, PowerBlocks Sport 50's only available with black handle
Fast to adjust magnetic selector pin system
Available -24lb or 50lb sets
Durable design – long warranty
No weight expansion kit available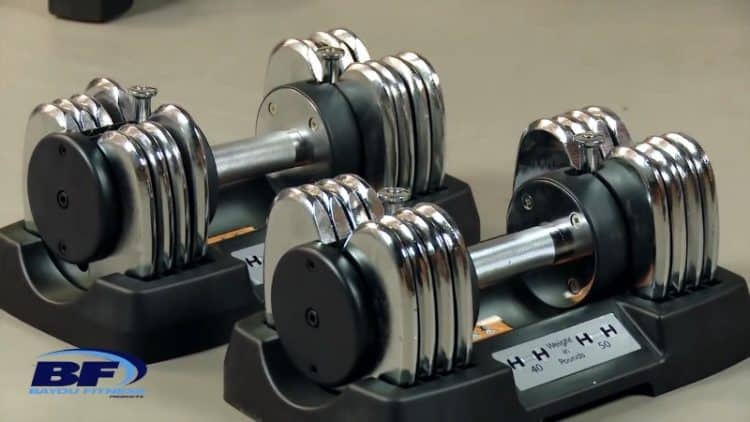 2. Bayou Fitness Adjustable Dumbbells Review
The Bayou dumbbells are another set of fast to adjust dumbbells built by a company known for producing high-quality gear at affordable prices. We are taking a look at the Bayou set because this set comes at a lower price than sets like the Bowflex.
Also, this is another tough set that doesn't include those weak select dial systems; instead, you have a metal pin you simply lift and place back into the dumbbell to the desired weight you want to lift.
Just like the PowerBlock Sports, the Bayou are offered in two weight ranges, 25lb per dumbbell and the 50lb per dumbbell set. Both are priced very competitively, and both, as we mentioned, are durable and  fast to adjust.
One of the concerns I have for the 50lb set is that it only adjusts in 10lb increments this is just about ok for compound movements where you can lift heavier.
Still, for isolation exercises, 10lb increments is too much, even for advanced lifters. Isolation exercises tricep kickbacks, etc., focus on a single muscle and thus need smaller weight increments for progression.
10lb increments are going to put off a lot of buyers of this set, yes they are sold at a great price, but for beginners, they may prove very difficult to use because of the big jump in increments.
On the positive, their 25lb sets do adjust in 5lb increments while this still isn't perfect for isolation exercises; it is much better, and something even beginners should be able to progress with.
Again almost unavoidable with fast to adjust sets apart from the PowerBlocks, are the long handles just like the select dial sets the handles of the Bayou are of fixed length so again many of you may find this pair awkward to train with at first.
Long handles are not a deal killer, and you can get used to them; it just takes a few weeks.
For the price these bells are a good buy, I'd would be slightly hesitant buying the 50lb set just because of the 10lb increments.
The 25lb set for beginners and intermediates is more appealing because not only do we have the 5lb increments, the handle will also be shorter as less weight is on offer.
A nice solid set of fast to adjust dumbbells,  they look good, they save space and most importantly will be more durable than most of their competitor's thanks to the amount of metal being used in the build.
Solid build for a fast to adjust set
Look great  – polished chrome finish
Affordable price for a high quality set
Available in 25lb per dumbbells and 50lb per dumbbell sets
Foolproof speedy adjustment system
Come with their own storage trays
Locking mechanism takes practice to get used to
Increments may not be the best choice for beginners
Best Cheap Plate Loaded Dumbbells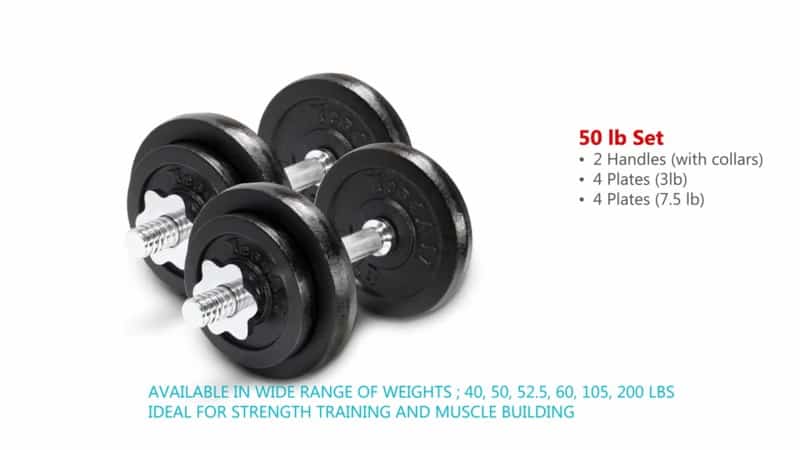 3. Yes4All Adjustable Dumbbells
People who love to lift at home have been training with old schools set like the Yes4alls for decades. And they're still just as popular now as they were 40 years ago.
The main reason they remain popular is the price; you can buy a 50lb set for well under $100 that's six times cheaper than some of the adjustable sets we see crowding the market today.
And what's great about a set like the Yes4alls is that they are expandable. When your strength increases and you outgrow the 50lb set, you can go out and buy more weight plates without having to replace the whole set as you would with the new fast to adjust sets.
The versatility of a set like the Yes4alls is what sells this set for me. Thankfully the Yes4alls use the standard 1″ diameter bars, so when you do want to buy some extra weight plates you don't have to buy the Yes4all brand, you can buy any 1″ diameter plates, it also means you can use any 1″ diameter barbell with the plates.
Whatever your training needs are right now, there should be a Yes4All Dumbbell Set on offer to suit your needs. Yes4all offers a large variety of sets from 40lb-200lb.
But remember when they say a 50lb set that's the amount of weight for the whole set, it's not per dumbbell, so a 50lb set would be 25lb max per dumbbell.
Ok, so what are the cons of owning a plate loaded set like the Yes4Alls? The first is how slow they are to adjust; each bar comes with two collars, so both collars need to be unscrewed to add or remove the plates. This is time-consuming around 25 seconds per dumbbell compared to the 5 seconds of the PowerBlocks.
Sadly slow adjustment times mean you won't be able to include drop sets in your routine; however, the versatility and price I feel outweigh any issues you might run into with the speed of adjuting the dumbbells.
Plus, there's not much that can go wrong with iron plates and a couple of chromed handles.
Plate loaded dumbbells are going to last; you won't be running into any expensive repair bills, you can throw them around if you want they're not going to break; at the very worst some paint might chip or one of the rubber trims might wear, which are easy to replace.
Overall a tough set of bells with the option to expand should you need to. Plate loaded dumbbells are, by a long way, the most affordable sets of adjustable dumbbells on offer.
If you can live with the longer adjustment time, the Yes4Alls are an excellent choice for anyone looking for a durable set of dumbbells for their home gym.
Solid set – no plastic and no weak adjustment system
Versatile – Can buy extra plates when needed
Sets available for all lifting levels – 40-200lbs
Recommended to buy either 40-50-60lb sets as they come with the standard 1″ bars and plates
Cheap can get the 50lb set for under $60
A few customers mentioned the paint chips easily
Slow adjustment times – have to manually change weight plates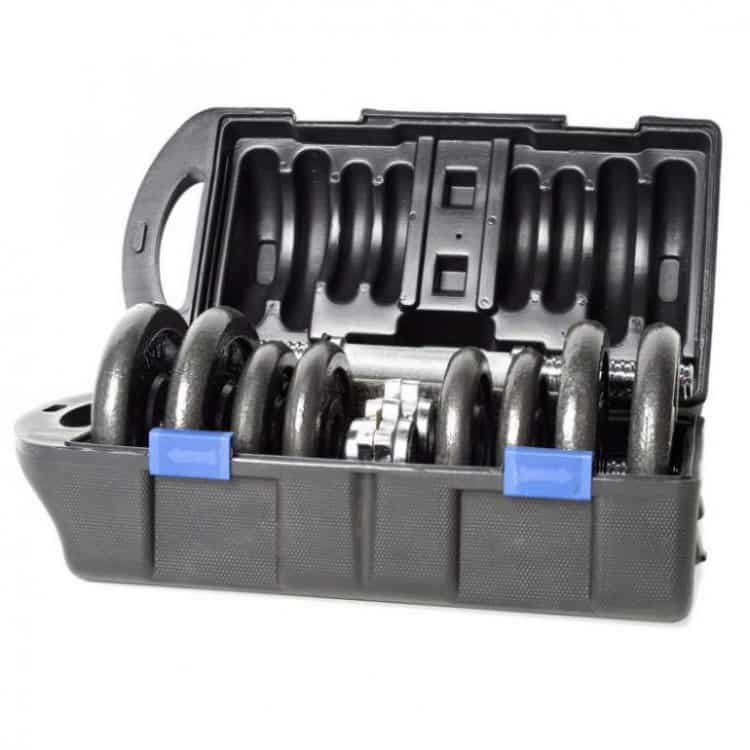 4. Cap Barbell 40lb Dumbbell Set
Cab Barbell are a company well known for building weight benches, dumbbells, and barbells. Their plates loaded dumbbell set is one of the most popular on the market, and because of its low weight range is best suited for beginners.
The set includes a well made sturdy carry case to keep your iron weights and their handles safely in place and stored. The case supports a handle so you can take your dumbbells with you where ever you wish to workout.
Again the most useful feature of this set is the diameter of the bars and the holes in the weight plates; both are the standard 1," meaning if you need to, you can go out and buy more plates when your training calls for it.
This is a very similar set to the Yes4Alls the only real difference is the carry case for the weights. Just like the Yes4alls, this plate loaded set will last you years thanks to the durable cast iron plates and chrome coated bars and collars.
Another great set of old school dumbbells at an affordable price.
Durable cast iron plates and chromed handles
40lb set is great for beginners just getting into resistance training
1″ handles allow you to buy additional plates when needed
Sturdy storage box included
Depending on the speed of your strength gains, you may find you grow out of the 40 lb limit quite quickly – Additional weight plates are available at extra cost
Best Cheap Fixed Weight Dumbbells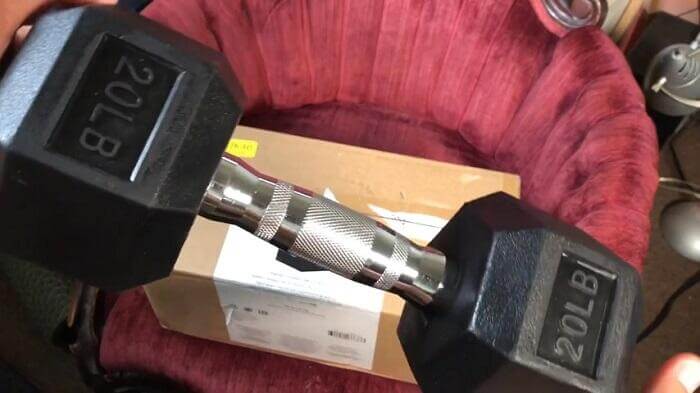 5. Amazon Basics Hex Dumbbells
I didn't think we were going to find any fixed weight dumbbells cheap enough to appear in our best Cheap Dumbbell reviews as most work out quite costly when you buy a few sets.
Luckily Amazon recently introduced some fixed weight sets into their basics range, which is a big bonus for those of you who love training with fixed weight dumbbells.
Fixed weight dumbbells are the gold standard for our home gyms, they're compact easy to train with, and there's no time wasting adjusting weights between sets.
Yes, the Amazon set isn't the prettiest you'll find, but they good enough for home gyms and not far off what you would use in a commercial gym.
Amazon offers their fixed weight dumbbells in weights from 10lb – 50lb; you'll need to buy a few sets if you want to get the most from your training.
Before you go out and buy any fixed weight dumbbells, you'll need to make sure you have enough space to house them. The more sets you buy, the more space you'll need.
Yeah, fixed weight bells are the best to lift with no doubt, but when you think an adjustable 50lb set like the PowerBlocks replaces 15 sets of fixed weight dumbbells, you start to understand how much space a PowerBlock set does save you.
However, most of you won't need 15 sets of fixed weight dumbbells right away. Start with a few sets and buy them as you need them; they are cheap and, in the long run, the best option for lifting at home. Heck, you don't need tons of space, buy a cheap rack to put them on!
Again tough and durable, you can train to failure with dumbbells like this and not worry about dropping them and breaking them. If you have the space, I highly recommend you check them out.
Natural feel, compact dumbbell
Non-rolling hexagonal shape
Great price for fixed weight dumbbells
As close as you are going to get to dumbbells used in commercial gyms
Take up more floor space than adjustable dumbbells
Before we buy a set of dumbbells we must consider a few important features, here's a quick reminder list of what you should be looking for when you buy any set of dumbbells.
1. Handles – The length of a dumbbell handle can affect how you train when you first start using the dumbbell. Typically we see long handles on select dial dumbbells such as the Bowflex and Ativafit dumbbells.
Most complaints from users who have purchased dial select sets state this as their main problem with the dumbbells.
The reason long handles are troublesome is they can clash above your head when you press or hit your sides when you curl.
For some, this issue can affect their training for many months but most get used to the long handles after a few weeks of training, is it a deal killer? No, but if you can, I'd try to avoid long handle dumbbells and opt for compact.
Compact dumbbells include sets like the PowerBlocks – Ironmasters and Core Fitness sets because unlike the dial select dumbbells which have a fixed length handle, i.e., it doesn't matter how much weight you lift the handle length stays the same, the compact adjustable dumbbells handle only increases in length as you add more weight. This makes for a much more natural feel dumbbell.
2. Choosing The Right Weight Range – Just as many people waste their money on a weight set that turns out to be too heavy as one that turns out to be too light. Think ahead about your training, how seriously do you take your weight training?
In a year's time, the last thing you want to be doing is splashing out a ton of cash, replacing a set of dumbbells you grew out of too quickly. Try and choose a dumbbell set that suits your needs now and one that can accommodate your strength gains in the future.
Fixed weight dumbbells are great because you can go out and buy a heavier pair as and when needs, so too are the old school sets, purchasing extra plates to accommodate strength gains is easy as most decent sports outlets sell the 1″ standard plates.
Outgrowing dumbbells is more of an issue with the new fast to adjust sets, as nearly all are non-expandable; once you've reached the max weight of a Bowflex etc. that's it, you'll have to spend another $500 on a heavier set.
PowerBocks and Ironmaster are the only fast to adjust new school sets that allow for expansion packs. However, this doesn't include the PowerBlock 24 Sports, although it does apply to the PowerBlock sport 50s.
Also, just as important is not to spend ou a load of cash on a heavy set of dumbbells if your training will never call for it.
As we mentioned earlier in the review, think about your training needs first, can you envisage lifting more than 50lb per dumbbell? If you can't, then don't go heavy, choose a lighter set, and save some cash.
3. Weight Increments – Lastly, we touch on weight increments; this is the amount of weight the dumbbell increases when you move up in weight each time.
Preferably we'd love a set of dumbbells that move up in 2.5lb weight increments as its great for isolation exercises that call for smaller weight increments for proper progression.
But if you cant get hold of a set with 2.5lb increments, the next best is 5lb; jump-ups in 5lb may still be a little difficult for beginners. Still, it's much better than the 10lb some bells offer, and unless you are only focusing on compound movements, 5lb increments are the max I'd recommend.
To Sum Up
Surprisingly there were some excellent dumbbells on offer in the affordable range even PowerBlock made an appearance! I owned a set of PowerBlocks for 5 yrs before moving on to the fixed weight dumbbells.
And I can tell you I never had any issues with them, PowerBlocks are IMO the best adjustable bells on the market, they are great for beginners and intermediate weight trainers.
The PowerBlock Adjustable Dumbbells offer small increments, they're compact making them easy to train with plus they are nice and fast to adjust. And on top of that, they replace a ton of fixed weight dumbbell so saving you space too.
I also love the old school sets with bars and plates, the Yes4alls are superb set that can offer all levels of lifter a very affordable way to lift at home.
Yes, the Yes4Alls are slightly slower to adjust, but most of you should be resting a minute between sets so you should have enough time to adjust them. The only thing you can't perform with the Yes4alls is drop sets which call for speedy adjustment times. But hey we can live without dropsets at this price!
And then with have Amazons Hex dumbbells, these are of course the best option for training, no arguments needed, compact and durable. They are what we are all used to training with, in commercial gyms.
Fixed weight dumbbells will always be the preferred choice for advanced weight lifters because of their natural feel and ease of use. They do take up more room than the other types of dumbbells but its a small price to pay if you want the best bells for your home gym.