Speed is what sells these new sets of adjustable dumbbells by the thousands, Bowflex was the first company to introduce the super fast Select-Tech Dial A Weight mechanism, and then the rest of the fitness manufactures followed with their take on an adjustable dumbbell that you can literally change the weight of the dumbbell in seconds.
The ATIVAFIT Adjustable Dumbbell is yet another take on an already flooded market, but there's something a little different about these adjustable dumbbells, and that's their weight.
Light Weight – Low Cost
This is the first set of the super quick adjustable's that have been designed solely for beginners and the female market.
Yes, with each dumbbell weighing just 27.5lb, not only have you got a dumbbell weighing half that of most adjustable dumbbells on the market, but you also get to save yourself half the cost too.
So, if you have been looking for a space-saving, lightweight set of adjustable dumbbells that are fast to adjust and affordable, the ATIVAFIT dumbbells might be the best choice for your weightlifting needs.
Product Dimensions –
13.39″ x 7.87″ x 5.91
Weight – Single dumbbell max weight 27.5lb or 12.5kg
Adjustment System – Slide lever
No. Adjustament Settings – 5
Why Do We Like The ATIVAFIT Adjustable Dumbbells?
The main selling feature of these dumbbells has to be how easy they are to adjust, just a quick pull of a lever, and you can slide it over to the desired weight, takes a few seconds.
Adjustment systems like this are so much faster than the old school sets where you had to unscrew collars grab a weight plate, and then screw the collars back up again at each end of the dumbbell; this can take up to 45 seconds.
The ATIVAFIT takes no time at all to adjust, great for those of you who need a quick weight change over between sets.
And what's even better is there is only one lever to adjust per dumbbell compared to sets like the Bowflex where you have to adjust both ends of the dumbbell, so again we see the ATIVAFIT trump the popular Bowflex.
Another attractive feature of the ATIVAFIT dumbells is their weight, there's only one other decent adjustable set out there that caters to people looking for a lightweight set, and that's Powerblock, which we'll look at later.
If you don't want to splash out over $300 for a pair of Bowflex or Core Fitness Dumbbells, a lightweight set can be the perfect match for not so serious lifters out there.
$100 Is For One Dumbbell
For reasons unknown to me, the ATIVAFIT dumbbells are sold in singulars. Even if you are not taking your weight training too seriously you still need to buy two dumbbells.
If you buy the single dumbbell you are limited to isolation exercises, there's nothing wrong with isolation exercises except isolation exercises usually complement your main exercises in weight training, and they are compound movements.
Compound movements are typically performed with a barbell but can be just as effective with two dumbbells.
For those of you who don't know what compound movements are, they are exercises that stimulate your major muscle groups, usually several muscle groups together.
Compound movements burn more calories, improve intramuscular coordination, and importantly you'll gain strength and add muscle faster-performing compound movements than you ever will with isolation exercises.
You really don't want to miss out on exercises such as shoulder presses, lunges, bench presses, dumbbell squats, upright rows, two-arm dumbbell curls, and hammer curls.
We highly recommend if you are going to buy the ATIVAFIT dumbbell to order two. If you can't afford to buy two then an old school set of adjustable dumbbells with plates and bars is your next best choice, you can hold of a 50lb set like the Yes4Alls for around $50 you can read our review here.
ATIVAFIT Adjustable Dumbbell – Build Quality
Most people who purchase the ATIVAFIT dumbbells are happy with them; however, they haven't been out long, and as with all the fast to adjustable dumbbells, durability is the primary concern. Why?
You only need to look at how they are built to realize there's a ton of plastic used in the build, and yes, it's unavoidable with these quick to adjust systems.
Just like Bowflex, CoreFitness, and the rest, plastic is going to be your enemy with this type of adjustable dumbbells unless you're careful!
Plastic and weight training don't go together well. It's inevitable at some point you're going to drop one of these things and yep if your drop the dumbbell from any height you are going to crack the plastic and at the worst brake the adjustment system which can be an expensive fix, as drops are not covered in the warranties.
So, there's no training to failure and dropping the weight to the ground on the last killer rep, you really need to watch it if you buy this type of dumbbell, yes they are great for speedy adjustment times but if your after a rough and tough set of bells you'll need to look elsewhere, something like the Ironmaster sets.
Heck, don't let this be a deal killer, the ATIVAFIT's are a great set of dumbbells at a reasonable price, just be careful, and if you can afford it maybe think of buying some cheap gym flooring, at least then if you do drop one the gym flooring will cushion the fall.
Extremely fast glide-tech adjustment system
Contoured, textured and soft grip handle
Space-saving design 5 dumbbells in one
Modern design – They look good, no sharp edges clean design
Easy to use, just one adjustament system per dumbbell-fool proof
No drops as plastic surrounding the weight plates can crack if dropped
Alternative & Comparioson Table
Max Weight Per Dumbbell – 24lb

Replaces 8 Pairs of Dumbbells – 3lb Increments – 3-24lb

Adjutment Sysytem – Magnetic Selector Pin

Our Rating – 4.5/5
Max Weight Per Dumbbell – 27.5lb

Replaces 5 Pairs of Dumbbells – 5.5lb-27.5lb

Adjutment Sysytem – Glide Tech

Our Rating – 4.2/5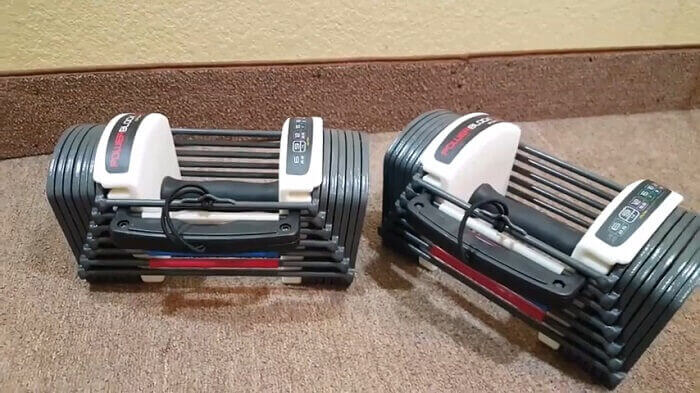 PowerBlock Sport 24lb Adjustable Dumbbells
PowerBlock are a company that has been building quality home gym gear for years, these guys produce some of the most popular and well-respected sets of dumbbells on the market, and their 24lb per dumbbell set is no exception.
The 24lb per dumbbell set is currently the lightest dumbbell they offer and just like the ATIVAFIT set the PowerBlock sport set is targeted at the beginner and female market.
What stands out about the PowerBlocks is their compact size and this is thanks to the weight staking system, in contrast to the ATIVAFIT that utilizes a  a long bar with weights at each end.
The PowerBlocks staking sytem alllows the adjustable dumbbell to be compact in size which is an excellent and very useful feature?
If you take a set of dumbbells such as the AVITAFIT, Bowflex, etc they all include a long bar with weights each end, it doesn't matter what weight you are lifting, the length of the dumbbell will stay the same.
This isn't true with PowerBlocks you do not have to deal with long handles, the length of the Powerblock only increases as you increase the weight.
Compact dumbbells are a far better design for weight training than the longer handled dumbbell sets like the Bowflex and ATIVIFIT, long handles can be awkward to train with, they clash above your head and hit your hips when you curl the dumbbell.
Long-handled adjustable dumbbells are not unusable, and after a few weeks you'll get used to the longer handles, but ideally, compact adjustable dumbbels such as the PowrBlock are much easier and more comfortable dumbbell to exercise with.
I've reviewed a ton of PowerBlock gear and and they equipment is always well built and duarble, their dumbbells while I still wouldn't want to drop them are a lot tougher than sets like the ATAVIFIT  and will take the odd drop without breaking.
The adjustment system is more robust, its simply a magnetic selector pin you pull out and push back into the desired weight you want to lift.
Are they as fast to adjust as the ATIVAFIT? Yes, almost, pull-slide with ATIVAFIT and a pull pin with the PowerBlocks, both sets take a few seconds to adjust.
To Sum Up
So which is better the PowerBlocks or the AVITAFIT? You have to remember PowerBlock has been around for many years, their dumbbells are the best on the market in the higher weight levels, all their sets have stood the test of time. People still love their sets after owning them for years.
And it's true of their 24lb set too, the PowerBlocks 24lb seem almost unbeatable thanks to their compact, tough design, and ease of use.
However, not everyone will like the PowerBlocks blocky design some people prefer the conventional looks of dumbbells such as the ATIVAFIT and Bowflex pair. Plus a pair of ATIVAIFIT Dumbbells cost around 30 bucks less than the Powerclock 24lb sports.
Whichever dumbbell you choose I'm sure you won't be disappointed, they both have their merits and both are worthy contenders for your home gym workouts. If you do go for the ATIVATFIT just remember to take care of them. No drops!