There's nothing more exciting than buying your first set of dumbbells! You've finally made that decision to make an effort to improve the way your body looks and feels.
A set of dumbbells are typically what we all choose to start our weight training journey at home; I know it was the first thing I bought for my home gym well over 20 years ago.
But choosing the Best Dumbbells For Beginners isn't that easy? The market is flooded with all types of dumbbells, fixed weight, fast to adjust, and the old school plates and bars.
Choosing Dumbbells To Suit Your Training Needs
So what are the right dumbbells for you! This depends on how seriously you are going to take your training.
A lot of people make the wrong decision and buy dumbbells that are too light and thus grow out of them too quickly.  Some purchase super heavy sets (expensive) and never come close to lifting the max weight of the dumbbells and instead waste a ton of money.
To be honest, when we buy our first set of dumbbells most of us are unsure of the future demands of our weight training routines, and it's for this reason, we're not going to look at heavy sets today nor are we going to look at sets that are too light for any real progression.
We're focusing on dumbbell sets that sit somewhere in the middle with a max weight per dumbbell of around 25lb (12.5kg). 25lb per dumbbell should give most beginners enough room for some serious growth and will stop any overspending on the heavier sets.
And don't worry if you think 25lb per dumbbell is heavy? This is just the max weight per dumbbell, all the dumbbells in this review have a starting weight of 5lb and are adjusted in small weight increments perfect for beginners.
Before we get on with the reviews lets take a quick look at Top 3 Best Dumbbells For Beginners Comparison Table.
Our Choice
PowerBlock Sports 24's
Max Weight Per Dumbbell – 24lb

Replaces 8 sets of Dumbbells

Adjustment System – Magnetic Selector Pin

Compact

Our Rating 4.5/5
Ativafit 27.5lb Dumbbells
Max Weight Per Dumbbell – 27.5lb

Replaces 5 Sets of Dumbbells

Adjustment System – Glide Tech

Our Rating 4.5/5
Max Weight Per Dumbbell – 25lb

Replaces 8 Sets of Dumbbells

Adjustment Sytem – Plate Load

Our Rating 4/5
Best Dumbbells For Beginners Reviews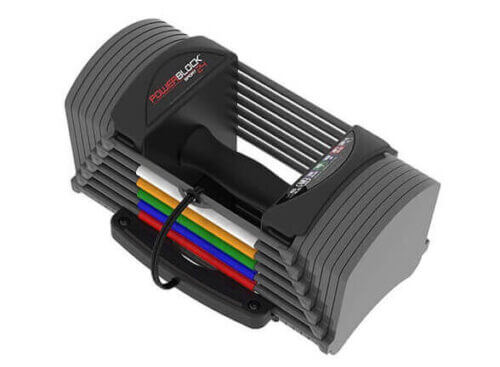 1. PowerBlock Sports 24's
PowerBlock are a company known for building high-quality gym gear for our homes. These guys have been around for a couple of decades and specialize in dumbbells.
Usually, I'd hesitate to recommend a set of PowerBlocks for beginners as all of their excellent sets used to start at 50lb per dumbbell.
Thankfully PowerBlock released a lighter set of dumbbells that still boast the superb build quality of their heavier sets but are more suitable for beginners or anyone whos on a budget.
The PowerBlock 24's are targeted toward the beginner and female market with max weight per dumbbell of 24lb, which is just right for your needs as a beginner.
ThePowerBlocks adjusts in 3lb increments, making them perfect for isolation exercises and beginners that don't favor the larger 5lb or 10lb increments of other adjustable sets.
Smaller increments allow for proper progression for exercises that only use a single muscle group such as tricep kickbacks and isolation curls etc.
Larger jumps in increments can cause bad form as the weight will be too heavy, causing your body to swing to lift the weight; this is why, the smaller the weight increments, the better for now, for both isolation and compound movements.
But what really sells the PowerBlock dumbbells is their compact size, and this is thanks to the design of the weight stacking system rather than an adjustment system that sits either end of a long fixed bar.
And it's because of this weight staking system that the PowerBlocks handle only increases in length the more weight you add, it keeps the dumbbell compact and allows for a much more natural feeling dumbbell.
Many other adjustable dumbbells Bowflex, etc., have long fixed handles because of their select dial systems; their adjustment system calls for a fixed length handle, so it doesn't matter what weight you lift, whether it be 5lb or 40lb the length of the handle stays the same.
Long handles are awkward to train with; they can hit your sides when you curl and clash above your head when you press.
The PowerBlocks are the only fast to adjust set in this weight range that doesn't include the long handles. So if you're after an easy to train with fast to adjust dumbbell, the PowerBlocks are the best choice.
Are the PowerBlocks easy to adjust? Yes, one of the most foolproof designs out there, it's the same durable adjustment system they have been using on all their sets for the past 20 years.
All you have to do to adjust a PowerBlock dumbbell is to remove a magnetic selector pin and push it back into the weight stack to the desired amount you want to lift. Super easy and takes all of 5 seconds!
And for those of you who are tight on space, the PowerBlcokds are a great space saver too. The 24lb sets replace 8 sets of dumbbells or 16 single dumbbells that's a lot of room to save and useful for people who want to pack away their gym gear after a workout.
Overall there's no better dumbbell set out there for beginners. This is a dumbbell set that boasts an excellent weight range, a dumbbell that adjusts in small 3lb increments and one that's fast and simple to adjust. Plus, at less than half the price of its bigger brother, the PowerBlock 50s the 24s are affordable too.
N.B. The PowerBlocks 24s can be bought with either a white or Black handle.
Great build quality for the price
Replaces 8 sets of regular dumbbells
Ergonomic handle, with rubberized coating for a secure grip
Heavy-duty steel weight plates – coated with anti-corrosive paint
Some people may not like the unconventional design
Low max weight – best for beiginners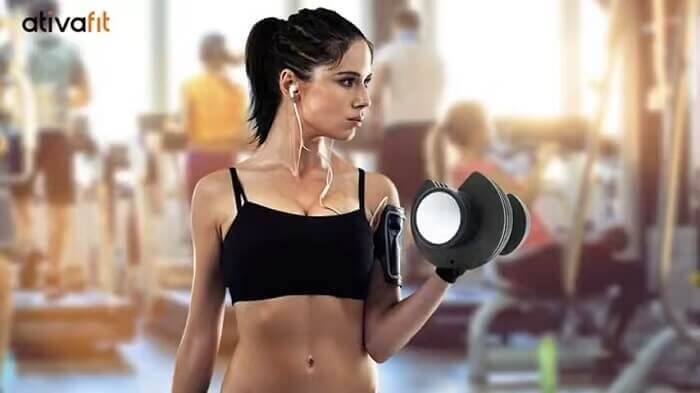 2. Ativafit 27.5lb Dumbbell
Ativafit havent been around as long as PowerBlock these guys are relatively new to the home gym market, but surprisingly what they seem to be very good at is building quality dumbbells. Their review ratings for their dumbbell sets are excellent people love them!
So, Today we're taking a look at their 27lb set. Again just like the PowerBlock, the Ativafit 27lb pair are aimed at the beginner and female market.
The Ativafit dumbbell doesn't use a stacking system, nor does it use a select dial adjustment system, Ativafit has patented its own adjustment system and named it the Glide Tech.
The Glide Tech system is another straightforward to use adjustment system, you just lift and glide it over to the desired weight you wish to lift, its so easy to use it can be done with one hand.
The Glide Tech adjustment system is as fast as anything else out there, but it only adjusts in 5lb increments, which should be ok for most beginners, it's not a huge jump up in weight each time like the 10lb increments; still, it's not ideal.
Another nice feature of this set is that the weight plates are not covered in plastic; plastic-coated plates are one of the biggest drawbacks of fast to adjust sets like Bowflex, Core Fitness, etc.
A small drop can crack the plastic surrounding the weight plates, which results in the dumbbells not sitting correctly in their adjustment cradles, and adjuting them becomes difficult. The Ativafit plates are instead coated in anticorrosive paint rather than plastic.
Lastly, the Ativafits handles will be longer than PowerBlocks, and that's because of the adjustment system. This same issue plagues most of the fast to adjust sets, having adjustment systems on either end of the dumbbell sadly means the handle will always have to be a fixed length whatever weight you are lifting.
However, don't let the longer handles be a deal killer, we are talking about a lightweight dumbbell here.
A lightweight dumbbell doesn't use a lot of weight plates to start with; thus, the handles will not be overly long and shouldn't affect your training negatively, yes longer than the PowerBlcoks but something you will quickly get used to after a few days of training.
Overall a nice looking set of adjustable dumbbells, super fast to adjust and designed well for beginners. Not as versatile or as durable as the PowerBlock set, but if you don't like the boxy design of the PowerBlocks and prefer a more regular looking dumbbell, the Ativafit are the best alternative.
At the time of writing this review, the Ativafit dumbbells are sold as separates; their advertising can be misleading as many people have ordered one thinking they were receiving the set. If you want the pair remember to order two.
Extremely fast glide-tech adjustment system
Contoured, textured and soft-grip handle
Space-saving design 5 dumbbells in one
Modern design – They look good, no sharp edges clean design
Easy to use, just one adjustament system per dumbbell-fool proof
Adjustment system uses plastic parts – can break if you drop the dumbbell
Only adjusts in 5lb increments not so good for beginners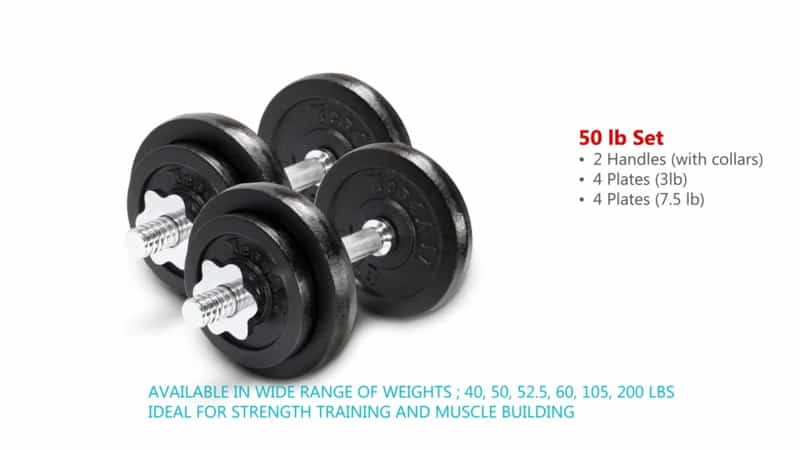 3. Yes4Alls 50lb Set
The Yes4Alls 50lb set is an old school set of weight plates and bars. Dumbbells like this have been around for decades, and they're still as popular now as they were when they first came out.
The reason they remain popular is their versatility and their price point. What I mean by versatility is that you won't outgrow a set like this because even when you've reached the max weight of 25lb per dumbbell, you can go out and buy a few extra weight plates to match your strength gains.
Yes, being able to purchase extra plates as you progress in your training is the main selling point of this kind of dumbbell.
In other words, they boast an expandable weight range, but you must remember when you do buy an old school set like this to make sure to purchase the sets that say 1″ diameter bars and 1″ holes in the weight plates. This is the standard size for weight plates and bars, you'll find its the size most fitness outlets stock.
Something a lot of reviews forget to mention about the Yes4Alls is that only the 40, 50, 60lb sets come with standard 1″ bars and plates, 
The rest of the sets, the 52, 105, and 200, all come with measurements different to industry standard so you won't be able to use the weights with other bars or buy extra weights as Yes4all do not sell plates separately.
So I recommend you stick with either the 40-50 or 60lb sets as they allow for a lot more freedom should you wish to upgrade the set with more plates.
We're looking at the 50lb set, which is the weight for the whole set including the bars, that's a max weight of 25lb per dumbbell which you can adjust in small 3lb increments similar to the PowwerBlocks which as we mentioned earlier is great for beginners and useful for isolation exercises.
What I like most about old school sets is how tough they are when you're training with them, you don't have to worry if you drop one, there's no plastic in the build, no fragile adjustment systems. You can train to failure and don't need to worry about dropping them on that last killer rep!
Yes, the PowerBlocks are durable for a fast to adjust set, but they still won't take a drop from height, they might survive a small drop or two, but that's it. The Ativafit probably won't survive any drops because, like the Bowflex, their adjustment system is fragile; it consists of many moving parts and can break easily if dropped.
Old school sets will take most you can throw at them, and last years of heavy use the heavy-duty nature of the sets is what sells sets like this by the thousands.
And it's not just beginners who own these sets, the fact their expandable means you can get 100lb on each dumbbell so even serious weight trainers can choose a set like this because they're cheap, robust and if need be can be loaded heavy.
However, they do have one major drawback, and that's how slow they are to adjust.
There's no super fast adjustment systems here; you have to unscrew the collars and manually add weight plates to the bars and then screw the collars back on tight.
Slow adjustment times are not a deal stopper, but it's something worth thinking about if you don't like the idea of doing all that plate changing stuff between each set.
Overall the  Yes4alls are another excellent choice for beginners; they offer small weight increments, and an expandable weight range, they're tough and priced well. If you can live with the slow adjustment times, a set of old school dumbbells like the Yes4Alls should prove an excellent buy for your home gym.
Heavy Duty – Durable – No plastic in build
1″ bar allows you to buy additional standard size plates when you need that extra weight
Easy to disassemble for storage
Buying Tips
Here's a quick reminder of a few important buying tips you should consider before purchasing a set of dumbbells.
Handles – usually, the handles of a dumbbell set are the feature I'd recommend you pay attention to before anything else when you buy a set of dumbbells. However, this isn't of such importance when we look at lighter sets of dumbbells for beginners. And this is due to the lower max weight of the dumbbell.
Typically we're looking at around 20-30 per dumbbell for a beginner, and the number of plates it takes to reach the max weight isn't significant enough to call for an extra-long handle – as you would see on heavier sets like the Bowflex 552s and Merax sets, etc.
Still, even beginner sets like the PowerBlock 24s do offer a more compact dumbbell compared to the Ativafit and the old school sets, which all have fixed length handles.
The PowerBlock sets will be more comfortable to train with thanks to the compact design, I recommend even if you are just starting out to choose a compact design.
2. Choosing The Right Weight Range – Just as many people waste their money on a weight set that turns out to be too heavy as one that turns out to be too light. Think ahead about your training, how seriously are you going to take your weight training?
In a year's time, the last thing you want to be doing is splashing out a ton of cash, replacing a set of dumbbells you grew out of too quickly. Try and choose a dumbbell set that suits your needs now and one that can accommodate your strength gains in the future.
Fixed weight dumbbells are great because you can go out and buy a heavier pair as and when needs, so too are the old school sets, purchasing extra plates to accommodate strength gains is easy as most decent sports outlets sell the 1″ standard plates.
Outgrowing dumbbells is more of an issue with the new fast to adjust sets, as nearly all are non-expandable; once you've reached the max weight of a Bowflex, Ativafit even the PowerBlocks 24s, that's it, you'll have to spend another $? on a heavier set.
On the plus side, the majority of people do take a long time to outgrow a dumbbell set, some may never outgrow their first set of dumbbells, and if you do outgrow a set of Ativafits or the PowerBlocks 24s and you've looked after them, they'll always sell fast on the used market, you can put that money towards your next heavier set.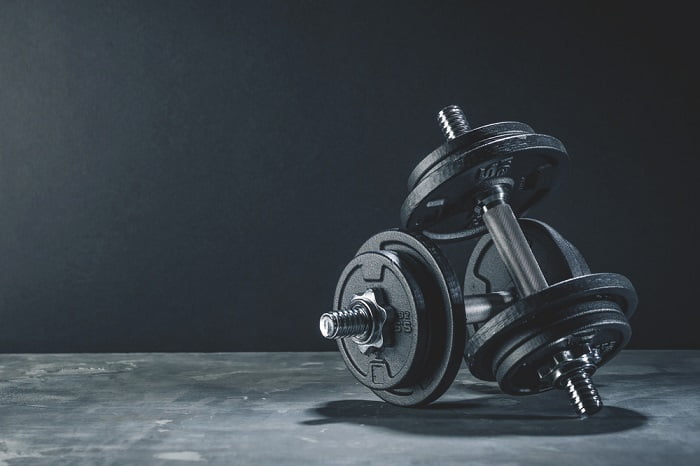 3. Weight Increments – Lastly, we touch on weight increments; this is the amount of weight the dumbbell increases when you move up in weight each time.
Preferably we'd love a set of dumbbells that move up in 2.5lb-3lb weight increments as its great for isolation exercises that call for smaller weight increments for proper progression.
But if you cant get hold of a set with 2.5lb -3lb increments, the next best is 5lb; jump-ups in 5lb may still be a little difficult for beginners. Still, it's much better than the 10lb some bells offer, and unless you are only focusing on compound movements, 5lb increments are the max I'd recommend.
To Sum Up
When choosing a set of dumbbells for beginners, you have to be slightly more careful than when considering a dumbbell set for the seasoned weight trainer.
A beginner doesn't quite know what their training is going to call for and how fast their strength gains are going to come. For these reasons we didn't go super heavy with the choices, what we picked out were the three best dumbbells sets for people who have no previous experience of resistance training.
There are a few key factors we must consider, the max weight 'not too heavy', compact – for ease of use when training and smaller increments as big jumps in weight are never a good idea for people new to weight training. Plus we needed a set that's both fast to adjust and durable.
PowerBlock fulfills all the needs of the beginner with their PowerBlocks 24s adjustable Dumbbells, these guys got everything right, smaller increments, a great weight range, fast to adjust, and compact.
Yes, PowerBlock knows what they're doing when it comes to all levels of lifters, I've reviewed a lot of their products and they never fail to impress.
Going Old school is also a good choice, especially for some of you who think you might take your training seriously and don't want the risk of outgrowing a dumbbell set quickly.
Yeah, the Yes4Alls Dumbbells are a little slower to adjust but what they lack in speed they certainly make up for in durability and versatility. An old school set like the Yes4alls are always an excellent choice for dumbbell workouts.