The Core Home Fitness Adjustable Dumbbell Set is an extremely well-designed bit of kit. Boasting a max weight of 50lb per dumbbell, this set of dumbbells should suit most people's weight training needs.
When it comes to rapid weight changes between sets, there's no other adjustable dumbbell out there that can match Core Fitness's Patented Twist Lock technology.
Super Fast Adjustment Times
With a simple twist of the wrist, you can change the weight of the dumbbell in a few seconds; it's literally twice as fast as the Bowflex 552s.
Yes, the Bowflex are popular for their speedy Select-Tech dial systems. Still, you need to remember there are two dials per dumbbell, so you have to change one either end to select the desired weight, heck, the Bowflex's aren't slow by any means, but compared to the Core Fitness set the two select dial sets now seem like slouches.
Let's not get too excited about the Core Fitness adjustable dumbbells just yet because just like the other fast to adjust dumbbells, Ativafit, Bowflex, Merax, to name a few, all have a limited weight range.
By limited, I mean a non-expandable weight range, you purchase a 50lb per dumbbell set like Core Fitness, and that's it you're done; there is no way to add extra plates to the set.
Its not a deal stopper, but its something I always urge people to consider before buying any select dial set including the Core Fitness bells. Don't get me wrong 50lb dumbbell is going to last the majority of people a good few years of growth,  some may never outgrow a 50lb per dumbbell set.
Still, if you are a big guy and you're going to take your training seriously, outgrowing a 50lb per dumbbell set in a year or so of consistent training is a real possibility. You might be better off looking at expandable sets such as the PowerBlock Elites or Ironmasters.
Before we get on with the rest of the review, let's take a quick look at the Product Specs.
Product Dimensions –  Each Dumbbell – 14.5L x 7.5W x 7.5H inches 
Max Weight Per Dumbbell – 50lb
Contoured Soft Grip Handles
Adjusts In 5lb Increments – 5-50lb
Why Do We Like The Core Home Fitness Adjustable Dumbbell Set?
If you can find an adjustable dumbbell that feels anything close to fixed weight dumbbell, the ones used in your local gym, etc., you're doing well. So, if we can, we need to find an adjustable dumbbell with a compact design.
Compact designs are vital if you want a natural feeling dumbbell, sets like the Bowflex, Merax, and Ativafit all have long handles because of the design of their adjustment systems. It doesn't matter what weight you are lifting, whether it is 5 or 50lb, the length of the handles stays the same. We call these fixed-length handles.
Fixed length dumbbells like the Bowflex are awkward to train with; they can hit your sides when you curl or clash above your head when you press.
Thankfully the excellent Twist-Lock adjustment system of the Core Fitness set doesn't call for a fixed length handle this set of bells is compact the handle length only increases the more weight you add.
It's one of the only adjustable dumbbells on the market that can boast a compact design, and its definitely the main reason I favor this set over many of the others out there.
Weight
The only weight available for the Core Fitness dumbbells is the 100lb set, 2x 50lb dumbbells, adjustable in 5, 10, 15, 20, 25, 30, 35, 40, 45, 50lb lb increments.
It would have been nice to see a couple of add on expansion packs like some of the other adjustable sets in this price range, but even without the extra weight add-on options, 50lb per dumbbell will still be more than adequate amount of weight for most users needs.
Ease of Adjustment
Probably the most efficient and time-saving design I have seen with an adjustable dumbbell. Very similar, if not the same design Stairmaster use with their adjustable sets, except Stairmaster charge twice the price, still one of the best you will find in the adjustable dumbbell market today.
It's quite simple in practice, all you need to do to adjust the dumbbell, is to place it in the cradle and turn the twist lock to the desired weight, it's that easy!
No more unscrewing collars, removing and adding plates just a turn of your wrist, and you've changed the weight load.
You will be happy to know both dumbbells come with their own cradle. And no accidents with plates falling off as the handle actually enters through the weight plates holding them secure.
To note, no offset weight configurations with Core's dumbbells, the Twist-Lock works for both ends of the dumbbell in parallel, meaning in if you twist the handle, it will adjust the weight to the same amount at each end.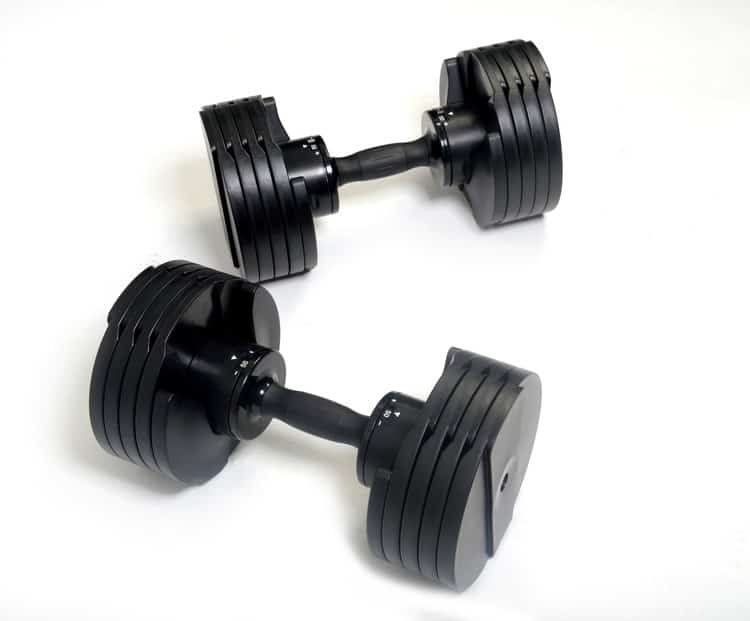 Durability & Build Quality
A solid compact build makes these dumbbells highly desirable. Shorter in length than the Bowflex, Merax and AtivaFits, creating a dumbbell that is much easier to train with, almost the same natural feel as using fixed weight dumbbells.
Firm but comfortable contoured grip handle made from steel but coated with a layer of rubber provides a pretty grippy handle, even in humid, sweaty weather, slippage will be at a minimum.
The plates are coated in high impact PVC, useful for keeping the plates rust and rattle-free, but if you're like me and like to train to failure some of the time and drop the dumbbell pair, you might have to watch it with the Core plates.
The PVC coating I  feel could quite easily crack after a few drops, so I'd recommend you be extra careful dropping the dumbbells from any height even if you do have rubber flooring.
The cradles are of similar quality to the dumbbells, and as you have seen in the video are a necessity for changing the weight range of the dumbbell.
Both cradles are made from aluminum and PVC, the dumbbells fit snuggly inside the openings at each end of the cradles, keeping the pair firmly in place so as not to fall out when moving dumbbell and cradle around.
Many owners of the dumbbells have complimented the build quality of the Core Fitness dumbbells, some saying it was exceptionally good for the price range, nothing I would say here is under par, and I haven't come across any real complaints concerning the Core Fitness Dumbbells.
Space-saving – replaces 10 sets of fixed weight dumbbells
Superfast adjustment times Twist-Lock tech
Firm but comfortable contoured grip handle
Plastic weight casing may crack when dropped
Adjusts in 5lb increments rather than 2.5lb – not so good for beginners
The Core Fitness Adjustable Dumbbell Stand
There is also a stand on offer for the dumbbells where you can simply sit the cradles into the stand. A nice option to have if budget allows, the stand is made from heavy-gauge steel tubing, and users say it looks and feels quality just as the dumbbells, a great idea if you don't want to bend down to pick your dumbbells up every time.
30″ tall
The heavy-duty frame keeps dumbbells securely in place
Makes the workout faster, safer, and easier.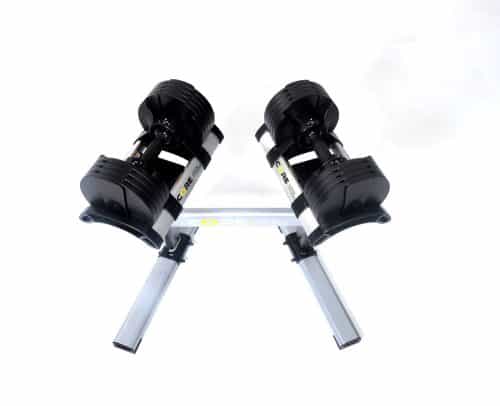 Bowflex 552 Adjustable Dumbbells
Bowflex was the first to bring out the Select Tech adjustable dumbbells. When they arrived on the market there was nothing else like them. Not only do they replace 16 sets of dumbbells, but they are also fast to adjust thanks to the select dial adjustment system.
Even though many other companies have tried to copy the Bowflex, the Bowflex 552's remains the most popular adjustable dumbbell on the market.
And there are a few reasons why they are still top on most people's list; as we mentioned, these guys have been around a while, people trust the company, and yes, the 552s, in general, receive positive reviews.
Secondly, the Bowflex offers something many other adjustable dumbbells, including Core Fitness, do no not and that's 2.5lb weight increments.
2.5lb weight increments are great for isolation exercises such as tricep kickbacks, isolation curls, etc., where smaller weight increments are needed for proper progression. Isolation exercises use a single muscle group rather than the 3 used for compound exercises, thus requite smaller jumps in weight increments for progress.
And that's not all; smaller weight increments are also great for beginners, as a 5lb jump in weight can sometimes be too much for beginners, even for compound movements.
Yes, the Bowflex set does boast a few useful features for beginners and intermediate lifters. Still, you pay the price for the 2.5lb increments because to achieve this. The dumbbell uses two select dials, which call for the long fixed handles.
You can get used to long-handled dumbbells; it takes a couple of weeks, don't let it be a deal-killer, especially if you need a dumbbell that offers the 2.5lb increments.
Overall the Bowflex are an excellent set of dumbbells; they are fast to adjust, not as fast as the Core Fitness set but fast enough for drop sets. And that's fast!
The Bowflex offers the smaller weight increments only up to 25lb, though. And yes, they are built by a company that's been around a long time and receives very good ratings from their customers.
However, I feel the compact design of the Core Fitness Dumbbells will appeal more than the 2.5lb weight increments of the Bowflex for most people. The Twist-Lock of the Core Dumbbells is such a great adjustment system it outshines anything else I've seen out there at the moment.
Are the Core Fitness the best adjustable dumbbells on the market? I'm sure they are for some. They're definitely right up there in the Top 3. They tick all the right boxes, compact, super-fast to adjust, and well built.
Look after them, no drops! And I'm sure no one will be disappointed with the Core Home Fitness Adjustable Dumbbell Set.