The Fitness Reality 2000 Super Max Weight Bench is a mid-level adjustable bench; it's been built by the guys over at Fitness Reality who are really starting to make a  name for themselves in the home gym market.
Before the 2000 Super Max, they released the Fitness Reality Super Max 1000 Bench; the Super Max 1000 has become one of the most popular entry-level benches out there, and so too is their power rack it's one of the top 3 power racks under $500.
Yes, the Fitness Reality team seems to know what they are doing when it comes to our home gym gear, and by the looks of it, their newly released mid-level 2000 super max weight bench is no exception.
Heavy-Duty Frame – Adjustable Seat & Impressive 850lb Weight Capacity.
The 2000 Super Max weight bench boasts a large weight capacity of 850lb, a sold heavy-duty frame, and, most importantly, an adjustable seat, something their Super Max 1000 bench was lacking.
Today we're going to take a close look at the 2000 Super Max weight bench, a versatile, easy to assemble, folding weight bench. I'll also be comparing the Fitness Reality 2000 with its little brother, the Super Max 1000. Make sure to read through to the end of the review if you want to check out the comparison.
First, let's take a quick look at the 2000 Super Max product specs!
Product dimensions – 69.5" L x 24" W x 52" H – Folded  53. 5″ L x 24″ w x 10. 8″ H
Adjustable backrest positions – 7
Frame – Heavy duty 2″ x 3″  steel tubing
Why Do We Like The Fitness Reality 2000 Super Max Weight Bench?
What sells this bench for me is that it includes just about everything you can ask for from an adjustable bench, ok it's not commercial grade, but for a home gym its has more than enough features to keep beginners through to intermediate weight trainers happy.
Let's start with the versatility of the bench. When it comes to back pad positions, the absolute minimum we look for is 3, flat, incline, and a near-vertical for shoulder press. The Super Max 2000 includes 7; this is an excellent amount of positions for a ton of workout options, including decline pressing with the benches -15 degree angle.
And what's most impressive about the adjustable angles of this bench is that it inclines to a near verticle of 85 degrees, which is perfect for seated shoulder presses.
So many of the cheaper benches stop their inclines at around 70 degrees, which is a little low for shoulder press, so it's nice to see an 85 degree on the 2000 Super Max bench.
But the big seller of this bench has to be the seat; an adjustable seat is a must if your serious about your lifting.
An adjustable seat stops your butt slipping down the bench in low incline positions, thus enhancing your pressing power by providing you a stable base to press from, so a big thumbs up here for including an adjustable seat.
Not only does the seat adjust for incline presses. Fitness Reality has also included a moving seat that gets rid of that awkward gap between seat and backrest, one of the first benches I've seen to include this option, and I know Fitness Reality are busy patenting this useful design feature.
Weight Capacity
850lb weight capacity is about right for the price point; at least they didn't go crazy and give the bench an unrealistic capacity.
Many benches throw around high capacities without having any sort of heavy-duty frame to back them up, and to be honest, cheap benches with high capacities and weak frames should be avoided.
However, the Super Max 2000 has a reasonably heavy-duty 2″3″ frame for the price point; yes, it's not commercial grade, but with the whole bench weighing around 65lb its going to feel pretty solid when training on it, and should be strong enough for some heavy rack work.
The Back Support
We already mentioned that back support has more than enough angles for your workout needs, but let's talk a little bit about how it adjusts.
The 2000 Super Max bench uses a ladder adjustment system. Ladder adjustment systems are super fast to adjust; you simply lift it and place it back to the angle you want to use.
I've always preferred the ladder adjustment to the pin pull-type because not only are they faster to adjust, they seem a lot sturdier.
I've known benches that use the pin pull-type adjustment systems to break quite easily; the pin literally snaps under heavy loads. Not saying this happens with all pin pull benches, but if you are paying under 250 bucks for a bench, I'd stick to ladder adjustment systems.
Another nice feature of the back support is when assembling, you can choose to flip the back support for a wider back pad, especially useful for bigger guys who need it.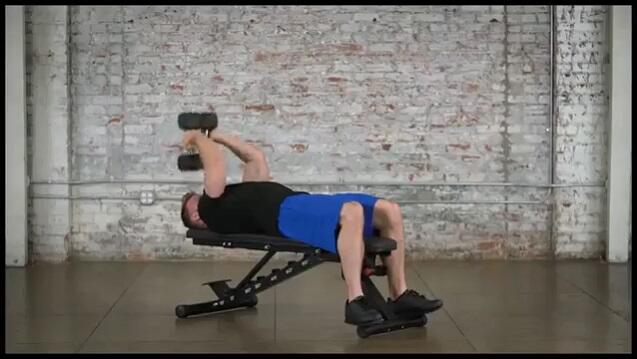 Excellent As A Flat Bench
Because these guys really thought about the design of this weight bench, I think it has to be one of the best adjustable weight benches that can be used as a flat bench.
Most adjustable weight benches, especially around this price, are too high when in the flat position normally around 20."
When purchasing a flat bench separately, we typically look for between 17 and 18″ in height, so to see this adjustable bench with a height of 18″ when in flat is impressive. Whys this important? Because it means you can get your feet flat on the floor for pressing, this, of course, keeps you stable and allows you to drive with your legs, increases your pressing power.
Let's not forget this bench also includes the no-gap feature between the seat and backrest, again this will make it even better in flat.
Folds For Storage
And lastly, this bench folds easily for storage, it does seem Fitness Reality thought of everything with this bench. Folding flat for strange or near flat about 10″ is a great feature for people who aren't lucky enough to have a sperate room to house their gym gear and because this thing also has transport wheels you can easily tilt and roll for storage
Heavy duty, solid build – 2″x3″ steel frame 
Excellent bench for dumbbell workouts
7 adjustment position including near verticle and decline
Great bench in flat – No gap + 18″ from floor to padding
Folds for storage – transport wheels
A few users found the seat difficult to adjust
A couple of people had issues with delivery saying the bench arrived broken. Although they did mention Fitness Reality were great and offered complete replacements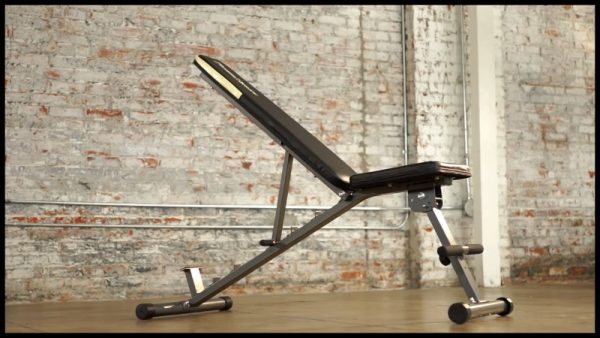 Fitness Reality Super Max 1000
The Fitness Reality Super Max 1000 is an entry-level adjustable bench and this is reflected in the price, it costs half that of the 2000 Super Max, but just because it's cheap doesn't necessarily mean it's only for beginners.
It's basically a good bench for dumbbell workouts beacuse with a frame this light, around 35lb, I wouldn't recommend any heavy rack work.
With a max capacity of 800lb, you would think very heavy dumbbell workouts? However, with a light frame, I wouldn't trust the 800lb max capacity, I'd recommend no heavier than 600lb for a budget bench.
It might take a bit more but at this price and with such a light build I'd certainly be hesitant to lift super heavy on the Super Max 1000 on a regular basis.
On the positive the Fitness Reality 1000 does boast flat, incline, and decline with a few more incline angles in between, so you'll have enough back pad angles for all your pressing needs.
This bench doesn't include an adjustable seat and I didn't really expect to see one at this price, it a shame but it's not a deal killer, I think for what's on offer here for the price its still a good buy.
Surprisingly for a light bench, many users have said how solid this bench feels, which is great to hear as the last thing you want is any wobbles when you're lifting.
Just like its bigger brother the 2000, the 1000 Super Max folds for storage, useful for you guys who need to store away the beach after training.
Thankfully this bench is nice and easy to assemble as most of it is done for you, just a few bolts to attach that's it you're ready to go.
Overall a decent adjustable bench for dumbbell workouts, yeah it's doesn't include an adjustable seat but it's stable it has enough back pad angles for incline and decline pressing plus the bonus of a folding feature for storage. For the price its an impressive bit of kit for your home gym.
To Sum Up
You certainly get a lot of bang for your buck with the Fitness Reality 2000 Supermax Weight Bench. At 65lb, this bench is a good weight for a mid-level bench, not too light to be unstable and not too heavy to make it difficult to move or store.
What I like most is how good this bench looks in flat. Usually, most adjustable benches are rubbish in flat some too high; some have huge gaps between seat and backrest; this bench eliminates both of those issues, which will make it one of the best adjustable benches in flat on the market.
Also boasting a 3-way adjustable seat, 7 adjustable back pad positions, high weight capacity, and it folds for storage; it ticks all the right boxes—a solid, versatile bench at an affordable price.