FlyBird have been around for over 2 decades. These guys are well known for building high-quality, low-cost gym equipment, and their FlyBird Adjustable Weight Bench is no exception.
Versatile, Stable – Foldable Bench
Okay, the Flybird bench isn't a heavy-duty bench, and we wouldn't expect it to be priced at under $150, but for a low-cost foldable bench, it's one of the most impressive on the market.
And its the versatility of the bench that sells the FlyBird, boasting an adjustable seat that provides support when incline pressing and 7 adjustable back pad positions more than enough for all of your pressing needs.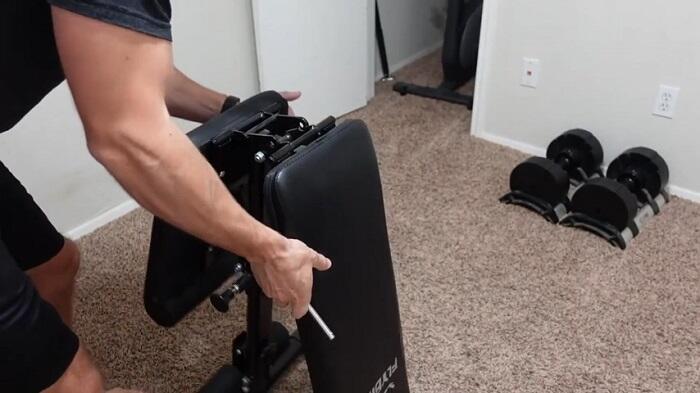 Is Stability An Issue With The FlyBird?
Foldable benches will always come with issues, especially in this price bracket. I've reviewed tons of them over the years, and it's their lightly constructed frames that can cause the most issues, with stability being one of them.
But what's impressed me about the FlyBird, is that these guys have thought to widen the stabilizing feet, which will help with stability and counteract the bench's lightweight build.
Yes, it's light, but it's one of the most stable foldable benches on the market, and this is reflected in the user reviews, with many praising how stable the bench is even in incline positions great to hear and even more reason why the FlyBird weight bench should be taken seriously.
Today we're going to take a close look at everything the FlyBird Bench has to offer. At the end of the review, I'll compare the FlyBird with the two other top benches under $150, and we'll see how it matches up.
First, a quick look at the product specs!
Product dimensions –49.2 inch L x 15.7 inch W x 44.5 inch H Folded size: 30.3 inch L x 16 inch W x 9 inch H
Frame – high capacity steel
700lb Weight Capacity – Can it take it?
The problem with most foldable benches is that they love to boast high weight capacities, yet in reality, if you lifted heavy on one of these things every day, the bench wouldn't last longer than a few months.
As we mentioned earlier, lightweight frames and low-quality welds found on most low-cost benches will not support super heavy loads regularly. For that, you need a heavy-duty bench, something that weighs over 70lb and is built with heavy gauge steel, which sadly you'll never find in this price bracket.
The FlyBird, while not a heavy-duty bench, is of higher quality than anything else I've reviewed in this price bracket, with its commercial thickness steel frame, but even then, the FlyBird weighs just 32lb, so I wouldn't put too much enthesis on the companies claims.
So how much can a low-cost foldable bench like the FlyBird take? I wouldn't take any foldable bench, even one as good as the Flybird over 500lb. This is still a hefty amount, and if you're a guy who weighs 180lb, this still leaves you 320lb to play with.
Around 500lb for max capacity makes the FlyBird an excellent dumbbell bench, maybe not suitable for super heavy barbell/rack work but for dumbbell workouts, this bench is perfect.
Verisilte – 7 Adjustable Back Pad Position & Adjustable Seat
This has to be the main selling feature of the Flybird weight bench. It is surprisingly versatile. 7 back support adjustment angles make it one of the most versatile benches in its class.
Full FID capabilities push the bench choice of exercises way beyond most budget benches. From decline pressing to near-vertical for seated shoulder press, you should be able to get a full upper body workout from this bench.
But what sells the bench for me is the adjustable seat, adjustable seats are great for support when in low incline positions, if one of the main reasons you are buying this bench is to build bigger pecs, then incline bench pressing is a must, and so is an adjustable seat.
An adjustable seat will stop your butt from slipping down the bench when pressing in inclined positions. The last thing you need when pressing heavy dumbbells is an unstable base. First, it is dangerous, and secondly, it inhibits your pressing power.
Surprisingly, Owning A lightweight Bench Does Have A Few Benefits.
Heavy Duty benches built like tanks made from 11 gauge steel may be the gold standard for commercial gyms, but they are expensive, large, and for most are overkill for a home gym.
There are some excellent benefits from choosing a lighter design because not all of us have a dedicated gym area, and this is where the FlyBird bench sells itself again:
Heavy benches can be cumbersome to move around the gym area and difficult to move from one part of the house to another. A 32lb Flybird bench shouldn't cause you any issues at all.
The weight of this bench should make it a breeze for most people to set up and pack away after use. And Its foldable space-saving design means you can slip it under a bed or be store it up against a wall.
7 back support adjustment angles
3 position adjustable seat, great for incline workouts
Foldable, light bench, makes for easy storage and moveability
This bench is super light, may become unstable under heavy loads.
Short warranty on upholstery
Alternatives & Comparison Table
Weight Capacity – 600lb

Adjustable Seat

Back Pad Positions – 6

Warranty – 1 yr frame parts

Assembly Required
Our Choice
Flybird Weight Bench
Weight Capacity – 620lb

Adjustable Seat

Back Pad Positions – 7

Warranty – 2 yr frame

Assembly Required
Weight Capacity – 600lb

Adjustable Seat

Back Pad Positions – 6

Warranty – 2 yr frame

Assembly Required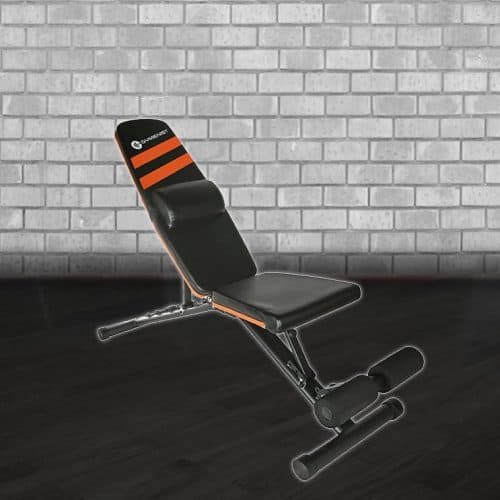 Gymenist Workout Bench
The Gymesist has been for a long time one of my favorite low-cost foldable benches. First, we need to remember that this bench costs a 1/3 less than the FlyBird, so the quality won't be right up there. Still, for the price, there isn't a better foldable bench around.
The Gymesist boasts 6 adjustable back pad positions, including a decline for decline presses and sit-ups, plus the all-important near vertice for seated shoulder press. We also get a 3-way adjustable seat for low incline support and wide stabilizing feet that keep this bench stable under heavy loads.
It's very similar to the Flybird in that it's lightweight, foldable, and versatile, but it offers all of this for around $100, which is excellent. To get hold of a full FID (flat, incline, decline) for around $100 is impressive.
And what I really like about the Gymenist is that it's been around for a long time. For over five years, the Gymenist has been one of the most popular foldable benches, which is great to see. Why? It proves this bench has stood the test of time, people still praise it after owning it for years, and there are not many benches in this price bracket that can boast that.
The Gymeneist doesn't quite have the build quality of the Flybird, but if you're looking for a decent dumbbell bench and you dont want to spend over 100, I'd give this bench some serious consideration.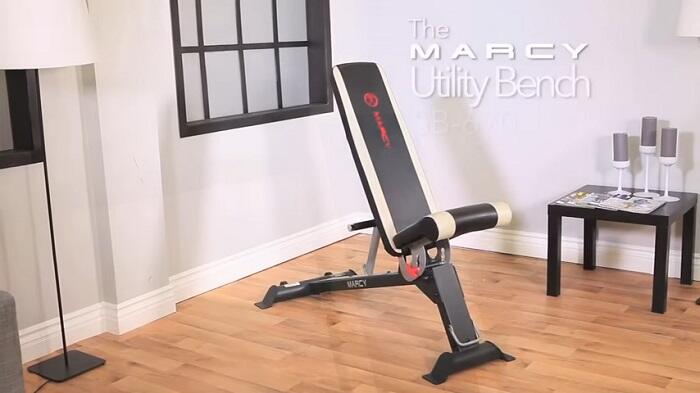 Marcy SB-670 Weight Bench ( This is not a foldable bench)
If you are looking for an adjustable bench under $150, you really won't find anything better than Marcy's SB670. This is a cracking bench for the money, made from heavy-duty powder-coated steel. This bench is solid, stable, and just like the FlyBird, is highly versatile, with 6 adjustable back support positions and an adjustable seat.
A 600lb weight capacity and a bench that can take it will appeal to a wide variety of weightlifters who both want a bench for dumbbell and rack workouts.
The padding is made from high-density foam, making for a comfortable yet not too comfortable support. Over-cushioned benches can make you unstable when pressing. The high-density foam gives you just the right amount of support and stability.
Another bench that will not disappoint, the Marcy SB670, is the one bench that stands out from the crowd in the budget price range. It has it all, durability, versatility, and max weight large enough to attract the beginner right through to the seasoned lifter. However, it doesn't fold for storage which may put off some buyers.
To Sum Up
You get a lot for your money with the Flybird Adjustable Bench, this is a great bench for beginners and intermediate weightlifters.
What makes this bench stand out, is its stable design, its fold for storage feature, and its versatility, one of the best foldable benches out there that doesn't compromise on stability because of its lightweight build.