Best Fitness Weight Bench
Over the years, I've reviewed a ton of Body-Solid gym gear, and there's one thing you can be sure of with these guys, quality.
Their gear is known for being durable and made from high-quality materials, they produce a lot of commercial gym gear, and thankfully that build quality spills over into their home gym products.
Today, we will look at one of their starter benches, the Body-Solid Best Fitness Folding Bench.
BFFID10 Bench – Short Back Pad –
28″
Still, before we carried away with this bench, I should mention this is a compact bench with a short and narrowish back pad, so if you're a big guy looking for a cheap bench to barbell press with, this Body-Solid bench is probably isn't the best fit for you.
For those under 6ft and looking for an affordable foldable bench thats tough and perfect for dumbbell workouts, the Body-Solid BFFID10 might be an excellent choice.
In this review, I want to look at everything this bench has to offer (including its drawbacks). I'll also compare it with another top-rated folding bench so we can see how it matches up.
First, a quick look that Body-Solid BFFID10 Product specs!
Product dimensions – 57.9 x 18.3 x 19.1 inches
Adjustable back pad positions – (5)  negative 10 to 70 positive
Warranty – 3-year frame warranty with 1-year warranty for all other parts
Why Do We Like The Body-Sold Best Fitness Bench?
The best feature of this bench has to be that it folds for storage, all you have to do is remove a couple of pins, and it will fold almost flat for storage, allowing it to be stored up against a wall under a bed or in a large cupboard.
A compact folding bench is great for people who dont have the luxury of a dedicated space to house the beach, but it's not my favorite feature of this bench. What I like about this bench is that it's stable. Most cheap foldable benches have stability issues because of their lightweight build and narrow stabilizing feet.
The Body-Solid is reasonably heavy for an entry-level folding bench. This thing weighs around 40lb thats 15lb heavier than most of its competitors, the extra weight will help keep the bench planted to the floor, plus it's a telling sign the bench is made from quality materials.
We also have nice wide stabilizing feet, which help prevent any wobble. So for stability, the Body-Solid receives a big thumbs up.
5 Back Pad Positions – Including Decline
It's great to see this bench includes enough back pad positions for all our pressing needs. But we do have some issues with the seat. The seat isn't adjustable. The seat is set at a permanent incline angle which means it will be uncomfortable when you want to lay flat for flat bench presses.
There's nothing you can do about this, it's something you'll have to get used to, but on the positive side, at least the inclined seat will give you support for low incline pressing. An inclined seat will stop your butt from slipping down the bench and provide you with a stable base to press from.
So we get a great bench for incline workouts, but it's problematic in flat. I'm sure this will put off a few people. I dont know if it's a deal-killer, but I thought it definitely something worth mentioning.
On the positive, the Body-Solid uses a ladder adjustment system for the back pad. I prefer the ladder adjustment systems to the pin pull-type as they are quicker to adjust and sturdier under heavy weight loads.
There is nothing wrong with pin pull-type adjustment systems on high-end benches because the quality is there,  but they tend to break under heavy weight loads on cheap benches that lack quality. If you're buying a low-cost bench, always try and find one that uses a ladder adjustment system.
Realistic 300lb Weight Capacity
It's refreshing to see a company like Body-Solid that lists a realistic weight capacity on their folding low-cost bench.
Most companies love to throw around high-weight capacities (800lb), even on benches costing under $100 and weighing just 20lb. These benches have no way of taking their max capacities on a regular basis, and it's why a lot of them dont last for more than a few months.
The guys at Body-Solid have given the BFFID10 a much more realistic capacity of 300lb, which sounds about right for an entry-level folding bench.
300lb is enough for light to medium dumbbell workouts for most users. If you weigh 180lb, you'll still have 120lb to play around with. So a great bench to use a set of Bowflex or Powerblock dumbbells with. Some barbell pressing will be ok.
Bonus: No Assembly Required
Im sure a lot of pep0loe will be happy to hear that the body-solid bench doesn't require any asmeblkty, all you have to do is unplack out fo the box. I'd probably make sure any nuts and bolts were fully tightened before first use. Just to be on the safe side.
High quality build – stable
1.5″ foam padding not too thick to be unstable or too thin to uncomfortable – just right for a weight bench
5 back pad positons – with decline
Ladder adjustment system – Fast to adjust
Great bench for dumbbell workouts
Short back pad limits user height to 6ft
Seat stays in incline position, which makes uncomfortable in flat
Back pad only adjusts to a max of 70 degrees which is a little too low for seated shoulder press. You'll still give the shoulders a good pump but you won't target them fully. You need an angle anywhere from 80-90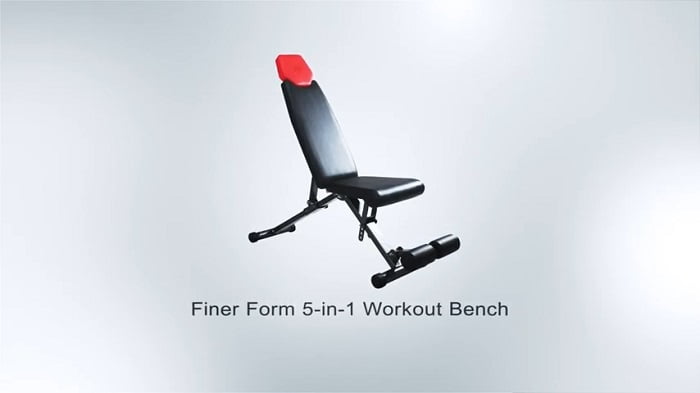 Finer Form 5-In-One Foldable Bench
One of my favorite foldable benches on the market right now is the Finer Form Adjustable Bench.
This bench has been around for a couple of years and is proving to be very popular. And there's a good reason why as it's one of the most versatile low-cost benches available, with 6 back pad positions and a 3-way adjustable seat.
Versatility is where the Finer Form trumps the Body-Solid bench as it provides the all-important adjustable seat, so it's great in flat as well as providing all the support you need for incline pressing.
The Finer Form also includes the full 90 degrees for seated shoulder press. This is great to see and something you should look for if you want to perform seated shoulder press on your new bench. The Finer Form includes a -20 for decline, making this bench a full FID (flat incline decline) bench. For just under $150, you get a lot of bench for your bucks.
Build quality probably isn't right up there with the Body-Solid, but it's not far off. People who have owned this bench for a year or so are still praising it, which is a good sign and proves the bench doesn't suffer from any short-term durability issues.
The Finer Form is a well-built, capable folding dumbbell bench and a good alternative to the Body-Solid, especially if you'd prefer an adjustable seat and a wider back pad.
To Sum Up
Overall I was impressed with the Body-Solid Weight Bench as it does tick a lot of the right boxes. Build quality,  easy to fold, enough back pad positions, and I like that it uses the ladder adjustment system. Best of all, it's stable.
Still, the seat is not designed well, and the back pad is too narrow and too short for larger users.
If you're under 6ft and can live with the seat, I'm sure this bench will not disappoint, and it is a Body-Solid bench, so it will probably last a lot longer than most of the low-cost foldable benches around at the moment.