First off, dont be surprised if a Weider Olympic Bench turns up on your doorstep. I know a few people have had that shock when ordering the Gold's Gym XRS 20 and received the Weider version.
But, don't worry, they are the exact same product. Icon Fitness owns both Weider and Gold's Gym.
Designed For Beginners And Intermediates
The Gold's Gym XRS 20 Olympic bench has been designed for beginners and intermediates. This thing is a long way from commercial-grade, so dont go expecting gym quality, but for the price bracket, it's impressive, boasting a 600lb capacity bench and 300lb capacity rack.
Both rack and bench are separate, which is a good thing as it allows for more exercises, and it's nice to see spotter bars for safety as most Olympic benches in this price bracket offer Zero safety.
Review – Includes Comparison With Marcy Olympic Bench.
In this review, I want to take a close look at everything the Golds Gym Olympic Bench has to offer and its drawbacks. I'll also compare the XRS 20 with another bestseller in this price bracket, the Marcy MD-879 Olympic Bench.
First, let's take a quick look at the Gold's Gym XRS 20 product specs!
Product dimensions – 45 x 23 x 15 inches
6 position back pad includes decline
Adjustable uprights & spotter bars
Leg developer, preacher curl and curl yoke 
Can be used as a walk-in squat rack
Suitable for 7ft barbells
Why Do We Like the Gold Gym XRS 20 Olympic Bench?
What's most impressive about the XRS 20 is the barbell rack; for a start, it's great that the rack is separate from the bench allowing for walk-in squats, even box squats. But what I like most about the rack is that it includes spotter bars.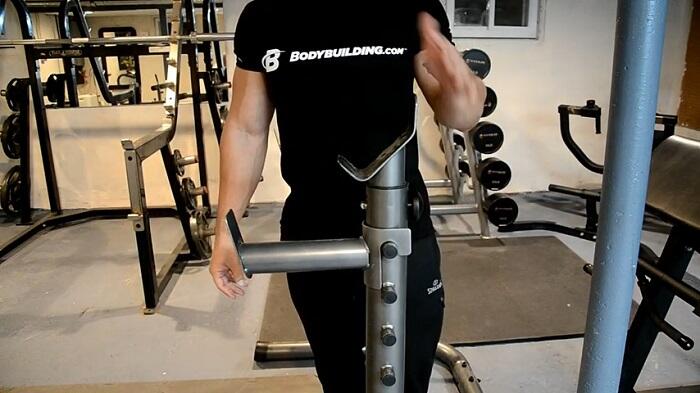 As I mentioned, most Olympic benches in this price bracket do not include spotter bars. This means zero safety when pressing heavyweights, you either have to get a friend to spot you or hold back on what you're lifting just to be on the safe side.
With spotter bars, you can train safely at home. There's no risk of being pinned under the barbell, and this is what lifting at home is all about, being able to work out in solitude safely.
Another useful feature of the rack is that it features a storage horn on the back of each upright to store your weight plates.
Not only are storage horns great for keeping your plates off of the floor and closer to the barbell on the rack they also allow you to add some extra weight to the rack. This will help a ton with stability.
This is a budget set up which inevitably means a lightweight build. The more weight we can add, the better. Load up each storage horn with weight plates. Make sure to load evenly, and this should stop any unwanted movement from the rack.
6 Position Adjustable Bench
The bench has a few drawbacks, but overall, it's a decent adjustable weight bench for the price point. The best feature of the bench is the ladder adjustment system for the back pad. Ladder adjustment systems are much faster to adjust than the pull-in type and they are usually sturdier and can handle more weight.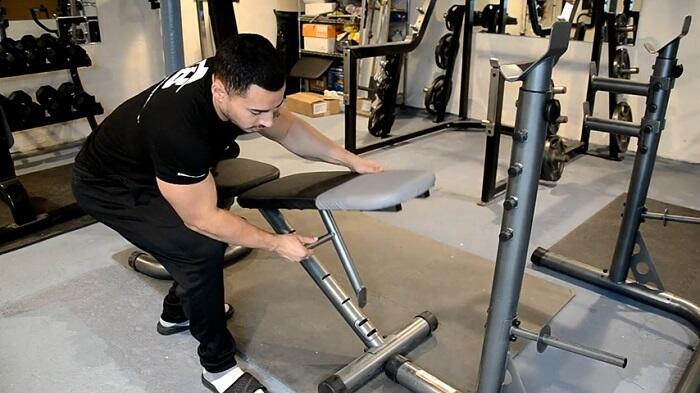 It's also nice to see the bench includes decline, so you can decline press and perform decline sit-ups. There are 6 adjustable positions in total this is a good amount for a low-cost Olympic bench and more than enough for our pressing needs.
The bench also comes with a preacher curl and leg developer, which personally I'd leave unattached as they get in the way of foot placement when setting up for presses.
Bad Points of The Bench
The bad points of the bench; it's a tall bench almost 20″ from floor to top of pad, which means placing your feet flat on the floor will be difficult for shorter users.
Another drawback of the bench is that it doesn't include an adjustable seat. Adjustable seats are useful as they stop your butt from slipping down the bench in low incline angles. They provide you a stable base to press from, thus increasing pressing power.
A bench without an adjustable seat isnt just an issue with the Gold's gym bench; nearly all the budget Olympic benches lack an adjustable seat. It's not killer, especially if you're not going to pressing super heavy weights? But it is something worth mentioning for the more serious lifters who might consider the Golds gym bench.
And lastly, the back pad of the bench only adjusts to a max incline of 70 degrees. There's no near vertical for seated shoulder presses.
70 degrees is too low to target the shoulders fully. You need an angle closer to 85 degrees to hit the shoulders hard. Again this is another common issue with cheap Olympic benches.
Overall for the price point, it's not a bad bench at all, despite its drawbacks. I've reviewed many Olympic benches in this price bracket and the gold gym bench is one of the better ones.
600lb Max Capacity – Remember This Includes Body Weight
A 600lb weight capacity is high for an Olympic bench under $200; I've seen a few with just 300lb capacity, including body weight, for the same price as the Gold Gym Bench.
Can it handle 600lb? I wouldn't risk taking a low-cost bench anywhere near its max capacity; I'd stay at least 100lb under.
The reason you should stay under max capacity is that the Gold's gym bench is built from light gauge steel. It's a long way off being heavy-duty, and you're not going to find high-quality welds either.
If you want this thing to last, I wouldn't try to max it out every other day. Stick to under 500lb on this one.
Same with the barbell catchers and the spotter bars. They're both rated at 300lb, and Id stay under the max here too. The rack is the same quality as the bench.
Golds Gym Equipment and Weider home gym equipment are designed for beginners and intermediates. Some years ago, Weider stated, "our gym equipment isnt designed for serious use," and thats reflected in the quality. This grade of gym gear just won't last if used regularly for heavy lifting.
Assembly
You'll be happy to hear this bench is easy to assemble, with most people getting the job dont in under an hour. Clear illustrated instructions are provided.
Excellent rack with spotter bars and Starge horns for plates
6 back pad positions for the bench
Can use the rack separately as a walk-in squat rack
Fast to adjust ladder adjustment system for the bench
Preacher curl and leg developer included
Great price for a decent two piece set up
No adjustable seat for support when incline pressing
Back pad of the bench doesn't adjust to a near-vertical for seated shoulder presses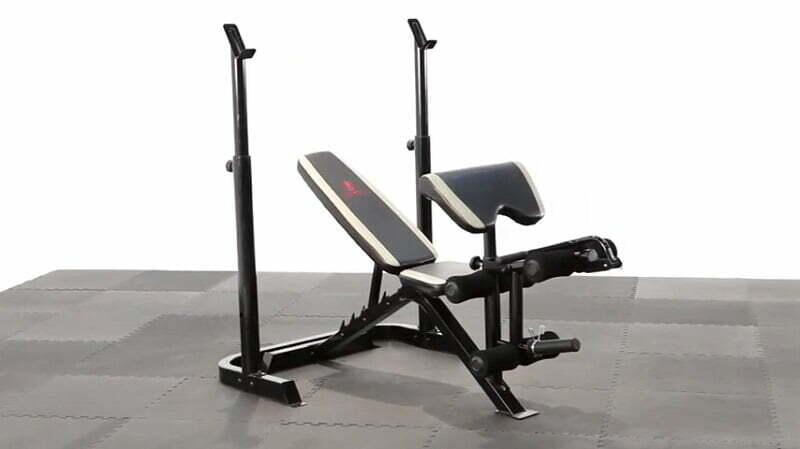 Marcy MD-879 Olympic Weight Bench
I've always liked Marcy. These guys build some quality gym gear at affordable prices, they've been around for a couple of decades now, and they really know what they are doing when it comes to low-cost gym equipment for our homes.
The Marcy MD-879, just like the Gold's Gym bench, is a low-cost Olympic bench. I think it's about 40 bucks more than the Gold's gym bench.
And just like the Gold's gym bench, it's a two-price Olympic bench so that we can use the barbell rack as a walk-in squat rack.
What I like most about Marcy's Olympic bench is the adjustable bench. This is a nice and heavy adjustable weight bench. On its own, the bench weighs close to 60lb (thats more than the Gold's gym bench and rack together) which is excellent for the price bracket.
The Marcy bench also includes a ladder adjustment system for fast adjustment times and boasts high-density foam padding. High-density foam is the good stuff. It's not too hard to be off putting or too soft to be unstable. It's just right.
Overall, the quality of the Marcy is slightly better than the Gold's gym bench, which we'd expect as it does cost more.
But it's the rack that lets this impressive Olympic bench from Marcy down; there are no spotter bars for safety or plate holders to give the rack that extra stability its needs.
(update – the Marcy MD-879 rack now includes weight two plate horns for storage)
To Sum Up
For under $200, there isnt anything that can match the Gold's Gym XRS 20 on features. This Olympic bench has everything you need to lift barbells safely at home. It's an excellent choice for beginners who want to transition from dumbbell workouts to heavier barbell compound movements.
The XRS 20 is a versatile bit of kit. I love that you can use both the rack and bench separately; this more than doubles the number of exercises you can perform compared to the One-piece units. Yeah, it has a few drawbacks, such as no adjustable seat and its lightweight build, but this is to be expected in this price bracket. Overall a decent Olympic bench offered at a great price.