With a 1000lb max capacity on the spotters, a heavy-duty 200lb commercial frame, a ton of attachments to choose from, and an affordable price tag, the Powertec rack takes some beating in the under $1k price category.
Heavy-Duty Durable Power Rack
Powertec are a company that has been around for a couple of decades; these guys specialize in heavy-duty gym gear, supplying hotels and commercial gyms with all types of weight lifting equipment, which is reassuring to know because it means they bring all that experience and their high quality builds to their home gym gear too.
So if you're after a high-capacity power rack that's going to last years of heavy use and built by a reputable company? Read on because today, we will take a close look at their flagship rack for home use, the Powertec WorkBench Power Rack.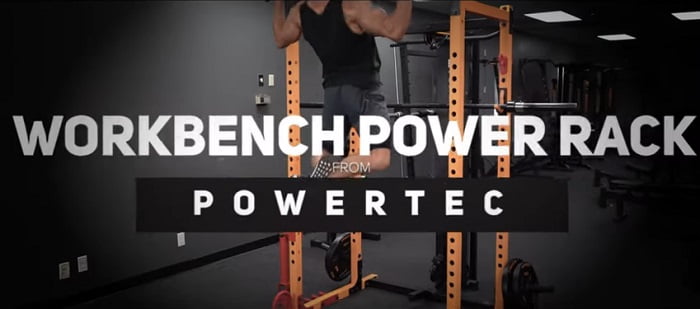 First – Will It Fit?
You'd be surprised at how many people forget to measure out a space for their power rack before buying; this results in a lot of disappointment and sending back of equipment.
When I measure for gym gear like a power rack, I measure two places as you never know if you might have to move the rack to a different location in your home. You might have a 9ft high ceiling in a garage but only 8ft in your house.
Thankfully the Powertec rack has purposely been built shorter than commercial racks (although upright extensions are available to buy separately if you need extra height).
There's a good reason for the Powertecs racks standard 84″ height? Commercial gym racks are tall!
You would need a nine-foot ceiling to fit a commercial gym rack into your house, and not many of us are lucky enough to have 9ft ceiling height. You will be happy to hear the Powertec power rack fits under ceilings of 7.5ft will a little room to spare.
Still, if you want to perform pull-ups, we're going to need a few more inches.
The majority of home ceilings are 96″(8 feet) in height, and the power rack stands at 84″(7 feet). Take into account another 12″ clearing above the power rack chin bar for chin-ups, and you will see the Powertec workbench rack has been designed perfectly to fit into most homes.
A quick look at the product description, then we'll take a detailed look at this power rack.
Product dimensions –  50.8 L x 50.6 W x 84 H inches
Weight – Shipped weight 208lb
Frame – Heavy duty powder coated  2 1/2″ tubing
Weight Capacity -1000lb (spotters and j-hooks), 400lb (dip bar), chin up bar (400lb)
Pillar to pillar inside depth 25.5″
Gravity lock safety catches
Large number of attachments available including high/low pulley
Build Quality – Heavy-Duty Frame
Built from heavy-duty powder-coated 2 1/2″ steel tubing, this rack is going to be tough. Powertec's rack is quite heavy at 200lb, and this is exactly what you want.
The weight of an empty rack, in general, provides us with a big clue to the stability and overall ruggedness of the rack. Wide racks that are deep and tall with heavy frame gauges will weigh the most.
Cheap entry-level racks can weigh anything from 100-150lb.
Heavier racks(200lb+) help with the stability, especially important if the rack is not bolted to the floor.
Even though this rack weighs around 200lb, you still might get some movement 'tilting forward' when training outside of the rack, and if you don't want to bolt the thing down, it's always a good idea to get hold of some weight plate holders.
Plate holders are not only good for keeping your plates off of the floor and close to the bar on the rack, but when loaded with plates, excellent for adding some extra weight to the rack. Extra weight = extra stability; remember to load the plate holders evenly.
Plate holders are sold separately, but their cheap and worth getting.
Powertec Rack Demo Video – Showing All Optional Attachments
Dip Bars/Numbered Posts
400lb max weight capacity on the pull-up and chin-up bars should easily be enough for most weightlifters. There have been a few minor reports of a slight wobble when doing chin-ups but nothing serious enough to be off-putting.
It's also nice to see the hole spaces on the upright posts have been numbered.
Racks with hole spacing of 2″ or less have lots of holes, the good kind we need…and it really helps if these holes have been numbered, it lets you quickly adjust the safety rods and note down the number of the holes in a log if you have one, saves a ton of time counting the correct number of holes on each upright.
Hole Spacing
Hole spacing is something many lifters overlook when choosing their power rack, but it's more important than many people think.
Hole spacing is measured in the distance from the center of the two adjacent holes on the uprights. This distance between the holes is important because this distance can affect your reach, comfort level, and range of motion when setting up for exercises.
A few inches might not make a difference when setting up for a squat, but it can make a huge difference in pressing. This spacing can affect your ability to progress past training plateaus.
Generally, cheap entry-level racks have hole spacing of 3," or more, good racks 2″ and great racks use the Westside hole spacing scheme – 1-1.5″ spacing usually around the deadlift bench and clean and pull areas.
The Powertec workbench rack has 2″ spacing, which is fine for a home gym rack. It's industry standard and shouldn't affect your training negatively in any way.
If you are after the desirable 1″ spacing, you can always put a 1″ piece of plywood under your bench or 1″ rubber gym mat.
Note: The new version of this rack does have the Westside hole spacing scheme. Powertec are yet to release pictures of the rack or a video. It's exactly the same rack, just with Westside spacing.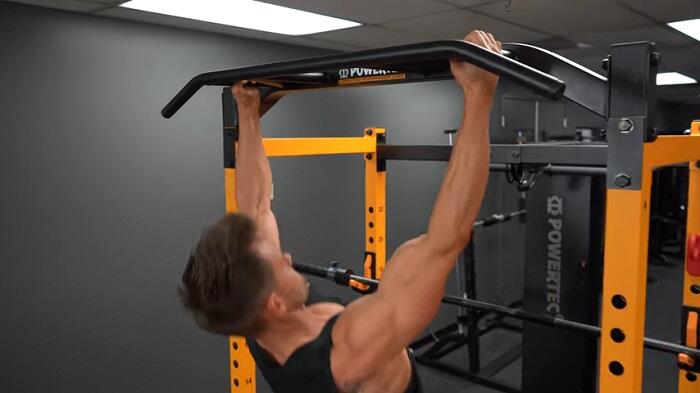 Powertec Dip Attachment & Multi-Grip Pull Bar Included
The Powertec rack is reasonably priced at $700 and includes both the dip and pull up attachments, I'm sure most of us will be perfectly happy with the rack as sold in standard form but there is a whole host of attachments you can buy for the rack, some more useful than others.
If you are happy to spend a few more $'s then you can turn this rack into a complete home gym with its multiple of extra accessories. Here are a few of the most useful attachments Powertec offer with this 1000lb capacity beast.
Weight plate storage horns – The storage horns fit the rack using Powertec's innovative gravity locking system, well worth a look if you want to save some space on your gym floor and easily accessible to the bar on the rack. Comes in a set of two. (when loaded add extra weight and stability to rack)
Step up plate attachment – The step up attachment allows you to perform exercises such as Glute-Ham Raises, Step-Up Plate Depth Romanian Deadlifts, Incline Sit-ups; a versatile attachment that you can adjust to different heights depending on your needs.
Rope strength ring attachments – Allow for strength bands and exercise ropes, you can attach and adjust at various height on the power rack uprights, also available are anchor attachments for strength bands, these can be attached to the base of the power rack.
Do I Need The Powertec Power Rack Lat Pulldown?
The folk at Powertec also offer you the option of a pulley type system with this rack. If you have the extra cash, it might be worth it, the reason being there are many exercises you can do with a pulley system that you can not do with free weights. But yes it is expensive, and no, it's not a necessity but…
A pulley weight training system provides you with constant resistance, unlike the variable resistance from free weight exercises; both are very important to your training. There are some constant resistant exercises we can't duplicate with free weights, tricep pushdowns, and lat raises, to name a couple.
So having a pulley system attached to the power rack does open up additional important exercises to you and adds a different type of resistance.
You save a lot of space by choosing a power rack that can take a pulley system as an attachment. It will save having to buy a separate pulley machine.
Even if you can't afford this option now, it's always a good idea to choose a power rack with this option. You can add it at a later date if you so choose.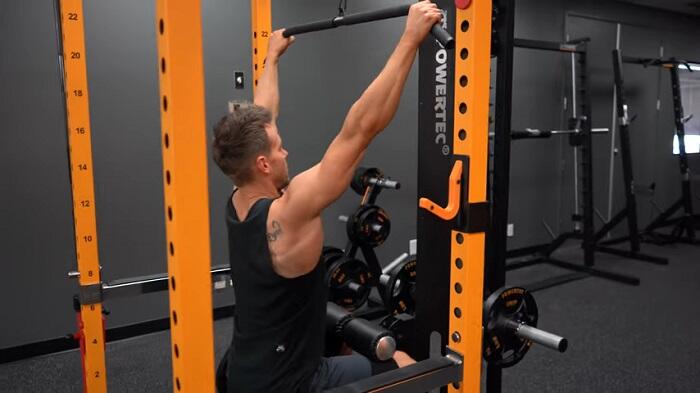 25.5″ Pillar To Pillar Inside Depth
Inside depth is something you should consider when buying a power rack. Powerlifters don't have to worry so much about inside depth because the bar travels in a straight line for exercises such as deadlifts, presses, and squats.
However, bodybuilders need more space for arc movements such as curls and extensions. If you're a bodybuilder, dont buy a rack with anything less than 24″ inside depth. The Powertec cage has a depth of 25.5″ while not impressive, it should be enough for all of your barbell exercises.
Who Is The Powertec WorkBench Rack For?
Because of its high max weight capacity, this rack will suit all types of weightlifter, from beginners right up to the lifters' extreme.
Although you will gain strength fast from barbell training, not many of you will need anything higher than a 1000lb capacity. There's enough capacity there to last a lifetime of strength increases.
This is not an entry-level power rack. It's a mid-range tough, stable rack suited for nearly all home gyms and maybe some light commercial use.
Warranty & Shipping
Fantastic to see a lifetime warranty with the frame; it shows Powertec has a lot of confidence in their product. Bear in mind the lifetime warranty does exclude the paint job.
2 yr warranty for parts, excluding spring pins and bearings.
One year coverage for grips pads and undefined parts.
Ships to 48 states excluding Hawaii, Alaska, and U.S. territories ( as stated by Amazon)
Shipped in pieces and will need assembly upon arrival.
Powertec Power Rack Assembly Video
Updated solid steel construction, capable of holding a max capacity of 1000lb
New improved safety features keep you safe whilst working out
Excellent variety of options to choose from to turn this rack into a complete workout station
Dip bars and multi-position pull up bar included
Lat attachment is expensive especially for a plate loaded system
To Sum Up
An excellent heavy-duty rack from Powertec, built to last with a lifetime frame warranty, the Powertec Power Rack will not disappoint even the most serious of weightlifters, great to see such a selection of useful attachments on offer, making this rack even more desirable for any home gym.
The only thing I didn't like about this rack is the price of the lat attachment around $700 for a plate loaded lat pulldown is expensive, yes it's a good one, but for $700, it's going to be out of a lot of peoples price range.
The one positive is, you don't have to buy the lat pull with the rack; you can save for it and buy it later.