We all want one of these fully enclosed beasts in our own home gym so we can lift heavy weights without the need for a spotter, racks keep us safe whilst we lift and let us lift those big weights for maximum gains.
The Powerline PPR200X is an excellent power rack to help weightlifters exercise without jeopardizing their safety.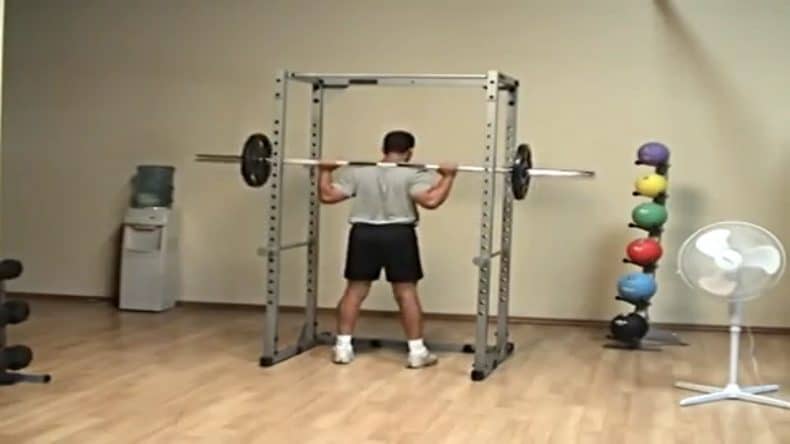 First off don't be fooled into thinking this a fantastic power rack, I'm reviewing this rack because it's one of the best racks at this price point. The PPR200X is a no-frills sturdy, entry-level power rack.
The Powerline power rack is a popular choice for weightlifters on a budget. It's a spacious rack with measurements of 42″x 82″x 46″ with a walk-in pillar to pillar depth of around 24″, you should have no problems with forward and backwards space for bar travel.
I'd always recommend you look for power racks with a depth of 24″ – 30″ That's the distance between the upright pillars. It's nice to have that extra bit of space between the upright pillars for curls etc.
18 adjustable levels for the safety bars
12 gauge steel frame construction
Measures 44 x 82 x 46 inches (W x H x D);
Build quality/Design
Built from 12 gauge steel instead of the preferred 11 gauge will inevitably mean this power rack is light, and it is at 136lb.
A lighter gauge normally leads to less stability and a lower weight capacity but this rack has been designed well, with a good outside depth and a 42″ standard width you should have no troubles with the rack leaning forward when you are training.
Cheaper racks usually have a narrow depth but surprisingly the PPR200X has just enough depth at 24″ to allow for all your bodybuilding needs, a greater depth lets us do curls and extensions within the rack. 30″  is the gold standard for home gyms but 24″ is sufficient and at this price it's great to see.
Most power racks have a closed top, this increases the stability of the rack and typically provides space for a chinning bar.
Open racks let you perform standing presses and overhead exercises. Because most bodybuilders ultimately want a rack that includes a chinning bar or the option to include one and in some instances a pulley system, open racks are defiantly not what we want, a closed design works best for our needs and the PPR200X is thankfully closed.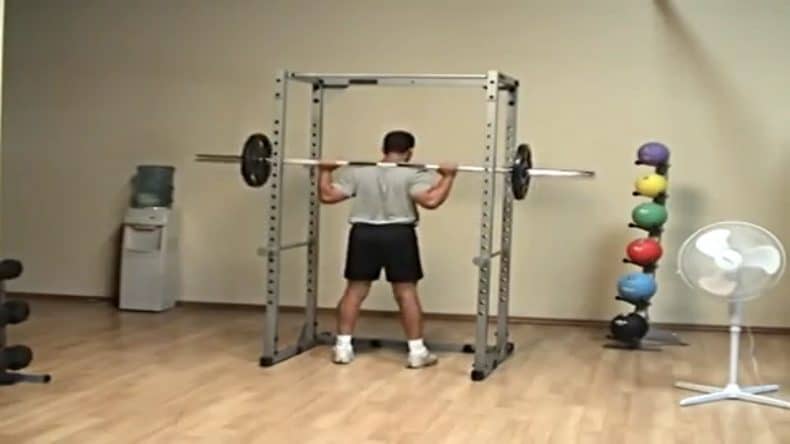 You would be surprised how strong you will get over time, so choosing a power rack that can handle over 500lb is very important. You don't want to have to buy another power rack in a couple of years time because you have outgrown the weight capacity.
The Powerline has a max weight of 600lb  on the spotter rods and should take it, it is on the lower end of the overall scale for weight capacity.
Although 600lb capacity is notably high for this price range and not many should outgrow this. If you're very serious about strength or bodybuilding you may want to look for a rack with a higher weight capacity.
The hole spacing is measured in the distance from the centre of the two adjacent holes on the upright pillars and this is where the Powerline rack suffers.
The PPR200X has 3″ spacing between the holes, 3″ spacing may not affect your squatting but they will make a difference when pressing.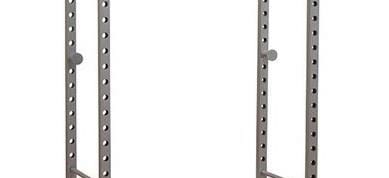 Hole spacing affects your reach, your range of motion and how comfy you feel when trying to press. Good racks don't exceed 2″ and great racks 1-1.5″ but 3″ is not a deal breaker this may not bother everyone.
I've trained on a few with 3″ spaces and I have to say I didn't notice too much,  you can put a one inch thick piece of plywood underneath if the spacing becomes too distracting to bench with.
The 3″ spacing is the only real problem I can see with this rack and for this to be the only problem for an entry lever rack at this price then that really isn't too bad.
24″ from pillar to pillar, leaves enough room for arc movements such as curling
Comes with a set of safety instructions that covers all of the details of safety precautions
large 3″ spacing between holes can affect your pressing workouts.
Would be nice to see a plate storage option
This rack is suitable for most weightlifters who are looking to progress to barbell training, the Powerline PPR200X will offer you the ability to train at home without a spotter, so no need to go to your gym for barbell pressing and heavy squats, you will now have the confidence to train safely on this stable well-built power rack.
600lb should be enough weight capacity to last just about anyone moving up from dumbbell pressing or squatting to rack work.
You can get some good heavy rack work done with the PPR200X and you will not be left disappointed by bad build quality, the rack has been highly rated by nearly everyone who has purchased it with an overall score of 4.5 out of 5 on Amazon. 
You can perform squats, pull-ups, incline presses, flat bench, shoulder shrugs and a variety of other exercises with your rack, making it a very versatile piece of home gym equipment.
To Sum Up
To a certain extent the Powerline PPR200X rack does exceed expectations, for a frill-free budget rack, it proves to be a study well-built design, a spacious walk-in rack with enough room to easily maneuver and workout. I was happy to see the 24″ distance between the pillars