You might have heard the power rack being referred to as a power cage, squat rack, or squat cage but don't be fooled into thinking racks like the TDS power rack are solely for squatting.
More than Just A Squat rack
The power rack can be used for a lot more than squatting, most power racks are purposely designed for bench pressing, shoulder presses, curls, and extensions, it's with the help of a rack we can lift heavy weights in a progressive manner.
Is The TDS Power Rack Right For You?
There are so many power racks on offer right now it can be particularly hard to choose between them, and if this is your first rack it can also be extremely confusing as what to look for from a rack?
In this review, we will cover everything you need to know about the TDS power rack, we will also compare the rack with the other top picks in this price range, hopefully helping you make the right decision about the correct rack for your home gym.
With a price tag this low you would think the TDS power rack was built with beginners in mind and maybe it was, but what sets this rack apart from other racks in this price bracket are the heavy duty specs:
11 gauge 2″x 2″ steel frame, 31 adjustment holes on the uprights, 2″ hole spacing and a whopping 1000lb weight capacity.
You would expect to find specs like this on racks costing twice as much.
The 11 gauge steel frame is a surprise, 2″ hole spacing on a budget-friendly rack is a surprise, couple them with the 1000lb capacity of this rack and you have a rack suitable for just about any level of lifter.
Rack dimensions 48.5″ x 48″ x 82.5″ H
Professionally Knurled 1 1/8″ Dia Front Chinning Bar
A first for Jays Home Gym, a power rack with an 11 gauge steel frame for under $300! I've reviewed a ton of power racks and I never thought I'd see a rack in the budget pricing bracket with an 11 gauge steel frame, heavy gauged steel should add that little bit of extra weight, which will help with stability and durability.
Having a heavier gauge will also give you some peace of mind that this thing will take heavy loads, rated at 1000lb on the spotter bars the TDS rack caters for just about every lifter's needs.
The TDS power rack comes as standard with two solid steel jay hooks and two steel safety bars, you can move them to any of the 31 hole positions, both the jay hooks and the spotter bars are rated at a 1000lb max capacity.
Nice to see this rack comes pre-drilled for a lat attachment and other important attachments like dip bars, I always recommend people buy a rack with at least the option to add a lat attachment, you may not want or cannot afford a lat attachment now but you might in the future.
Hole Spacing
Powerlines PPR200X power rack, Fitness Realities 810XLT rack and Rep Fitnesse's PR-1100 power rack all have 3″ hole spacing, they are all in the budget price bracket but actually still priced slightly higher than the TDS power rack.
The reason I mention these 3 racks is that they are the top 3 best selling, recommended power racks for beginners, and yes they are all very good racks but the TDS outshines them on quite a few important specifications.
The first being hole spacing, if you're new to power racks you might not realize just how important spacing can be, hole spacing can and will affect your reach, your level of comfort and range of motion when setting up exercises, especially pressing.
If you take your training seriously, what you need to look out for is at least 2″ spacing or less.
WestSide hole spacing is the gold standard which is 1-1.5″ spacing around the pressing area, sadly we're not going to find 1″ spacing in this price bracket but 2″ spacing is industry standard and we should be very happy to find this on a budget rack, so another big thumbs up to TDS.
Numbered Uprights
Great to see the uprights come pre-numbered with this rack.
Why are numbered holes a good idea? It saves time, you can quickly adjust the spotter bars and write the info in your training log.
As you change exercises it can become a pain in the butt constantly counting for the correct holes on each upright, numbered posts save a lot of hassle, if you buy a rack that doesn't come with prenumbered uprights simply write them in with permanent marker or paint.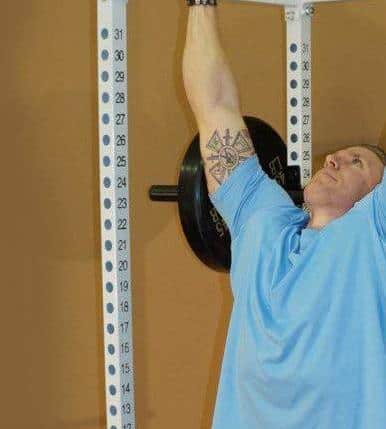 Pillar To Pillar Depth
Unlike powerlifters who need worry less about rack depth because their lifting involves the bar moving in a straight line i.e. squats, presses, deadlifts,…as bodybuilders, we need a little more space because of arc movements and extensions.
A minimum of 23″ inside depth is acceptable, the TDS power rack has 26″ so there's enough room for all of our needs. You are going to be spending a lot of time in there so it's crucial you have enough space.
If you are not going to buy this rack, always make sure you find out the depth of a rack before you buy, if the depth is not listed in the product description send the seller an email and ask.
A versatile 31 adjustment positions
Choice of attachments available 
26″ deep pillar to pillar gives you enough space for most exercises
Although made from 11 gauge steel this rack is still quite light, it would benefit from bolting to the floor, this will increase stability 10 x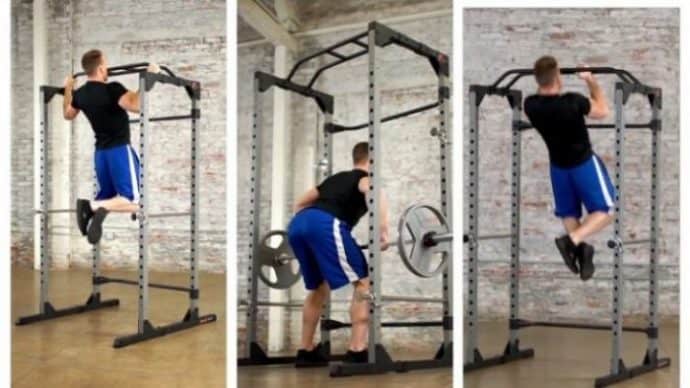 One of the most popular racks on the market right now, a keenly priced rack with enough weight capacity to attract a variety of lifters.
With 19 adjustment holes, this rack is the least versatile of the 3 racks, generally speaking, the more holes the better with any power rack, but the 3″ hole spacing on 810XLT  leaves little room for any more holes.
Similar to many of the budget racks the 810XLT has a distance of 23″ between the pillars, this is just enough depth for both bodybuilders and powerlifters needs. If you would like a closer look at this excellent affordable offering from Fitness Reality please check out our full review – Fitness Reality XLT power rack Review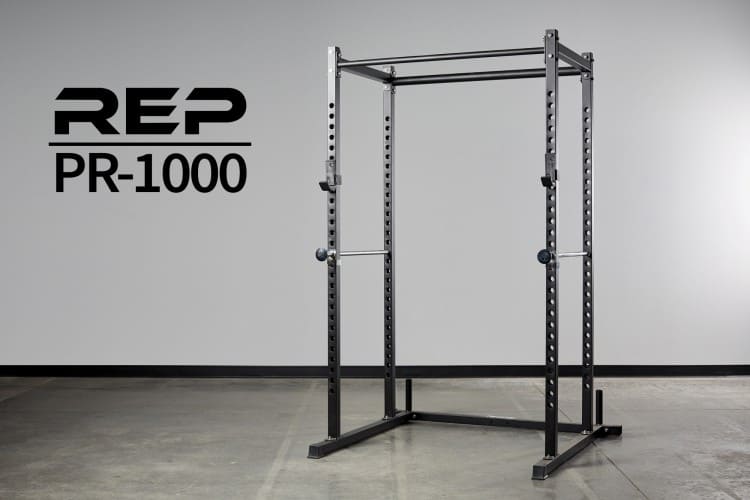 A little gem of a rack, which deserves to be in the top 2 affordably priced racks. All In all the PR-1000 is very similar to the TDS rack, both have 1000lb weight capacities, both have a large number of adjustment holes and both have the desired 2″ hole spacing.
The TDS  rack uses the heavier 11 gauge steel, the Rep rack, 14, this doesn't make a huge difference with either of these racks as both are rated at 1000lb max capacity and weigh a similar amount.
The TDS is the heavier of the two but not by much, the extra weight will give the TDS power rack a slight edge when it comes to stability.
 To Sum Up
The TDS is an impressive power rack at an affordable price, there isn't anything else out there that can match the TDS Power Rack for the money, a versatile 31 adjustment holes spaced 2″ apart should be enough to attract the serious lifters to this rack. If you are looking for a heavy-duty, high capacity power rack, the TDS power rack has it all for a very low price indeed