We don't have to spend a ton of dollars to find a decent power rack for our home gyms.
Surprisingly, you can get hold of a few heavy-duty racks that not only support up to 1000lb of weight on the spotter bars but also allow for useful attachments such as high/low pulley systems, dip bars, and plate holders.
Heavy-Duty Frames – 2″ Hole spacing
Today we're going to look at the 6 Best Power Racks Under 500. Our top choices include heavy gauged frames with enough inside space between the upright posts to accommodate arc movements and extensions, especially important for bodybuilders.
Our top picks also include frames with lots of holes, the good kind that are no further apart than 3″ so you should have no trouble setting up for presses, deadlifts, and squats.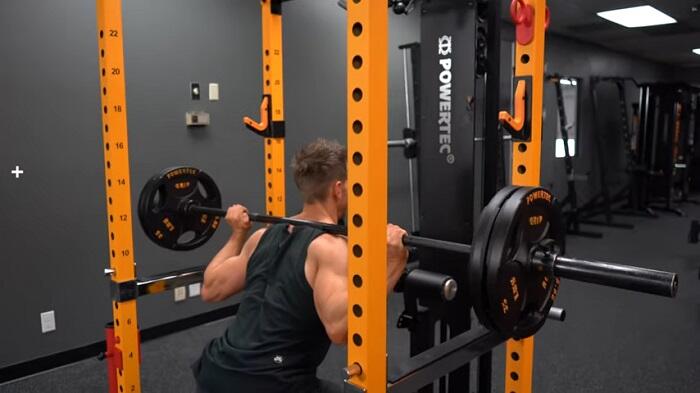 Power Rack Center Piece of Every Home Gym
A power rack is a fully enclosed beast that should be the center of any home gym. These things provide you with all you need for heavy barbell lifting at home.
If you want to lift heavy and safely in your home gym, there's no better piece of equipment than a power rack. And as we mentioned, there's no need to spend $1000's buying one.
Still, making sure you have enough room to house one is vital. You'll need an 8-foot ceiling height to accommodate any of the racks in this review and 9-foot ceilings (garage) if you want to perform pullups on your new rack.
Make sure you've measured out your space first before you buy!
For those of you in a rush, please take a quick look at our comparison table below, here. You'll see our top 3 racks under 500. If you have more time, scroll past to read the reviews.
Comparison Table Our Top 3
Our Choice
TDS Power Rack
Hole Spacing – 2″

Steel Gauge – 11

Weight Capacity – 1000lb

Piller to Piller – 26″

Rating – 4.7/5
Hole Spacing – 2″

Steel Gauge – 14

Weight Capacity – 700lb

Piller to Piller – 26″

Rating 4.5/5
Hole Spacing – 3″

Steel Gauge – 14

Weight Capacity – 800lb

Piller to Piller – 23″

Rating 4/5
Best Power Racks Under 500 Reviews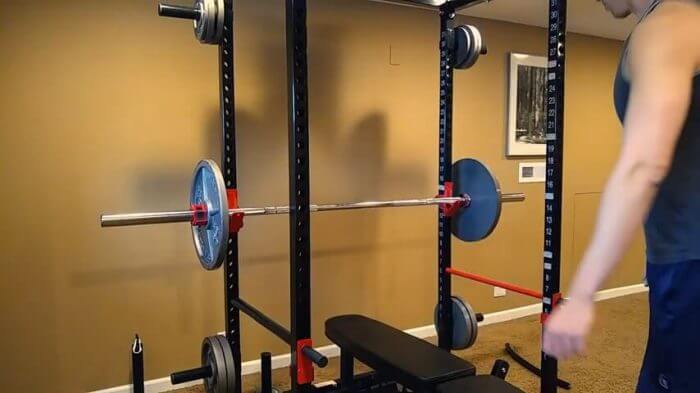 1. TDS Power Rack
The TDS power rack has become one of the most popular budget racks on the market, and it's easy to see why. This thing boasts an 11 gauge steel frame, the only rack around the $300 mark that has one.
The lower the gauge of steel, the thicker and more robust the frame, and that's exactly what we want from a power rack.
Most racks in this price range are built from 14 gauge steel which isn't necessarily a bad thing, but the light gauge steel can affect the rack's stability. If you can get hold of a power rack with an 11 gauge steel frame in this price bracket, you're doing very well.
Something else I love about this rack is the 2″ hole spacing. We want the hole spacing as close together as possible when setting up for exercises, as the spacing can affect your reach and level of comfort when performing certain exercises.
Wider hole spacing is ok for squats, but when it comes to pressing, hole spacing is extremely important.
Most racks under $500 are built with 3″ to 5″ hole spacing. 3″ isn't a deal-breaker, but if you can find a rack with 2″ or less for under $500 is excellent.
We won't find WestSide hole spacing 1″-1.5″ in this price bracket. WestSide hole spacing is usually reserved for commercial quality racks. Still 2″ is industry standard and great to find on a rack priced as low as the TDS.
And no need to number the holes on the TDS uprights either as they come pre-numbered. This will save you a lot of time when setting up for exercises. You can note down the numbers in your training logbook so you can quickly set up for presses etc.
When it comes to stability, even though this thing is built from 11 gauge steel, it will tend to tip forward, especially when training outside of the rack.
If you have some DIY skills, you can bolt it to the floor for a super solid rack. If not, you're going to have to buy some extra weight plate holders, as the ones supplied for the TDS are at the back of the rack and, when loaded, will get in the way of the bench.
Buying extra plate holders isn't going to be expensive. You can get a couple of plate horns from the Titan T2 accessories series that fit the TDS.
You can then load the plate horns evenly on each side. This will add some much-needed weight to the rack and give you a ton of extra stability to stop the rack from tilting forward when lifting outside of the rack.
And lastly, the inside space for this rack is impressive. We have 26″ from the pillar to killer. Only the REP PR1000 can match the TDS for inside space in this price range.
Inside space isn't so important for powerlifters as the bar moves in a straight line for deadlifts, squats, and presses, etc., but for us, bodybuilders inside space is important as we need more room for arc movements and extensions.
23″ inside depth is the minimum I'd recommend for a bodybuilder, so to see 26″ on a rack at this price is excellent.
Yes, overall, nothing can match the TDS on price. It's the only rack with an 11 gauge steel frame in the price bracket. Plus, it boasts an impressive inside pillar to pillar depth,  2″ hole spacing, and a whopping 1000lb max capacity.
Okay, the weight plate holders are a design floor on this rack, buts it's cheap and easy to rectify by getting hold of a couple of extra ones.
Note. This rack can be bought with or without a lat pull-down and comes in both black or white!
A versatile 31 adjustment positions
Choice of attachments available 
26″ deep pillar to pillar gives you enough space for most exercises
82″ height and 72″ inside height might be too short for a few users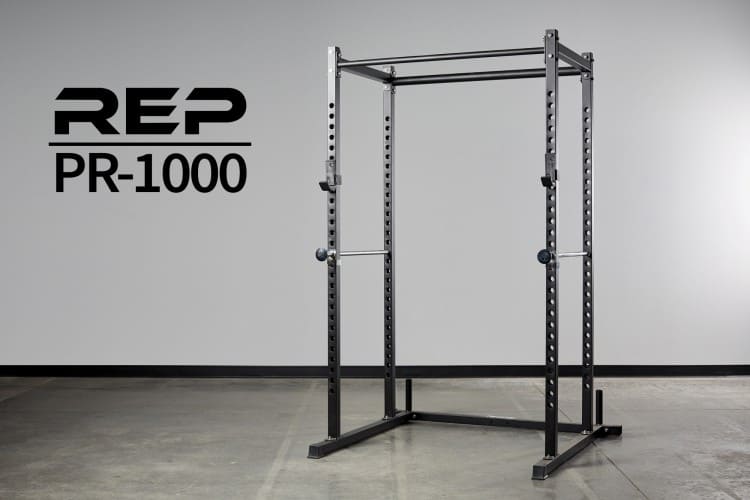 2. Rep Fitness PR-1000
It's a close call as to who takes the No.2 spot for the best budget-friendly rack, and for a long time, it would have been the excellent Fitness Reality 810XLT.
But it looks like Rep Fitness has taken it with the brilliant PR1000 power rack. At 84″ tall, Rep's rack should fit into most homes and basements. It's in-between a full-height rack and a short rack. It measures 79″ inside for height.
So what do we like about this rack? Well, what we like most is the hole spacing, remember this rack is in the $300 range, and it surprisingly has the 2″ hole spacing. I know it's not the WestSide spacing, but it's pretty damn good to see 2″ spacing on the uprights.
What's also really impressive about this rack is the depth between the pillars, Rep Fitness, just like TDS, has given you a substantial 26″ of depth between the pillars. (inside depth)
With a 26″ depth between both pillars, it's going to provide you with more than enough room for arc movements and extensions; it's rare to find a budget rack with more than 23″ for pillar depth, so big thumbs up here.
You have a 700lb weight capacity with this rack, again high for a budget rack, but Rep has an excellent reputation for quality home gym equipment, so you can be assured this rack will take it.
The PR1000 comes with a fat and skinny pull-up bar, one at the front one at the rear. The rack is supplied with two weight plate horns for storing your weights on the back of the rack.
There is also a lat pulley system available to buy separately and other important attachments such as dips bars. The 2″ hole spacing, impressive rack depth, and not forgetting the large 700lb capacity will make sure this rack appeals to beginners and the more seasoned lifter.
A well-made, versatile rack for any level of bodybuilder who's on a tight budget. 
Safety bars and j-hooks rated for 700 lbs
Comes with two weight plate horns – add stability to the rack
28 attachment positions for the catch bars and safety bars
High/Low pulley system and dips bars available 
Now with 2 pull up bars fat and skinny – 400lb weight capacity
Easy to assemble – 30 minute assembly time
26″ pillar to pillar inside depth
Separate lat attachment is quite expensive
Lowest max capacity of the top 3 budget racks, still 700lb should be enough for even seasoned lifters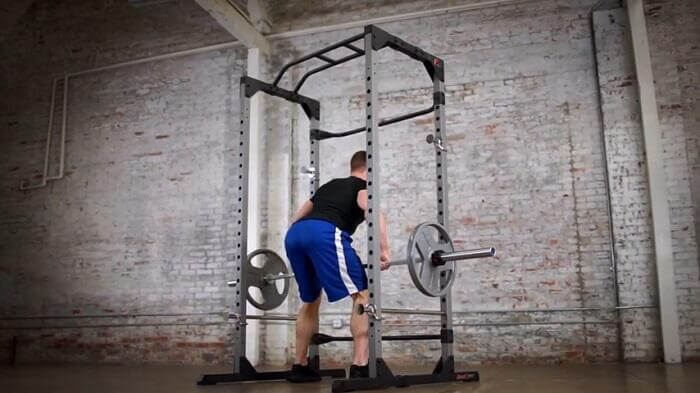 3. Fitness Reality 810XLT
Just pipped at the post by the Reps PR, the Fitness Reality rack is still a very useful choice for your home gym.
The rack weighs around 130lb and is built from 14 gauge steel tubing, it's not a super light rack at 130lb, and it's known to be very stable even when chinning, but with no predrilled holes for bolting this one to the floor, I think many of you might want to take to a little bit of DIY with this rack and bolt it down.
Thankfully it has the minimum bodybuilders need for depth, and that's 24″ between the pillars, so no need to worry about room for arc movements, etc.
The Fitness Reality rack is reasonably tall at 83.5″ ( 7 ft); you're going to need an 8-foot ceiling with this one. You have to remember you need to leave at least 10″ above the height of the pull-up bar for performing pull-ups comfortably.
Great to see a budget rack equipped with a multi-grip pull-up station, and this rack also allows for dip bars, weight storage horns, and lat pull, all available on Amazon.
A high weight capacity of  800lb makes this rack attractive to most lifters. I fear the 3″ hole spacing will put off the more serious lifters among you but overall a very well-made rack with some useful attachments on offer.
High quality for an entry-level rack
Numerous useful attachments aviliable
Have to purchace all attachments separately 
3″ spacing not great for pressing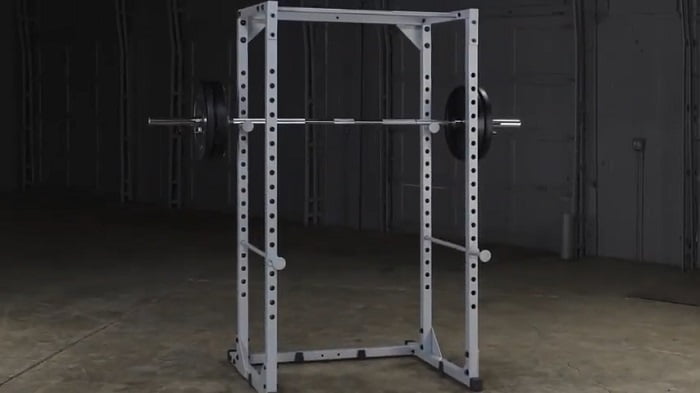 4. Body-Solid Powerline – PPR200
This is a very popular power rack for beginners and intermediate lifters, it's been around for a while and has always received a high rating for its durability and stability, and 3 yrs ago, this would have been in first place for budget-friendly.
But with racks like Rep's and the TDS hitting the market and costing $100 less and offering more, the Powerline can only make it to 4th position.
Just like the Fitness Reality rack, the PPR200 has the recommended minimum of 24″ depth between the pillars, which is the Body-Solid's first thumbs up.
The rack is built from 2″ x 2″ 12 gauge steel, so slightly heavier gauge than both the Rep and 810xlt, which is great to see. The weight of the heavier gauge will give you some extra stability.
Only the one pull-up bar with the PPR200 certainly not a deal-breaker, but it would have been nice to have seen a multi-grip bar, and the weight capacity of the Powerline is the lowest of the top 4 at 600lb, still more than enough for most. Even some serious lifters may avoid the PPR200 for this reason alone.
And lastly, 3″ hole spaces, again not a surprise in this price bracket, 3″ spaces won't affect your squatting, but when it comes to presses, the larger the spacing, the more awkward the reach and setting up of exercises becomes, we can live with 3″ spacing, but it's certainly not ideal.
Overall a very sturdy rack, but being the most expensive out of the top four budget-friendly racks and offering the least, I think either BodySolid needs to lower the price or update the design of this rack. It's still better than most of the budget racks out there, just not good enough to make it into the top 3 spots.
24″ from pillar to pillar, leaves enough room for arc movements such as curling
Comes with a set of safety instructions that covers all of the details of safety precautions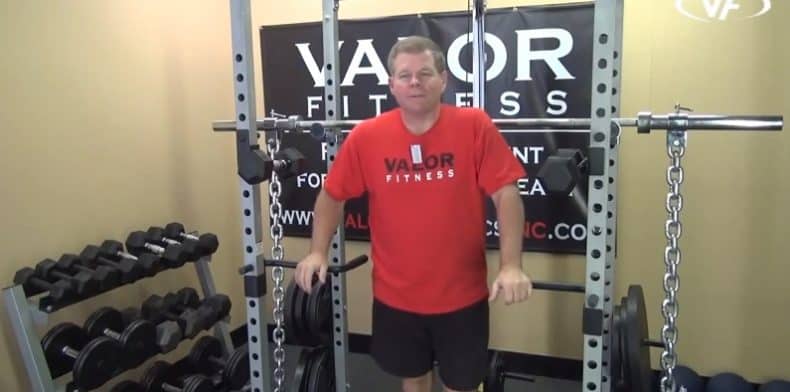 5. Valor Athletics BD-7
What's nice about the Valor rack is what it comes with, and it's a lot for the price tag, this is the only rack in our guide that comes with a lat pulley system as standard, so that's a $100 saved right there.
Also, the rack comes with 4 weight horns for storing your weights and 4 solid steel chromed adjustable weight bar supports. Ok, when a rack offers so much as standard for a reasonably low price you have to ask yourself have they cut on quality, and the answer is no!
You have an 800lb weight capacity, a rack made from 12″ gauge 2″ x 2″ tubing with a weight of 135lb. That puts it in the same league as the Fitness Reality and Powerline but here you get the lat pulldown and a few other extras thrown in all for around $500.
It's worth a closer look especially if you're looking for a rack which comes with a lat attachment as standard.
Hole spacing on this one is 3″ so again we may have some issues when pressing with this rack but as mentioned earlier 3″ is not a deal killer, it's borderline ok, but it might put some more seasoned lifters off by this.
Height and depth are ok too, with a pillar to pillar depth of 24″ and 80″ height inside the rack. A well-designed power rack that includes just about all you need to transition from dumbbell work to rack work that much easier. Great to see a pulley system included with the price.
Pull up bar included, with knurling for extra grip
Integrated pulley workstations
Includes 4 safety catches and 4 weight plate holders
The pulleys can be a bit stiff at first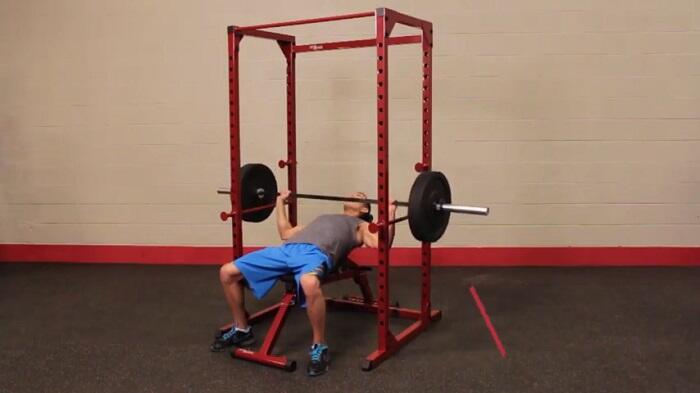 6. Best Fitness Power Rack BFPR100 (Body-Solid)
The BFPR100 is a no-frills power rack. There are no attachments on offer; what you see is what you get, and for a lot of lifters out there, a simple well built power rack is all they need.
Not everyone needs high weight capacities and tons of attachments. If you're after an entry-level well-built rack for presses and squats, the BFPR100 could be the perfect choice for your home gym.
Body-Solid owns Best Fitness. Body-Solid has a ton of experience building power racks. In fact, I think they've built more than any other company, and the BFPR100 is from their budget range.
It's built from 14 gauge 2″ x 2″ steel and has a max capacity of 500lb.
There really isn't a huge difference between the Powerline 200x and the Best Fitness Power rack. The only big difference is the lack of attachments, and if you're someone who loves the idea of dips and a lat pull, then the Best Fitness wouldn't be a good choice.
Still, this thing is even cheaper than the Body-Solid Powerline 200x, and if budgets really tight, you might find this simple yet well-built rack a good place to start with your barbell lifting.
Overall the Best Fitness BFPR100 is a decent entry-level rack built by a company that really knows what they are doing when it comes to power racks. The lack of attachments is a bit of a downer but not a deal stopper.
Great price for a home power rack
Powerder coated steel frame
Includes 2 adjustable lift offs and full length safety bars
Durable powder coat paint finish
83″ in height should fit into most basements and garages 
Important Features & Specs To Consider
Before buying a power rack there's a lot to take into consideration. We need to take a look at all of the variables when buying a rack, particularly the rack's footprint, just how much room will this thing take up.
The height, width and depth determine the power rack's frame size and more importantly what you can do in there.
Height
 You'd be surprised at how many people forget to measure out a space for their power rack before buying; this results in a lot of disappointment and sending back of equipment.
When I measure for gym gear like a power rack, I measure two places as you never know if you might have to move the rack to a different location in your home. You might have a 9ft high ceiling in a garage but only 8ft in your house.
Don't forget to allow for head clearance space over and above the rack for standing presses and chinning.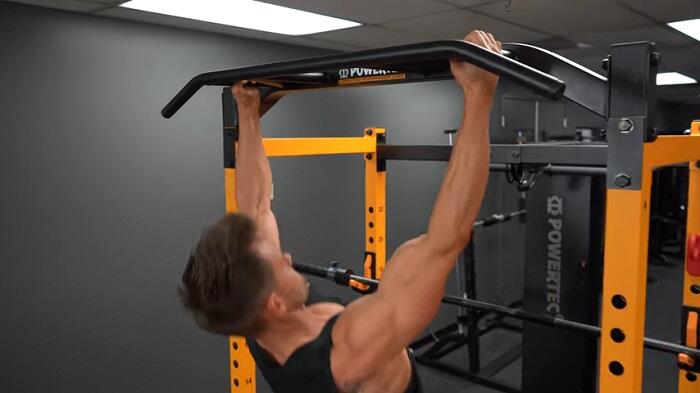 Depth
The depth of a rack determines how much forward and backward space you have for bar travel. Powerlifters need to worry less about rack depth because their training involves the bar travelling in a straight line for deadlifts, squats, and presses.
For bodybuilders bar depth is crucial as our exercises involve arc movements such as extensions and curls, when choosing your rack make sure the depth is a minimum of 23″ the gold standard being 30″+ but if you're buying budget at least look for 23″, you'll be spending a lot of time inside that thing so make sure you have enough space.
Remember this is the depth inside of the rack, not outside depth (pillar to pillar depth) if you are interested in a rack and it doesn't state the inside depth, send the manufacturer an email and ask.
Width
Most racks are standard width because of the Olympic bar length, the racks have to be able to accommodate the 7ft length of the Olympic bar.
Capacity
Ideally, we're looking for 800lb+ on the safety bars, and thankfully even some of the budget-friendly racks in this review surpass this which is great, having a higher weight capacity allows room for you to grow, you will be surprised how much your strength will improve over time.
Weight/Frame Gauge
Heavy duty commercial standard or industry standard for a power rack is 2″x3″ 11 gauge steel, it's highly desirable to have this gauge for your home gym rack and with heavy gauges come stability because of the increased weight of the steel. If you can afford it look for 11 gauge 2″x3″. Good racks weigh 200lb +.
When we look at the weight of a rack especially budget racks, we hope not to see anything under 130lb this is high enough to give a good amount of stability to the rack, I suggest if you're buying a budget-friendly rack to make sure you can bolt it to the ground for extra stability.
Hole Spacing
It's amazing how many people forget about the importance of hole spacing when buying a rack for home use. Hole spacing is measured from the centre of the two adjacent holes on the uprights and it's this distance that can affect your level of comfort reach and range of motion.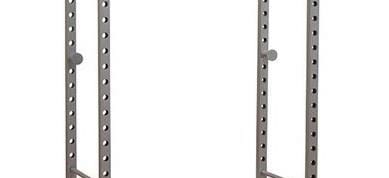 3″ spacing is only just acceptable although there are many racks out there with 4″ or 5″ but they are pretty useless for pressing, ideally we want 2″ spacing, that's pretty good for a home rack, the gold standard being the WestSide barbell  spacing scheme which is spacing of 1-1.5″ which you will find on top end home gym racks and commercial racks.
The closer the holes the better quality the rack and yes normally they come with a higher price tag.
Lat Pulley
Even if you don't want a lat pulley right now, you might do in the future so I recommend buying a rack with a pulley system or at least gives you the option to buy one as an attachment later on.
Lat pulleys are unique in that they offer something free weights can't and that's the opportunity to perform constant resistance exercises like tri-cep push downs and side lateral raises. The weight plate loaded type are normally around 100-150$ as an attachment for your power rack.
This is a much better option than having to buy a pulley separately to the rack, it takes up a heck of a lot less space having one incorporated into the back of a rack than it does a separate machine, great if you're training in tight quarters.
Numbered Holes
If you are lucky the nice people who made your rack might have numbered the holes, it certainly helps when they come prenumbered it makes adjusting the safety bars that much faster.
it's a pain having to constantly count the holes everytime you change the safety bars for each exercise, but don't fear if your rack doesn't come prenumbered you can always use a permanent marker or some paint to write the numbers on yourself.
Dip Handles
Nearly all the racks either offer dip handles as an attachment or they come as standard with the rack.
This is one of the most important attachments you can buy for your power rack, many people call dips the squats for the upper body, a great exercise for lower pec, shoulder, and tri-cep development. Look out for:
Dip handle should be spaced 22″ apart and have an outward angle to allow you to adjust your grip width by moving closer or farther apart from the ends of the handles.
 Look for handles wider than your bar diameter, larger diameters are great for grip and tricep work but you can always add the rubberized handle for wider diameter for certain exercises, just make sure the actual diameter of the dip bars isn't larger than your barbell diameter.
Plate Storage
Weight plate horns are one of the cheaper attachments to buy, if your rack doesn't already come with weight plate horns as standard to store your weight plates, it's a good idea to get hold of a few, they also help to keep the rack stable if you load them with plates either side of the rack.
You want to save as much space as you can in your home gym and plate storage allows you to keep the weights out of the way off the floor and easily accessible to the bar on the rack.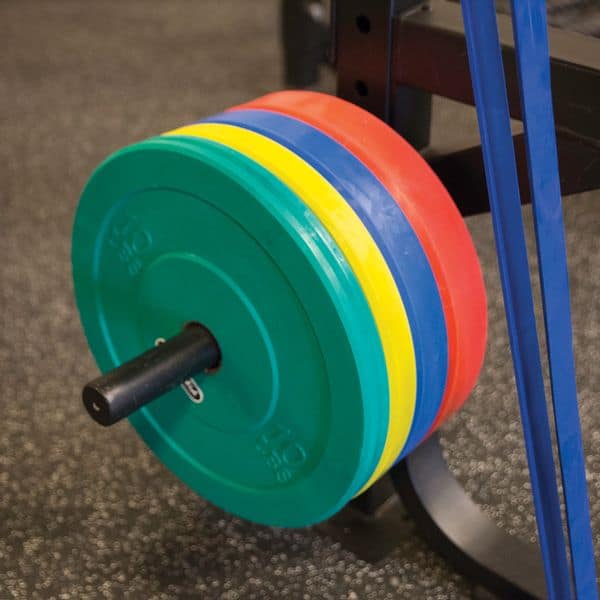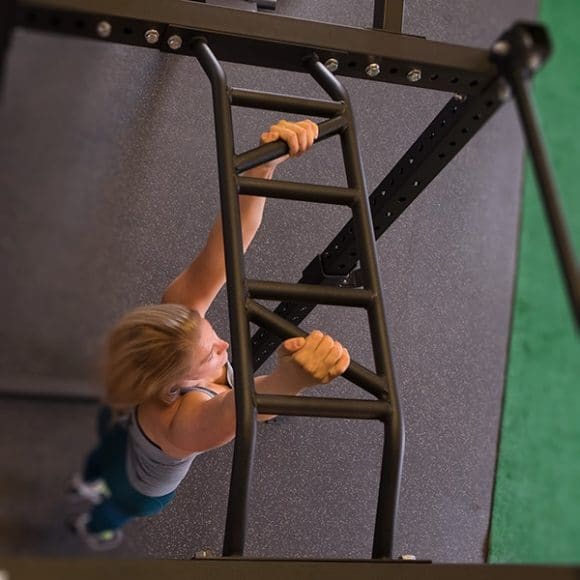 Conclusion
The TDS Power Rack really does surpass everything in its field; you have a rack made from 11 gauge 2″x2″ steel with the desirable 2″ hole scheme for $300, which's almost half the price of similar spec racks.
The TDS rack with its 1000lb capacity will appeal to beginners and serious weight trainers. This rack offers everything you could want from a power rack at a very affordable price, including the option of a high/low pulley system.
Although the Rep PR-1000 lacks the 11 gauge steel frame, it's still an excellent power rack for around $300, 2″ hole spacing, 26″ depth, and 700lb capacity. This rack will surely make any lifter happy. A versatile, high capacity, high-quality rack at a great price. We're very impressed with both racks from Rep, including their PR1100.
Let's not count out the Fitness Reality 810XLT, ok it doesn't have the 2″ hole spacing, but it's built very well and has some of the best ratings I've seen for any rack. Whichever rack you choose, I hope our guide has gone some way in helping you with your choice.