The Sunny Health SF-B1001 Indoor Cycling Bike is an entry-level exercise bike. We can't expect gym-quality when paying around 200 bucks for an indoor bike. Still, just because this bike is in the entry-level range, it doesn't mean you won't be able to get a challenging workout out from it.
No Frills – Affordable – Well Built – Indoor Cycle
The Sunny is a no-frills indoor bike, and the reason we're paying a lot less for it is that it doesn't include a high-end monitor with features such as Bluetooth, HD screens, and a heart rate chest strap.
What we have with the Sunny is a well-built, chain-driven indoor cycle that should last years of use when maintained well.
This bike will help you burn a ton of calories, strengthen and tone your upper and lower body muscles, all at a price most can afford.
I've reviewed a lot of cardio gear from Sunny, and these guys are the kings of affordable cardio machines.
They never fail to impress, and when the budgets tight and you want to reap the benefits of cardio workouts at home, Sunny Health and Fitness should be the first company you consider when looking for the right indoor bike for your home.
In this review we'll take a close look at all the pros and cons of Sunny's impressive entry level indoor cycle, but before we do, let's take a quick look at the product specs!
Product dimensions –   43L x 18W x 44.75H inches
Adjustable handles and seat – can only be adjusted vertically
Resistance type – Friction cotton pad
Heavy duty crank –  steel frame
Why Do We Like The Sunny SF-B1001 Indoor Cycle?
What you have to love about this bike is the price. This thing is cheap, yet surprisingly it boasts a good weight for an entry-level indoor bike.
At 85lb, the Sunny SF-B1001 is going to feel reassuringly stable when in use, and that's exactly what you want from an exercise bike. The last thing you need is any side movement and wobble, especially when standing while cycling. The extra weight is also a telling sign they make this machine from quality materials.
A good tip if you have polished floors is to buy a rubber gym mat for the bike. Not only does the mat help keep things even more stable, but it will also protect your floors.
Still, not everyone will love the Sunny Health SF-B1001; why? Because it's basically just an exercise bike, that's it! No frills at all, not even a monitor, and with a light flywheel, chain drive system, and friction resistance, it's probably not going to appeal to serious cyclists or athletes.
The Sunny is a superb choice for beginners, people who want to burn off a few calories, get rid of some unwanted belly fat, and increase their cardio fitness. It's a solid, affordable option and an excellent first choice to get you started in the world of indoor cycling.
Chain Drive System – M
aintenance

?

There are two popular drive systems for indoor bikes: one is chain the other is belt. We normally find belt drives on more expensive options as they cost extra to manufacture, plus they are the 'new thing' to the spin bike world, so at the moment are more expensive,

The main difference between the two drive systems is the maintenance; heck, it's not much for a chain drive system, just some lubrication for the chain. If you're using the bike regularly, 3 times a week or more, I'd recommend lubricating the chain once a month. It's similar to owning an outdoor bike.

Chains will be slightly louder than a belt drive system, but nothing noticeable enough to put you off Netflix or your music.

The good thing is even though chain systems are cheaper, a chain-driven indoor bike will give just a good a workout as a belt-driven bike, hardly any effort to maintain, and you're saving yourself a few bucks too.
Friction Resistance
On nearly all entry level indoor bikes, we'll find friction resistance.
Friction resistance involves a cotton pad that presses against the flywheel of the bike to create the resistance. You can change the resistance by turning the tension knob. The more you turn the knob, the harder the pad presses against the flywheel and harder you have to pedal.
You choose from an easy resistance setting for light sessions right though to heavy resistance for a calorie busting workout. Whatever your fitness level, you should be able to find the right strength of resistance for your needs.
Again just like the drive systems there are two types of resistance for a spin bike, friction and magnetic.
The difference? Magnetic resistance will be slightly quieter as the magnets do not touch the bikes flywheel, and as they never touch, magnetic resistance will always be more durable as there's no wear and tear.
However, magnetic resistance is typically found on more expensive spin bikes and if you don't want to spend $400+ on an indoor bike, friction is the only option.
No need to worry though, friction resistance is fairly quiet as it creates a very soft 'whooshing' noise which is by no means loud, and will not disturb others around you or yourself.
After months of use you may have to change the friction pad, which is cheap and easy to do, a few screws.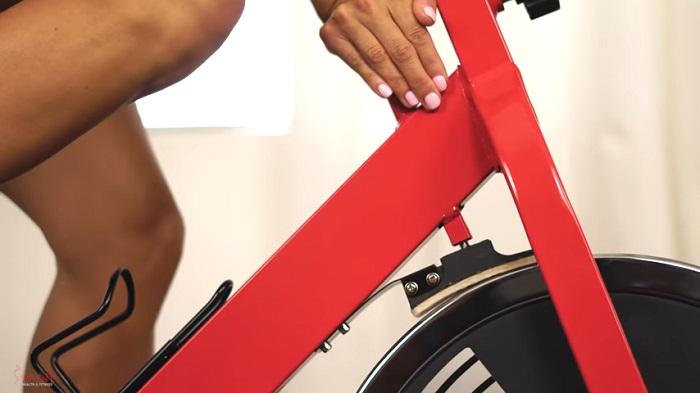 No Control Console (monitor) Could Be An Issue?
This is probably the only real drawback with the Sunny SF-B1001: the bike doesn't ship with a monitor.
The lack of a monitor may be an issue for some, especially those who take their training seriously, and like to train in their chosen heart rate zone, etc., or download their workouts to apps.
The thing is, with Sunny, they could've spent half of the manufacturing cost on the monitor, but then you would've ended up with a sub-standard bike like so many of the entry-level indoor bikes.
Instead, Sunny concentrated on the important stuff like frame, crank, and flywheel, which is the right thing to do. Even though this bike is basic, it is well built and will be durable. Many users have praised the excellent build quality for the price point.
The lack of a monitor may be an issue for some. Still, most people are fine with simply timing how long their workouts are, and for that, all you need is a stopped clock.
At least you have a well-built bike from a company that has spent decades specializing in affordable cardio equipment. They know what they are doing, and they do it well.
Seat & Handlebars
And lastly, the seat and handles bars. Both the seat and handlebars are vertically adjustable, with a max user height of around 6′ 2″. Still, if this is your first indoor bike, you may find the seat uncomfortable.
Most people get used to the seat after a few weeks. If it's something that continues to affect your workouts negatively, I recommend you get hold of a seat cushion. They're cheap to buy, easy to fit, and can make a world of difference when it comes to comfort and cycling.
Easy to assemble – most of the bike comes pre-assembled
Adjustable seat handle bar – suit most heights
Quiet in motion – can watch TV, listen to music while cycling
Built by a company with a lot of experience in affordable cardio gear
Great price for a high quality bike
No monitor to track workout stats
No accessories other than a water bottle
To Sum Up
For the price, you won't find much better. The Sunny SF-B1001 is surprisingly good for an entry-level bike; people who have owned the bike for years still rate it 5/5 for price and build quality.
It's always impressive when a product stands the test of time. It means you can buy with confidence, knowing that although affordably priced, the Sunny Health is durable and should last years of use.
Yes, there's a little bit of maintenance involved, such as lubricating the chain and the odd friction pad change, but nothing too difficult that even the DIY shy should be afraid of. If you can live without a monitor, the Sunny Health & Fitness SF-B1001 will be a worthwhile purchase for your home gym.