Let's be honest, Maxkare are not a well-known company, but they have been around for some time; they build a few excellent low-cost ellipticals and treadmills and recently have started to break their way inot the spin bike market.
And it's a good thing they have because they are one of the only companies that can offer a magnetic spin bike under $400 bucks. And thankfully it, not a cheaply made one either, as it boasts a heavy-duty powder coated steel frame, 30lb flywheel, and an impressive belt drive system.
If you're looking to burn some belly fat and increase your cardio fitness, the MaxKare Spin Bike is one of the top choices available for anyone whos on a budget. It's a great first bike to introduce you to the world of indoor cycling. Yes, it's a long way off commercial grade. Still, for the price point, you won't find it much better.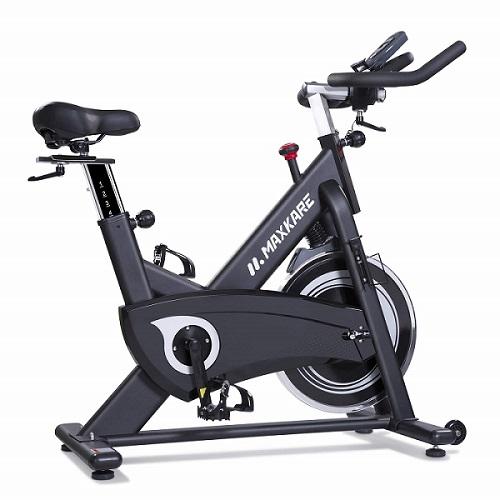 Product dimensions – Height: 45.4″  Width: 21″ Length: 42.3″
4-way adjustable handlebars and 4-way adjustable seat
Resistance type – magnetic
Why Do We Like The MaxKare Magnetic Spin Bike?
Nearly all spin bikes in this price range come equipped with a friction pad to create resistance. How does friction work? You turn the tension dial, which pushes the friction pad onto the bike's flywheel; this then creates the resistance you feel in the pedals.
There's nothing wrong with friction resistance; it does the job well, and if you dont have the money to go magnetic? Friction spin bikes are still worth some serious consideration. The only issue here is when the pad makes contact with the wheel, the friction will create noise.
The MaxKare indoor spin bike, instead of a friction pad, uses magnets to create resistance, and what's great about this is there is no contact with the flywheel.
No flywheel contact of magnetic resistance leaves us with a much quieter ride, almost silent, plus another benefit of magnetic resistance is the fact it's maintenance-free. The magnets never get to touch the flywheel. On the other hand, with friction resistance, the pads will wear and will need changing regularly.
If you want a maintenance-free resistance system, one that's quiet and won't disturb you watching TV or others around you? Magnetic resistance is the best choice!
I know many people will be wondering how many resistance levels? On lower-priced bikes like the MaxKare, we dont see numbered levels of resistance. It's a shame but not a deal killer as the resistance levels are unlimited. You can turn the tension knob until you find a resistance strength that suits your needs.
Remember, this isn't a bike meant for serious cyclists or athletes. It's aimed at the beginner and intermediate market, and this will be reflected in the tp strength of the resistance felt on the MaxKare.
Heck, no need to worry; there's easily enough strength in resistance for intense calorie-burning workouts and the more demanding standing hill climbs. You won't have any trouble finding a resistance strength to suit your fitness needs from light to strong.
30lb Flywheel For Smooth Non-Jerky Motion And Increased Momentum
One of the most important things you should look out for when buying a spin bike is the bike's flywheel weight. Budget indoor bikes typically have flywheel weights between 18-25lb.
When we start to spend a little more money, we find a spin bike with heavier flywheels, and thats what we want. A heavy flywheel ensures safe movement by producing more power at a steady rate it also provides you with a smoother non-jerky motion.
30lb is a mid weight flywheel and its adecent weight for the price of the bike. The combination of both resistance and increased momentum caused by the heavier flywheel will feel much more realistic than a bike with a light flywheel especially when standing and cycling.
Built To Suit Most Body Sizes – 4 Way Seat & Handle Bars
It is great to see a bike in the under $400 with handlebars that can be adjusted vertically and horizontally. One of the main complaints of spin bikes in the price range is that you can not move the handlebars horizontally—a game-changer for some users.
And we also have a seat that can be adjusted both vertically and horizontally is impressive.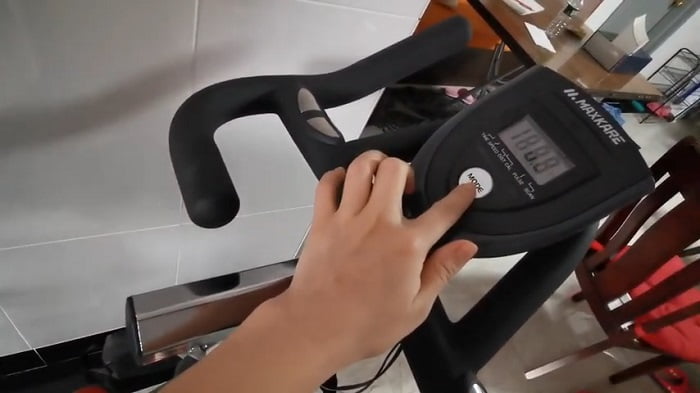 Basic – Easy To Use Monitor
Don't be shocked to find such a basic monitor on the MaxKare Spin Bike. It's normal to see a simple monitor on entry-level spin bikes.
Sometimes it's a good thing to own a bike with a basic monitor as over-complicated monitors can be difficult to set up and use, and many people never use half the features anyway.
You save a lot of money buying a bike with a basic monitor yes, there no HD screen or fitness apps, but this bike does come with a tablet holder.
You can use your own table to access cycling apps such as Peloton and Swift for more exciting rides. Long cycling session can get boring, so I recommend trying to find a cycling app to keep you interested and coming back for more they're also great for pushing your harder and helping you reach your fitness goals more quickly. (Lots of Free YouTube Workouts)
The MaxKare monitor does track all your usual workout data such as distance, time, calories burned, speed, RPM, and pulse. The pulse sensors are built into the handlebars.
Low Maintenance Belt Drive System
One of the biggest appeals of the MaxKare bike is that you dont have to do much to keep this thing working well. There really is very little maintenance.
The resistance system is maintenance-free and so too is the other important system we find on indoor bikes, the drive system.
There are two types of drive systems; one is chain; this involves a chain that goes over a sprocket, spinning the flywheel. Chain drive systems take some maintenance to keep them working well, such as regular lubrication and tightening, as the chain tends to fall off the sprocket from time to time. They're also louder when in motion.
Belt drive systems provide a smooth motion, are maintenance-free, and whisper-quiet. It's the preferred choice of many, and I'm happy to see it featured on an affordable indoor bike.
The Majority of The Bike Comes Pre-Assembled – 30 Mins Assembly Time
Many of the uses of the MaxKare Magnetic Spin Bike are praising how easy it was to put together with assembly times of no more than 30 mins. This is mainly due to most of the bike coming pre-assembled. Still, it will arrive in a large heavy box and I recommend two people to unpack the bike.
Clear instructions and tools for the job are provided.
30lb flywheel for smooth consistant momentum
Belt Drive – Maintenance free – low noise
Heavy-duty 90lb frame – heavy enough to aid stability
Easy to assemble, under 30 minutes
4-way adjustable saddle and handlebars – allows users of most height to fit properly on the bike
Integrated transport wheels for easy movement
Tablet  & water bottle holders
To Sum Up
If you are looking for a spin bike and you havent got a ton of cash to spend, but you want a lot for your money, the Maxkare really is unbeatable for under $400.
I was surprised to see this bike boasts both a magnetic resistance system and a belt drive system. Both of these features will ensure an almost silent cycling experience, which makes the MaxKare bike great for apartments and people who dont want to disturb others around them with the sound of their workout sessions.
The MaxKare Indoor cycle isn't suitable for experienced cyclists. The resistance just won't be strong enough. You need to spend a couple of hundred more if you're looking for a pro bike.
Still, for most of us who want to burn calories, increase our cardio fitness, and strengthen our lower body muscles, the Maxkare will prove to be a worthwhile choice. It's an excellent low-cost, high-quality spin bike.