There aren't many indoor bikes in this price bracket that are worth any serious consideration. Most are poorly built with light flywheels and frames.
Thankfully the Exerpeutic LX7 Training Cycle bucks this trend somewhat with a surprisingly heavy flywheel at 40lb and an overall bike weight of 90lb, which is heavy for a budget exercise bike.
Weight is a good thing. It's a telling sign this spin bike is made from quality materials; it's also excellent for stability. The extra weight of the bike plus your weight will make sure this bike feels stable when in use.
Strong Variable Resistnace
The Exereutic LX7 also boasts multi-grip handlebars, strong variable resistance, and a decent monitor for the price point, including pulse monitoring.
But let's not get too carried away yes, this bike boasts some impressive features for the price, but there are also a few drawbacks which I'll cover later in the review.
First, let's take a quick look at the product specs, and then we'll get on with the rest of the review.
Product dimensions –  44.09 x 32.28 x 9.06 inches
2-way adjustable handlebars and  4-way adjustable seat
Max user height – 6'2″ min height 5'2″
Resistance type – friction
Integrated transport wheels
Why Do We Like The Exerpeutic LX7 Training Cycle?
Over the past few years, I've reviewed a lot of Exerpeutic fitness gear, and the one thing that stands out about these guys is they offer quality fitness equipment at affordable prices.
And the Exerputic LX7 is no exception ok, it's a no-frills bike which we'd expect in this price bracket but they havent held back on important features such as a heavy-duty frame and flywheel.
We want stability when we cycle. It's one of the most important things to look out for when choosing an indoor bike, and that stable/solid feel we look for comes from weight.
The bike's weight is a good clue whether it's going to feel stable when cycling; the heavier, the better.
You want this thing to feel like it's planted to the floor, especially when standing and cycling, and the 90lb weight of the bike will contribute in a big way to the overall stability of the cycle.
Also, to aid stability, we have 4 adjustable levelers—one on each corner of the stabilizing bars.
Adjustable levelers are a handy feature that can be independently adjusted to keep the bike level on uneven floors.
Stability issues plague budget indoor bikes, and it's mostly down to their light builds—the majority weighing around 60lb. The Exerpeutic weighs 90lb which is a nice surprise and includes the levelers and wide stabilizers. When it comes to stability, the Exerpeutic should have fewer stability issues than most in this price bracket.
Tip: If you are going to keep the bike on hard/polished floors, I'd still recommend buying a cheap rubber gym mat. This will eliminate any lateral movement from the bike when you're cycling.
Chain Belt Drive System –  Noisey?
We already know this bike shines when it comes to its frame and flywheel, but what about an indoor cycle's other important features? The drive system of the bike is something else you need to consider.
There are two main drive systems for spin bikes: the chain drive and belt drive.
The Exerpeutic comes with a chain drive system, and to be honest, it's not a surprise in this price bracket as nearly all budget indoor bikes are fitted with a chain drive system.
Is a chain drive system a bad thing? Not for some people, as many indoor cyclists love their indoor bikes to mimic their outdoor bike's feel as much as possible.
The only problem with chain drive systems is that they make more noise than a belt drive.
The chain has to roll over the sprocket, which makes a noise and isn't ideal for indoor exercsing, especially if you live with others and you don't want to disturb them with the sound of your workout.
However, the noise of the chain isn't so loud that it should be a deal-breaker. It's just something you should be aware of before you buy.
Like regular outdoor bikes, chain drive systems require some maintenance, nothing much; just lubricate once a week if you plan on using the bike often.
Most importantly, the feel and function of a chain drive are no different from a belt-drive, so dont think you're missing out on anything because your bike has a chain drive system. If anything, the feel of a chain drive system is more natural than a belt drive which is a positive.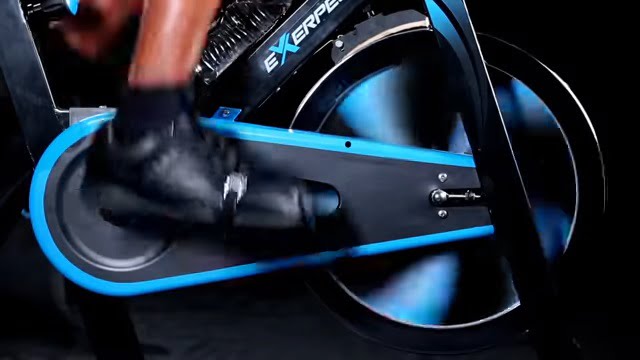 Variable Resistance – Friction Pad
Some people worry that a friction resistance bike will be hard to operate, but it really isn't.
Friction resistance is super easy to use. All you have to do is turn the tension knob that controls the friction pad above the flywheel. The more you turn the knob, the harder the pad presses against the flywheel, and the stronger the resistance you will feel in the pedals.
The good thing about this bike is that the resistance is variable, which basically means there are unlimited resistance levels.
You should, in theory, easily find a resistance strength to suit your fitness levels. This bike won't have any issues coping with intense calorie-burning workouts. Plus, we have a 40lb flywheel?
The flywheel doesn't really affect resistance strength, but the weight will help creat extra momentum, which is perfect if you are looking for a spin bike for long spinning sessions.
The 40lb flywheel of the Exerpeutic  LX7 Training Cycle is impressive for the price point because not only does a heavy flywheel provide extra momentum, it also provides a smooth un-jerky cycling motion, and that's exactly what you want from an indoor cycle.
The downside of owning a friction resistance bike is maintenance. Still, it's minimal; all you'll need to do is replace the friction pad every six months or so when it wears easy to do and cheap to replace.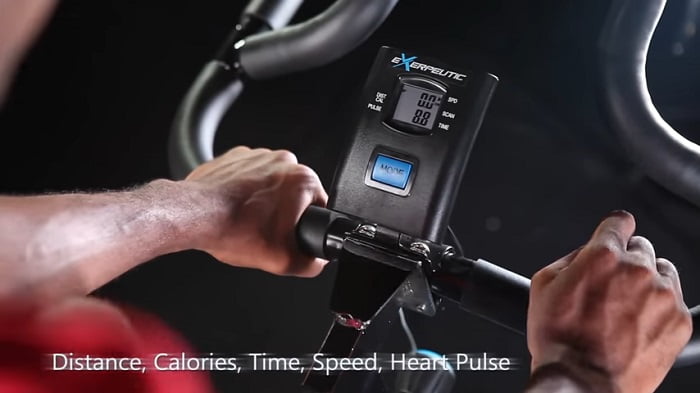 Monitor – Easy To Use
I was happy even to see a monitor featured on the Exerpeutic, considering its price. So many budget spin bikes dont bother to include a monitor, which is a shame as it's always nice to know at the very least the basic workout stats such as time and distance etc.
The Exerpeutic boasts a decent monitor which tracks time, distance, speed, calories burned and includes handlebars pulse sensors useful if you want to stay in your target heart rate zone.
All your stats can be read from the built-in LCD.
It is a basic but easy to t use monitor and certainly one of the best monitors I have come across in the budget range.
The only slight gripe I have is that there's no tablet/phone holder, disappointing if you were hoping to use various fitness apps with your bike. Still, a tablet holder only costs around $15 and be easily fixed to the handlebars.
Uncomfy Seat?
I've read a few complaints of the seat being uncomfortable on the Exerpeutic LX7 Training Cycle. This could be an unusually uncomfortable seat, or it often can be beginners who are not used to cycling.
For the first few weeks, the seat can be very uncomfortable for beginners. Still, before you run out and buy a seat cushion, I'd recommend at least to give the seat 10-15 sessions before you consider either replacing or buying a cushion.
A quick note on the pedals – suitable for normal gym shoes/trainers/sneakers – They are not SPD compatible.
Assembly – Under An Hour
While most people got this bike together in under an hour, the box will be large and heavy, so it may need two of you to move the box and unpack it. Tools and clear instructions are provided.
Heavy Duty Frame – Stable
Large 300lb weight capacity
High info monitor for price range
Heavy 40lb flywheel – ensure smooth natural cycling motion
4-way adjustable seat and 2 way adjustable handlebars – suits height range of 5'2″ – 6'2″
4 adjustable levelers – help keep bike level on uneven floors
Transport wheels -just tilt and roll to move
Multi-grip handlebars – with pulse sensors
Not many  built-in workout programs
The LCD screen isnt backlit
To Sum Up
The market is packed full of budget spin bikes, and it can take some time to find a durable well-built option; even the Exeperutic LX7 Training Cycle has its drawbacks.
But at this price, we cant expect anywhere near-commercial grade. At best, we need to find an indoor bike that can cope with regular cycling sessions and not break down in the first few months, a common problem with bikes in this price range.
Exerpeutic are a company that builds durable gear, and there's no doubt they have put a lot of effort into the design of this bike.
Okay, it's going to be a little noisy with the chain drive system (unavoidable in this price range). Still, with its 90lb weight and 40lb flywheel when compared to other spin bikes in this price range, its the Exerpeutic that stands out.
Overall an excellent bike for beginners and intermediates with easily enough strength in resistance for intense workouts.