The Sunny Health & Fitness SF-B1714 Evolution Pro Indoor Bike may not come with all the latest tech such as built-in fitness apps and an HD screen?
But dont let the lack of a monitor put you off, as this spin bike shines when it comes to all the essential stuff like build quality, stability, a smooth cycling motion thanks to its 44lb heavy flywheel, and best of all, its whisper-quiet when in use thanks to its belt drive system and magnetic resistance.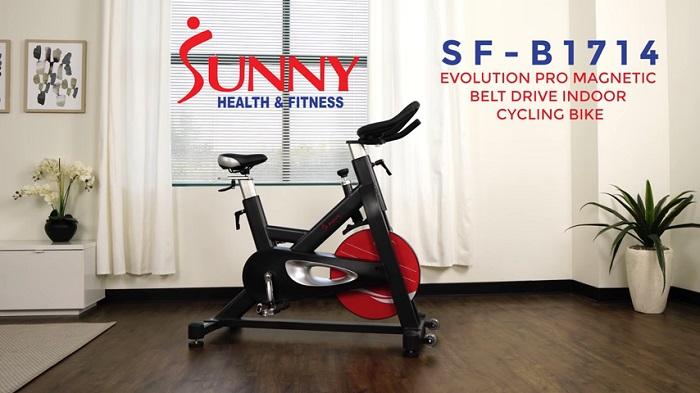 Sunny Health & Fitness Decades of Experience In Affordable Cardio Gear
I've been reviewing cardio gear from Sunny Health for years. These guys are the kings when it comes to low-priced, high-quality fitness equipment.
Yes, their gear doesn't always come with fitness apps and advanced monitors, but they would have to cut back on the quality of the bike or raise the prices considerably if it did.
Excellent Peloton Alternative
The Idea with Sunnys mid-level spin bikes is that you get a high-quality, affordable spin bike, except you provide the monitor, e.g., use your phone, tablet, and fitness apps. This way, you're not paying tons of money for advanced monitors, etc. You simply pay for a very well-built spin bike.
And because the Sunny includes a heavy-duty frame and flywheel, plus it boasts both magnetic resistance and a belt drive system, the Sunny SF-B1714 can cope with the demands of cycling apps such as Peloton.
Just make sure to get hold of a Walco Candeince sensor ($30), so you can download your workout stats (works with most fitness app).
Product dimensions – 48.5 x 24 x 53.5 inches
4-way adjustable handlebars and  4-way adjustable seat
Resistance type – magnetic
Why Do We Like The Sunny SF-B1714
What you have to love most about this bike is the quality for the price. This thing weighs nearly 140lb that is heavy for a bike in this price bracket. Not only is the extra weight excellent for stability it's also a telling sign the Sunny spin bike is made from quality materials.
We want an indoor bike with as little movement as possible when cycling, especially for out-of-saddle cycling, and for that, you need a heavy bike.
When we think commercial spin bikes start at around 150lb, we really aren't that far off. And considering commercial spin bikes cost way over $1k, you start to realize how much bike we are getting for the cash.
The Sunny will feel solid when you are cycling on it, not like some cheaply made unstable spin bike. The Sunny shouldn't feel much different from the spin bikes you've used in your local gyms.
Another very handy stability feature of the Sunny indoor bike is its 4 adjustable levelers.
The levelers can be independently adjusted to keep the bike level on uneven surfaces. We also have wide stabilizing bars at either end of the bike; both the levelers and the stabilizers should ensure there's minimal wobble.
For stability and build quality, the Sunny trumps every other bike in this price category.
Belt Drive System – Miantnece Free – Quiet
One feature you really want to look out for when choosing a spin bike is whether the bike uses a belt drive system or a chain drive system.
There's nothing wrong with a chain drive system; they do the job just as well as a belt-drive, and some outdoor riders actually prefer the chain drive as they love their indoor bike to mimic the feel of their outdoor bike as much as possible.
However, chain drive systems are not best suited for indoor use. Why? Noise!
The chain has to go over a sprocket, so it creates a lot of noise, and if you dont want to disturb others around you with the sound of your workouts, a chain drive may not be ideal.
Also, just like an outdoor bike, chain drive systems require lubrication. Yeah, it's not a biggy, but it's still something you can avoid if you opt for a belt drive.
Belt drives are almost silent in operation, which makes them perfect for indoor use and require no maintenance.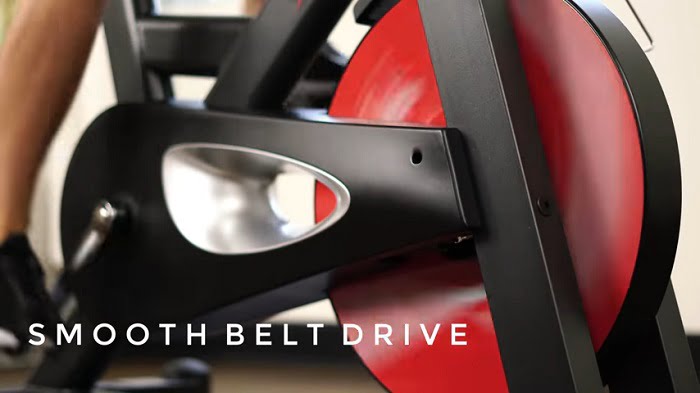 Variable Resistance – Magnetic
The two most popular types of resistance for spin bikes are friction and magnetic. Friction resistance is usually found on cheaper spin bikes as it costs less to produce.
Friction resistance works well and can provide extreme resistance in the upper levels depending on the bike's flywheel weight and quality.
Still, friction resistance has its drawbacks, and one of them is the slight noise it makes. The other is wear and tear, as the friction pads need to be replaced over time.
Magnetic resistance, which the Sunny benefits from, is whisper quiet in comparison, as the magnet doesn't touch the flywheel; thus, there's no noise or wear.
And what best of all is magnetic resistance can be changed in smaller strength increments (micro resistance levels) than friction which makes it a much better choice for apps like Peloton. Why?  Because the Peloton trainers ask you to make minor adjustments to the resistance settings, something that is extremely difficult with cheaper friction resistance bikes.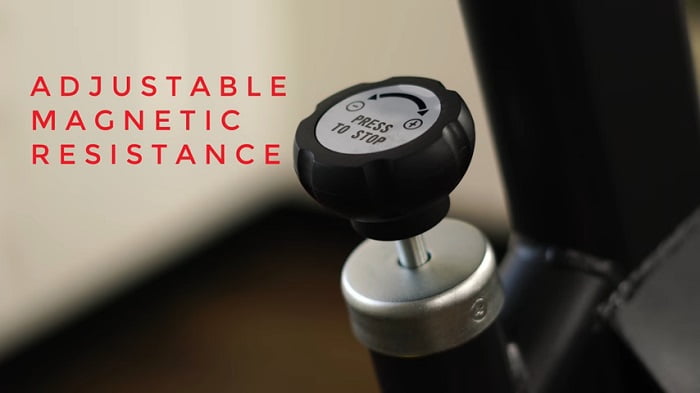 4 Way Adjustable Seat & Handlebars – Will I fit?
Another positive of buying a mid-level spin bike rather than a budget spin bike is that the seat and the handlebars can be adjusted vertically, backward, and forward. This means the Sunny Evolution pro will allow users of most sizes to find a comfortable cycling position.
It's shorter uses that benefit most from handlebars that can move both vertically and backward and forwards. A common complaint from petite cyclists who own indoor bikes is that they have to overstretch to reach the handlebars.
Thankfully Sunny designed the handlebars for this bike to suit both short and tall users. Finding a comfortable cycling position shouldn't be an issue for most people who buy the bike.
The leg inseam for the Sunny Pro Evolution Pro indoor bike is Min 30.1" and Max 38.3. – With a height guide of between 5ft and 6'3″ 
Can I Use My Cycling Shoes?
It's not surprising that the Sunny Health & Fitness SF-B1714 doesn't include SPD compatible pedals, the pedals have been designed to be used with normal gym shoes which is usually what we see in this price range.
The good news is, if you are serious about your cycling and want to change the pedals for a pair of Shimano pedals its a quick job and easy to do
Q-factor (distance between the pedals) 216mm
Assembly
The Sunny SF-B1714 is fairly is to assemble as most of the bike comes pre-assembled. I say fairly easy because this thing is heavy, so I'd advise two people to carry the large box to where you will assemble the bike.
While most of the bike comes pre-assembled, you will have to attach parts such as the handlebars, stabilizers, seat, and pedals, which shouldn't take much longer than an hour. Tools and manual are provided.
44lb flywheel – for a smooth -unjerky cycling motion
Belt drive system – maintenance free quiet
Magnetic resistance system – whisper quiet
Multi-grip handlebars with a rubber foam coating for comfort
4 way adjustable seat & handlebars
Great price for a high quality, solid indoor bike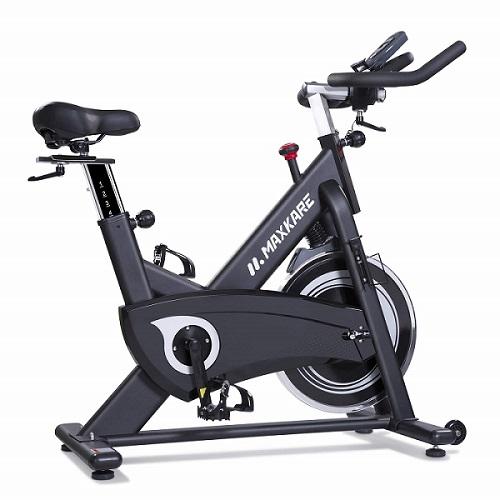 MaxKare Magnetic Spin Bike
MaxKare are a much smaller company than Sunny Health & Fitness, yet they build some excellent low-priced cardio gear. I reviewed one of their treadmills recently, and it was surprisingly good for the price, and by the looks of things, soo too is their magnetic spin bike.
We need to remember the MaxKare spin bike costs $150 less than the Sunny SF-B1714, so the build quality will be slightly lower than the Sunny, with the MaxKare weighing 90lb and the Sunny weighing an impressive 135lb. But it's not too far away. The MaxKare frame is built from heavy-duty powder-coated steel, and 90lb is heavy for a $400 bike.
The MaxKare is one of the only bikes in its price bracket that can boast magnetic resistance, a belt drive system, 4-way adjustable handlebars and seat, and a heavy flywheel.
Yes, the MaxKare punches way above its price tag, and if you dont want to spend the extra $150 on the Sunny, the MaxKare is without a doubt worth some serious consideration.
To Sum Up
It's obvious that Sunny Health and fitness concentrated on build quality, stability, and durability with their SF-B1714 spin bike. This thing is built like a tank weighing 135lb, so if it's stability you're after the Sunny delivers it in spades.
What's also nice to see is the heavy flywheel, as this is important for a smooth cycling motion and especially efficient for long spinning sessions where you will need the extra momentum.
The Sunny SF-B1714 has been around for a couple of years now, which is a good thing, as people who own the bike are still praising the Sunny, saying it works just as well now as it did when they first bought it, which is a testament to the durability of the bike.
Yes, we have to live without a monitor, but when you consider what this bike offers in terms of build quality and essential features such as belt drive and magnetic resistance its still a great deal at its current price and one of the only bikes in this price range suitable as a Peloton alternative.