What can we expect when we pay just $250 for a home spin bike? We're certainly not going to get anywhere close to commercial-grade. You won't find built-in workout programs, heavy flywheels, or an HD screen.
Still, the RELIFE Spin Bike isn't just a cheaply made indoor cycle, yes it's low cost, but it punches way above its price tag both in build quality and features.
No Frills – Solid Indoor Bike
The Relife Rebuild Your Life Spin Bike is a no-frills indoor cycle for beginners or anyone looking to improve their cardio fitness at home. This thing boasts a solid build, a maintenance-free belt drive system, and a relatively high weight capacity of 330lb.
In this review, I want to take a close look at all of the pros and cons of the Relife budget indoor cycle. I'll also compare the Relife with its main competitor in this price bracket, the Sunny Health SF-B1001. By the end of the review, you should have a pretty good idea if this bike suits your fitness needs.
First, let's take a quick look at the Relife indoor bike product specs!
Product dimensions –  46.1 x 25.2 x 44.1 in.
2-way adjustable handlebars and  4 way adjustable seat
Resistance type – magnetic
Why Do We Like The Relife Spin Bike?
The most appealing thing about the Relife spin bike has to be its price, especially when you consider what's on offer. It's one of the only bikes in this price bracket that can boast a belt drive system.
The majority of budget spin bikes use a chain drive system, and while there's nothing wrong with a chain drive, they get the job done, they are noisy, as the chain has to go over the sprocket similar to an outdoor bike.
Also, chain drive systems require maintenance, such as regular lubrication, and once in a while, the chain falls off the sprocket just like an outdoor bike.
With a belt-drive, you dont have any of these issues.
There no maintenance, and because we use a belt rather than a chain, there's little to no noise, which makes belt drive bikes perfect for indoor use. You won't disturb yourself or anyone around you with the sound of your workouts.
I was surprised to find the Relife indoor cycle benefited from a belt-drive system as belt drives are more expensive to manufacture; hence we usually only see them featured on higher-priced bikes.
To see this system feature on a budget spin is impressive, and it's our first big thumbs up for the Relife Indoor cycle.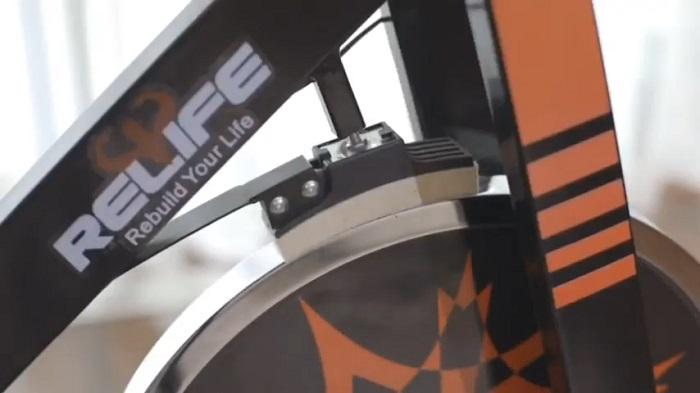 Friction Resistance – Wool Pad
Another feature you need to consider before buying a spin bike is the type of resistance system the bike has. And there's no getting away from it; cheap bikes will always use a friction pad to create resistance.
Friction resistance isn't a deal killer, friction resistance systems have been around for years, and most people get along with them fine.
It's only lately new systems like magnetic have come out that friction resistance has taken a back seat and is no longer used on higher-end spin bikes.
A friction resistance system costs less to manufacture than a magnetic one, so budget bikes still use friction systems.
I find most friction resistance systems work really well and are easy to use.
 All you have to do is turn the tension knob, and the friction pad will push onto the flywheel. The further you turn the knob, the harder the pad presses on the flywheel and the more resistance you will feel in the pedals.
Surprisingly for a budget spin bike, I havent read any major complaints about the resistance strength of the Relife bike. This is reassuring as resistance strength can be a real issue with bikes in this price range. 
An entry-level bike will never provide enough resistance strength for serious cyclists or athletes but there's easily enough resistance strength to cope with challenging calorie-burning workouts.
Downsides To Friction – 
The downside to friction resistance is that the pad will need changing once every 6 months or so, and it makes slightly more noise than a magnetic resistance spin bike—a faint whooshing noise nothing too loud or off-putting and certainly not a deal-breaker.
Friction pads are easy to change and cheap to replace.
Note. When first using the bike they may be a slight odor (burning). This is just the wool pad wearing in – nothing to worry about and will go away after the first few uses.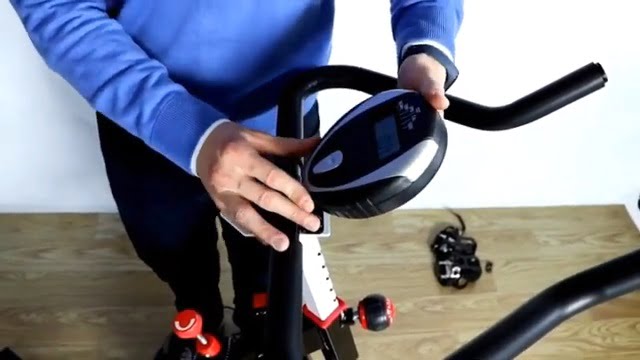 Monitor/Control Console
I've come across many spin bikes costing twice that of the Relife that do not include a monitor, so although basic, it's nice to see a monitor included with the Relife spin bike.
The Relife monitor tracks all the important workout data such as speed, distance, time, odometer, and calories burned.
I know many people will want to use this bike with fitness apps such as Peloton etc., and you might be thinking there's nowhere to put your tablet? It's one of the first things I thought when I saw the bike.
However, a few people mentioned they managed to rest their iPad across the handlebars, which may be ok, but if you've got a new tablet and you dont want to risk it dropping onto the floor? Balancing it on the handlebars isn't the best idea.
Instead, you can buy a tablet holder that cost around 15 bucks and work great – just clip on the handlebars. 
Stability – Heavy Duty Steel Frame – 4 Feet Levelers
Stability is without a doubt something you should be considering when buying any home gym equipment.
We're paying budget prices here, so we can't expect a rock-solid bike as you would find in your local gym. Still, the guys at Relife have done their best to make the Relife indoor bike as stable as possible.
First, we have a 69lb frame; while this isn't super heavy, it's not feather-light either. The weight of the frame and your own weight will help keep the bike stable, and at 69lb, it shouldn't feel like you're cycling on a cheaply built lightweight bike.
We also have nice wide stabilizing bars that have 4 adjustable levelers attached to them. Adjustable levelers will keep the bike level. They are an invaluable feature for those of us who have uneven floors.
Assembly
Most of the Relife Indoor Bike comes pre-assembled you'll need to attach pedals, seat, monitor, etc. Manual and tools for the job are provided—average build time around 30 mins.
I know a few people have had trouble fitting the seat, so here's an assembly video in case you need any help.
Maintenance free belt drive sytem
Small footprint great for apartments 
Easy to assemble, under 30 minutes
4-way adjustable saddle and 2-way adjustable handlebars
Transport wheels just tilt and roll to move
4 adjustable feet levelers – keep your bike level on uneven floors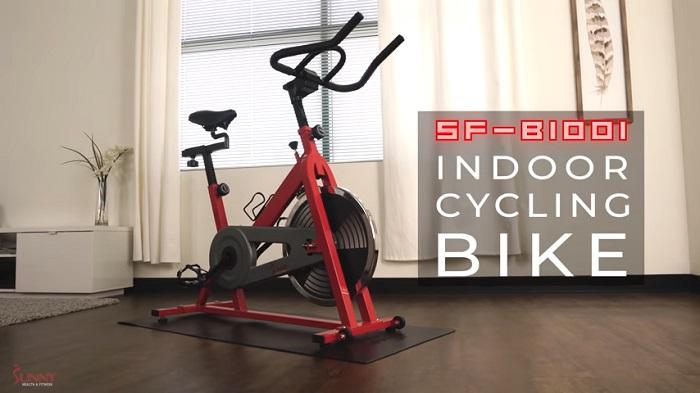 Sunny Health SF-B1001 Indoor Bike
Sunny Health & Fitness are a company that specializes in affordable cardio gear; these guys have been around for decades. They know what they are doing, and they do it well.
The SF-B1001 is an entry-level spin bike very similar to the Relife. Both bikes weigh around 70lb, and both bikes feature friction resistance. However, the Sunny doesn't benefit from a belt-drive system. It uses a chain instead. As I mentioned, there's nothing wrong with a chain drive system it's just louder in use.
The reason why some people may choose Sunny over Relife is because of the company behind the product, Sunny heave a great reputation in the entry-level market and have years of experience, whereas Relife are almost unheard of.
Still, when you compare the two bikes, the Relife just beats the Sunny thanks to its belt drive system and the inclusion of a monitor.
There really isn't much between the two. If you can live with a louder machine and like to know your bike has been built by a company with a ton of experience, the SF-B1001 is a great choice for beginners and receives high praise from its users.
To Sum Up
If you're are just starting out in the world of indoor cycling the Relife Spin Bike is an excellent choice. Just dont expect a pro bike to turn up on your doorstep. This is a budget spin bike and is best suited for beginners. The 20lb flywheel is evidence of this.
However, it's well built, has the preferred belt drive system, and should feel stable when in use thanks to the heavy-duty frame and its wide stabilizers. The monitor is basic, but it's easy to use, and if you want to follow spin classes online, you can always get hold of a cheap tablet holder.
For the price, I think the Relife spin bike is worthy of some serious consideration. It offers more than most in the price range and comes with a decent warranty should anything go wrong.