Schwinn are one of those companies that we have all heard of; they've been around for years and are well known for building quality cardio gear at affordable prices.
Still, the problem I've across with Schwinn over the years is that they tend to leave a few old models on the market without updating them. They hope customers will simply choose their product because it has a Schwinn badge, and unfortunately, the Schwinn IC2 Indoor Cycling Bike is one of those products Schwinn hasn't bothered to update.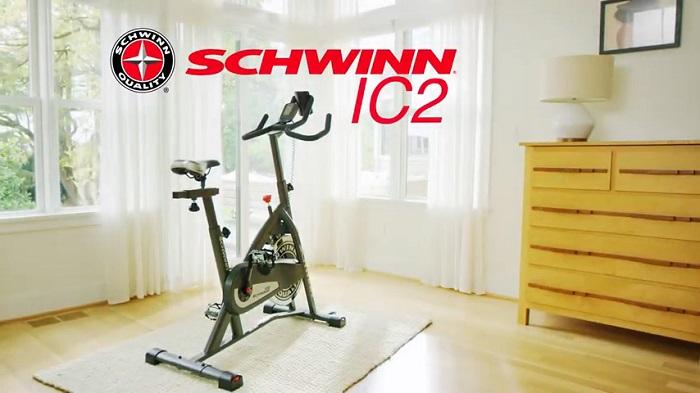 Schwinn IC2 Review – OverPriced For What's on Offer
For the price, the Schwinn IC2 seems old fashioned compared to the rest of the market. You're paying over $400 for a bike that, to be honest, can only boast features its competitors are offering for around $250
But it's not all doom and gloom; after all, it is a bike from Schwinn, you can expect a comprehensive warranty and a well-built, durable indoor bike. They've also got the Q factor right, and unlike many spin bikes, the IC2 can accommodate a max user height of 6'5″, which is impressive.
Let's hope the price of this spin bike comes down because, at the time of writing, the IC2 was priced at $450, which is way too much! If you can get it for around $250-$300, it's not a bad deal.
Today I want to take a closer look at the Schwinn IC2 spin bike. I'll also compare the IC2 with one of its main competitors, a bike that offers a lot more for the price tag, the Pyhigh indoor cycle. Read through to the end for comparison.
First, let's take a quick look at the Schwinn IC2 Indoor Cycling Bike product specs!
Product dimensions –  54.8 L x 25.6 W x 44.5 H inches – Folded  45.9 L x 25.6 W x 32.7 H inches
Running belt size – 16″ X 43.3″
What Do We Like About The Scwhin IC2 Indoor Cycling Bike?
As I mentioned, it's not all bad with the IC2. The Q factor 'the distance between the pedals' is 173mm making it a natural, narrow, smooth ride.
The bike's stability has been praised by its users, which isn't surprising considering we have 4 adjustable levelers incorporated into the bike's stabilizers. Adjustable levelers will help keep the bike level on uneven floors, a convenient feature for some of us. 
The weight of the bike is a telling sign this bike has been made from quality materials, and at 83lb, the weight not only helps with overall stability, but it will also give you the feel you're cycling on a well-built machine, not a cheaply made light weight one.
And finally, the bike looks great. The design is clean and sensible, so it shouldn't look out of place in most houses and apartments.
Friction Resistance – Requires Some Maintenance
Older spin bikes and budget bikes are typically equipped with a friction pad, which is used to create resistance, the pad sits above the flywheel, and all you need to do is turn the tension knob, which pushes the friction pad onto the flywheel to create the resistance you feel in the pedals. The more you turn the tension knob, the stronger the resistance.
And heck, there's nothing wrong with friction resistance, ok it's a little louder than the preferred magnetic because of the friction pad making contact with the flywheel, and there's some maintenance as it will wear over time. Still, maintenance is low, and you'll only need to change the pad every six months or so its an easy job that takes a few minutes.
The only reason I'm disappointed to see friction resistance on the Schwinn IC2 is that this is a $450 bike. It should be magnetic.
Magnetic is much quieter as the magnets do not come into contact with the flywheel, plus there's no wear on a magnetic resistance system, so no maintenance.
Again nothing wrong with friction, but really, if you're paying this much for a spin bike, you should expect a magnetic resistance system and one that can be controlled from the monitor, not by a tension knob.
Many people have asked me if they can perform interval training with a bike that uses a tension knob for changing resistance strength. The answer is not really it's difficult.
If you're after interval workouts, I recommend you chose a bike with a magnetic resistance system, built-in workout programs, and digital resistance level adjust. (no tension knobs)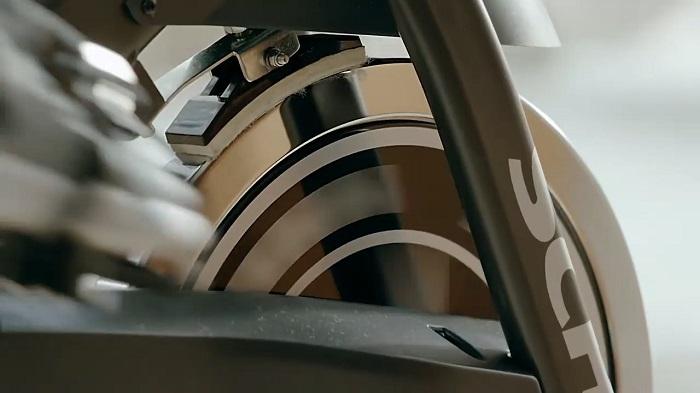 Noisey – Chain Drive System
Sadly we see another disappointing feature on this spin bike, and that's its drive system. The IC2 features a chain drive system. And because the chain has to go over the sprocket is makes them much louder when in motion than a  belt drive system, which we should see on a bike in this price bracket.
Another negative of a chain drive system is that they require more maintenance than the belt drive system because, similar to outdoor bikes, the chain has to be lubricated; just like an outdoor bike, the chain can fall off.
A little extra noise and some maintenance isn't a deal killer by any means, but for those of you who dont want to disturb others with the sound of your workouts, a chain drive is not the best option.
Basic Monitor – Large LCD
The Schwinn monitor is the kind of monitor we expect to see on a $300 bike. It is not bad. Still, it's nothing special. I love the large screen, which makes reading your workout stats easy, and the bottle holder is a nice touch.
It is disappointing for the price as there are no workout programs, there's no Bluetooth to download data, etc. And what's worse of all is the lack of space to place your phone or tablet.
Most budget bikes with basic monitors always supply a tablet holder because they know the user will want to access fitness apps or watch free YouTube cycling workouts. And you can't do any of this with the IC2, and it's a MID-PRICED spin bike.
You need something to kill the monotony of long cardio workouts, so you can place the bike in front of a desktop or TV.
Easy To Assemble – Under 1 Hour
Most of the Schwinn IC2 comes pre-assembled, so there isn't too much for you to do. Clear instructions and the tools needed for the job are supplied. Once assembled, it has a relatively small footprint, so it shouldn't take up too much room. Transport wheels are integrated inot the front stabilizers. Just tilt and roll to move.
4-way adjustable seat with a min- user height of 4.9″ and max height of 6'5″
Easy to assemble, under 1 hour
Alternative & Comparison Table
Flywheel weight – 31lb

Drive system – chain

Monitor – yes

Resistance type – friction

Max capacity – 250lb
Our Choice
MaxKare Magnetic Spin Bike
Flywheel weight – 30lb

 Drive system – belt

Monitor – yes

Resistance type – magnetic

Max capacity – 264lb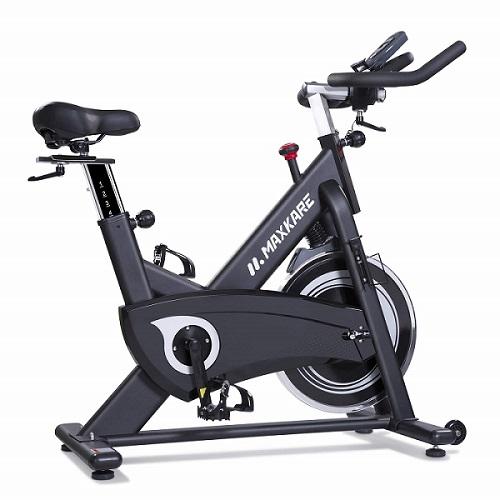 MaxKare Magnetic Spin Bike
The MaxKare spin bike is an impressive bit of kit for the price. It one of their top-of-the-line spin bikes, and surprisingly it costs under $400! Excellent value for a magnetic spin bike.
And unlike the Schwinn IC2, we see a belt drive system on the MaxKare, which, as I mentioned, requires less maintenance than a chain drive plus, it's much quieter when in use, so it's great for home workouts.
Also, the MaxKare boasts a 4-way adjustable seat and 4 way adjustable handles bars, again outdoing the Schwinn that only offers vertical adjustments for the handlebars. And of course, the best feature of this bike is that it uses magnetic resistance.
Magnetic resistance is much quieter, and there's no maintenance required.
A slightly better monitor comes with the Maxkare as it includes heart rate monitoring, with the pulse sensors built into the handlebars. And you'll be happy to hear the handlebars also include a tablet/phone holder!
Overall an excellent spin bike packing a punch way above its price range.
To Sum Up
I'm surprised to be writing such a negative review for a Schwinn product. Usually, I have so much praise for these guys, but the IC2 is disappointing. It seems Schwinn has left the IC2 for too long without updating the machine. 
I'm sure when the Schwinn IC2 first hit the market, it was well-received and liked by its users, but now, with so many companies offering a lot more for the price, Schwinn needs to look again at their entry-level spin bike. Either drop the price considerably or update it.