If you're looking for a spin bike in the Under $300 price bracket, you've probably already guessed this isn't going to buy you a pro-level indoor bike. And to be honest, we lucky in this price bracket to find anything that's both durable and stable enough for intense calorie-burning workouts.
Merax Spin Bike – Belt Drive System – Heavy Duty Frame
And although the Merax Spin Bike is a long way from commercial-grade, it's more impressive than most for the price bracket. When you consider this thing boasts a 30lb flywheel, belt drive system, and heavy-duty frame, you get a lot of bang for your buck with the Merax.
Designed for beginners or anyone looking to get themselves into the world of indoor cycling, the upgraded (orange) Merax indoor cycling bike is worth some serious consideration. In this review, I'll take a close look at everything the Merax has to offer.
At the end of the review, I'll compare the Merax indoor bike with its closest rival in this price bracket, the Sunny Health SF-B1001.
First, let's take a quick look at the Merax product specs!
Product dimensions –  41″ L x 21.3″ W x 42″-48″ H
2-way adjustable handlebars and  4 way adjustable seat
Max user height – 5′ – 6'1″
Resistance type – friction
Why Do We Like The Merax Indoor Cycling Bike?
It's unusual to find a budget spin bike with a belt drive system. Belt drives are usually reserved for spin bikes costing at least $100 more than the Merax, so it was a nice surprise to see one feature on the Merax.
Why's a belt drive system important? A few noticeable benefits of a belt drive system are that it's much quieter than a chain drive.
Chain drive systems are what most bikes in this price bracket feature, and although they do the job well, they are much louder because the chain has to move over the sprocket.
The extra noise of a chain going over the sprocket doesn't matter when cycling outdoors, but when buying an indoor bike, noisy chain drives are not ideal. We need a drive system that is whisper quiet so as not to disturb you or others around you with the sound of your workouts.
Another big plus of a belt drive is that it's virtually maintenance-free – compared to a chain drive, which will need regular lubrication similar to an outdoor bike.
So if you prefer a maintenance-free quiet drive system?  Belt drive systems are highly recommended. And thankfully, we find this smooth drive system on the Merax, great to see in on an affordable spin bike.
Stability 4 Adjustable Levelers – Heavy Duty Frame
The last thing you need is for the bike to wobble or slide when you're in the middle of your workout. Stability is important and often overlooked by most when purchasing an indoor exercise bike.
We're not going to find rock-solid bikes in this price range. Still, Merax has done all they can to keep this bike stable when in motion. The heavy-duty frame at close to 100lb will help keep the bike planted to the floor; the extra weight is also a telling sign the Merax spin bike is made from quality materials.
I'm glad Merax thought to include 4 adjustable feet levelers. Adjustable levelers are a handy feature that helps keep the bike level on uneven surfaces.
And if you're after even more stability, you can get hold of a cheap rubber gym mat to place under your spin bike. This will help stop any unwanted lateral movement.
The heavy-duty frame, wide stabilizers, and adjustable feet levelers are excellent features that contribute to a solid feeling spin bike, good enough for hill climbs (standing).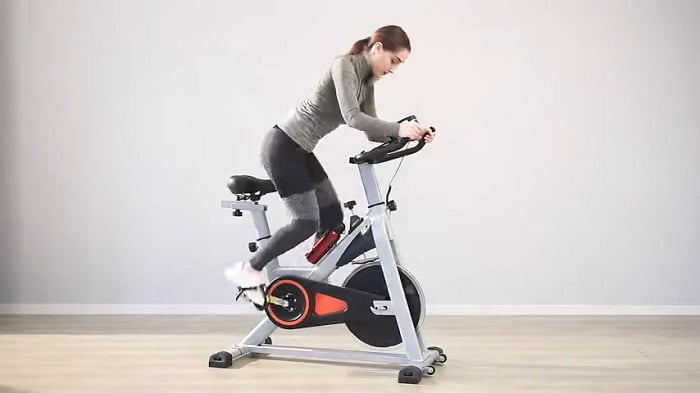 Friction Resistance & Strength
Budget spin bikes aren't designed for serious cyclists. They have been designed to introduce people to indoor cycling, they're a low impact alternative to a treadmill and should be treated as a first step to increasing your cardio fitness.
I'm not saying you won't burn a ton of calories. Just dont expect too much for a bike that costs under $300, especially when we consider pro bikes cost close to $2k; we can start to understand what type of spin bike we are buying.
Still, resistance strength on the Merax will be strong enough for calorie-burning workouts and should have enough strength of resistance in the upper limits for the bike to last a few years of growth.
I was happy to see Merax has increased the flywheel's weight from 22lb to 30lb on this upgraded version of the bike. A heavier flywheel will ensure a smoother non-jerky motion and safe movement by producing more power at a steady rate.
Sadly, there's no magnetic resistance system, and I wouldn't expect to see it at this price. Instead, we have friction resistance.
I dont mind friction resistance at all. Even some high-end bikes still use it. Yes, it's slightly louder than magnetic because the friction pad makes contact with the flywheel but nothing too off-putting a faint whooshing noise is all you'll hear.
Some maintenance is required with friction resistance bikes, such as changing the friction pad once every six months or so. It's a small job that takes a few minutes, and the replacement pads are cheap.
Don't let friction resistance be a deal killer. It's the norm in this price bracket. It is slightly louder than magnetic, and there's some maintenance, but if you wanted to opt for a magnetic bike, you're be looking at paying quite a bit more.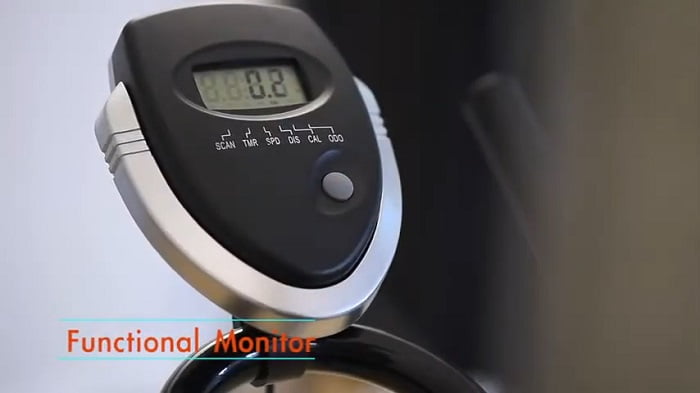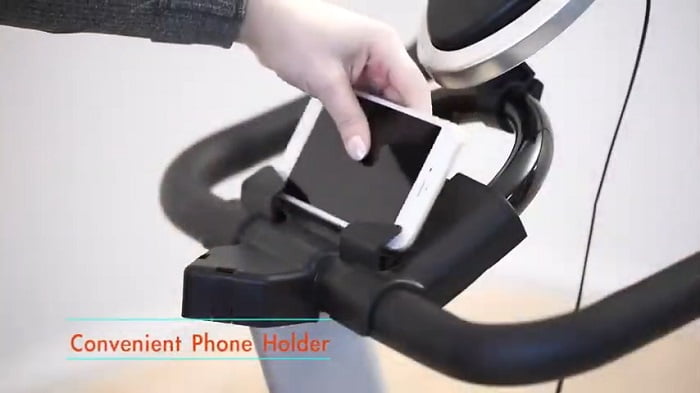 East To Use Basic Monitor
You might be thinking the Merax monitor isn't impressive, and I'll agree it isn't. Still, at this price, it's good to have a monitor at all, there's a ton of bikes in the under $300 that dont include a monitor, and although the Merax monitor is basic, it is nice and easy to use, which is always a good thing.
The monitor tracks all your usual workout stats such as time, distance, speed, and calories burnt.
Phone holder provided.
Assembly
Most of the Merax indoor cycle comes pre-assembled. There are only a few parts to attach, such as pedals, seat, seat post, monitor, and handlebars. Clear build instructions and provided so are all the tools for the job—average build time 35 minutes.
30lb flywheel impressive for price point – ensures a smooth non jerky cycling motion
Belt drive system – maintenance free – whisper quiet
Easy to assemble, under 45 minutes
4 adjustable levelers – keeps the bike level on uneven floors
Transport wheels- just tilt and roll to move
meter unit doesn't have backlight
Not recommended for users over 6'1″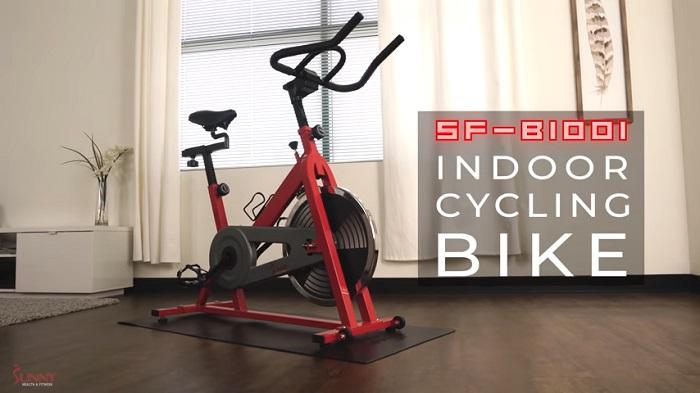 Sunny Health SF-B1001 Spin Bike
The Sunny Health SF-B1001 has been popular for years, and that's one of the reasons I like this bike so much. It stood the test of time; people are still praising the Sunny SF-B1001 having owned it for years there are not many budget spin bikes that can boast that sort of feedback.
The SF-B1001 is made by Sunny Health & Fitness, the king of affordable home cardio gear. These guys know what they're are doing in the budget ranges, and they do it well. Their SF-B1001 has been built to last with its heavy-duty frame and crank.
Still, it doesn't offer anything more than the Merax. Yes, it's been built by a company with decades of experience, but in the way of features, it lacks compared to the Merax.
The Sunny uses a chain drive system, so it's going to be louder than the Merax. The Sunny doesn't include a monitor and weighs slightly less.
Chain drive systems aren't a deal-breaker, nor is the lack of a monitor. It all depends on who is buying the bike?
Do you prefer owning a spin bike built by a company with a ton of experience a bike known to last? Or take your chances on the lesser-known company Merax with their entry-level spin bike? A bike I feel is better equipped for indoor spinning classes thanks to its belt drive system and a heavier flywheel.
To Sum Up
There's nothing too much to fault about the Merax as for the price. I'm impressed with what's on offer. You have a maintenance-free drive system. Merax has upgraded the flywheel, which is great as it means you'll get a much smoother ride, and the frame is heavy for an entry-level bike, which will help a ton with stability.
Yes, the Merax Spin Bike hasn't been designed for serious cyclists, and the resistance strength will reflect this, but for beginners or anyone looking for a well-built exercise bike to increase their cardio fitness at home. The Merax offers a lot for the money.