If you're looking to burn some belly fat and increase your cardio fitness at the same time? A spin is one of the best options out there.
L NOW D600 – Low Impact Cardio Workouts
Spin bikes are low impact, which means they don't overstress your joints like a treadmill; this will allow you to work out for longer periods without risking injury. Another excellent thing about spin bikes is that not only do they strengthen and tone muscles in your legs but also your back, arms, and shoulders.
And what's best of all is, you dont have to spend tons of your hard-earned cash to get hold of a decent one.
The L NOW D600 is an entry-level spin bike costing around $300. Still, surprisingly it's packed full of advanced features that include a belt drive system for a smooth, almost silent ride, multi-grip handlebars, pulse sensors to track your heart rate, and stabilizing feet levelers to keep stable on uneven floor.
Yes, for an entry-level spin bike, the L NOW D600 punches way above its price tag.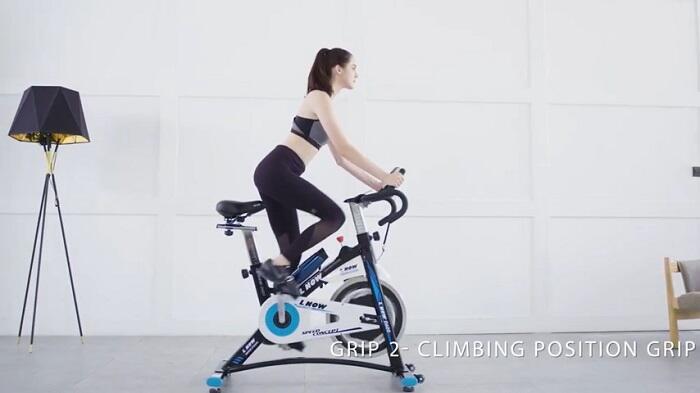 Today we're going to take a close look at all the Pros and Cons of the impressive L NOW D600 Indoor Cycle.
At the end of the review, I'll compare the D600 with one of its closest rivals in this price bracket the Sunny Health & Fitness SF-B1001. You should by the end of the review have a good idea if the L NOW spin Nike is the right choice for your fitness needs,
First, let's take a quick look at the product specs!
Product dimensions –  41"x 21" x 46"In
2 way adjustable – 4 way adjustable seat
Max user height – 6'1″/ min user height 4'7″
Resistance type – friction, cotton pad
Why Do We Like The L NOW D600 Indoor Cycle?
This bike's best feature is the belt drive system; it's not often we come across a bike in this price bracket that includes a belt drive system.
Whys a belt drive system so good? When we compare it to the only other option, a chain drive, the belt drive wins hands down because it is almost silent when in motion and requires very little maintenance.
Chain drives have to run over a sprocket, making them quite noisy; they also need more maintenance. You'll need to lubricate the chain regularly, plus the chain can stretch with regular use and will fall off its sprocket, which means taking off the chain housing to tighten it, very similar to an outdoor bike.
So if you want a maintenance-free, low noise drive system, a belt drive is the preferred choice of most. Finding a belt drive on a bike in this price bracket is impressive, especially when you consider everything else this bike offers.
35lb Flywheel For Smooth Non-Jerky Motion And Increased Momentum
We have to remember the D600 isn't a gym quality bike costing $1k+. This cardio machine is priced in the affordable range, so we cant expect 50lb flywheels.
Still, 35lb flywheel on a $300 bike is nothing to moan about. A 35lb flywheel is heavy enough to provide a smooth, non-jerky motion, and it will also ensure safe movement by producing power at a steady weight. Way better than a cheap 20lb flywheel, which I've seen on many bikes in this price bracket.
Stability – More Important Than Most People Think
Any lateral movement and wobble when working out on your new spin bike is the last thing you need.
When choosing a spin bike, you should first make sure the spin bike has a good weight; weight helps a ton with stability it's also a telling sign the spin bike is made from quality materials. The L NOW D600 Indoor Cycling bike weighs 77lb. It's not overly heavy, but it's heavy enough to aid stability.
Next, we need to look at the stabilizing feet. Are they wide? Do they have adjustable levelers on each foot? Thankfully the D600 comes up trumps on both of these features with 4 adjustable levelers, which will deal with uneven floors' problem, and the feet are wide enough to prevent any toppling.
For lateral movement, which usually isn't such an issue, I'd recommend if you have hard/polished floors to get hold of a rubber gym mat to put under the bike, you can get hold of a cheap rubber mat for around $20.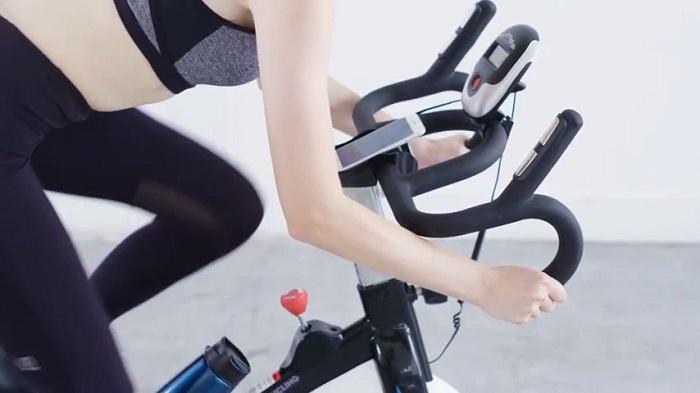 Monitor/Control Console
Heck, many bikes around $300 don't include a monitor. Thankfully the L NOW D600 does, and although basic, it is better than not having one at all. The monitor tracks all the usual workout data such as speed, distance, time calories, and pulse. Plus an odometer.
Your pulse is monitored via the pulse sensors built into the handlebars. Pulse sensors will never be as accurate as a heart rate chest strap; however, they will be a useful feature that gives a rough estimate of pulse rate. And again, better than not having any at all.
Ok, the monitor is basic, and I'd expect it to be at this price. Basic for many is better as it makes it much easy to use and set up.
Still, many people buy an affordable bike like the D600 to use the Peloton or similar fitness apps, which is a great idea and saves a load of cash not having to spend out on the overpriced Peloton bike. There are also free apps you can use with your tablet or phone. The D600 includes a tablet phone holder to keep your iPad secure while you exercise.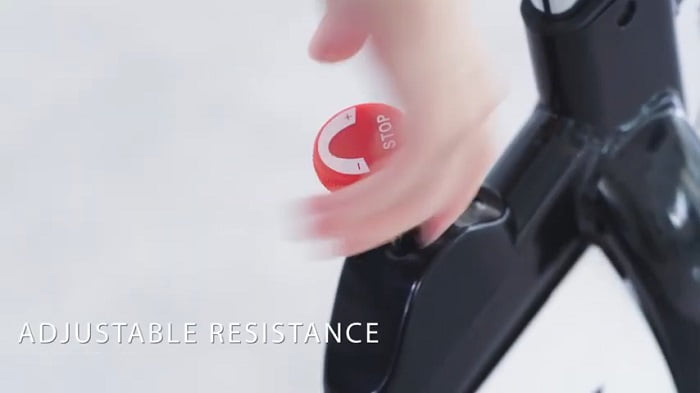 Friction Resistance – Some Maintenance
This is a variable resistance bike. What this means is you can choose any strength of resistance you like. From light to intense workouts, it up to you. The resistance strength is selected using the tension knob just below the handlebars on the frame.
There are two types of resistance for a spin bike one is friction the other is magnetic. Which is best? – Magnetic!
Magnetic is the preferred choice as the magnetic never comes into contact with the flywheel; thus, there's no wear and tear – no maintenance. Also, as there's no contact, magnetic resistance will always be slightly quieter.
Friction resistance involves the cotton pad making contact with the flywheel, which creates the resistance you feel in the pedal, and because it makes contact, over time, it's going to wear.
Friction resistance is not a deal stopper by any means. It's not loud either. You hear a faint whoosh as the flywheel spins; it shouldn't disturb you or others around you.
Depending on how much you use the bike, you won't have to change the friction more than every 6-12 months, even less if you lubricate the pad once in a while.
Pads are reasonably cheap to buy and very easy to change.
Friction resistance is something you will always run into on lower priced spin bikes. If you opt for magnetic expect to pay more, as the system costs more to manufacture.
Friction resistance has been around for years, and they do the job well dont let a little annual maintenance put you off.
Adjustable Seat & Handle Bars – Max Height 6'1″
We love the handlebars on this spin bike. It's one of our favorite features. The multi-grip bars include a racing-style grip plus a standing and a close grip. And let's not forget the pulse sensors built into the handlebars.
The seat of the bike is adjustable up, down and forward, and backward. But what's nice about this bike is that they have thought to cater to shorter people, where as nearly all spin bikes have a minimum height of 5'1″, the L NOW D600 has a minimum height of 4'7″. Max height for this bike is 6'1″
Easy to Assemble – Under 30 Minutes
The D600 is one of the easiest spin bikes to assembly, and that's because most of the bike comes pre-assembled all you have to do is attach a few light weight parts. Tools and a full written manual are provided.
Most people got this bike together in under 30 minutes. I'd recommend setting aside a few hours just in case you run into any issues some people find assembly easier than others.
Free shipping to the US is provided and a 1-year warranty.
Belt drive – smooth natural feel
Adjustable resistance – find a resistance level to suit your cardio workout
Basic but easy to use monitor that includes heart rate monitoring
Multi-grip handlebars – makes your training more comprehensive
4 way adjustable seat and 2 way adjustable handle bars
Integrated transport wheels just tilt and roll to move
LCD isnt backlit so its hard to read in low light conditions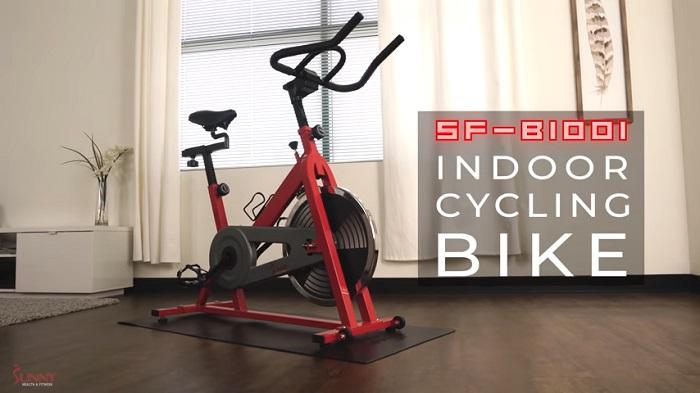 Sunny Health & Fitness SF-B1001 Indoor Bike
The Sunny SF-B1001 is a no-frill well built indoor bike. It's built by the No.1 company that specializes in building quality cardio gear at affordable prices, and this bike is no exception.
It boasts a heavy-duty frame and crank and a 30lb flywheel, which when you conder the price almost $100 less than the D600, you realize what a good buy it is.
Ok, it's a chain drive, so you will have a little more maintenance and noise to deal with, but the build quality and price outshine these minor drawbacks.
The SF-B10001 has been around for years, and people who have owned the bike are still praising what great value for money it is, saying it works as well now as when they purchased it. This is great news as not many cheap spin bikes stands the test of time.
An excellent bike for beginners or anyone on a tight budget. A solid offering from Sunny and worth some serious consideration.
To Sum Up
The L Now D600 Indoor Bike is well priced when you consider what is on offer – belt drive for an almost silent workout, multi grip handlebars great for standing and cycling plus importantly the D600 is going to be stable. It has a heavy frame for the price and you have nice wide feet with built-in levelers which will make this bike feel reassuringly stable when exercising.
For a low-cost spin bike, it's impressive and has all, you need for burning off those unwanted calories and increasing your cardio fitness.
L Now (pooBoo) are not one of the most well-known companies around so it's important to have some sort of warranty and one year should give you some confidence when purchasing. The majority of users seem impressed with the D600 giving it an average rating of 4/5 – 4.5/5.