There's no need to splash out tons of cash to get a decent spin bike for workouts at home, especially when we have companies such as Sunny Health & Fitness who specialize in building quality cardio gear at affordable prices.
These guys have been at the top of their game for decades and are still the No.1 go-to company for budget cardio gear. I've reviewed a load of their cardio equipment over the years and they never fail to impress.
Impressive Flywheel Weight – Sturdy, Heavy Duty Frame
Their Sunny SF-B1002 is hovering around the entry-level range but shines when it comes to flywheel weight and build quality.
The SF-B1002 is one of the few bikes in this price range to include a flywheel weighing over 40lb. A Heavy Flywheel will ensure a smooth uninterrupted ride and the heavy-duty steel frame will keep things stable even when standing and cycling.
Still, the Sunny SF-B1002 indoor bike does come with a few flaws which we'll cover later, but on the whole, if you have been looking for a spin bike to burn off some unwanted belly fat and increase your cardio fitness? The Sunny Health & and fitness Indoor cycle is an excellent choice for anyone looking to get into the world of indoor cycling.
In this review, I'm going to take a close look at all of the pros and cons of Sunny's impressive entry/mid-level spin bike.  At the end of the review, I'll also be comparing the Sunny SF-B1002 with its little brother the Sunny SF-B1001.
First a quick look at the B1002 product specs!
Product dimensions –  44L x 20W x 44H inches
Adjustable handles and seat – 4 way adjustable
Resistance type – friction, cotton pad
49lb fly wheel – steel frame
Why Do We Like The Sunny SF-B1002?
When we choose a spin bike one of,  if not the most important features we should look out for is flywheel weight. It's recommended the heavier the better for flywheels. Why? Because a heavier flywheel provides a smoother ride.
And if you want to avoid a jerky movement and generate more power at a steady rate when cycling a heavy flywheel is vital. 
Most bikes in this price category can only boast flywheel weights of between 25lb and 35lb, which is expected when paying under $400, so to find a bike with an impressive 49lb flywheel was surprising.
Yes, a heavy flywheel is going to add extra weight to the machine, but this isn't a bad thing, the extra weight will increase stability. You'll need as much stability as possible, especially if you like to stand and cycle for more intense calorie-burning workouts.
Smooth Belt Drive System – Better than Chain?
There's two types of drive systems we see on indoor bikes, one is a chain, a more old school system that mimics an outdoor bike. The other and relatively new drive system is belt drive.
Belt drive systems are the preferred choice for more advanced users as they deliver a smoother motion,  plus they are also much quieter. 
The reason chain drives make considerably more noise is that they have to roll over a sprocket that powers the flywheel, just think of a normal outdoor bike, it's basically the same.
Heck, a bit of extra noise isn't a huge concern. And many riders prefer chain because it resembles the outdoor bike, and use the indoor bike as part of their training for outdoor cycling. Still, chain drives require maintenance such as lubrication and after time can come loose and come off the bike.
Belt drives require no maintenance, they are quiet and incredibly strong so will last years of use.
They are, if you can afford a bike with a belt drive, the best option, and typically found on mid-level to high end indoor cycles.
A big thumbs up to Sunny for both belt drive and a heavy flywheel on an affordable spin bike.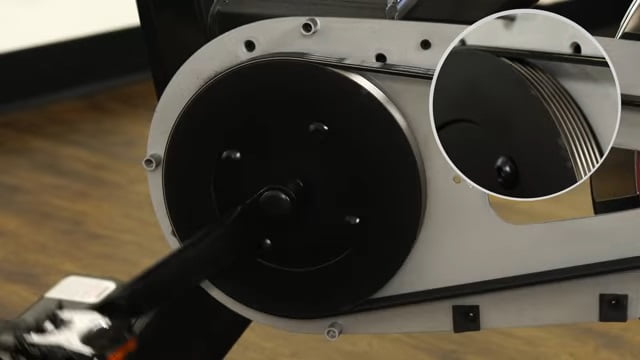 They Had to Cut Somewhere! There's No Monitor.
Heavy flywheels and belt drive systems are excellent and come highly recommended, but when you're paying less than $400 for a spin bike, the company has to cut the costs somewhere.
I'd much rather they spent the money on the important stuff like the frame, drive system, and flywheel than a monitor. This is what Sunny has done, and it's the right move.
Don't let the lack of a monitor be a deal killer. My girlfriend owns an older version of this bike and not having a monitor has never bothered her as she uses her tablet and the Peloton app as it's easy to rest a phone or tablet on the handlebars. You can buy a tablet holder for around $20 to keep your table secure if you wish.
And if you don't want to sign up to to Peloton there's a ton of other apps you can use (free) while exercising on your bike.
Many people like myself don't even use an app, just a stop clock for time on the bike.
Variable Resistance – Friction
The Sunny Health & Fitness Sf-B1002 uses a tension knob to control resistance on the bike. This is a variable resistance system, so you should be able to find a level of resistance that suits your needs.
Many people have praised the resistance on this machine, saying it was strong enough for intense workouts. And light enough in the lower levels for beginners.
The resistance system is friction based, so it uses a pad to create resistance, the more you turn the resistance knob the closer the pad to the wheel and the stronger the resistance you feel in the pedals.
Friction resistance is what we expect to find on cheaper bikes like the Sunny SF-b1002, its work's just as well as the more expensive magnetic resistance, except you will, after 12 months of use, have to change the cotton friction pad. How frequently depends on use, but usually between 6 and 12 months. (cheap and easy to replace)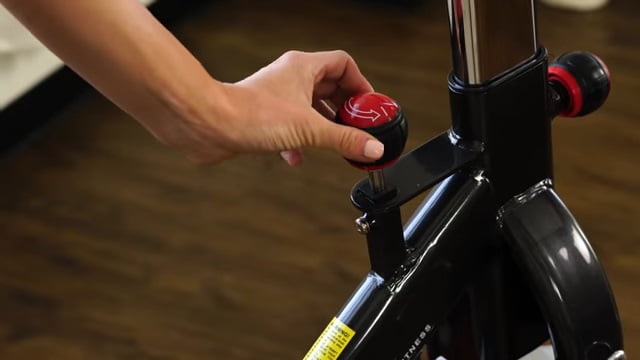 Adjustable Seat & Handle Bars
Thankfully, the seat on this version of the bike moves up and down and backward and forward, which is great news. It allows for many types of body sizes which means the entire family can make use of the bike. Max height for the SF-B1002 is around 6'2″
Easy Assembly – Under 30 Minutes
And lastly, we come to assembly most people found the Sunny easy to asemeble with short build times, while the majority of the nheavy stuff comes pre-assmebles theres still quite a bot to put togerther. Rather than rush the job, take it slowly and allow an afternoon to unoack and do the job right. Theres full instruction provided and all the tools come in the box.
Here's an assemebly video, just incase you get stuck.
Heavy 49lb fly wheel, smooth jerk free operation
125lb weight helps keep things stable 
Quiet, maintenance-free, belt drive system
Easy to assemble, under 30 minutes
Adjustable handle bars and 4 way seat
Transport wheels – just tilt and roll to move
Great price for a high quality spin bike
Theres no LCD to track workout stats
No way to monitor heart rate
No resistance level indicator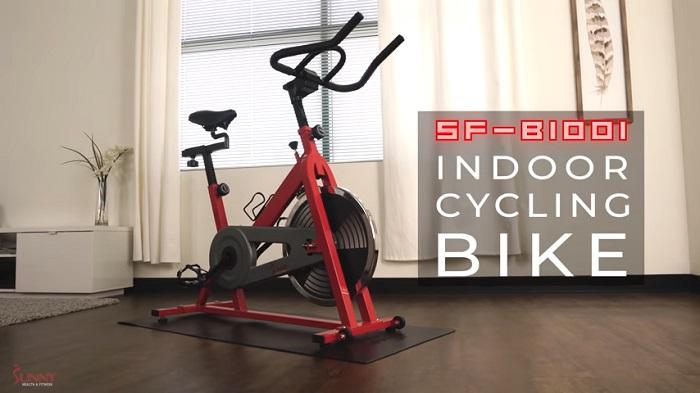 Suuny SF-B1001 Indoor Bike
The Sunny SF1001 is the little brother of the B1002, and for the price point its one best you will find in the budget range.
Build quality sells this bike, it's been around for years and people who have owned the bike for 3 years + are still giving it rave reviews saying it works just as good now as it did when they bought it. Any product that stands the test of time is worth some serious consideration.
Yes, build quality is great, but we need to remember this bikes costs a lot less than the Sunny SF-B1002. Around 100 bucks less, unfortunately we won't find a nice heavy flywheel or a belt drive system. And because of this the Sunny Sf-B1001 is best suited to beginners.
What this bike is, is an excellent first bike to introduce people to indoor cycling.
Still, it has an impressive weight at 85lb so it's going to feel reassuringly stable when in use, and standing when  cycling shouldn't be an issue.
Resistance is strong enough for intense sessions and the bike is suitable for users up to 6'2″ just like the SF-B1002.
A chain drive system means a little more maintenance. However chain drives will provide just as good a workout as a belt, the only downfall as mentioned earlier is maintenance and noise.
Overall, this is an impressive machine for the price, if you can't afford the SF-B1002 then this is your next best choice, built by a company that has a ton of experience with affordable cardio machines. Beginners won't find a better spin bike at this price.
To Sum Up
The Sunny Health SF-B1002 with its belt drive system and 49lb flywheel shines compared to similar priced indoor bikes and its because of these two impressive features we can recommend this bike not only for beginners but more advanced users too.
The heavy flywheel is going to provide a smooth combination of resistance and momentum and the belt drive system will ensure a quiet ride so you won't disturb others or yourself with the sound of your workouts.
You can burn up to 700 calories per 45-minute session on a spin bike which is great news for those you who want to get rid of some unwanted belly fat t
And if you want to get the most out of each session you can always hook yourself up to a fitness app with your tablet. Apps are also good for keeping away the monotony of long workout sessions as they can become boring very quickly.
Overall the Sunny SF-B1002 is a solid, well-equipped spin bike for most fitness levels.