There's a lot of competition out there right now in this price bracket, which means the Joroto X2 is going to have to offer a lot if it wants to compete with the likes of the Sunny Health SF-B1805 and the MaxKare magnetic spin bike, which both come in at just under $500
And thankfully, by the looks of things, Joroto havent held back.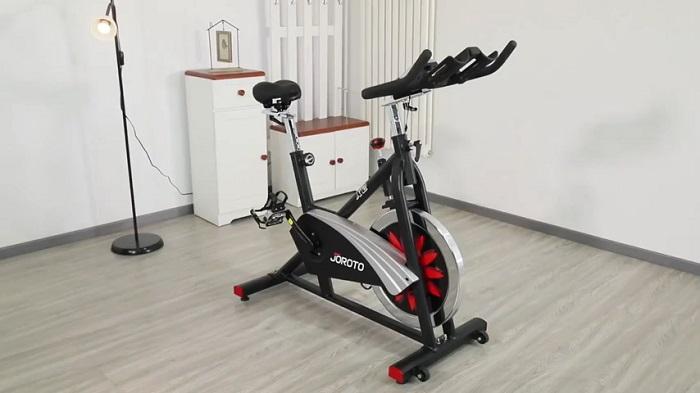 Solid Build – Whiper Quiet Resistance System
The X2 boasts a 100lb heavy-duty frame, a whisper-quiet magnetic resistance system, a belt drive that helps keep maintenance to a minimum, and best of all; we see a 35lb flywheel that will provide a smooth, non-jerky cycling motion.
Yes, Jororto has done its best to compete with the big boys, and today I want to taker a closer look at this impressive bike from Joroto.
At the end of the review, I'll also compare the Joroto with the Maxkare, so you should have a pretty good idea of which is the right indoor bike for your cardio needs, but first, let's take a quick look at the X2 product specs!
Product dimensions –  42.9 x 19.7 x 42.5 inches
4-way adjustable handlebars and  4 way adjustable seat
Resistance type – magnetic
Why Do We Like The Joroto X2?
What I like most about this bike is its heavy-duty build. We're paying near mid-level prices here, so we expect to see a heavy-duty stable spin bike, one that can deal with intense workouts and has as little movement as possible when standing and cycling.
We need a heavy frame as the extra weight will help keep the bike planted to the floor. The heavier the bike, the more stable you will feel when cycling.
And at 100lb, this thing is heavy; okay, it's not as heavy as a commercial spin bike, but for home use, it's good enough, and let's not forget we have the wide stabilizing feet preventing any major wobble.
Another handy stability feature of this bike are the adjustable feet levelers. These things are excellent for keeping the bike stable on uneven floors. You can independently adjust each of the feet to suit the floor surface.
Always good to see a company that has thought about stability. It's something many companies overlook, even though it's so important. Nobody wants to cycle on an unstable exercise bike; it's offputting and can ruin your cycling sessions.
Almost Silent Magnetic Resistance System
Changing resistance strength on the Joroto X2 is surprisingly easy all you have to do is turn the tension knob to find the right strength of resistance for your workout. Depending on which way you turn the resistance knob, the resistance strength will either increase or decrease.
The closer the magnetic is to the flywheel, the stronger the resistance you will feel in the pedals.
Why is magnetic better than fiction resistance? Firstly magnetic is much quieter as the magnetic doesn't have to make contact with the flywheel; there's no maintenance. No changing of friction pads as you would on budget spin bikes.
We also benefit from micro-adjustments with magnetic resistance, which means there's less of a jump between levels of resistance when you turn the tension knob.
Micro resistance is a handy feature, especially for those thinking of using the Peloton app. The Peloton trainers will ask you to make small adjustments to the resistance strength, something you can't do with entry-level spin bikes.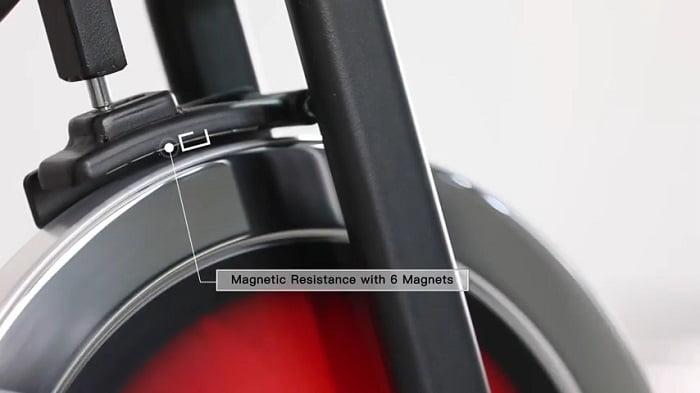 Belt Drive Maintenance Free
Something else you should look for when choosing a spin bike is whether it supports a chain or a belt drive.
While there's nothing wrong with chain drive systems, they do just a good job as the belt drives systems; chain drives have drawbacks such as the chain's extra noise as it travels over the sprocket.
For indoor cycling, a belt drive system is recommended as it doesn't make any noise when in motion, a quieter choice for people who live in apartments and those of you who dont want to disturb others with the sound of your workouts.
Another benefit of a belt drive system is it doesn't require any maintenance. Chain drive systems similar to a real bike need lubrication once in a while.
For a quiet maintenance-free drive system, always, if budget allows, opt for a belt derive.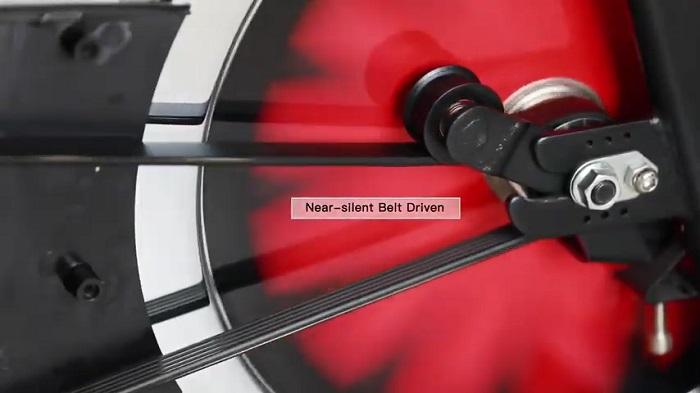 Basic Easy To Use Monitor
It's not unusual to find basic monitors on bikes in this price bracket. Yes, it can be disappointing that there are no workout programs, etc, and no way to measure heart rate.
But the manufacturers have to cut somewhere especially if we want to take advantage of advanced features such as magnetic resistance, belt drives, and solid heavy frames. I'd rather that Joroto spend the money on the important stuff than a fancy monitor.
Still, there are tons of fitness apps available you can use with the Joroto X2, whether it be a subscription app like Peloton or free cycling videos from youtube. 
The Joroto comes with a built-in tablet holder easily big enough for an iPad.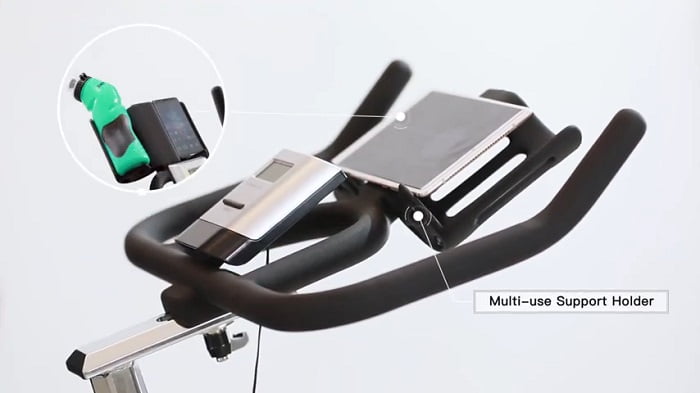 4 Way Adjustable Seat & Handle Bars
When we spend a little more on a spin bike, we see cycles that include both 4-way adjustable saddles and 4-way adjustable handles bars. This is great news as it will allow almost any body size to find a comfortable cycling position. 
One of the main complaints for shorter users when buying a budget bike is that the handlebars do not move backward and forwards, which leaves people having to stretch to reach the bars. Thankfully this isn't an issue with the Joroto X2 as the handlebars move back and forwards and up and down. 
Assembly – 45 minute build time /Plus Joroto X2 Assembly Video
You're be glad to hear most of the Joroto X2 Indoor Cycling bike comes pre-assembled. You'll still have to attach a few parts such as the seat handlebars etc. but nothing too complicated. Most users found assembly easy and had the bike up and running in around 45 minutes.
Clear instructions and the tools for the job are provided. If you do run into any assembly problems, check out the assembly video below.
Heavy-duty, sturdy construction
Maintenance free belt drive system
Whisper quiet magnetic resistance 
4 way adjustable handlebars & seat – suits most body sizes from 5′ – 6'2″
Great price for a high quality spin bike
Heavy 35lb flywheel ensures non-jerky smooth cycling motion
Integrated transport wheels just tilt and roll to move
Adjustable feet levelers – keep bike level on uneven floors
Alternative & Comparison Table
Our Choice
Joroto X2 Spin Bike
Weight – 97lb

Resistance type – magnetic

Drive system – belt

Flywheel weight – 35lb

Monitor – yes
Weight – 89lb

Resistance type – magnetic

Drive system – belt

Flywheel weight – 30lb

Monitor – yes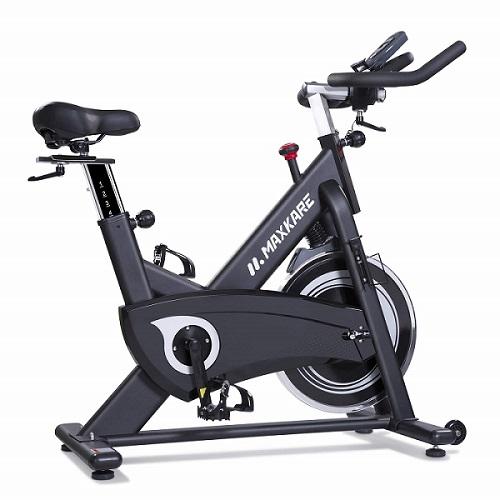 MaxKare Magnetic Spin Bike
These guys aren't that well known still; they make some quality cardio equipment. I reviewed one of their treadmills a few months ago, and for the price, that thing punched way above its price tag, and by the looks of it, so too does their mid-level spin bike.
The MaxKare is $50 cheaper than the Joroto, yet it shares the same features as the Joroto, such as magnetic resistance, a belt drive system, a decent flywheel, and the 4 ways adjustable seat & handlebars.
Joroto has excellent customer service. It's one of the things users praise when talking about the Joroto spin bike this is reassuring. But I know less about the MaxKare customer service. I havent heard any complaints still their products are less well known, so there is little user feedback – it's something to bear in mind.
Otherwise, the MaxKare is unbeatable for the price. The Joroto X2 and the MaxKare spin bike are easily the two best spin bikes in the under $500 price category. And choosing between the two is tough. 
If it were me, I'd probably edge towards the Joroto X2 as I like that it boasts a heavier flywheel and the frame weighs slightly more also, we know should anything go wrong, Joroto will sort any issues quickly.
Whichever one of these two bikes you choose, you won't be disappointed. Both offer great value for money!