There really isn't much of a difference between the Sunny Health SF-B1805 and a spin bike you might use in your local gym; it's that good! And at around $600, it makes an excellent alternative to the Peloton bike (sunny is 3x cheaper)
Best In Price Range – Heavy Duty Frame, 44lb Flywheel, Magnetic Resistance – Sunny Health SF-B1805
What makes this indoor bike stand out from others in this price range is its build quality. This thing weighs nearly 140lb. That's a lot of bike for your money. The extra weight is a telling sign the Sunny is made from quality materials, and it's also going to help a ton with stability.
Additionally, the bike features a belt drive system that keeps things smooth and quiet, and the Sunny SF-B1805 makes use of a  whisper-quiet magnetic system, making it perfect for home use.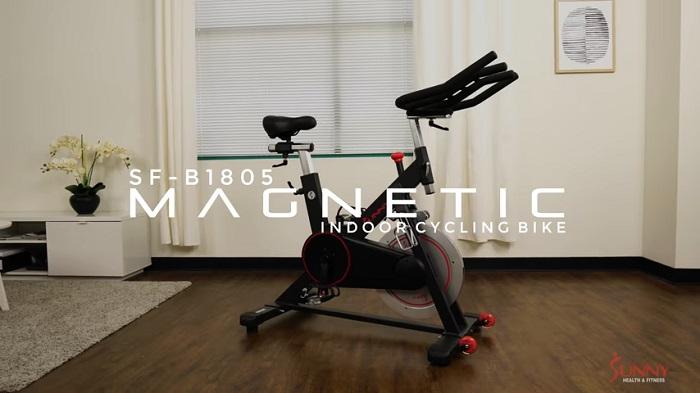 If you have been looking for a durable well-built spin bike with all the latest features, including magnetic resistance, and you don't want to spend Peloton prices, the Sunny Health & Fitness SF-B1805 is one of the best choices on the market right now.
Before we get on with the review, let's take a quick look at the product specs.
Product dimensions – 48L x 23W x 45H in
4-way adjustable handlebars and  4 way adjustable seat
Resistance type – magnetic
Why Do We Like The Sunny Health SF-B1805?
You'd be surprised how many bikes in the under$600 price bracket still use a chain for their drive systems. Chains drive systems, similar to the ones on outdoor bikes, need maintenance. They'll require regular lubrication, and they tend to fall off the sprocket.
And more importantly, chain drive systems are noisy.
When you're exercsing at home, you want to keep noise to the minimum, especially if you dont want to disturb others around you with the sound of your workouts. If you can afford it, you really want to find a spin bike that takes advantage of the quieter new belt drive systems.
Belt drive systems require little to no maintenance and are quiet and smooth when in motion. Thankfully the Sunny Health SF-B1805 boasts a durable belt drive system for optimal low maintenance performance.
Heavy Weight Flywheel – Smooth Motion
The main benefit of a heavy flywheel is that it makes your cycling movement less jerky and more controlled.
A heavy flywheel will also ensure safe movement by producing more power at a steady rate. What does this mean? Basically, it's great for long spin workouts and climbs.
With a cheap spin bike, you're looking at 20-25lb flywheels. Still fine for beginners, but when you start to spend a few more bucks, we thankfully can get hold of a spin bike with a decent flywheel weight, such as the Sunny.
The Sunny Health SF-B1805 flywheel weighs 44lb, it's perfect for home spin classes, and it shouldn't feel much different from the ones you use in your local gym. Smooth cycling motion is what we are after, and you will get that with the Sunny Health spin bike.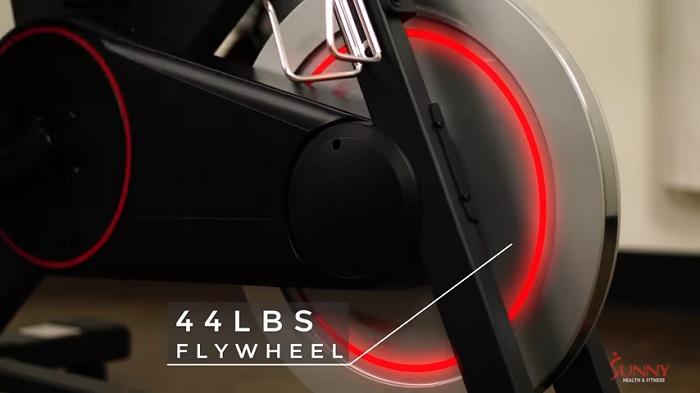 Stability – Solid Heavy Weight Construction
When buying a spin bike, not many think of stability as an important purchasing factor, but it's one of the most important things you need to consider when choosing an indoor exercise bike,
Budget usually determines how stable an indoor bike is, as the more expensive the bike, the heavier duty the frame. We want a nice heavy frame because it's going to keep the bike planted to the floor.
For a mid-level spin bike, the Sunny is heavy at 125lb. The weight will help a load with stability; you also get that feeling of quality when cycling on the bike. It's not going to feel like some cheaply made unstable spin bike.
Along with the heavy frame, Sunny has also included 4 adjustable feet levelers, a convenient feature for those with uneven floors. Adjustable levelers will keep the bike level on uneven floors and stop any unwanted wobble.
Just in case you do feel any lateral movement when cycling hard, I recommend getting hold of a cheap rubber floor mat if you're going to house the bike in a room with polished floors.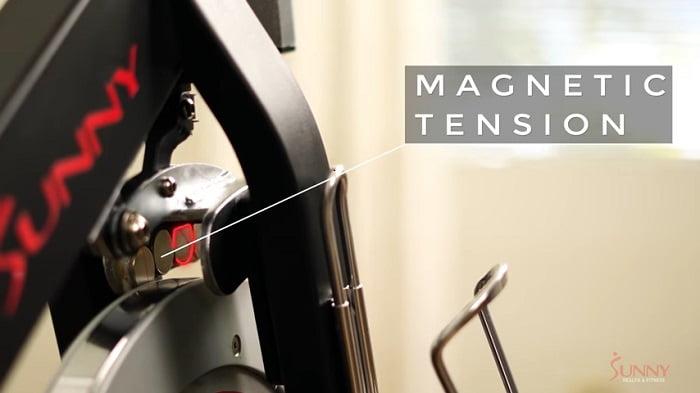 Magnetic Resistance – Micro Adjustments
Magnetic resistance is another feature I love about this bike, and the good thing is we dont have to spend over $1k to benefit from it. Magnetic resistance is the preferred choice of resistance systems for spin bikes. Why? Because it's maintenance-free and is whisper quiet!
Plus, it's so easy to find a suitable resistance level for your workout, just a twist for the easy-to-reach tension knob, and you'll find the right resistance strength for your workouts.
Because we're paying slightly more than a budget spin bike, we also get to take advantage of micro-adjustments.
Micro adjustments allow you to gradually increase or decrease resistance rather than having big jumps of resistance strength.
And if you're thinking of using this bike with the Peloton app? The Peleton trainers will ask you to make small adjustments to resistance strength. Something you can't do on a budget spin bike. It would be best to have a bike that supports micro-adjustments, such as the Sunny Health SF-B1805.
4-Way Adjustable Handlebars & 4 Way Adjustable Seat
Most spin bikes, even budget bikes, can boast a 4-way adjustable saddle, but not many bikes; even mid-range spin bikes include 4-way adjustable handlebars.
A bike with handlebars that move vertically and backward and forwards is a big plus for shorter uses. Many short (petite) users have trouble finding a comfortable cycling position simply because the handlebars are too far away. A handy feature to have if you're 5'3″ and under.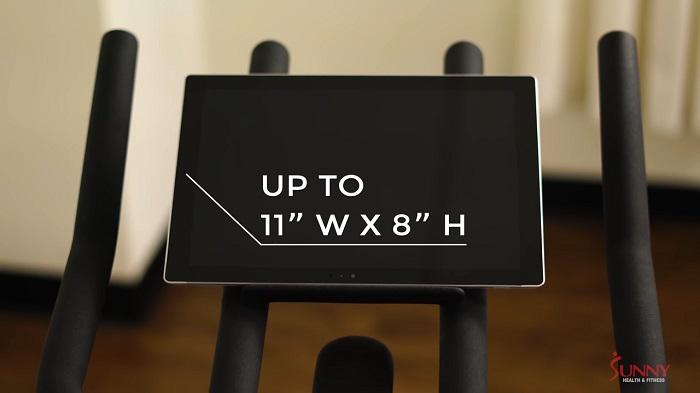 Tablet Holder But No Monitor
Surprisingly there's no monitor with the Sunny? This makes it obvious the bike has been designed to be a Peloton alternative. This is a good thing. Sunny hasn't wasted money on a monitor. Instead, they have concentrated on the important stuff like built quality and advanced features such as magnetic resistance and a belt drive.
Some people may find it a little annoying there aren't any workout stats readouts. Still, if you want an excellent Peloton alternative, one that's durable, solid, and suitable for keeping up with demanding spinning sessions, there has to be a drawback or two at this price.
Assembly – Under An hour.
Most of the Sunny Health and Fitness SF-B1805 comes pre-assembled.  All you have to do is attach the seat peddles and handlebars. It shouldn't take longer than an hour. Tools and clear instructions are provided
Excellent price for a semi commerical spin bike
Heavy 44lb flywheel for smooth unjekry cycling motion
Magnetic resistance with micro-adjustments
Heavy-duty steel frame will help keep the bike stable
Relatively narrow Q-factor
Belt drive system – quiet maintenance free
4 way adjustable seat and handlebars
Suits user heights from 4'9″ – 6'5″
Transport wheels, just tilt and roll to move
To Sum Up
The Sunny Health SF-B1805 is the best Peloton alternative you will find in the 600 and under price bracket. This thing shines when it comes to build quality and durability. A solid spin bike that will last years of heavy use.
Its virtually maintenance-free thanks to its magnetic resistance and the belt drive system. And boasting a heavy 44lb flywheel, you can be assured of a smooth and consistent workout experience.
At a fraction of the price of other semi-commercial spin bikes, the Sunny Health & Fitness Indoor Cycling Bike is surprisingly impressive.