There aren't many companies out there that can match Sunny Health when it comes to quality and price. These guys specialize in building quality cardio gear at affordable prices.
Although we're not looking at budget prices for their Sunny Synergy Pro SF-B1851, this spin bike offers more than most in its price range. It basically has everything you need for long spinning sessions and includes dumbbell holders for those of you looking for a full-body workout.
Advanced Features Including a Whisper Quiet Belt Drive System.
With magnetic resistance, a belt drive system, and a 40lb flywheel, the Sunny boasts some excellent features, all of which make it a great alternative to the Peloton bike.
If you have been looking for a smooth cycling motion, a whisper-quiet workout, and a well-built, stable machine? The Sunny Synergy Pro SF-B1851 Indoor bike might the perfect match for your cardio needs.
In this review, we're going to take a look at everything the Sunny Synergy Pro has to offer, including a few of its drawbacks. At the end of the review, we'll also compare the Sunny with one of its closest rivals.
First, let's take a quick look at the product specs!
Product dimensions – 49 x 22 x 46.5 inches
2-way adjustable handlebars and 4-way adjustable seat
Resistance type – friction
Integrated transport wheels
Why Do We Like The Sunny Synergy Pro SF-B1851?
What you have to love about this bike is how much it weighs. Yes, heavy is good when it comes to spin bikes. The heavier the bike, the more study it will feel when cycling, and at 110lb, the Sunny is heavy for a mid-level bike.
When you're cycling on the Sunny, you won't feel like you're cycling on some cheaply made unstable bike.
Instead, it will feel sturdy and well built. It shouldn't feel too different from bikes you have used in your local gyms, and that's exactly what we're looking for when choosing a bike for home use.
Also, the extra weight is a telling sign this bike is made from quality materials. With its heavy-duty steel frame and 40lb flywheel, the Sunny SF-B1851 shouldn't have any trouble coping with intense out of the saddle calorie-burning workouts.
Another excellent stability feature of the bike is its 4 adjustable levelers. This is a handy feature that can be independently adjusted to keep the bike level on uneven surfaces.
With its heavy-duty build, adjustable levelers, and wide stabilizing feet, Sunny has done all they can to provide you with a stable cycling experience.
Maintenance-free, Quiet Belt Drive System
A few years ago, most spin bikes, including high-end bikes, were fitted with chain drive systems.
While there's nothing wrong with a chain drive, it gets the job done. They are noisy because the chain has to roll over the sprocket, similar to an outdoor bike. Also, the chains  have to be lubricated every so often.
Belt drive systems are fairly new to the market, so they tend to feature only on mid to high-end spin bikes, thankfully we see one featured on the Sunny Synergy Pro.
Belt drives are almost silent in operation, so they are perfect for indoor use. You won't disturb others with the sound of your workouts. Belt drives are maintenance-free and good ones last years of heavy use.
If you have been looking for a whisper-quiet drive system, one that won't disturb other household members and doesn't take any extra work from you to maintain? Always opt for a belt drive system.
Heavy Flywheel & Magnetic Resistance
One of the most important things you should look for when choosing a spin bike is the flywheel's weight. Why? The heavier the flywheel, the smoother the cycling motion; also, heavy flywheels create more momentum, perfect for long spinning sessions.
The Sunny Synergy Pro boasts a 40lb flywheel which is impressive for the price point and, when coupled with its magnetic resistance system, will allow for one of the smoothest un-jerky cycling motions in this price bracket.
Another benefit of magnetic resistance is that it's maintenance-free.
The magnets don't have to make contact with the flywheel, so there isn't any wear, unlike the cheaper friction resistance systems where the friction pad presses against the flywheel to create the resistance. You have to replace friction pads every few months from wear and tear.
Magnetic resistance is much better suited to apps like Peloton. Why? Peloton trainers ask for minor resistance adjustments, something that is very difficult with friction resistance systems.
Hence, if you were thinking of using your spin bike with the Peloton app, it's always better to choose a magnetic resistance system to allow for micro-adjustments.
Easy To Use Large LCD Monitor
Okay, we're never going to find fancy monitors with HD screens and tons of workout programs in this price bracket; heck, some bikes in this price bracket dont even include a monitor so it was nice to see a decent monitor featured of the Sunny Synergy.
While there are no advanced features, the monitor does track all the essential workout stats such as speed, time, distance, calories burned, race, and pulse.
It is always nice to have built-in pulse sensors as they are especially useful for those who like to exercise in your chosen heart rate zone.
All your workout stats can be easily viewed thanks to the large LCD. And its good to see a tablet holder is provided (saves you $20) so you can use your favorite cycling apps with the bike.
We love that the seat of the Sunny Synergy Pro is fully adjustable; it adjusts vertically as well as backward and forward. This will allow for a wide range of users' height from 5'1″ to 6'2″. (or inseams between 29″ and 35.9″)
But something slightly disappointing is that the handlebars only adjust vertically. This isn't very pleasant for shorter users who have short torsos as it can mean they have to over-stretch to reach the handlebars.
At this price, the handlebars should be fully adjustable! It's one of my only gripes with the Synergy Pro and something to bear in mind for petite users.
On the positive, the Synergy Pro can boast SPD pedals, so will be compatible with your cycling shoes or the built-in toe cages compatible with regular gym shoes. The choice is yours.
Easy To Assemble Under An Hour
Nothing too complicated when it comes to assembling one of these things. You might need two people to move the heavy box into place. Once unpacked, you'll need to attach the pedals, stabilizer bars, support posts, seat, handlebars, dumbbell holder, water bottle holder, and console to the bike.
All tools for the job and clear instructions are provided—average assembly time under an hour.
Quiet maintenance-free belt drive system
Decent monitor with pulse monitoring
Heavy flywheel for smooth cycling motion
Integrated transport wheel just tilt and roll to move
Doesn't come with Bluetooth
Handlebars only 2 way adjustable
No wireless heart rate capabilities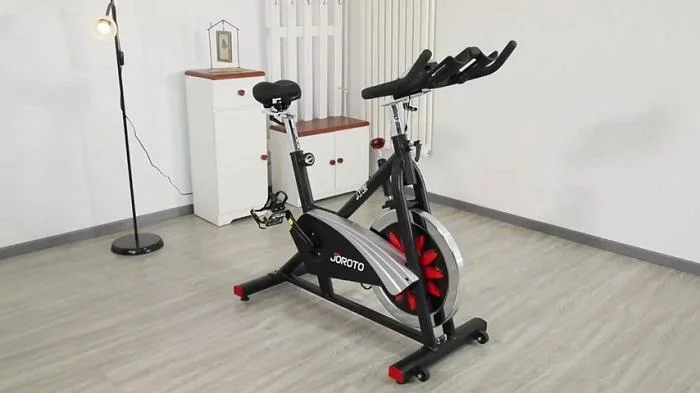 Joroto X2 Indoor Bike
In case you're in two minds about the Sunny, it might be worth checking out the Joroto X2. The Joroto is currently our favorite spin bike under $500, so it costs slightly less than the Sunny Synergy, yet the X2 matches the Sunny on almost every feature.
With magnetic resistance, belt drive system, and a heavy 35lb flywheel, the Jororto certainly doesn't fall short when it comes to advanced features, plus it boasts a nice heavy build and 4 adjustable levelers to keep the bike level on uneven floors.
The Joroto handlebars and seat are also fully adjustable, so it trumps the Sunny in that respect. So, where does the Sunny outshine the Joroto? The Sunny's flywheel is slightly heavier, and so too is the frame. The Joroto doesn't include SPD pedals, and the monitor of the Joroto is even more basic than the Sunny.
Still, when we think the Joroto X2 costs $150 less than the Sunny Synergy and includes the fully adjustable handlebars, you start to realize why the Joroto is one of the most popular spin bikes on the market.
To Sum Up
There's nothing particularly special about the Sunny Synergy Pro, what it is is a solid all-rounder that gets all the essentials right.
The heavy-duty frame will help keeps things stable, the impressive 40lb flywheel, and magnetic resistance will provide you with a smooth cycling motion, and the belt drive system will keep noise to a minimum so you won't disturb yourself or others with the sound of your workouts.
Overall the Sunny Synergy Pro SF-B1851 is an excellent choice for many who want a Peletion alternative. I couldn't find much to fault about the Synergy Pro, the lack of 4-way adjustable handlebars might be a deal stopper for a few people but apart from that another well-priced, well-built bike from the guys over at Sunny Health & Fitness.