A 25% reduction in Cellulite, increased blood circulation, toning, and strengthening your legs and core are just a few of the benefits of owning a vibration plate, heck, even NASA has carried out studies on these things and has praised their rehabilitation powers.
And thankfully, you don't have to spend a ton of money on a high-end machine to reap the health benefits of these amazing machines.
Yes, a simple oscillation plate with its see-saw motion, such as the LifePro Vibration Plate Exercise Machine, and its 99-speed levels will provide all you need for a low-impact workout at home.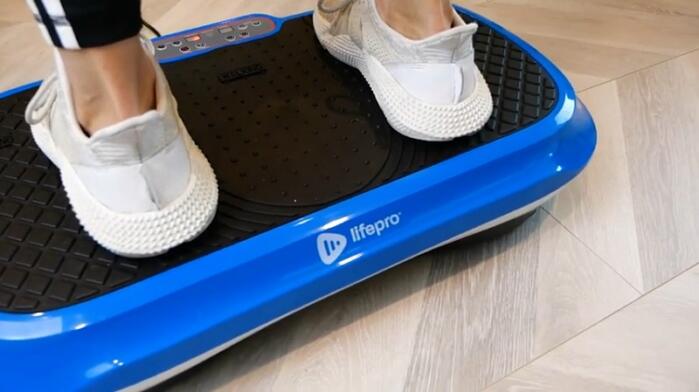 Make Sure You Buy The Correct Vibration Plate For Your Needs.
Still, let's not get too carried away as there are many things to consider before purchasing a vibration plate that can affect both your workouts and the results you can achieve. In Today's review, we'll cover everything you need to know, including a few drawbacks.
First, let's take a quick look at the LifePro vibration plate Product specs!
Built-in transport wheels
Warranty – 100% lifetime saticfaction 
Why Do We Like The LifePro Vibration Plate Exercise Machine?
There's no doubt about it the LifePro is a budget vibration plate at under $200, still, when we compare it to others in this price range it's impressive. And here why. First, we have to look at the weight.
The weight of the machine is by far the most important feature anyone should look for when purchasing a vibration plate.
Not only does the weight of the Vibration plate give us a good clue to the quality of materials used, but the weight of the plate will also affect how much energy is lost from the plate while vibrating.
If the vibration plate is too light it's going to shake too much the energy will disperse in all different angles, sideways, down, and up. This is something we want to avoid. A heavy machine will stay more planted to the floor which allows most of the energy to travel upwards into our bodies.
Sadly most budget machines do suffer from being light so were always going to get some energy displacement, but when we consider most machines in this price bracket weigh around 20lb at least the LifePro gives us an extra 3rd in weight or 10lb extra, it doesn't sound much but it can make big difference. So yes for a budget vibration plate 30lb is an impressive weight.
100% LifeTime Customer Satisfaction Gurantee
LifePro also offers a lifetime customer satisfaction guarantee on the LifePro vibration plate which is excellent to hear as it shows us these guys have a lot of confidence in their products it's also another sign that this thing is made from quality materials.
For weight, price, and quality the LifePro gets a thumbs up.
Workout Video – Vibration Pro
Monitor/Control Console
Don't expect a high-end monitor in this price range. What we usually find are monitors that tell us time spent exercsing and the speed level. And that's all the LifePro monitor tracks. Still, if you're a beginner, this is all you will need.
There are no workout programs with the LifePro, and we wouldn't really expect there to be for under $200 but what's surprising is the number of speed levels. 99 levels is more than enough for most people to find a speed suitable to start with; it also gives enough scope for growth as you improve over time.
The monitor is built into the back of the machine, so it's perfect for floor workouts, and when you stand, you have a handheld remote to change speed levels, etc.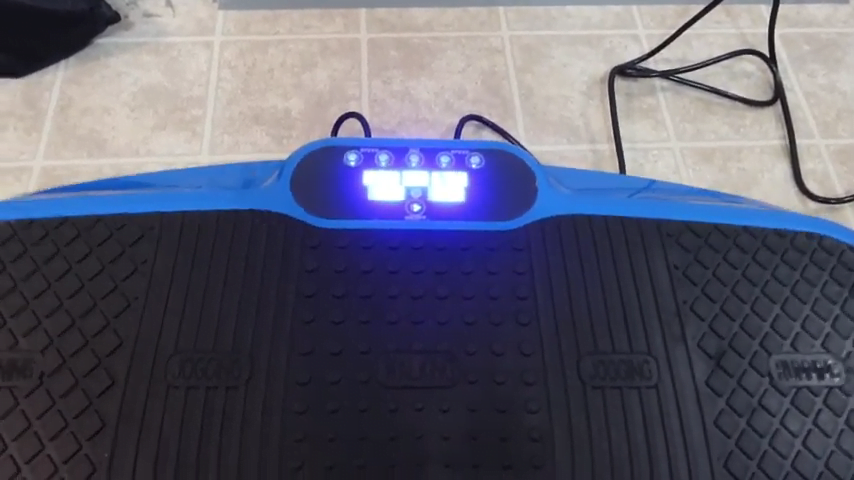 Oscillation plates – Who Are They For?
Oscillation vibration plates have a wide range of uses, from rehabilitation to losing weight and toning muscles.
They work by the user holding a static position either standing straight or with your knees slightly bent; you then let the oscillating plates do the hard work for you. The focus of the workout is on your legs, butt, and core.
The most common use for vibration plates such as the LifePro is to lose weight, and that's because it uses oscillation – a see-saw motion or, in other words, think of it like you are taking hundreds of mini-steps in a few seconds.
The contractions of the muscles from the mini-steps use energy which in turn burns calories.
But you're not going to burn tons of calories just standing on the plate. It's not powerful enough for that. Yes, you'll burn a few, but it's much better to incorporate other exercises into your workout to increase your muscles' workload, thus burning a load more calories.
Resistance Bands For Full Body Workout
Let's not forget the LifePro comes with its own set of resistance bands, so once your confidence has grown using the vibration plate, you can start to incorporate full-body workouts into your training session. Increasing strength coordination, balance, and muscle tone.
The health benefits of Oscillating plates go way beyond calorie burning and muscle toning. With benefits ranging from increased blood circulation, bone density, muscle strength, and a large reduction in cellulite at the top of the list, and as new research continues on the subject, I'm sure there will be many more.
Durability – Superior Warranty
One of the biggest problems with entry-level vibration plates like the LifePro is durability issues. Yes a lot of them fall apart after a few months of use. High-end machines use stainless steel and strong large alloy parts etc.
The LifePro is built mainly from plastic which isn't surprising considering the cost, but on the positive, this machine has been around for a few years now and people who have owned it for a long time are still praising the machine. This is great to hear and is evidence the LifePro has stood the test of time which impressive in this price bracket.
Probably one of the best things about this machine is that the guys that build it offer a lifetime guarantee which is almost unheard of in the budget ranges.
This should fill you with confidence when buying the LifePro because should anything go wrong it will get fixed no questions asked.
I read most of the reviews about LifePro and its extended warranty and the majority are really impressed with this company saying they honor the lifetime warranty and are quick to fix any issues.
Impressive build quality, weight and warranty for price point
Oscallating plates are perfect for weight loss, rehabilitation and muscle toning
Built-in monitor – shows speed and time. Remote control provided
Free professional trainer manual and access to online workouts
Very quiet – watch tv while you exercise
Includes resistance bands 
Tread can be tough on hands
Limited exercise instruction
To Sum Up
There's a reason the LifePro Vibration Platform is one of the most popular budget plates on the market, and that's because it is well built, will last, and has the lifetime 100% customer guarantee. It has by a long way more positive feedback than any other budget Vibration plate I've come across.
It's an excellent buy for first-timers looking to burn some calories and for anyone who wants to benefit from the rehabilitation powers of these machines.
It's still way off something you might find in your local gym, but for the price, it's unbeatable. Just remember, if you want to get the most out of this machine for weight loss, you must incorporate other exercises into your sessions on the plate.