For a compact, lightweight vibration plate, the LifePro Waver Mini Vibration machine really packs a punch! It boasts the same powerful 200w motor as its bigger brother,' the standard size waver.' It also includes the same amount of speed levels and the same durable build.
Better Equipped Than Most Standard Size Plates.
Compared to one of the most popular large vibration plates on the market, the 'Hurtle Fitness Machine,' the Mini LifePro actually trumps it with twice as many speed levels and the same power motor.
This thing is better-equipped than most of its larger, more expensive competitors. And surprisingly includes a lifetime warranty, something usually only offered on high-end commercial machines.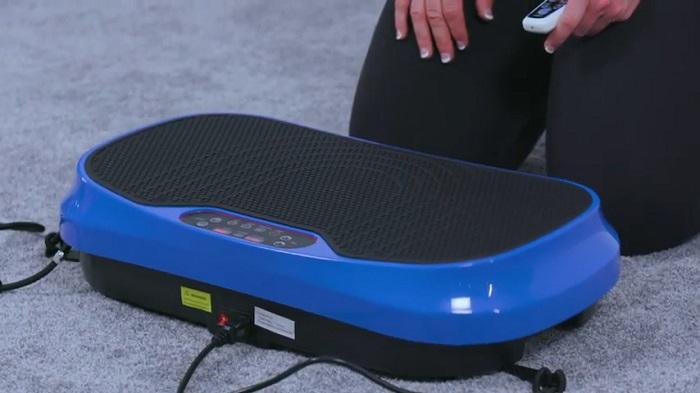 Today I want to take a close look at everything the LifePro Mini Waver has to offer, including its drawbacks, as there are a few.
I'll also compare it with another extremely popular compact vibration plate, the PowerFit vibration machine. So hopefully, by the end of the review, you should know if the LifePro mini is the right vibration plate for your needs.
Before all of that, let's take a quick look at the LifePro Mini Waver product specs!
Vibration type – Oscillating 
Why Do We Like The LifePro Waver Mini Vibrating Machine?
What you have to love about this machine is that it uses oscillating vibration. It's the key-word you should look out for when choosing a vibration plate for home use as many cheap plates just vibrate and hardly have any health benefits at all.
Oscillating vibration is a see-saw motion. It is the most natural of vibration types as it mimics how we walk. Think of oscillating vibration as taking hundreds of mini-steps per minute.
These mini-steps cause our muscles to contract; when muscles contract, they use energy, and energy = calories.
The higher the speed of the vibration, the more times the muscles will contract to maintain balance. This will increase calorie burn and muscle toning.  And the great thing about this is you dont have to move.
You can burn calories and tone muscles just by standing on one of these things because the machine is doing all the work for you.
Oscillating Vibration – Offers More Than Just Weight Loss & Muscle Toning
Weight loss and muscle toning are the two main benefits of oscillating vibration.
Still, research has also concluded that just 15 minutes on an oscillating vibration platform a few times a week can also increase bone density, blood circulation, improve lymphatic drainage, reduce cellulite by up to 25%, and improve your balance.
Planks – Press Ups – Lunges – Squats
If you want to take your muscle toning and strengthening to the next level? Why not incorporate other exercises into your vibration workouts, such as lunges. Press-ups. Planks.
The extra balance required to perform these exercises on the vibration machine works your muscles that much harder. A 20-minute session is equivalent to 60 minutes of regular exercise, dramatically cutting your workout times.
Anything We Didn't like?
Budget plates and mini vibration plates are light, which is a good thing when it comes to moving and storing the vibration plates. However, the vibration plate's weight is more important than you think as it's the weight of the plate that helps keep the vibration platform planted to the floor.
Lightweight vibration plates such as the LifePro Mini tend to shake too much because of their lightweight build. Energy is dispersed sideways, downwards, and upwards instead of just upwards into our bodies.
There really isn't much we can do to prevent this unless you want to pay for a more expensive heavy-duty vibration plate.
It's not all bad news; budget vibration plates have come a long way in the past few years, the designs have improved, and they weigh a little more than they used to, but the lifePro is a mini plate, so it's going to be one of the lightest on the market at 22lb just because of its size.
What we can do to prevent some energy loss is to make sure the vibration plate is placed on an even surface. This will prevent any wobble.
The LifePro Mini also comes with 4 suction pads. Suction pads are an excellent stability feature that should stop any lateral movement on hard floors, so always check you are making full use of these.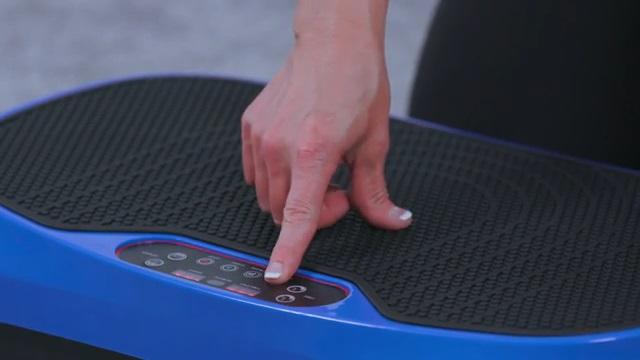 Monitor/Control Console
The LifePro Waver Mini Vibration Plate monitor is basic, which is nothing unusual in this price bracket. Still, it has everything you need for your workouts, such as a timer and an LCD, so you can easily read your speed level.
A big positive of the monitor is that it's positioned at the back of the machine, making it easy to access when performing floor exercises.
For standing workouts, we have a remote control. So you can effortlessly change speed level, set the timer without having to step off the machine in the middle of the workout.
Boasting 99-speed levels, the LifePro mini should cater to most people's needs, from beginners to more advanced users.
Simple but easy to use monitor that includes a romote control
Resistance bands – full-body workout
200w motor powerful for price point
Tread can be tough on hands
Limited exercise instruction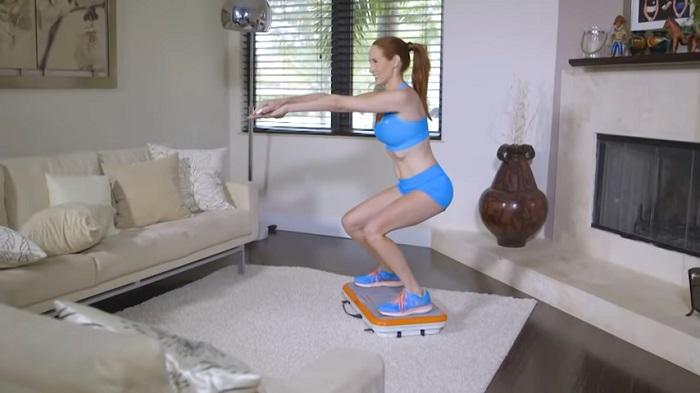 PowerFit Elite Vibration Platform
There's a lot of hype surrounding the PowerFit, mainly due to their aggressive marketing campaign. I'm sure many of you may have seen this vibration plate being advertised on TV.
But when it comes down to it, the PowerFit is just another budget vibration plate is doesn't offer anything more than its competition, and it is overpriced for what you receive.
The standard PowerFit Elite is around the same size as the LifePro Mini and weighs the same. It too includes 99-speed levels, a remote control, and uses oscillating vibration.
The only big difference is the price. The PowerFit is twice the price of the LifePro Mini, it doesn't offer any extra features or weight, and it has the same 200w motor.
Yes, the PowerFit is an excellent compact vibration plate, but it's expensive when we compare it to the LifePro mini! The LifePro also includes an impressive lifetime warranty. Bang for buck, the LifePro Mini wins this one, hands down.
To Sum Up
If you're after a mini Osciallting vibration machine and you're on a budget, there inst anything out there that can match the LifePro Mini Vibration Plate. What's most impressive is that the LifePro Mini boasted the same features and build quality as the larger, more expensive machines.
I havent seen any other vibration machines in this price bracket that include a lifetime warranty. It's a telling sign that the LifePro vibration machines are made from quality materials, and it's always nice to see a company that has a lot of confidence in its products.