For nearly 3 decades, people have been reaping the health benefits of vibration workouts.
When they started popping up in gyms, health clubs, and rehabilitation centers, it seemed everybody was talking about vibration machines as a viable way to lose weight, tone muscle, increase blood circulation, and more.
But back then, if you wanted one for home, it was expensive, over $2k for a basic machine. It's only recently that we've been able to get hold of affordable machines for home use.
LifePro Fitness was one of the first companies to offer vibration machines at a price most can afford. These guys have been leading the home market for years, and today in our LifePro Vibration Reviews, we're going to look at their Top 3 machines on offer.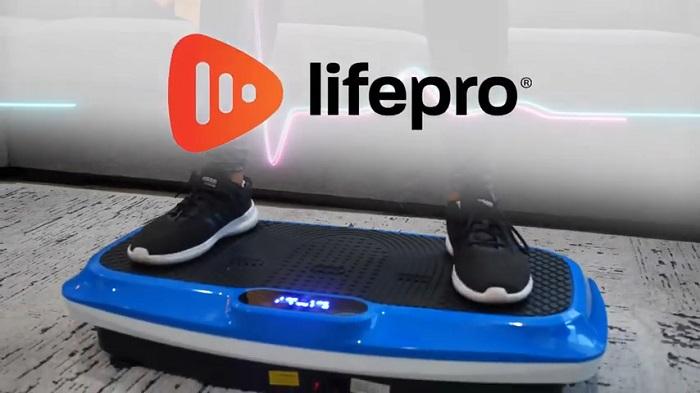 Oscillating Vibrations For Weight Loss, Muscle toning & Recovery.
All three of our LifePro vibration Platforms in this review offer oscillating vibration. This vibration type is the most common type of vibration you will see featured on vibration machines. It's perfect for weight loss, muscle toning, and rehabilitation.
Oscillating vibration is the most natural of vibration types. It mimics how we walk and has less vertical impact than other vibration types, so thankfully, it can be used safely by people of any age or ability.
Its also the vibration type with the most positive scientific research, with many studies praising its rehabilitation powers and ability to shed tummy fat and reduce cellulite.
We'll start this review with LiefPros Flagship oscillating plate, the LifePro Waver Vibration Machine, or in the UK, it's called the LifePro Vibration Exercise Machine.
LifePro Vibration Machine Reviews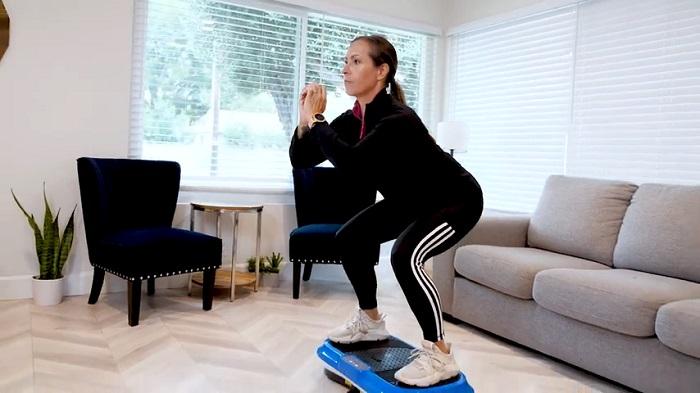 1. LifePro Waver Vibration Machine
By a long way, the LifePro Waver is LifePro's most popular vibration machine, and there's a good reason why because it offers everything you need from an oscillating vibration machine at a very affordable price, including a 100% Lifetime warranty.
The LifePro Waver is suitable for both beginners and advanced users thanks to its 99 levels of vibration, which is more than enough for people of any ability to choose a vibration speed to suit their workout needs.
The Waver also comes with resistance bands for a full-body workout. The resistance bands will work your upper body while the machine works your core, butt, and legs.
The gentle see-saw motion of this machine contracts and relaxes your muscles thousands of times every few minutes. The contractions help to tone and strengthen the muscles in your lower body, and the great thing is the muscle contraction can even help you lose weight.
Muscle contraction requires energy, and energy = calories. The higher the speed of vibrations, the more calories you'll burn. You can stand on the Waver and do nothing and still burn belly fat and improve your lower body muscle tone.
The Waver also boasts a good-sized vibration plate that's large enough for floor workouts, and thankfully the monitor is placed at the back of the machine so you can easily access it while performing floor exercises.
And for standing vibrations sessions, we have the remote control, which lets you effortlessly change speed levels or set the timer without stepping off the machine.
The LifePro Waver is our favorite medium-sized oscillating plate. It surpasses everything else on the market in its price bracket because of its superior build quality and impressive lifetime warranty.
Whether you need an oscillating vibration machine for weight loss, muscle toning, or rehabilitation, the LifePro Waver should be the machine you consider first. A versatile, durable vibration machine perfect for anyone looking to benefits from whole-body vibration.
99 levels of Oscillating Vibration – used for weight loss, muscle toning/strengthening, increased blood circulation and bone density, cellulite reduction
Great sized vibration plate suitable for floor workouts
Low impact – can be used by most age groups and abilites
Includes resistance bands for a full-body workout
Easy to use monitor that includes a remote control
Tread can be tough on hands
Limited exercise instruction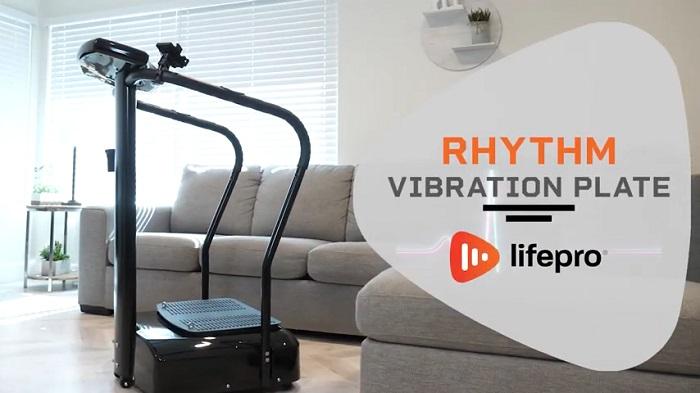 2. LifePro Rythem Vibration Plate
Next up, we have the LifePro Rythm. It's another oscillating vibration machine, so again suitable for most ages and abilities. The LifePro Rythm is more powerful than the Waver and has a larger vibration plate, so it's perfect for floor exercises as well as standing.
The Rythm includes 99-speed levels, 3 workout programs, and pulse senors built into the handlebars so you can measure your pulse rate while working out.
The obvious difference of this machine is that it includes handrails which can be a huge benefit for people with mobility issues as they provide support while standing on the machine.
But what I like most about the LifePro Rythm is how much it weighs.
It's nice and heavy at 65lb, and that's a good thing. Because not only is the extra weight a telling sign the LifePro Rythem is made from quality materials, a heavy machine will stay planted to the floor.
Light weight cheaply built vibration machines tend to shake too much, which leads to energy loss, the energy from the vibrations are dispersed downwards, upwards, and sideways instead of just upwards into our bodies.
A heavy machine like the lifePro Rythem will stay planted to the floor dispersing the energy directly upwards into our bodies, and that's exactly what you want from your vibration machine.
Another nice feature of this machine is just how easy the monitor is to use. There are just six large buttons that control speed level, workout programs, and timer. You won't have to spend half an hour trying to work out how to use the monitor.
And lastly, just like the LifePro Waver, the Rythem comes with resistance bands for a full-body workout and an excellent lifetime warranty.
The Rythem is an impressive large oscillating vibration machine with support bars for beginners or anyone who may need them. If you want something with more weight and power than the Waver? The Rythem is a good choice, and it still comes in at less than $300
99 levels of Oscillating Vibration – used for weight loss, muscle toning/strengthening, increased blood circulation and bone density, cellulite reduction
XL vibration plate suitable for floor workouts
High quality – heavy build prevents energy loss
Easy to use monitor – includes heart rate monitoring
Handlebars provide full support while standing on the vibration plate
Takes up more room and more difficult to move around the home than the smaller vibration machines
Tread can be tough on hands
No built-in speakers or Bluetooth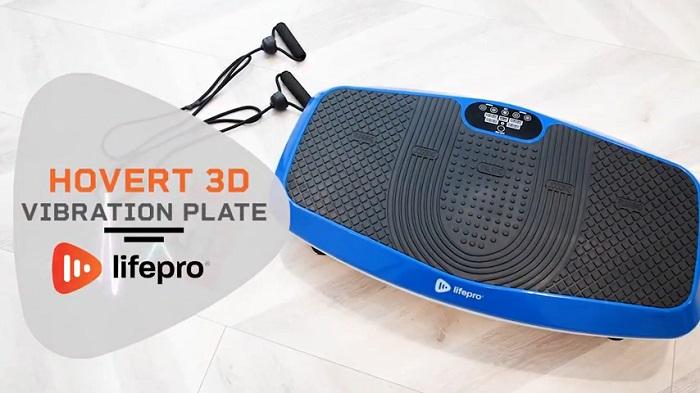 3. LifePro 3D Hovert Vibration Machine
The LifePro 3D vibration machine is slightly different from the other vibrating machines in this review in that it gives you a choice of vibration. You can either choose to use oscillating or lateral vibration independently or simultaneously to produce the 3D spiral effect.
And that's what sells this machine for me. It gives you a choice. Some workouts are better suited to oscillating while others can benefit more from lateral, so to have a choice is great.
But when we get to the 3D spiral vibration, it's here that things get more complicated.
There hasn't been much research on whether combining two vibration types to produce spiral vibration has any more health benefits than using oscillating independently. In fact, the only research concluded that using both types of vibration together actually caused 25% less muscle activation than using oscillating on its own,
However, this was only one small study; more research is needed into 3D/4D vibration machines and their positive/negative effects.
Still, the 3D Hovert is impressive as it has two powerful motors, one for oscillating and one for lateral. Even if you decide not to use the 3D option, you'll have a powerful lateral and oscillating vibration machine.
The other features of this machine are very similar to the Waver and the Rythem. The LifePro 3D includes 99-speed levels, 8 workout programs, remote control, resistance bands, and a full lifetime warranty.
Gives you the choice to use oscillating and lateral vibration independently or simultaneously
Large vibration plate suitable for floor & standing workouts
99 speed levels & 9 workout programs
Includes resistance bands for a full-body workout
Not enough research into 3D vibration to live up to the claims of the manufacturer 
Tread can be tough on hands
Would expect BlueTooth at this price point
Buying Tips
With so many vibration machines on the market and so much hype over these machines it can, especially if it's your first time buying a vibration machine be confusing as to what vibration machine to buy for your home workouts.
Thankfully all vibration machines have one thing in common they force your muscle to contract and relax dozens of times per second. Resulting in muscle strengthening toning weight loss and many other health benefits. 
However some machines are better suited to certain health issues than others, and some are much better for weight loss and muscle toning.
Although vibration machines basically do the same job whichever one you choose, there are a few differences worth paying attention to when you choose. Heres a quick buyers guide.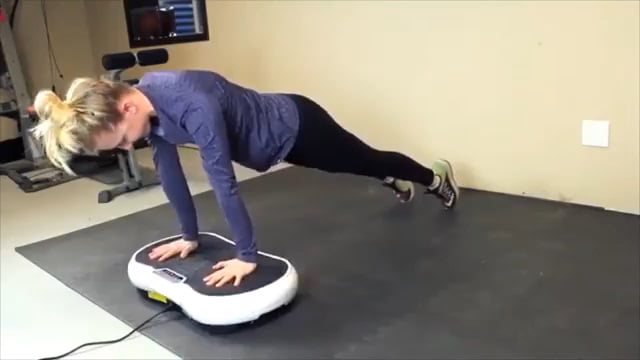 Vibration Type Does It Matter?
Two main vibration types feature on home vibration and commercial vibration machines. One is oscillating, and the other is linear. Generally, most people are fine using an oscillating vibration machine. Oscillating vibration is the vibration type that's attracted the most scientific research, all of which has come back positive.
I haven't found any negative research concerning oscillating vibration. It's the most natural of vibration types, has less vertical impact than other vibration types, and is generally considered safe by the medical community.
You can think of oscillating vibration as taking thousands of mini-steps every few seconds.  When using the oscillating vibration, the affected muscles contract alternately, much like when you're walking, so the same muscles on both sides of the body are never engaged at the same time. (low Impact)
When buying an oscillating machine, make sure they advertise it as oscillating as many cheap vibration plates just vibrate. The keyword to look for is oscillating when choosing.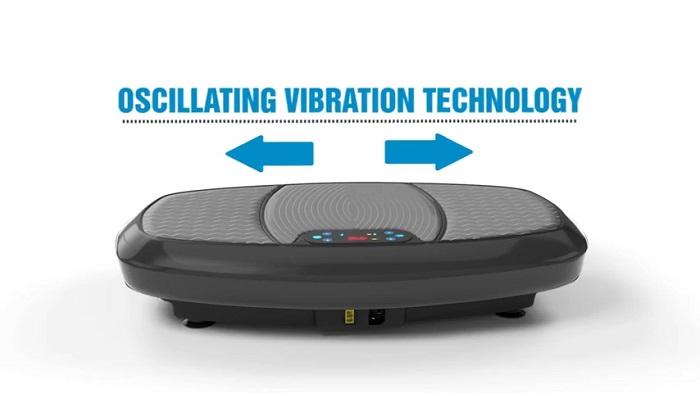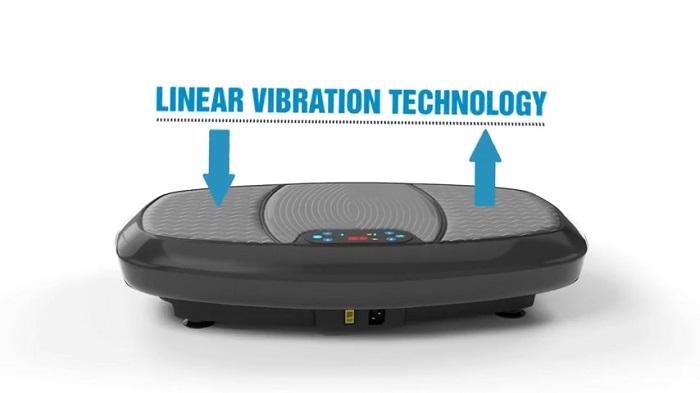 Linear Vibration
The other popular type of vibration is linear. Linear vibration, just like oscillating vibration, contracts and relaxes the muscles thousands of times every few minutes, so it shares many of the same health benefits as oscillating vibration.
However, there is quite a difference in how the vibrations are delivered to the body.
Linear vibration moves both sides of the body at the same time, mimicking the jump reflex,  making it a high-impact vibration up to 6x the user's body weight. While this is great for sports training, weight loss, and muscle toning, it's not so good for people with joint issues or neck problems.
3D/4D Vibration
3D vibration is usually a combination of linear and oscillating vibrations created by using two separate motors simultaneously.
Lateral vibration is also used by some companies that produce 3D & 4D plates. There hasn't been any research to back up the claims of 3D and 4D vibration.
At the moment, it seems more of a selling gimmick than anything else. The only research carried out on the subject concluded that using two types of vibration together caused a reduction in muscle activation by 25% compared to using oscillating vibration independently.
Weight – The Heavier The Better
If you want to avoid energy loss, it's best to go for a heavy vibration machine. Cheap, lightweight machines tend to shake too much, causing energy to disperse sideways, downwards, and upwards instead of just upwards into our bodies. You want your machine to stay planted to the floor, so energy is directed upward.
Monitors/Control Consoles
I havent come across any advanced monitors on a vibration machine. Even machines costing $2k+ have basic monitors. Every vibration machine should include an LED display for the timer and one for speed or power.
When you pay a little more, we do start to see features such as BlueTooth, workouts programs, and built-in speakers, and some of the larger machines have pulse sensors, BMI calculators, etc., but that's about it.
I wouldn't worry too much about the monitor as long as it comes with a speed-level display and timer. That's all you really need for a vibration session. Most of thises machines are whisper quiet, so you can watch TV listen to music without being disturbed by the sound of the machine.
To Sum Up
What's Impressive about LifePro Fitness is they offer affordable vibration machines without cutting on quality. I've read many user reviews who are still praising their LifePro Vibration machine years after owning it.
They are the only company in this price range of vibration machines that offers a full lifetime warranty on everything. This really shows the confidence these guys have in their machines. It's always nice to see a company that stands behind its products.
The LifePro Waver is my favorite choice for affordable oscillating vibration machines. It outshines its competition on quality and has everything you need for your vibration sessions at home.
However, the appeal of the larger LifePro Rythem is hard to resist thanks to it having some extra power and more weight which helps with energy loss.
Still larger machines are difficult to store, so depending on space, this might not be the best choice for you. Whichever LifePro vibration machine you choose I'm sure you will not be disappointed.