Designed for a more gentle workout, the LifePro Rythem Vibration Plate benefits from oscillating vibration. This vibration type suits any age or ability thanks to its natural motion that mimics how we walk.
LifePro Rythem Vibration Plate – Suitable For Any Age or Ability.
Kind on the spine and joints and with less vertical impact than linear vibration, the LifroPro Rythem is a perfect choice for therapeutic recovery, helping improve blood circulation and increasing blood flow and oxygen delivery to the muscles.
Increased blood circulation is one of the main benefits of oscillating vibration. With no less than six scientific studies in the last decade, all producing the same positive results that oscillating vibration improves your blood circulation as soon as you step on the machine.
Increased blood circulation is just one of many health benefits of oscillating vibration, and the LifePro Rythem Vibration Plate is one of the most impressive oscillating vibration machines out there.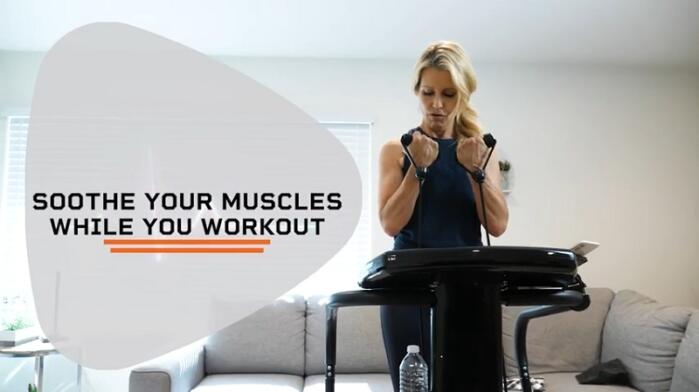 Today I want to take a close look at the Rythm Vibration Plate, its pros, and its drawbacks. I'll also compare it to one of its closest rivals in this price bracket, the BlueFin Pro. By the end of the review, you should know if the LifePro is the right choice for your workout needs.
First, a quick look at the LifePro Rythm product specs!
Product dimensions – 48 x 27.3 x 29 inches
Vibration type – oscillating & vibration
Why Do We Like The LifePro Rythm Vibration Machine?
The best feature of this machine has to be its vibration type. Yes, we've mentioned that oscillating vibration is excellent for people recovering from surgery or an illness because of its low-impact gentle motion. But it's not only recovery oscillating vibration is good for.
We need to think of oscillating vibration as taking thousands of mini spets every few minutes.
These mini-steps help to tone and strengthen the muscles in your legs, butt, and thighs, but it's also going to help you lose weight because the muscle contractions require energy and energy = calories.
The higher the speed of the vibration, the more calories you'll burn.
Still, the LifePro Rythm is not as powerful as some of the other vibration machines specially designed for weight loss. This is a gentle machine better suited to recovery etc., but in the upper-speed levels, this machine can be used for more aggressive workouts.
Heavy Machines Prevent Energy Loss
One of the things people forget to consider when choosing a vibration machine is its weight.
The weight of the vibration machine is more important than you may think because the machine's weight is a telling sign of the overall quality of materials used in the build. A heavy vibration plate will help prevent energy loss.
All cheap, lightweight vibration machines suffer from the same problem –  they have trouble staying planted to the floor, causing them to shake too much. This results in energy being dispersed sideways upwards and downwards instead of just upwards into our bodies.
The LifePro Rythm weighs 65lb which is an excellent weight for the price bracket. It means it's made from quality materials. The lifetime warranty is further evidence of this.
The extra weight will also help keep the machine plated to the floor, the energy will disperse upwards into our bodies with minimal loss, and that's exactly what we want from a vibration machine.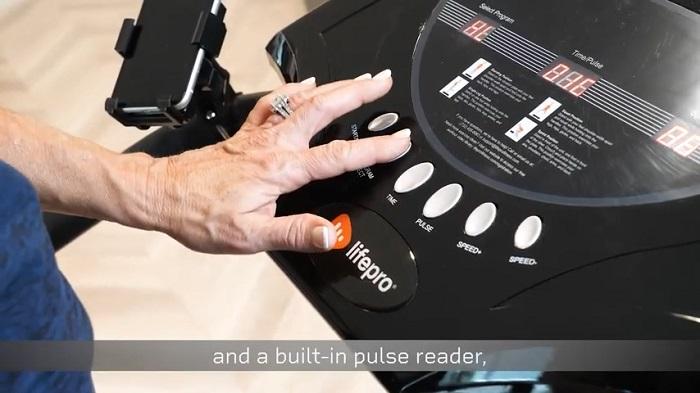 Simple – Easy To Use Monitor
I've reviewed a ton of vibration machines, and the one thing they all seem to have in common is a basic monitor. You may see this as a drawback, but simple monitors can be a good thing because it makes them easy to use, and you don't have to spend half an hour trying to work out how to use the thing.
The monitor on the LifePro includes all you need for a vibration session on your machine. With 3 LED displays, one for the timer, one for the workout programs, and one for the speed levels.
And the six large buttons make it easy to change speed level etc., while you workout. Sadly there no Bluetooth or built-in speakers with this one which is a shame as most in this price range come with built-in speakers. Still, it's not a deal killer as it doesn't affect the quality of your workout in any way.
On the positive, this machine includes 99-speed levels, more than enough levels to suit beginners and advanced users; you'll easily be able to find a speed level to suit your ability.
Resistance Bands – Full-Body Workout
To get the most from your vibration workouts, it best to incorporate other exercises into your vibration session. You can try lunges, squats, press-ups, and planks while on the machine, or you could use the resistance bands that come with the LifePro.
Bicep curling using the resistance bands while performing a squat on the vibration plate is an excellent exercise to try. It requires a lot of balance, so practice on a low-speed level at first.
The great thing about resistance bands is they will work your upper body while the machine works your lower, resulting in a real full-body workout.
However, resistance bands only offer a couple of upper body exercises. If you want more exercise options, you could get hold of a set of dumbbells. This opens up a whole world of upper body exercises you can perform while on your vibration plate.
Check out YouTube For more exercise ideas and guides.
99 speed levels – 3 workout programs
Oscillating vibration suitable for any age or ability
Large vibration plate – suit any size user also great for floor exercises
Resistance bands + FREE access to their  online exercise video library
100% full lifetime warranty
Lacks power for weight loss
No built-in speakers or BlueTooth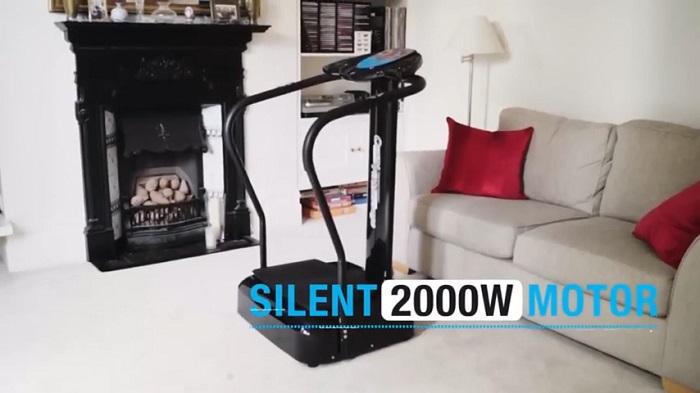 BlueFin Pro Vibration Machine
BlueFin are another top-rated company in the vibration machine market. These guys make some of the best affordable machines out there, and they are LifePros main competition.
The BlueFin Pro is another large vibration machine it boasts 180-speed levels, a powerful 2000w motor, comes with resistance bands, and weighs around the same as the LifePro Rythm.
All in all, they are quite similar in design and features. The main difference between the two machines is the power and vibration type.
The BlueFin Pro uses Linear vibrations. This vibration type moves both sides of the body simultaneously, mimicking our jump reflex, which makes it high impact up to six times the user's body weight.
And while linear vibration is a good option for weight loss and muscle toning, it's not great for people with joints or neck issues. This machine is best suited for sports training and weight loss etc.
It's priced just under $300, and it's the most powerful linear vibration plate you'll find in this price bracket. If you're after something with a little more power and you don't have any problems with your joints, the BlueFin Pro would be an excellent choice.
To Sum Up
The LifePro Rythm offers everyone a chance to reap the health benefits of oscillating vibration. Whether you want to increase bone density or tone the muscles in your lower body, the LifePro Rhythm with its 99-speed levels, will help you reach your goals.
The good thing about buying a large vibration machine is that they are heavy and include large vibration plates. You can be sure limit energy loss is minimal, and you'll have a vibration plate large enough for all exercises, including floor exercises. Plus, if you have mobility issues, you'll have the handrails for support which can be a huge help.
And lastly, LifePro is the only company that offers lifetime warranties in this price bracket. This shows the confidence the company has in its products. And gives you peace of mind when purchasing.