There is no other vibration plate in this price bracket that can boast a max motor output at a whooping 2500w that's 6x more powerful than its main competitor, the LifePro Waver.
This extra power will make the BlueFin Fitness Vibration Platform a perfect choice for those looking for a vibration plate for muscle toning and weight loss.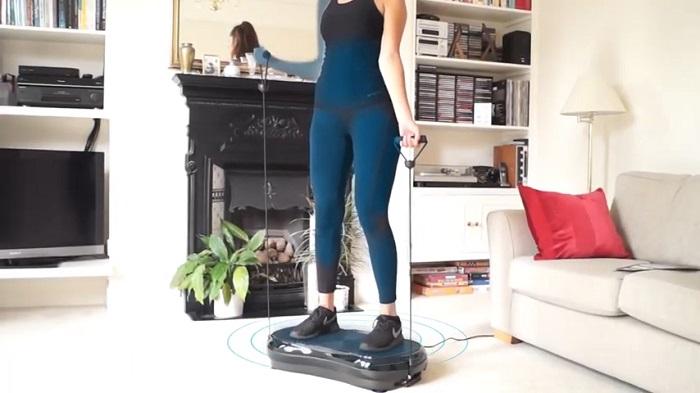 Linear Vibration – Great For weight Loss – Not So Good For People With Joint Problems.
But let's get things straight the BlueFin Fitness Vibration Platform isn't an oscillating vibration plate. It uses linear vibrations.
Linear (vertical) vibrating platforms are better suited to active people and sports training and should be avoided by people with neck or lower back issues.
While both linear and oscillating vibrations create an involuntary stretch reflex in the muscles, it's linear vibration that has the highest impact on the body. Why? Because linear vibration machines imitate the jump reflex.
When we are standing on a linear plate, it's contracting the muscles on both sides of the body simultaneously.
This is high-impact training, up to 6x the user's weight, on a high-speed setting. And this is why it's a fav for certain sports training, muscle strengthening, and weight loss, but it's not soo good for people with joint issues. The gentle rocking of an oscillating platform is better suited for people with joint problems.
Why Do We Like The BlueFin Fitness Vibrating Platform?
Today we are looking at the new upgraded version of the BlueFin vibration plate, and what sells this machine is its power.
2500w is getting close to commercial grade. When we compare with other popular machines such as the Powerfit Elite and LifePro Waver that can only boast 300w, we start to realize how much power this thing has got.
A powerful vibration machine is excellent for advanced workouts. Still, we need a machine that also has many vibration levels, so it appeals to beginners and/or all levels of user.
And thankfully, there's no problem here either, as the BlueFin vibration platform boasts 180-speed levels. With 180-speed levels, anyone using the machine should find a level to suit their workout needs.
A Decent Weight At 37lb
Although this is a slim machine making it easy to store, it is quite heavy, which is a good thing! The extra weight is a telling sign the BlueFin machine is made from quality materials.
Also, the machine's weight plays an important part in how much energy from the vibrations is dispersed upwards into our bodies.
Cheap, lightweight vibration plates tend to shake too much because their lightweight builds have trouble staying planted to the floor. When vibration plates shake too much, it causes energy loss – the energy is dispersed sideways, downwards, and upwards instead of just upwards into our bodies.
Heavier machines stay planted to the floor, and most energy loss can be avoided.
The BlueFin Vibration plate isn't commercial heavy (70lb+), but it's a good 10lb heavier than most in this price range. 10lb doesn't sound much, but it will help keep the machine planted to the floor when in use.
Advanced Monitor – Includes 5 Workout Programs
For the price, the BlueFin Fitness Vibration Platform has a great monitor. It includes BlueTooth, 5 workout programs, and 180-speed levels. An easy-to-read LCD and the most useful thing about this monitor is that it's placed at the back of the machine, making it easily accessible when performing floor exercises.
The BlueFin plate also boasts a remote control which is really handy for standing workouts as it saves you having to step off the machine in the middle of a workout to change speed level.
Full-Body Workout – Resistance Bands
To get the most out of any vibration machine, it's always best to include other exercises into your vibration workouts, such as push-ups, planks, lunges, and squats.
The BlueFin machine is shipped with resistance bands; these are perfect if you want to try bicep curling while standing, or why not try something more advanced and squat while bicep curing for a real full-body workout.
However, resistance bands are limiting as you can only really do a couple of exercises with them.
Why not get hold of a pair of dumbbells? This opens up a whole world of upper body exercises you can perform while standing on your vibration platform. The vibration platform will be working your legs, butt, and core while you work the upper body with your choice of dumbbell exercises.
Advnaced monitor – Includes BlueTooth – 5 workout programs -180 levels – LCD
Slim design easy to store
Whisper quite – watch TV while you exercise
Remote control – Change speed, set timer, workout program while you workout
Resonance bands & workout and diet plan
4 suction pads to keep the plate stable on polished/hard floors
Refunds are strictly available only within the first 30 day period
Vibrations can affect the quality of the Bluetooth music connection at times
Can be noisy at high vibration levels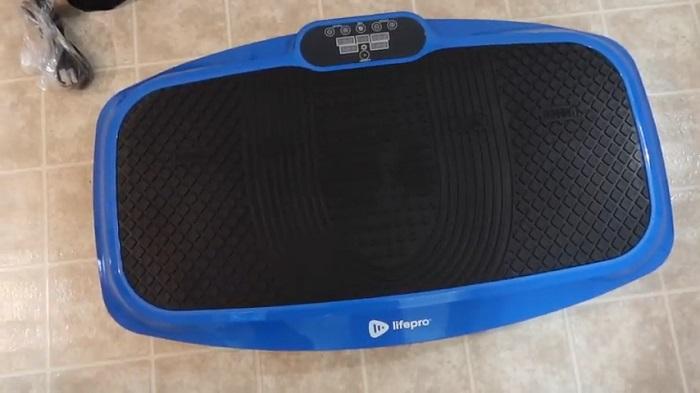 LifePro Waver Vibration Machine
The LifePro Waver is one of the most popular plates on the market. I've always liked LifePro plates. They're well-built, come with a ton of speed levels, and what's best about these guys is they offer a 100% lifetime warranty, something no other company does, especially in this price range.
The LifePro is an oscillating vibration machine, so it has a more gentle vibration and can be used by just about anybody, no matter their mobility or health issues.
Think of oscillating vibration as taking thousands of mini-steps every few minutes.
Oscillating vibration is a see-saw motion that mimics how we walk. Making it a much more natural vibration type than the Linear of the BlueFin, and yes, just like the linear, oscillating vibration can be used for muscle toning and weight loss.
Those mini-steps that oscillating machines force you to take cause muscle contractions, muscle contractions require energy, energy = calories.
Still, this machine although well equipped with resistance bands, remote, and LCD. Doesn't have the power of the BlueFin. The LifePro's max power output is 300w. And doesn't come with any workout programs or BlueTooth.
However, if you're after a more natural gentle vibration system? The LifePro is the best buy in its price bracket, and I havent seen any other machine with a lifetime warranty. It really shows the confidence LifePro has in the durability of their machines.
With a 2500w motor, linear Vibration system, and 180 levels, there no other vibration plate out there better suited to weight loss and muscle toning than the BlueFin Fitness Vibration Platform in this price bracket.
Still, we need to remember vibration plates are not miracle workers. Just like any other fitness routines, it takes time to see results. And when using vibration plates, results will come much faster if you incorporate other exercises into your vibration workouts.