There's a ton of vibration plates on the market right now, and that's because the popularity of these things has gone through the roof. Even NASA has carried out a load of research on the health benefits of vibration exercise and praised their rehabilitation powers.
But it's not just rehabilitation where the Vibration platform shines. Oscillating vibration, the type used by the PowerFit Elite Vibration Plate, can help you lose weight, tone and strengthen your muscles, increase blood circulation, bone density and help reduce cellulite.
Research continues to prove the health benefits of the vibration plates, and I'm sure we'll see many more over the years.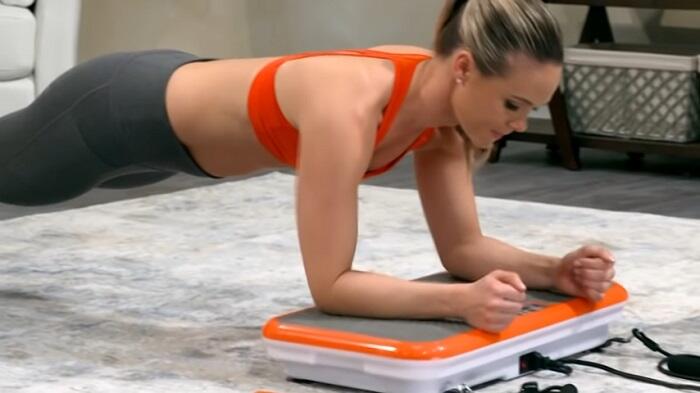 Sold In Two Sizes
There are two versions of the PowerFit plate, a standard and a large; the large plate has a max cpacity of 330lb while the standard plate has a max capacity of 220lb.
There no difference in quality, speed levels or monitor features. One plate is just larger than the other and can handle more weight.
Today we'll focus on the standard PowerFit Elite platform. We'll take away the TV hype surrounding this machine and see if it's worth the money.
Later in the review, I'll also compare the PowerFit with its closest rival in features and price, the Hurtle Fitness Vibration Machine. By the end of the review, you should know whether the PowerFit plate is the right choice for your fitness needs.
First, a quick look at the product specs!
Vibration type – Oscillating 
Why Do We Like The PowerFit Elite Vibration Plate?
What you have to love about this machine is the type of vibration it uses. Oscillating vibration is perfect for home use. It has been tried and tested in commercial gyms and therapy centers for years; it's best suited to whole-body workouts and therapy sessions.
We have only recently taken advantage of oscillating vibration at home with machines such as the PoweFit.
And the great thing about Oscillating vibrating machines is that they are affordable. You do not have to spend a ton of cash to get hold of a decent one.
Oscillating Vibration – Healthiest Type of Vibration
The medical profession generally sees oscillating movement as a healthier type of vibration. It can support more weight, has a much less vertical impact on the body than linear vibration, reduces stress on the organs, and will help keep your spine flexible and loose.
Oscillating is the keyword to look for when choosing a vibration plate. Many of the budget vibration machines are mistaken for oscillating plates when all they do is vibrate.
 It's like Taking Thousands of Mini Step In A Minute!
Think of oscillating vibration as taking hundreds of mini-steps in a very short period of time.
It's a see-saw motion that mimics how we walk. When using oscillating vibration, the affected muscle contact alternatively, just like when we are walking.
The muscles need energy to contract. Energy uses fuel. Thus we burn calories. The more vibrations per minute, the more contractions, the more calories we will burn.
So yes, it is true you can lose weight on an oscillating vibration plate without moving because the machine is taking thousands of mini-steps for you.
Its not just calories you will buring. Oscillating vibration can also reduce core fat, improve balance, and tone muscle. But dont expect miracles. It takes time and regular sessions to start to see results, just like any other form of exercise.
Oscillating vibration is the recommend choice for people who want to lose weight. And because of its low-impact nature, it's also an excellent choice for rehabilitation or people with limited mobility.
Include Exercises Such Press Ups & Lunges In Your Workouts
You can still do so much more with a vibration plate and bring other exercises into your vibration workouts, such as lunges, press-ups, and planks. This is where you will get the most out of the machine, speeding up calorie loss and muscle toning.
The PowerFit Elite is great for working your butt, core, and thighs, but why not make it a whole body workout and use the resistance bands.
Try lunges while bicep curling. There really is no limit to what you can do on one of these things, and there are hundreds of workout videos on youtube to give you some ideas and encouragement.
Anything We Didn't Like? It's light – Just 22lb.
The standard version of the PowerFit Elite Vibration Plate weighs only 22lb, which I'm sure many people will love because it makes moving the machine around the home that much easier which is a good thing.
But the problem with light weight vibration plates is they tend to shake a lot, and the extra shaking is the result of not having enough weight to help keep the machine planted to the floor.
Overshaking causes energy loss. The energy will be dispersed sideways, upwards, and downwards instead of just upwards into our bodies.
Sadly this problem is unavoidable with budget plates. It's not a complete deal killer, and over the past few years, budget vibration plates have got slightly heavier and are better designed, but it's still worth a mention.
Can we do anything to stop energy displacement? Yes, you can! To ensure the vibration plate is stable as possible, find a flat/even surface to avoid any wobbles.
Also, make sure if using the plate on hard surfaces that the four suction pads are doing their job. Suction pads are an excellent stability feature and stop any lateral movent of the vibration plate.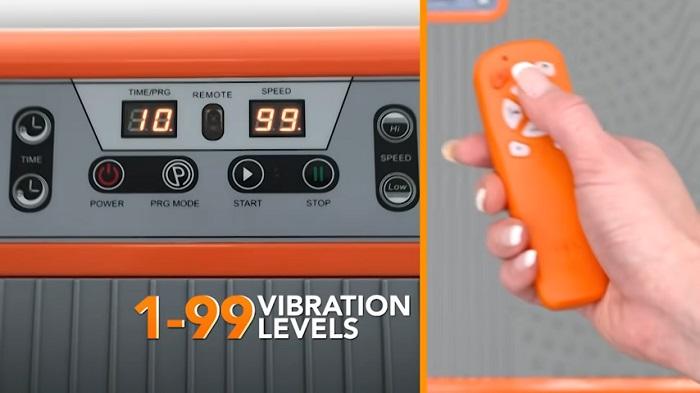 Monitor/Control Console
Nearly all vibration plates under $300 come with basic monitors won't find anything advanced here. This isn't a bad thing as it makes the monitors nice and easy to use.
The PowerFit monitor has two small LCDs. One is a timer. The other shows you the current speed level. The good thing about this monitor is that it's placed at the back of the machine, making it easily accessible when performing floor workouts such as press-ups.
And thankfully, the PowerFit Elite is equipped with a remote. A remote lets you easily change speed levels and set the timer when standing on the platform. There's no need to step off the machine in the middle of a workout to increase the speed level.
Oscillating Vibration – Weightloss – Muscle toning – Rehabilitation
Simple but easy to use monitor – speed & timer
Remote control – effortlessly change speed level without getting off the machine
Very quiet – watch Tv while you exercise
Built-in transport wheels – easy to move
Resistance bands included for full body workout
Resistance bands only add minimal tension
Limited resources available for workout guidance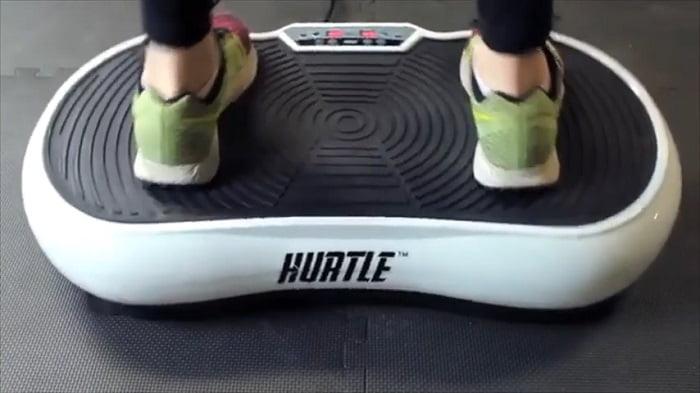 Hurtle Fitness Vibration Machine
The Hurtle Fitness Vibration plate is another excellent oscillating vibration machine its very similar to the PowerFit in that it offers the same type of vibration. Both come with remotes, both include resistance bands, and both have basic easy to use monitors that show speed level and time.
There are, however, a few noticeable differences the Hurtle fitness only provides 40-speed levels compared to the 99 levels of the PowerFit. Still, the Hurtle is $50 cheaper than the PowerFit, so it's not surprising we see fewer speed levels.
The one thing that stands about the Hurtle is how much positive user feedback this machine receives, it has been around for years, and people are still praising how good it is even after owning it for a long period of time.
Any product, especially a budget one like the Hurtle that can stand the test of time, always gets a thumbs up in my book. It shows this machine is durable and made from quality materials.
Overall, the Hurtle is one of the best entry-level oscillating plates out there, its slightly larger and heavier than the standard PowerFit plate and has a higher weight capacity of 330lb. If you dont mind having fewer speed levels? The Hurtle Fitness Vibration Machine is worth checking out.
To Sum Up
The PowerFit Elite Vibration Plate is as good as anything else out there in the budget range. It offers an impressive amount of speed levels and, most importantly, takes advantage of oscillating vibration.
There really isn't much I can fault about the PowerFit platform. Does it live up to the hype? Yes, in that it's a decent vibration plate for the money, and it will help many people with certain health issues and weight loss needs.
But just like all fitness routines, you will not see results overnight. It takes commitment to a healthy diet and regular workouts to see real results, especially if you are using the machine for weight loss and muscle toning. And dont forget to incorporate other exercises into your vibration workouts.