There are a couple of different types of vibration plates for home use. One is oscillating vibration the other is linear.
While linear vibration plates have many benefits, they are best suited for sports training, especially athletes and basketball players, as linear plates imitate the user's jump reflex. These are high-impact machines and are not suitable for people with back issues.
The best type of vibration system for home use is oscillating vibration, and that's what we see with the Hurtle Fitness Vibration Machine.
Oscillating vibration machines are designed for nonsport professionals; they can support more weight, have a small impact on the body, are easier on the organs, and keep the spine more supple and loose.
Oscillating Vibration – See-Saw Motion – Mimics Walking
An oscillating vibration machine like the Hurtle Vibration plate  uses a see-saw motion that is similar to how we walk.
Our bodies are designed around a spinal column, so every time you take a step, you have to balance your weight from left to right, which is exactly what your body has to when standing on an oscillating vibration plate. The affected muscles will contract alternatively.
Each time the muscles contract, energy is used, and you will burn some calories. You can, in effect, burn calories without doing anything because the machine is doing all the walking/work for you.
Don't Expect Gym Quality.
Commercial Oscillating machines and tri-plan plates can cost anywhere from $700-$2000, so we cant expect gym-quality with the Hurtle Fitness Vibration plate.
Still, this machine is well built for the price point and receives some of the best feedback I've come across for any entry-level vibration plate. Even a low-cost vibration plate can provide amazing health benefits, especially when it comes to rehabilitation and weight loss.
Today I want to take a close look at everything the Hurtle Fitness plate has to offer but first, let's take a look at the product specs!
Max weight capacity – 265lb
Carry handle & transport wheels
Why Do We Like The Hurtle Fitness Vibration Machine Platform?
One of the biggest problems we run into with budget vibration plates is loss of energy. How does this happen? A vibration plate can lose up to half of its vibration energy simply because the machine is too light.
Light machines tend to shake too much, which lets the energy disperse in all directions, down, sideways, and up. A heavier vibration plate will stay more planted to the floor, helping concentrate the energy upwards into our bodies.
We need to avoid energy displacement; otherwise, our workouts are negatively affected, and you won't see the results you are looking for.
The Hurtle Fitness is a budget machine, so it's not going to weigh 70+lb, but it's not as light as most machines in this price bracket. Some weigh just 20lb.
The Hurtle Fitness plate weighs 30lb which is an impressive weight for a machine costing under $150. It's a 3rd heavier than most in the price bracket, I know the extra 10lb doesn't sound much, but it will make a big difference.
Also, the Hurtle machine's extra weight is a telling sign this machine is made from quality materials.
Easy Use Control Console/Monitor
The good thing about the monitor of the Hurtle Fitness vibration plate is that it is placed at the back of the machine, making it perfect for floor exercises such as planks and push-ups. You'll easily be able to reach it to change vibration levels while you work out.
And thanks to the supplied remote control, you can effortlessly change the vibration speed when performing standing workouts.
This is a budget machine so we can't expect any advanced features, the monitor's functions are basic, it tells you time and vibration level which is all most of us need.
There are 40-speed levels, and each level is noticeably stronger than the last. Many users have praised this, saying you can really feel the difference from the lower to the higher levels.
Noticeable vibration strength is something not all machines in this price bracket can boast, with many machines offering 100+ levels and users complaining they can't feel the difference when they change speeds.
Start Low At First
I recommend you start using the Hurtle fitness vibration plate on low-speed levels between 1-10 to let your body get used to stabilizing itself on the vibration plate.
On Day 2 – start to turn up the speed and really take advantage of what this machine can offer.
The higher the speed of vibration, the more muscle contractions, the higher the number of contractions ensures muscle toning, increased strength, and of course, calories burn, as each muscle contraction requires energy and energy = calories.
An Oscalallling machine targets the core, butt, and legs, so at the very least, just standing on the machine is going to work for all these muscle groups.
Still, we can make things a little more difficult, especially if we want to burn more calories. Try squatting and lunges first; these are excellent exercises to try on Oscalatting machines.
Let's not forget this thing comes with arm resistance bands.
Resistance bands open up the world of upper body exercises and when combined with standing or squatting on the machine, results in a full-body workout. The machine is working your lower body while the exercise bands are working your upper.
Something I know is very popular with advanced users is squatting on a vibration plate while bicep curling. This requires a lot of balance, so I suggest you try first on a low-speed setting.
For more exercise ideas using a vibration plate, try Youtube. There are literally hundreds of workout videos.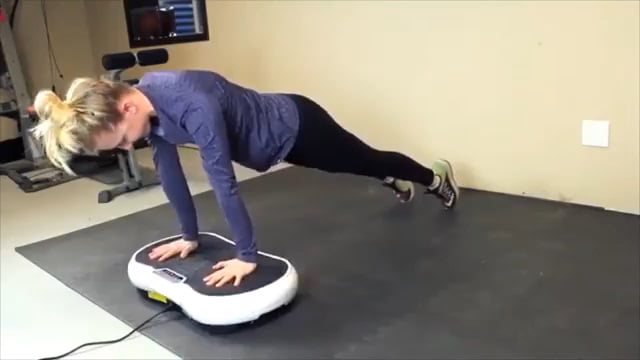 Stability – 4 Suction Pads
We've already mentioned the Hurtle weighs considerably more than most budget vibration plates, so the extra weight will help a lot when it comes to stability.
Another handy stability feature is the 4 suction pads. These things are great for stopping the machine from sliding on hard/polished surfaces its a shame they're not height adjustable (help keep the machine level on uneven floors), still at this price, we can't expect too much.
For grip, while standing on the machine, a grooved rubber surface is provided, preventing unwanted foot slips.
Basic easy to use monitor – speed and time + remote
Oscillating vibration – see-saw – mimics small steps/natural – excellent for increased blood circulation, bone density, Cellulite reduction, and weight loss when combined with other exercises
Easy set up – No assembly required
Very quiet – watch Tv while you exercise
Transport wheels and carry handle provided
some user mentioed it was a little noisy on high speed levels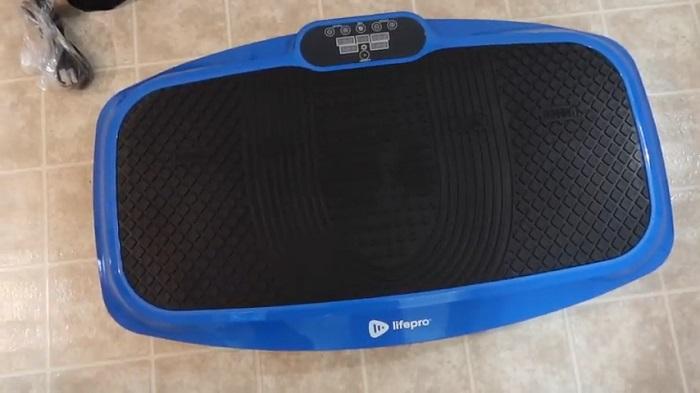 LifePro Vibration Machine
The LifePro is one of the most popular budget vibration plates on the market, and for a good reason as it comes with 99-speed levels, weighs 30lb, has a remote, and comes with resistance bands.
And just like the Hurtle, it benefits from oscillating vibration.
Is it a better buy than the Hurtle? You might think so, considering it offers 99-speed levels compared to the 40 of the Hurtle. Still, one of the complaints of the LifePro is that people can't tell the difference in vibration strength from one level to the next they have to go up in increments of 2 to feel any difference.
Whereas the Hurtle feels noticeably different on each level, so when it comes down to it, both offer around the same amount of noticeable speed levels.
Other than the speed levels, both of the machines are identical both have 300W single motors, both offer resistance bands, both offer remotes, and both offer the same monitor features, speed, and distance.
The only real difference is the price; yes, the LifePro costs 50 bucks more?
The higher price of the LifePro doesn't seem to put many people off. Why? Because the LifePro offers something no other budget plate can, and that's a lifetime 100% satisfaction guarantee, and it's real! I've read many reviews of users praising LifePro's customer service.
Click here to check the price of the LifePro on Amazon.
Is the Lifetime warranty of the LifePro worth the extra $50? With all the 5 star ratings and excellent customer feedback the Hurtle Fitness Plate is receiving right now, if it were me, I'd save myself the $50 and opt for the Hurtle Fitness Vibration plate.
As for the price, the Hurtle's vibration plate is unbeatable. Its well-built offers just as much as the LifePro in the way of features and seems to be gaining in popularity every day.
Click here to check the price of Hurtle Fitness Vibration Plate Platform on Amazon